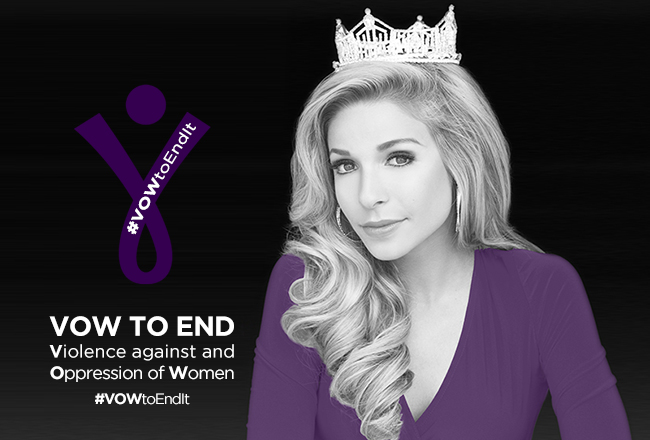 Love shouldn't hurt for women OR men
Posted on
October 16, 2014
My goal as Miss America this year is not only to add to the dialogue, but to change it. There's a lot of noise out there, but it's important to be able to weed through it all and get your message across, consequently changing people's minds. I firmly believe that changing laws to better society is not enough. You must also change people's minds. How do you do that? Through education and frank conversation.
October is Domestic Violence Awareness month. Since the first day of the month, I have been tweeting and posting about it with my new social media campaign, encouraging others to #VOWtoEndIt and share how they're helping to stop the violence against and oppression of women.
While 1 in 4 women are affected by domestic violence, the global community often forgets that 1 in 7 men are also victims of abuse…and that statistic comes from those that actually report. We have no accurate idea as to how many men really are abused. This abuse occurs not only in gay, bisexual, or transgender relationships, but also in heterosexual relationships.
The types of abuse among the former include physical abuse and aggression between the dominant and submissive partners and, very largely, mental abuse. That mental abuse can consist of threatening to reveal one's sexual orientation to family or friends that are not aware or are unsupportive, the constant reminder that there are very few resources out there to help men that are escaping abusive relationships, claiming that the authorities will disregard the claims that a man is being abused, and, of course, mental manipulation and attacks on self-esteem and self-worth.
In heterosexual relationships where the woman is the abuser, in an attempt to compensate for a difference in strength, the abuse may happen while asleep or caught by surprise, often with a weapon such as a gun or knife. Mental abuse is very heavily prevalent in these situations. She might threaten to leave and take children away, cut the man off financially, take away or hide medicine he would need, make fun of him in front of his friends or family, manipulate those around him to be unaware of what is truly happening at home, and engage in acts of vicious jealousy, stalking, or possessiveness. I truly believe this happens much more than anyone would like to admit. But until society makes it ok for men to report, this issue will largely go unnoticed.
Unfortunately, because of the expectations that men put on themselves to appear strong or dominant they do not report abuse. They think that admitting it makes them weak. My question is, why? Why does admitting vulnerability suddenly make you less of a man? I would argue that bringing these things to light actually makes you stronger and can give strength to those around you. Please don't let the cultural atrocities that exist in our world stop you from finding happiness. Love shouldn't hurt for women OR men.
I hope that by speaking about this, people will realize domestic violence is not something that can be solved by female advocates alone. We need men to speak up. By doing so they will not only add to the dialogue, but change it.
The national hot-line number for domestic violence is:
1-800-799-7233
For more information on domestic violence please visit the following websites:
www.safehorizon.org
www.thehotline.org
www.justice.gov/ovw/domestic-violence
With love and solidarity,
Kira