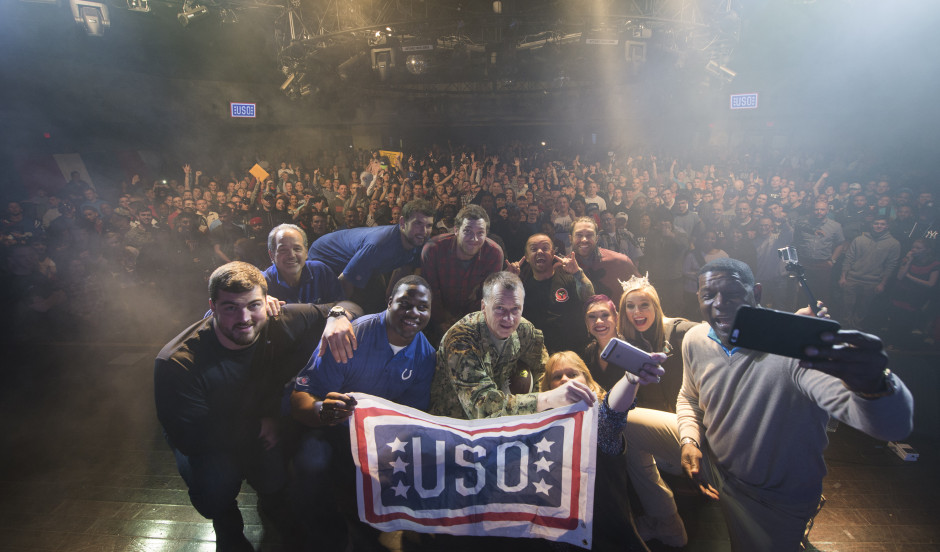 Miss America Goes Global with the USO and Admiral Winnefeld!
source link For the first time since the 1970s, a Miss America has traveled abroad with the USO on an international entertainment tour to visit our troops and bring a piece of home to them. I am lucky enough to have been that Miss America!!
I wanted to take some time and really go into the trip in as much detail as possible, to try and give anyone who is interested a clear picture of what the experience was really like.
In Washington, D.C. on March 2nd, the adventure began. The cast consisted of:
see url Vice Chairman of the Joint Chiefs of Staff, Admiral James Winnefeld – Leading the USO tour were Admiral Winnefeld and his wife, viagra grapefruit interaction Mrs. Winnefeld. This was the Admiral Winnefeld's fourth and final USO tour as Vice Chairman of the Joint Chiefs of Staff. The Vice Chairman has served this country relentlessly, and it was an absolute honor to travel alongside he and his wife, who has also served as an unyielding military spouse.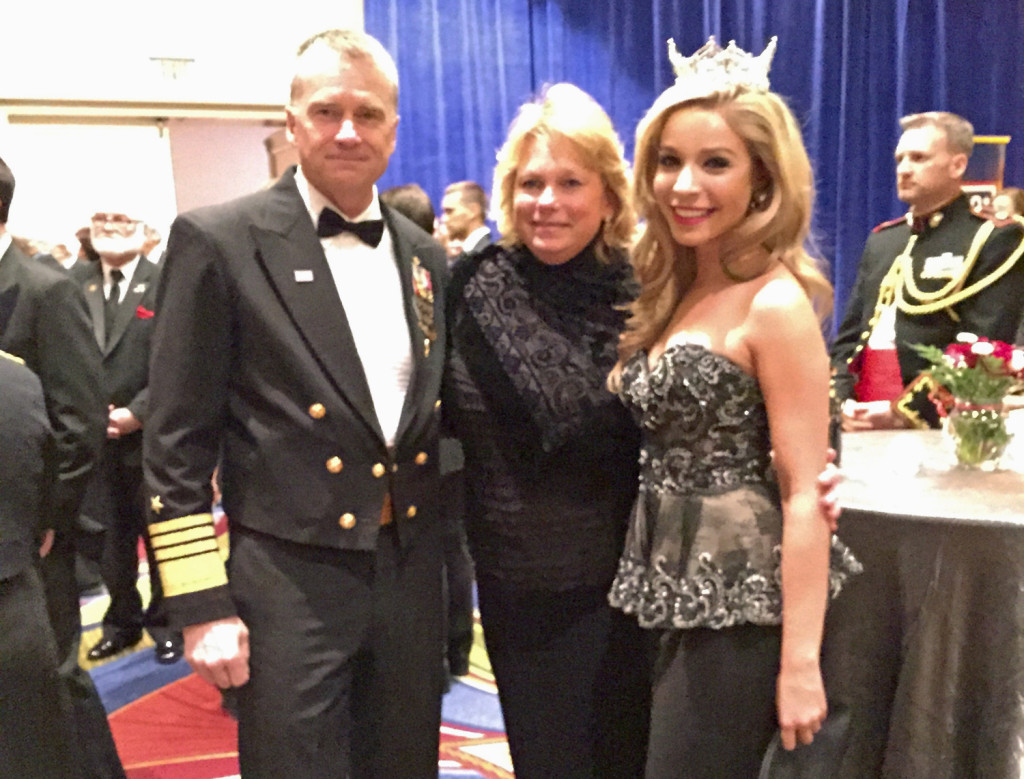 source site Dennis Haysbert – You might recognize him from 24, The Unit, or the Allstate insurance commercials (yes, we were in good hands the entire trip). Dennis said that every day for the past 11 years, someone has asked him to say the "in good hands" line. In a small way, I can relate. Every day someone asks me to do my princess wave or how does the crown stay on your head, etc. It's all part of the job, right?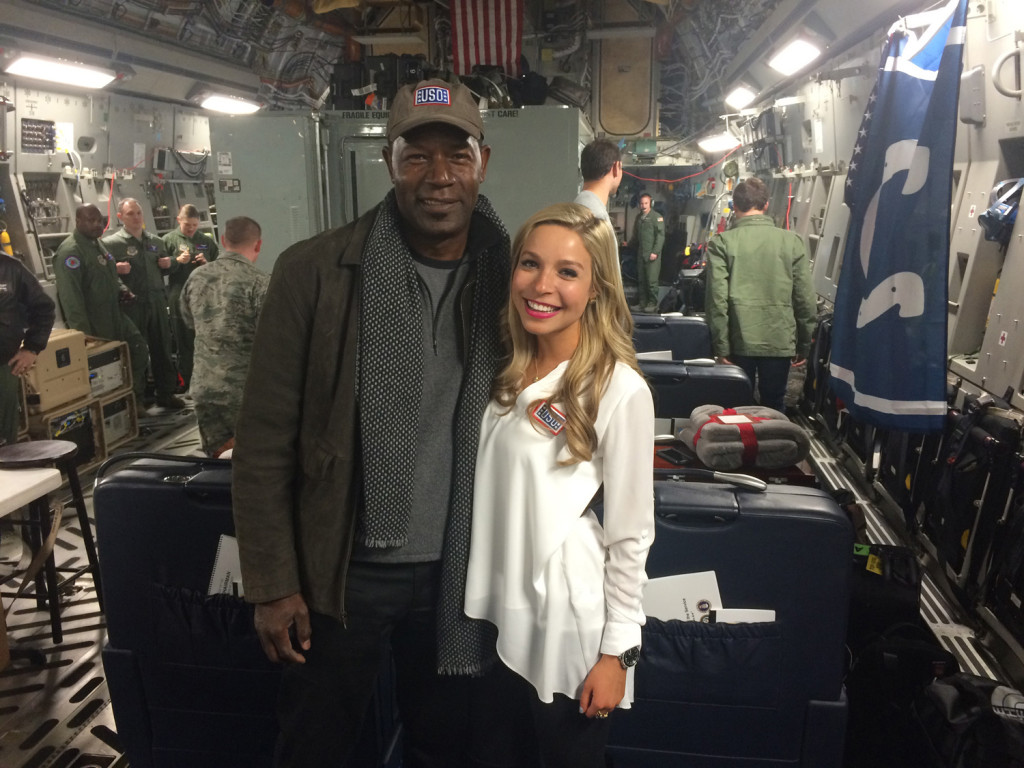 get help on homework Jason "Wee Man" Acuna – One of the kindest and smartest people I have ever met. Jason will do anything for anyone, but you better watch out; he's a mischievous one! Jason was like Elvis to the troops, and every time his name was announced he was greeted with thunderous applause, always the crowd pleaser.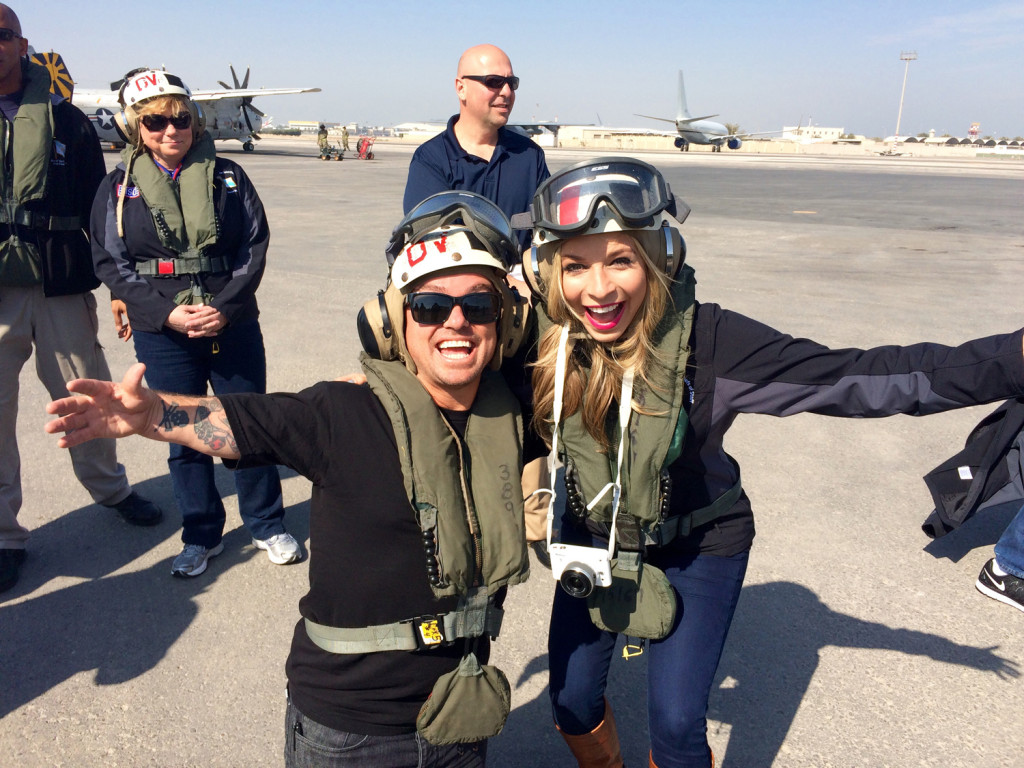 follow Coach Chuck Pagano from the Indianapolis Colts – Coach Pagano recently beat cancer and has taken a football team with serious challenges to an AFC Championship. This inspirational man, who has overcome so much and beat all odds, was a huge hit with the troops (especially the very dedicated Colts fans, who even in Afghanistan, had their flags and jerseys ready to go).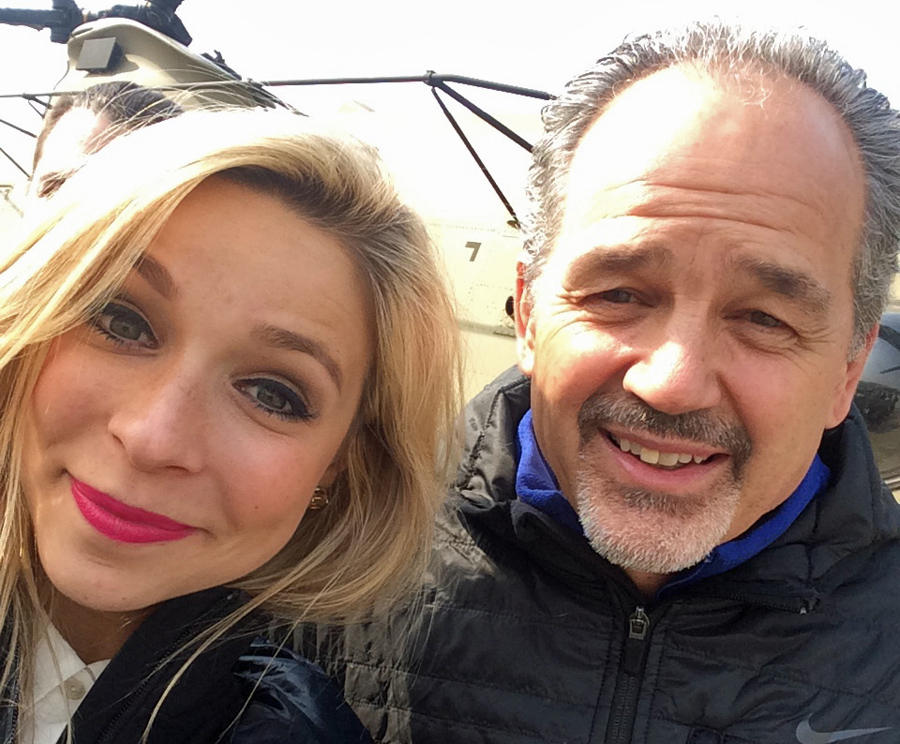 source Ace Young and Diana DeGarmo – The American Idol alumni, who are now married and currently co-starring in Joseph and the Technicolor Dream Coat are two of the nicest people I have ever met. Even at 3 a.m. they were ready to go, smiling and making sure everyone was doing well. They were always in the best of spirits and their Broadway/Rock mashups of Journey and AC/DC were a huge hit.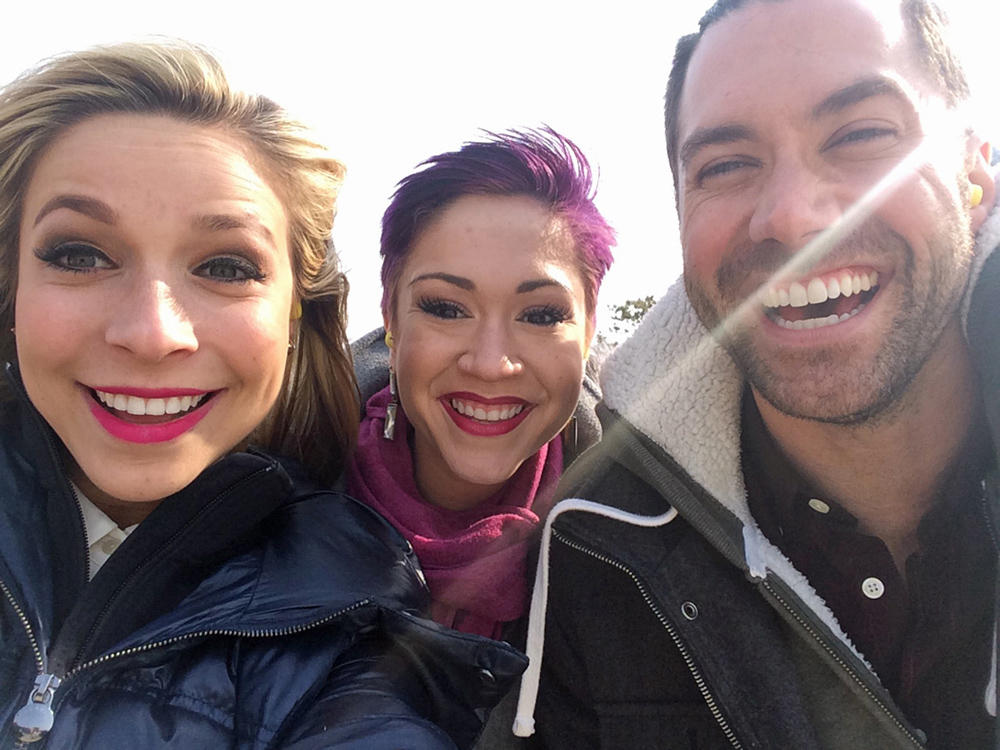 enter David DeCastro (Pittsburgh Steelers), cover page with thesis Andrew Luck and Dwayne Allen (Indianapolis Colts) – Andrew and David played football at Stanford together while Andrew and Dwayne are obviously on the same team now, so all three were buds. They were always gentlemen, and I never knew how many Steelers and Colts fans there could possibly be overseas, let alone in their respective cities. All three of them had a way of making the fans feel comfortable – signing things no matter how little time we had or what time of day it was. They were just down-to-earth, normal guys, who happen to be incredibly athletic and talented.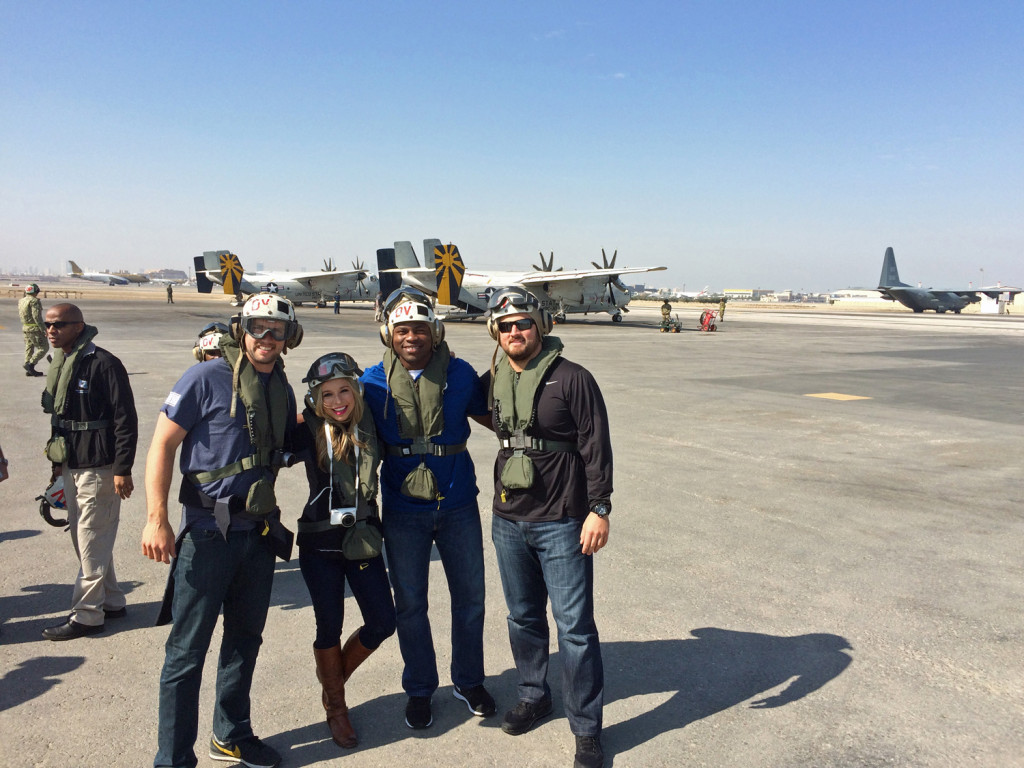 http://magazine.lynchburg.edu/article/dissertation-writing-consultant/81/ Phillip Phillips – This American Idol winner is INSANELY gifted. Watching him perform is like being invited into an experience like no other. Although I love his albums, they are nothing compared to seeing Phillip Philips perform live. Those performances were nothing short of magical. Not to mention that this quiet Georgia boy is still nervous for every show and just wants to enjoy the music. I don't think I've ever met anyone so talented and humble.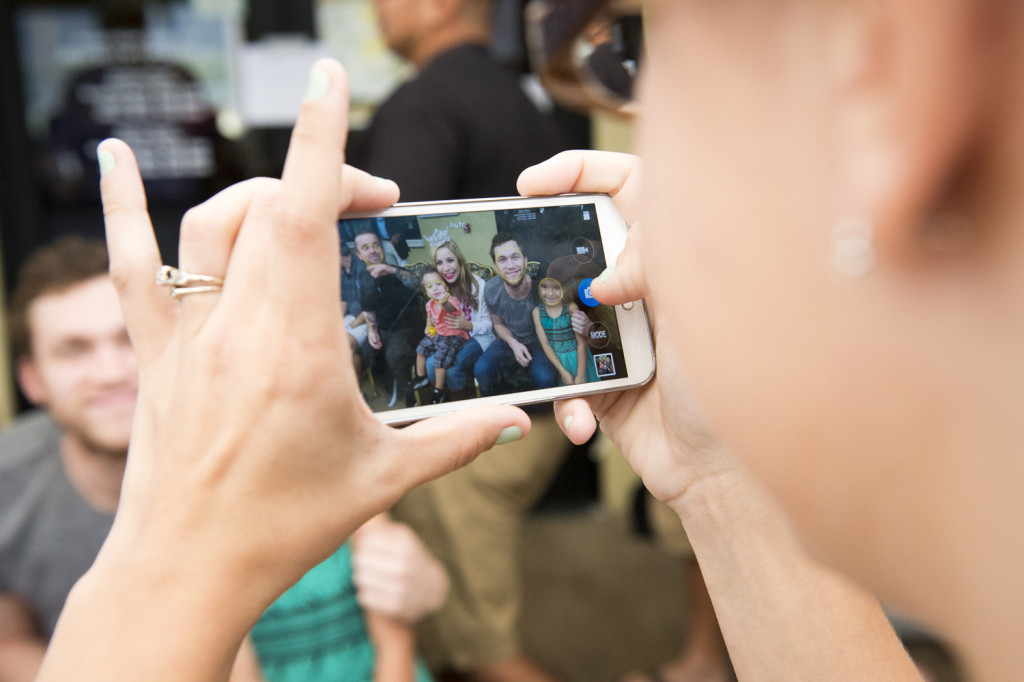 And then, there's me… what to write in a reflection paper Miss America Kira Kazantsev! But if you're reading this you already know me, or for reference, you can go back and read some previous blog posts. So, we won't spend any more time on that.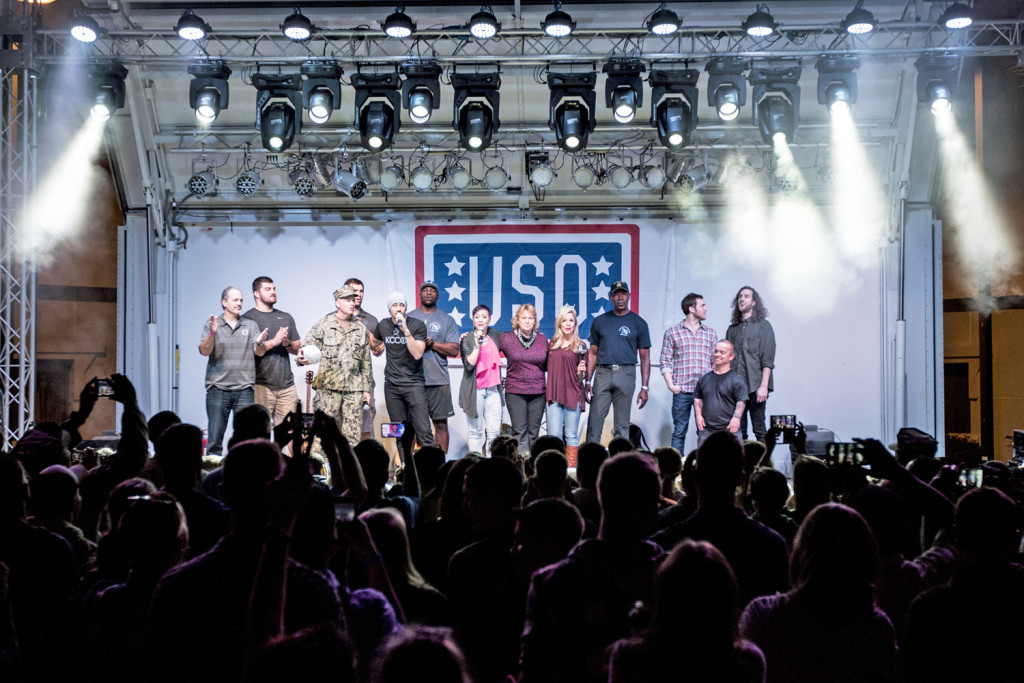 watch Day One.
When we all arrived in D.C., a group of us went to https://wisconsindailyindependent.com/creative-writing-programs-rankings-5330/ Arlington National Cemetery to watch the changing of the guard at the Tomb of the Unknown Soldier. After a beautiful ceremony, we were able to go down where the guards prepare for their shifts and listen about the history and requirements for being a guard. Everything the guards do must be perfect in order to properly honor the Unknown Soldier and their post. From the shine on their shoes to the amount of steps they take, perfection and precision is the name of the game. No matter what, these guards are rotating 24 hours a day, 365 days a year to honor and protect the Tomb of the Unknown Soldier.
Our second USO tour stop was visiting go to site Walter Reed National Military Medical Center in Bethesda, MD. This is the second time I've been there in the past few months, and I actually saw some of the guys that I'd visited the first time, but now they were a few months into their recovery. It was a pretty special thing to behold. There was also a Ukrainian couple there that spoke very little English but did speak Russian. The husband was undergoing major physical therapy. When I started speaking Russian with his wife, she started to cry because she hadn't heard a language she recognized in months while her husband was recovering. I was so happy I could give her that moment of familiarity during a very difficult time for her family.
That evening we all had dinner in the Winnefeld home where we enjoyed a great evening of getting to know one another and were entertained with some Kentucky Bluegrass stylings, provided by the United States Army musicians. After dinner, we wasted no time as it was off to Andrews Air Force Base, where we would be loaded onto a C-17 cargo plane and were off.
The C-17 is generally meant to transport supplies and troops; however, it was outfitted with everything we could have possibly needed on the trip, including cots.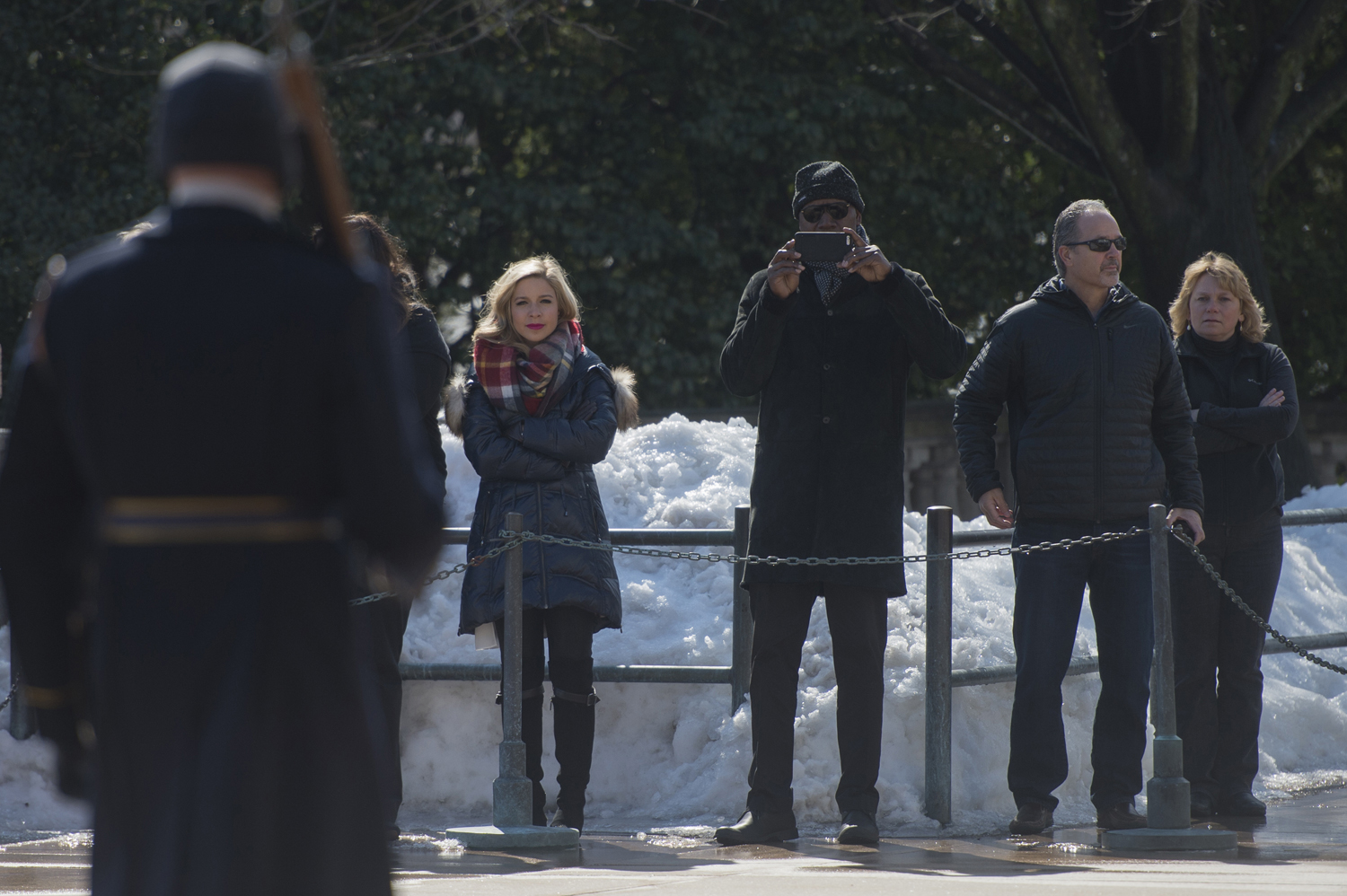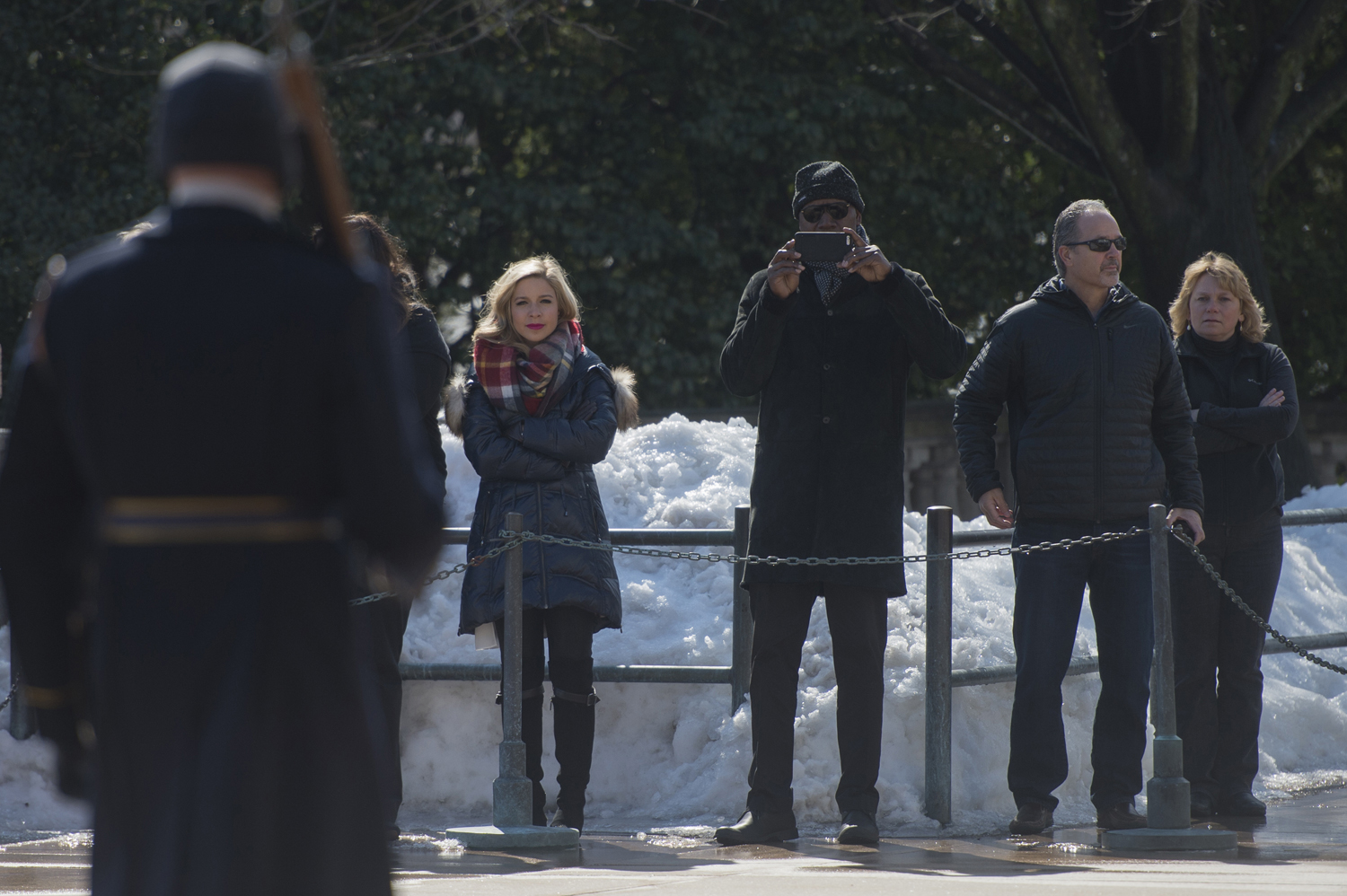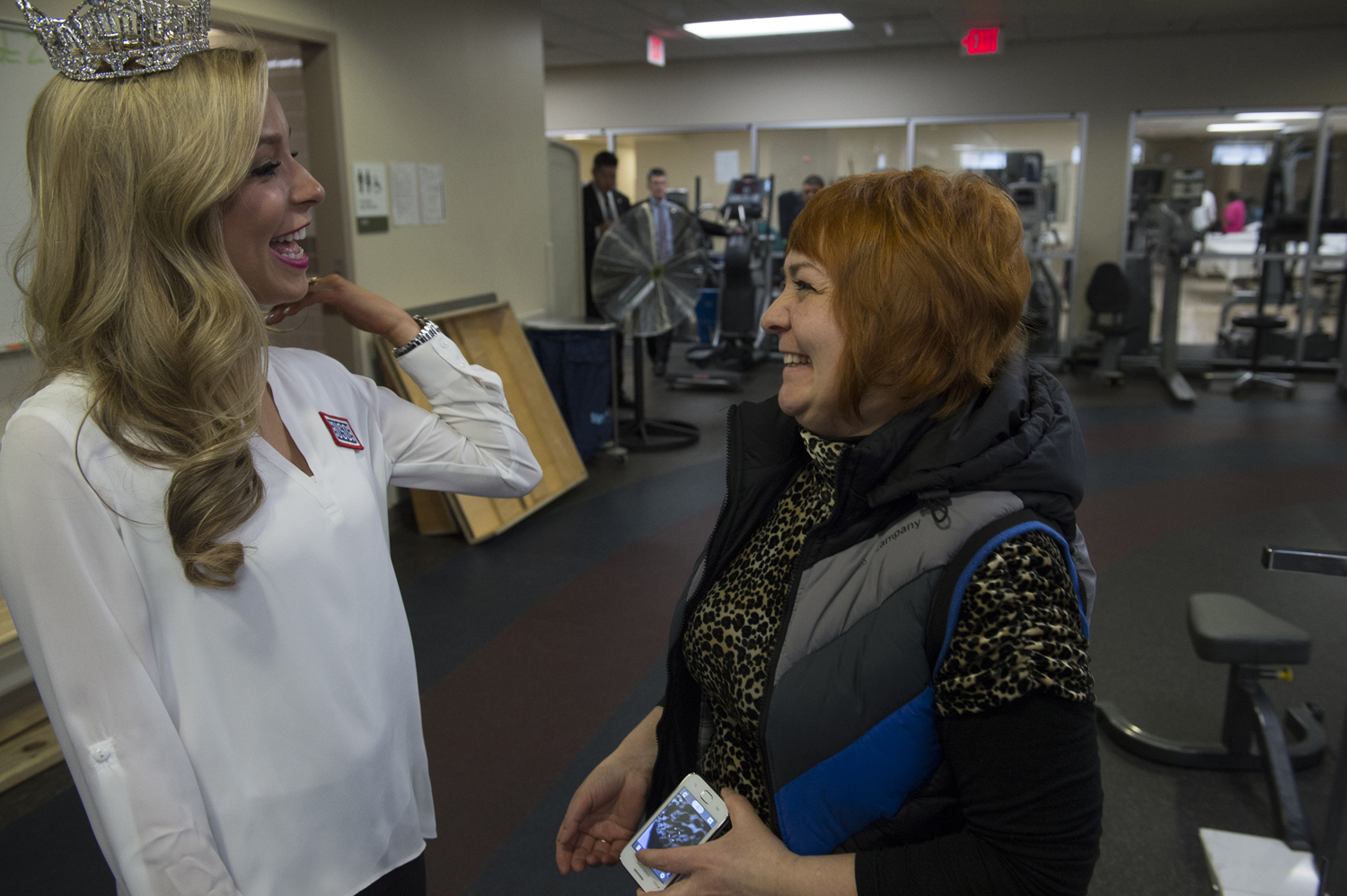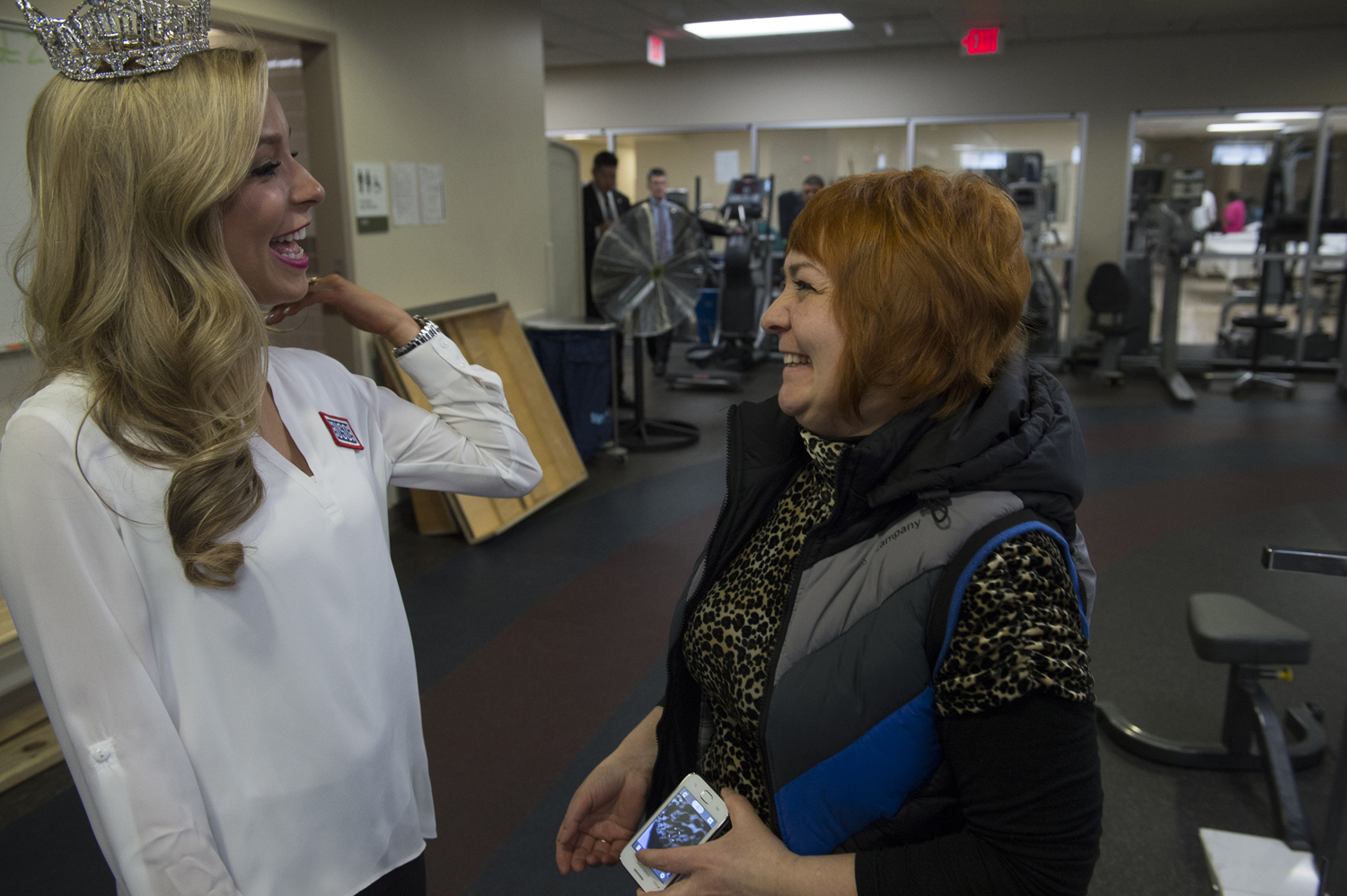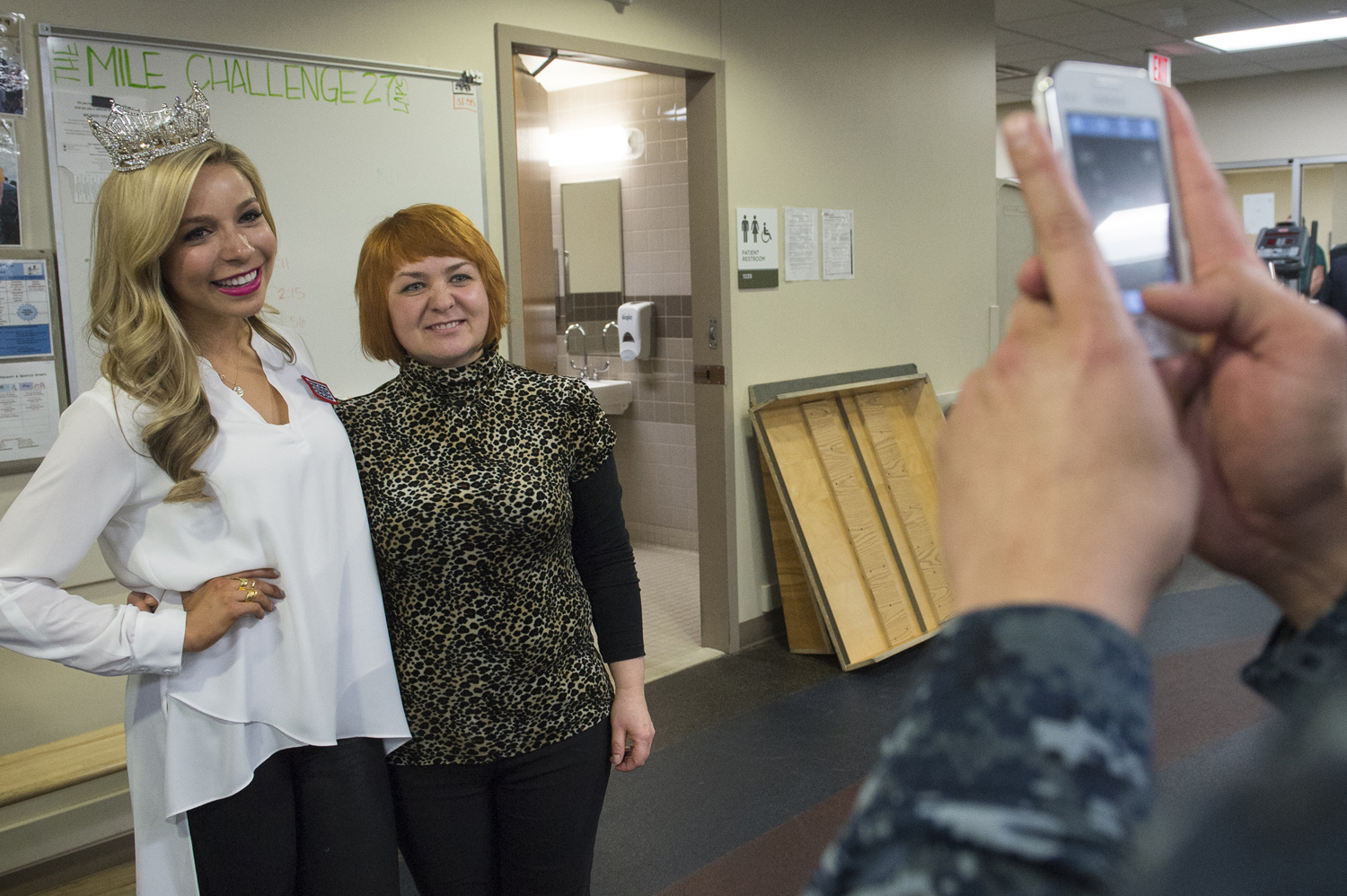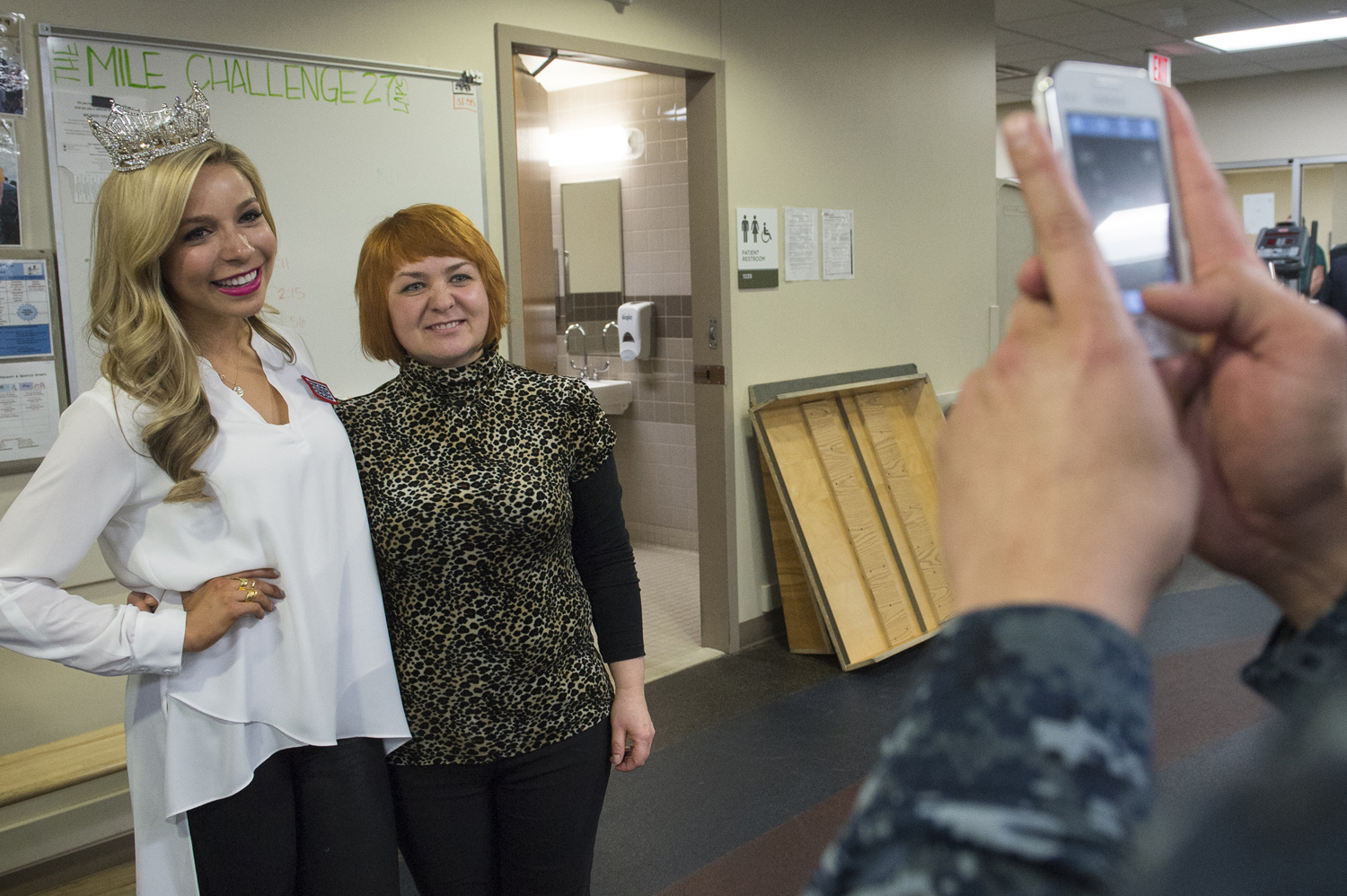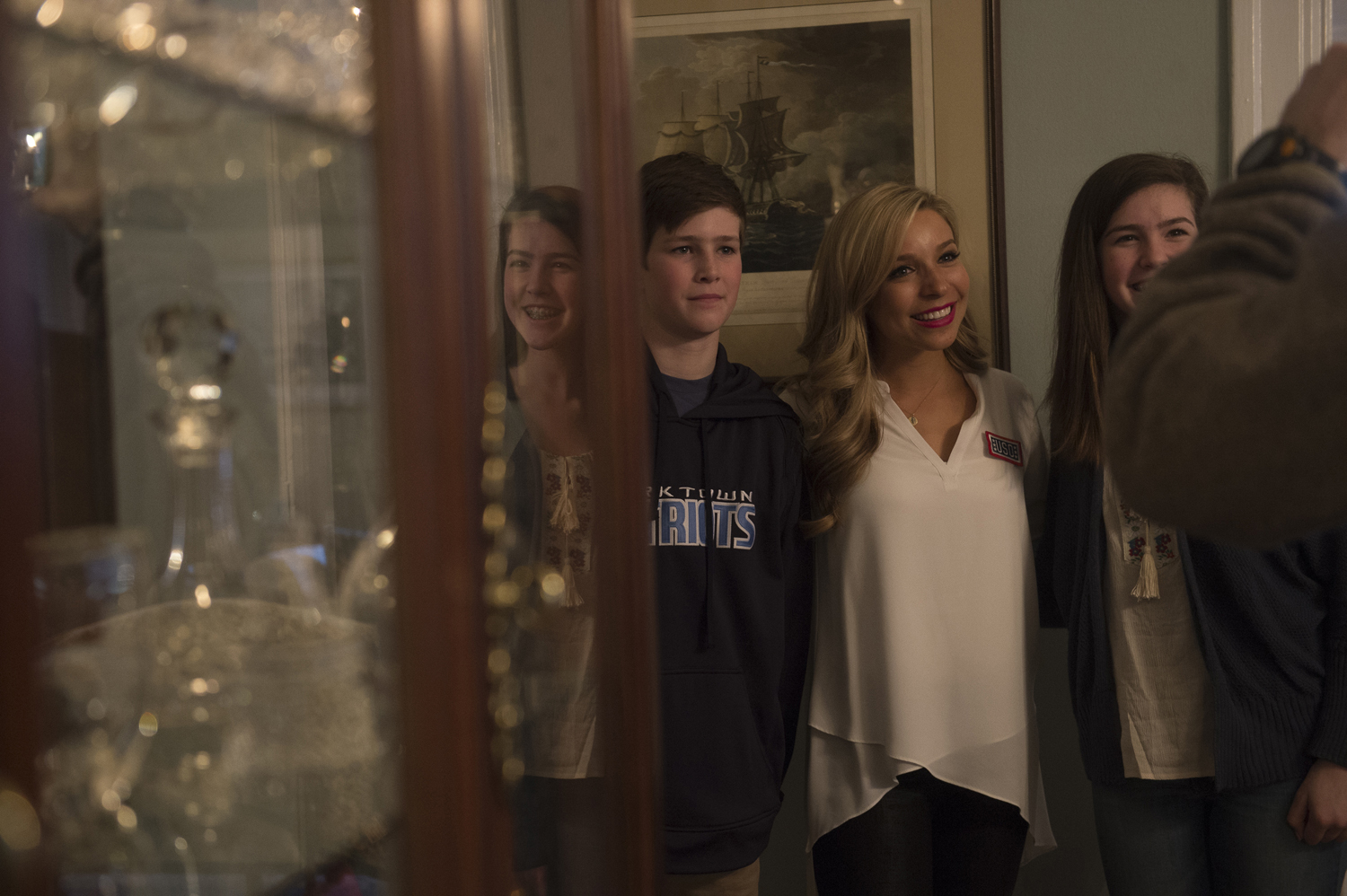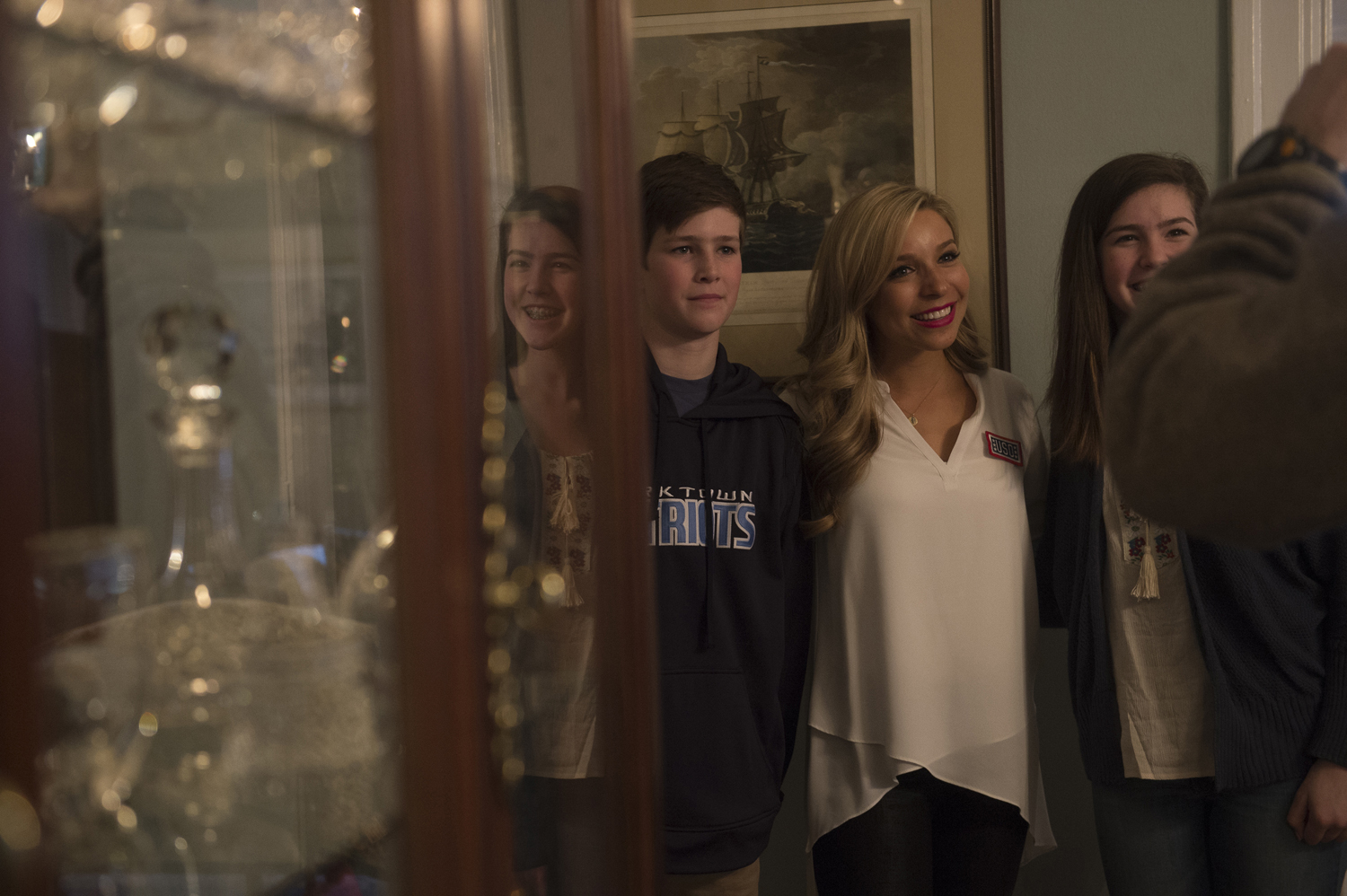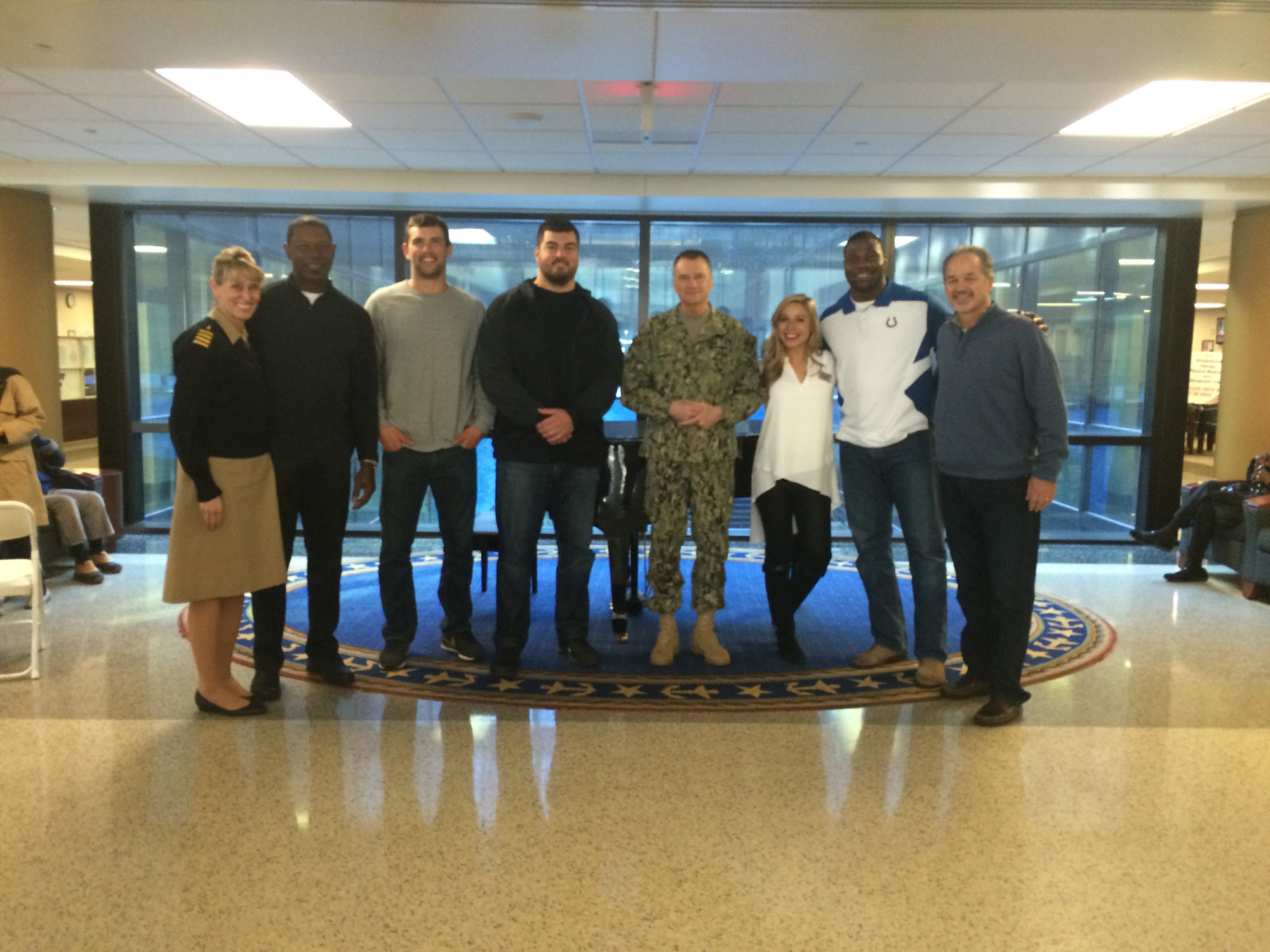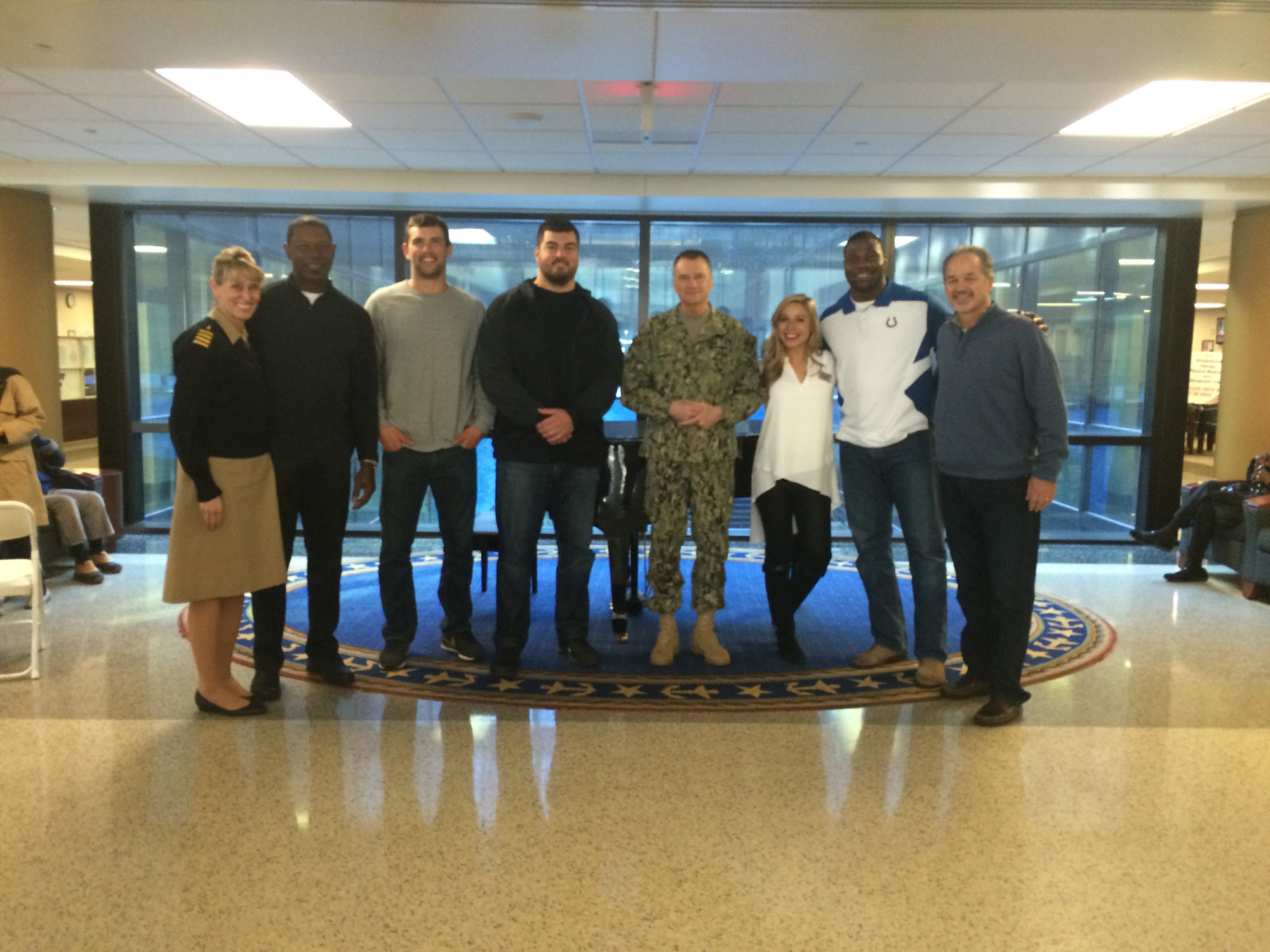 http://www.salganyc.org/7040-off-shore-viagra/ Day Two.
Our first USO stop was source link Ramstein Air Base in Germany. As soon as we arrived, we viewed some of the various aircraft there and participated in a meet and greet with some very excited pilots. Then it was show time! It was the first time our "variety show" of sorts came together, and it was an absolute hit. During my part of the performance I sang Happy and took a moment to speak to the audience and express my thanks. A former Miss America Organization titleholder happened to be in the audience and came up to give me a bedazzled red cup! It was quite heartwarming for me to have crossed oceans and been able to see the result of my talent, which apparently made someone happy! This was my first time seeing military families abroad, and it really puts things into perspective. These families sacrifice so much to be able to serve our country. It's important to always remember that behind every service member, there is a family and/or a support system that is serving as well.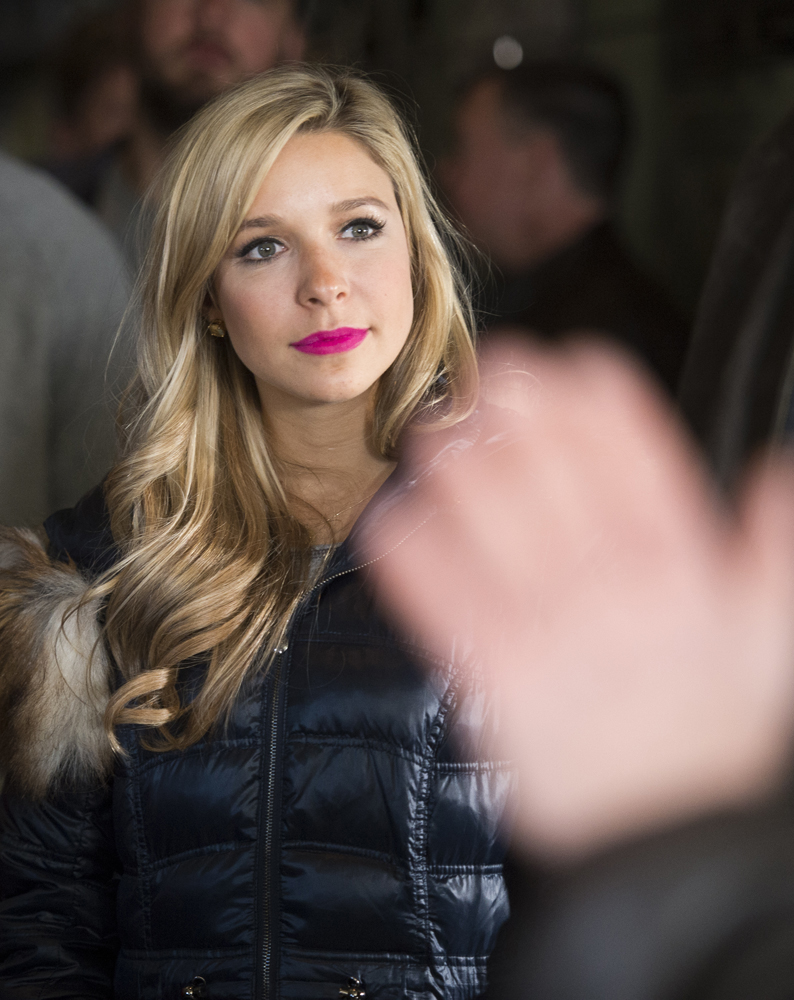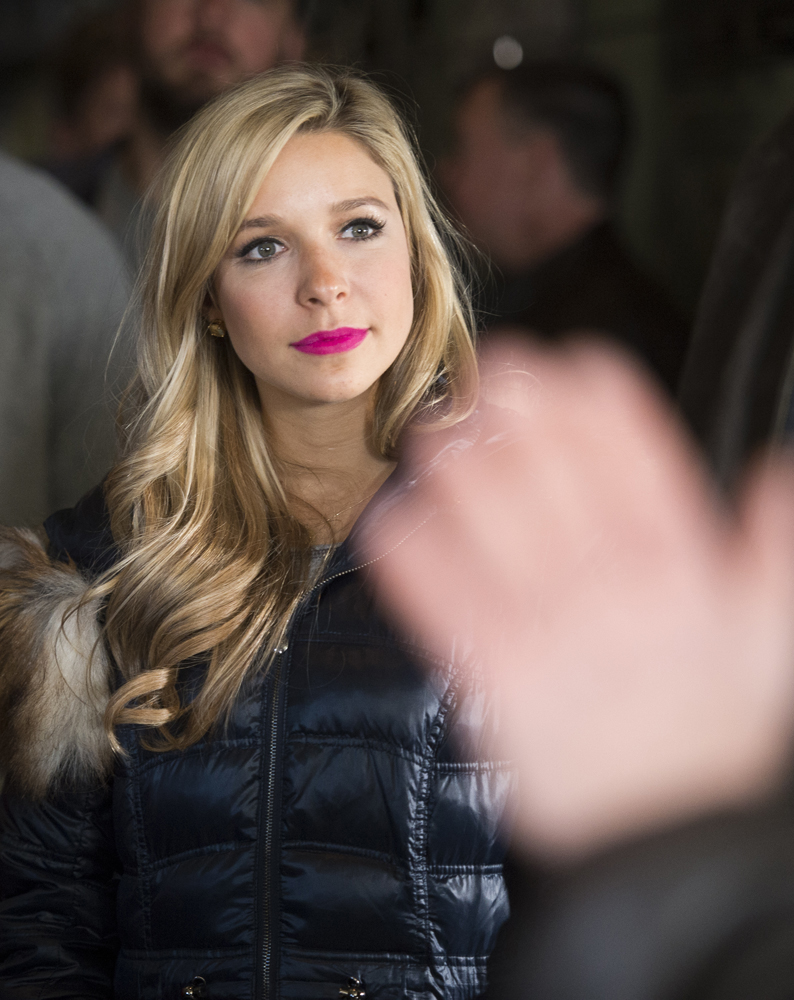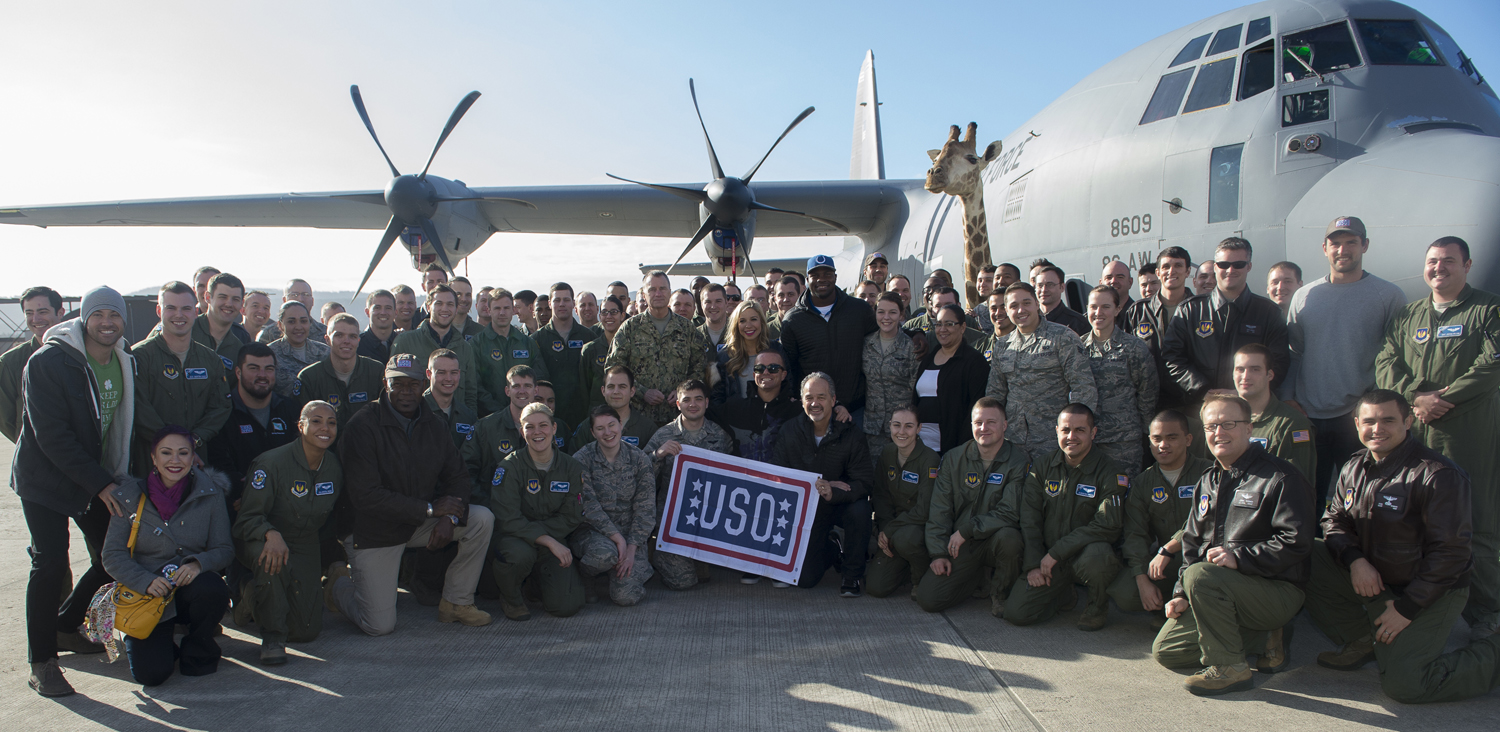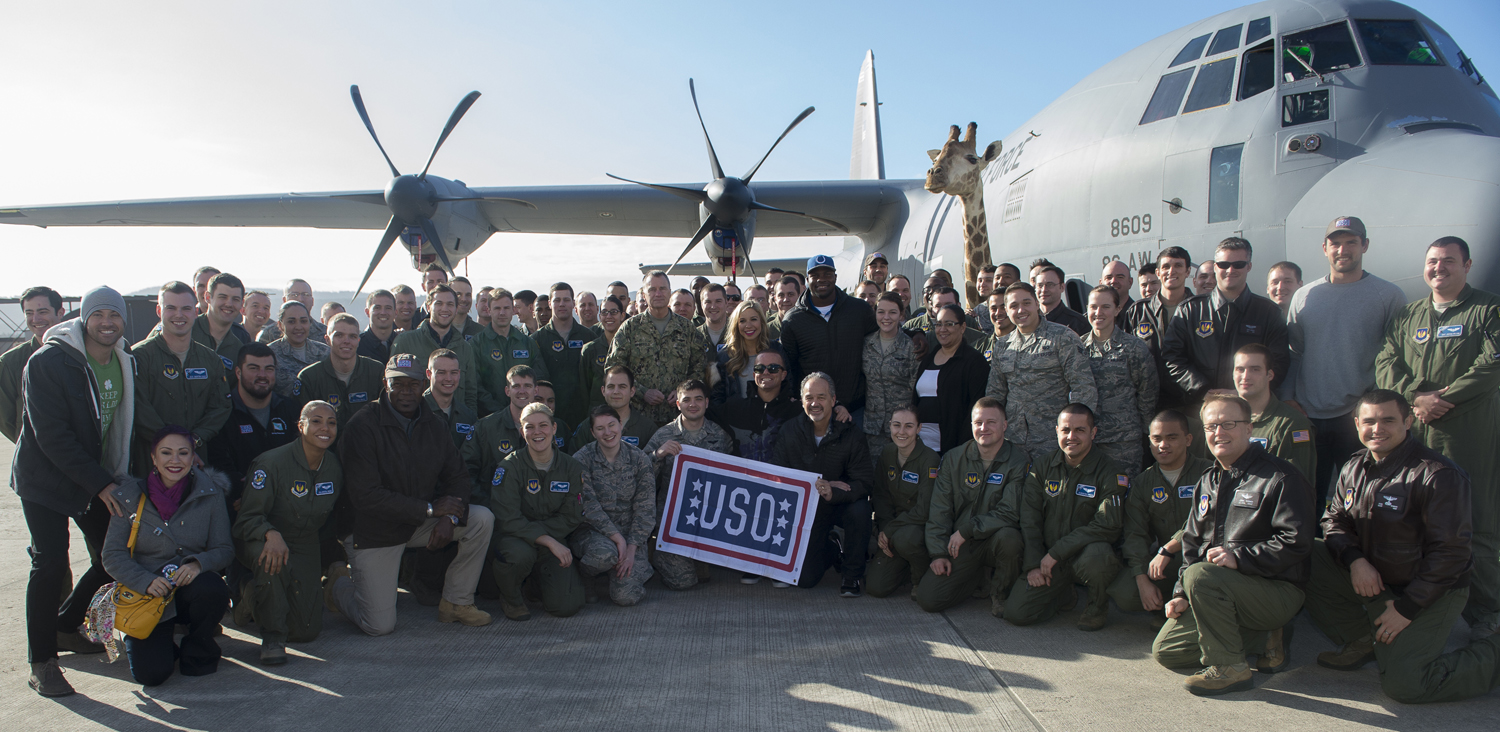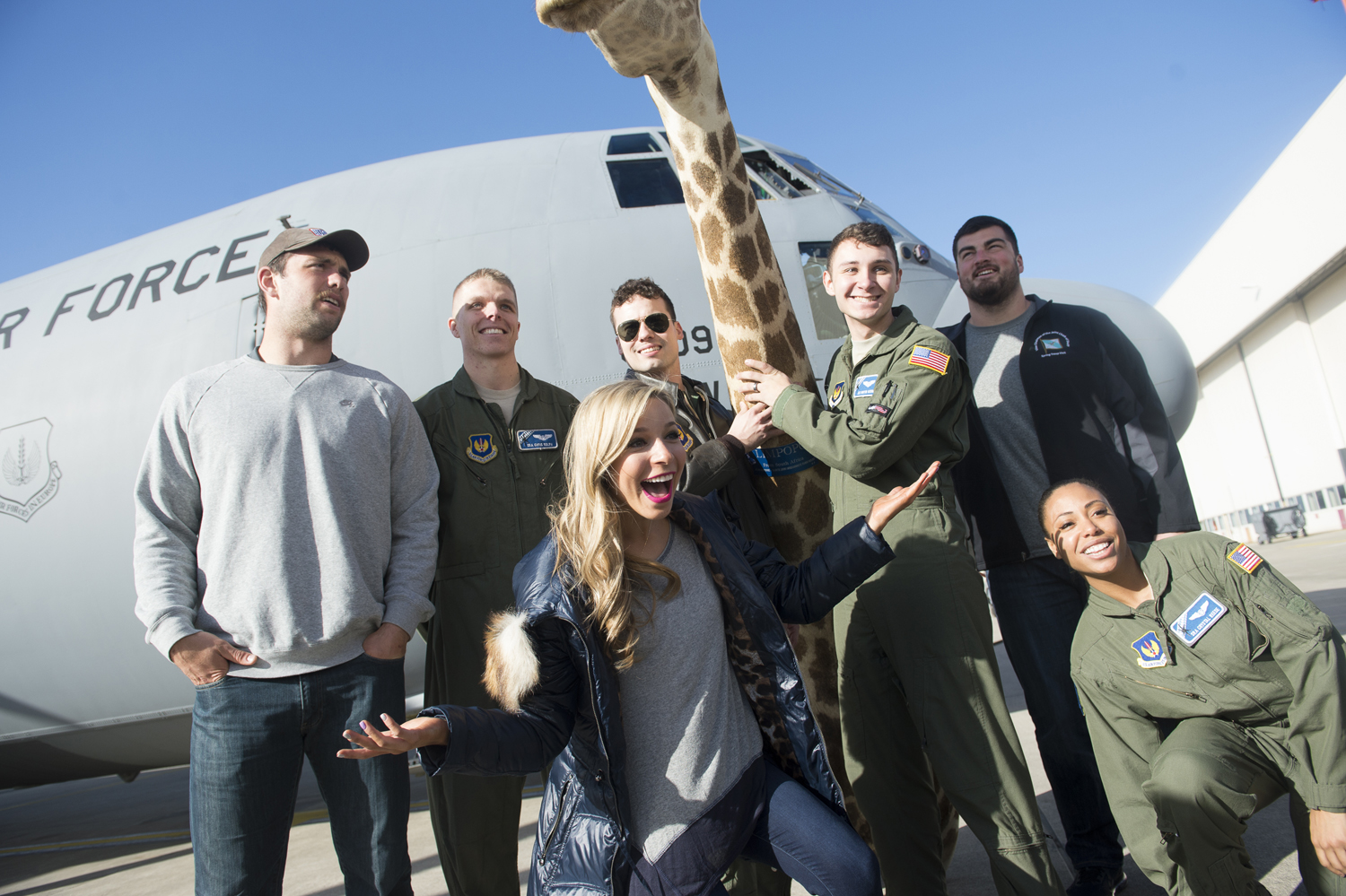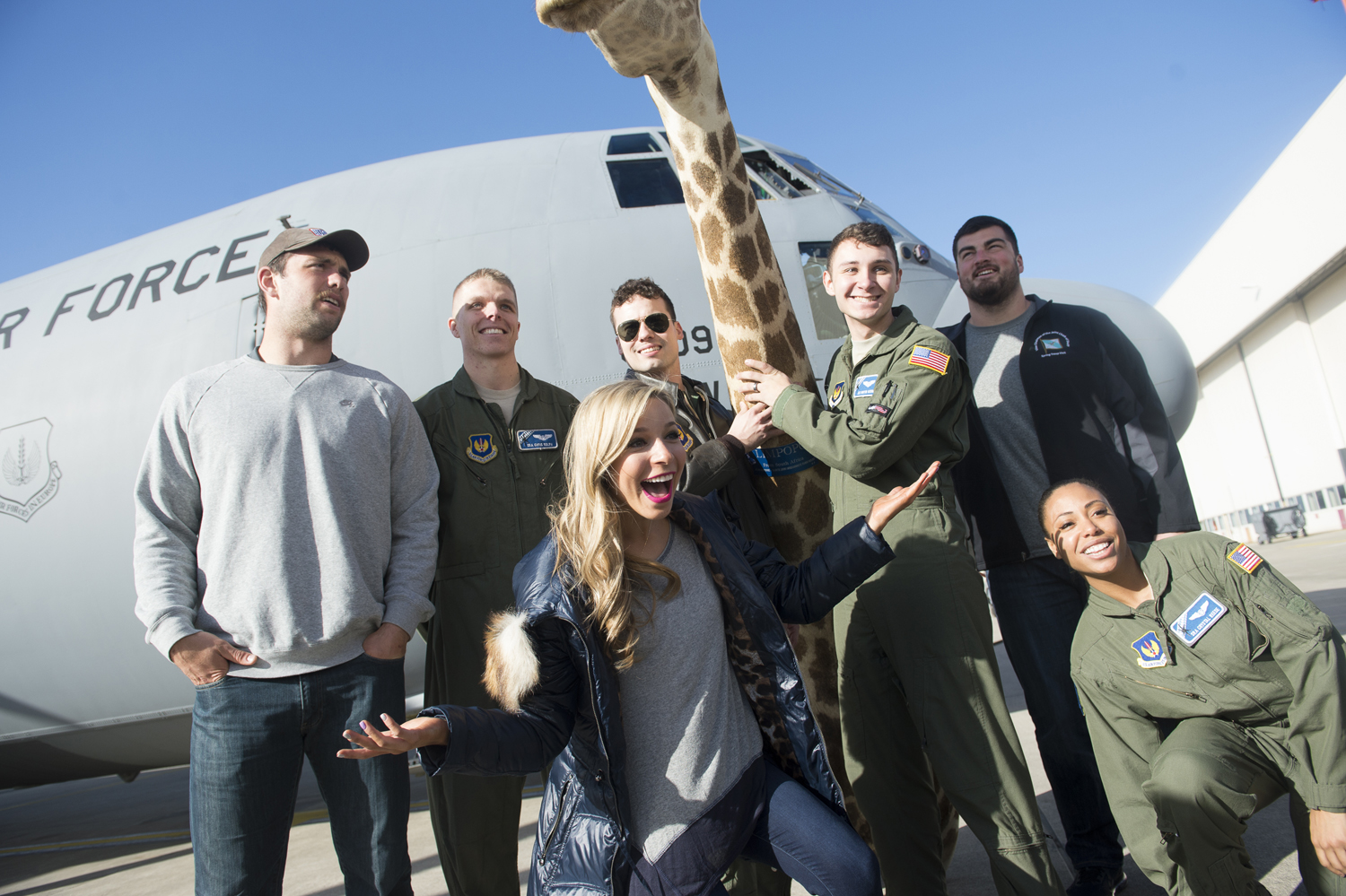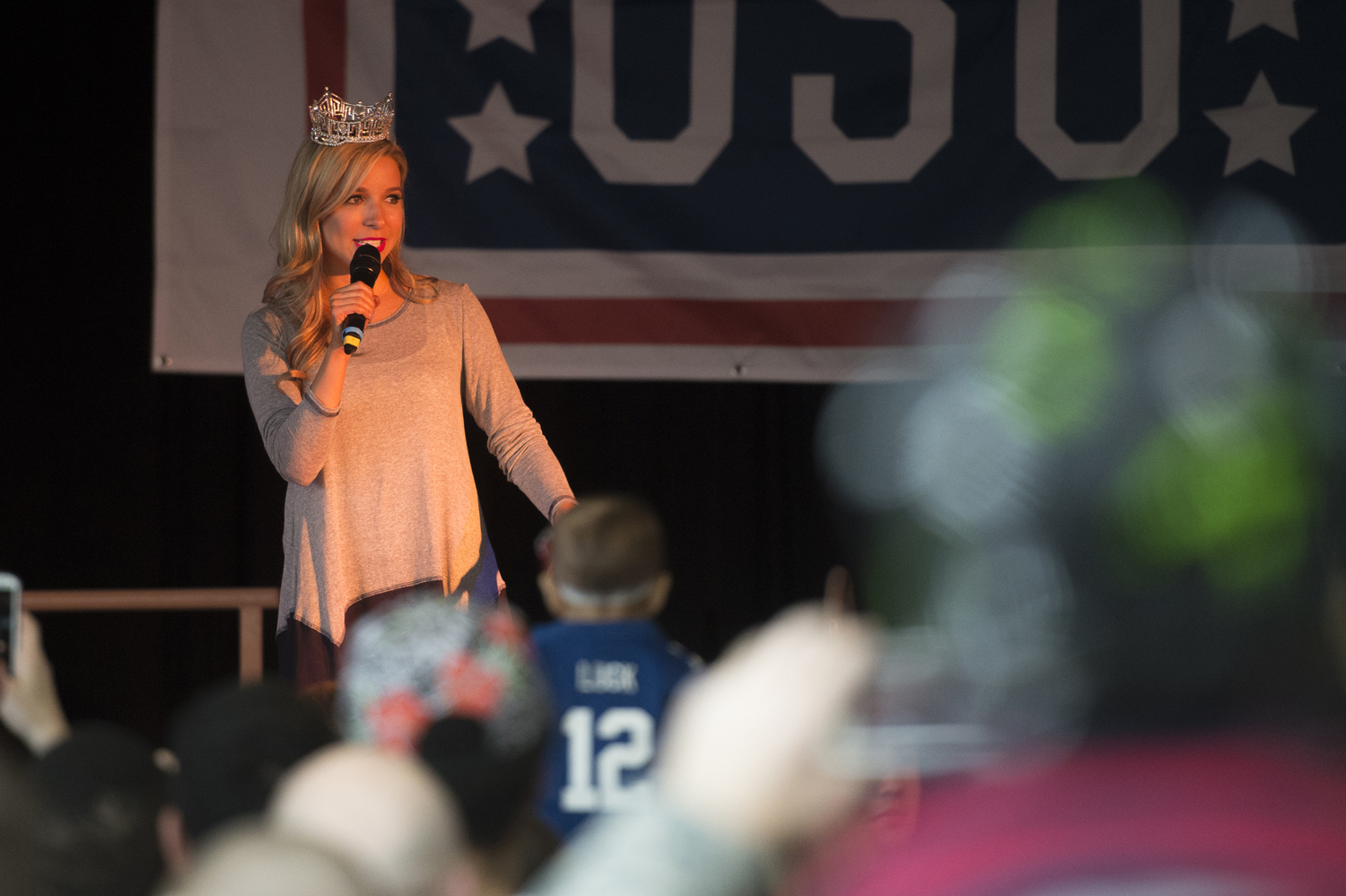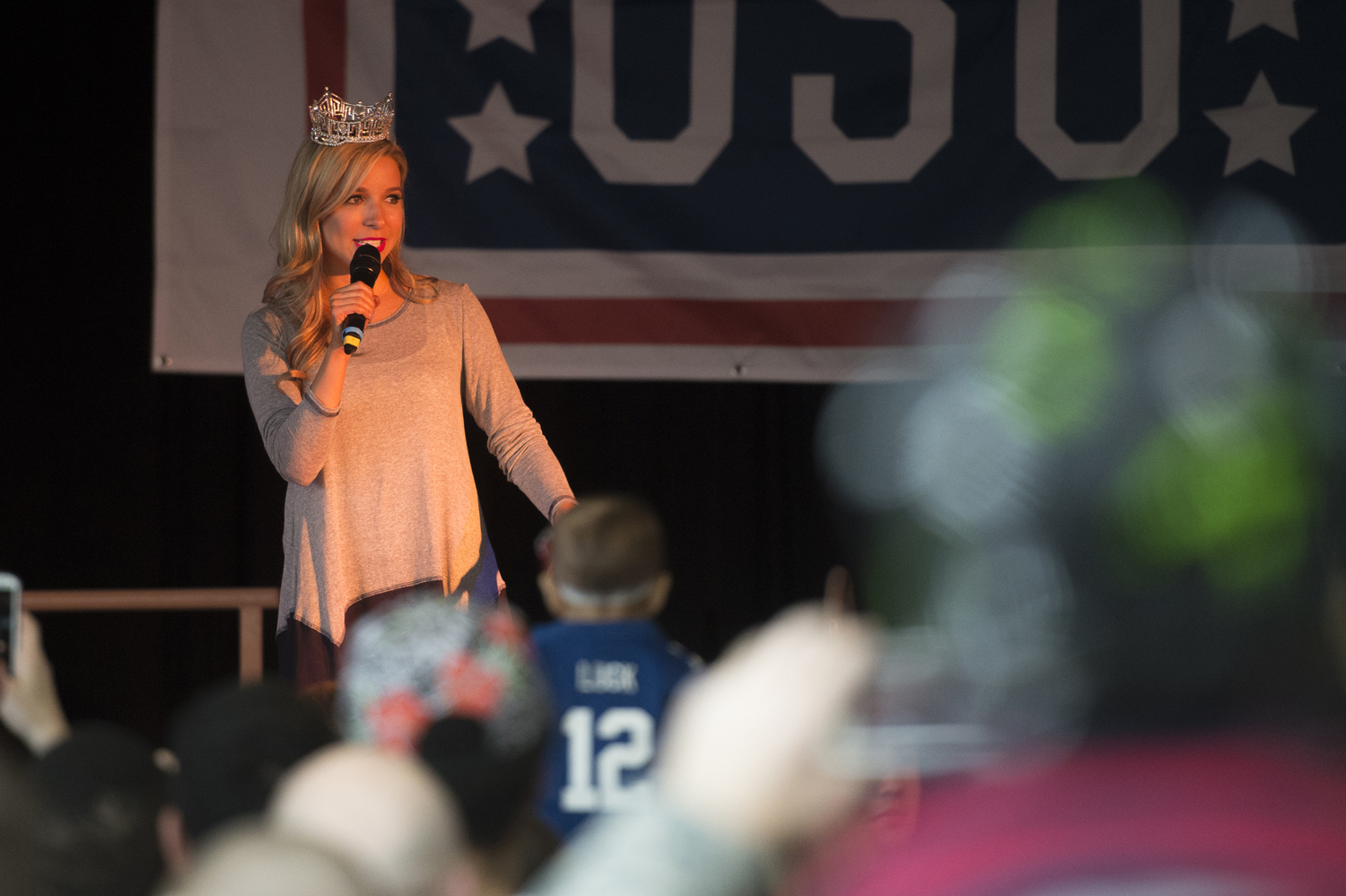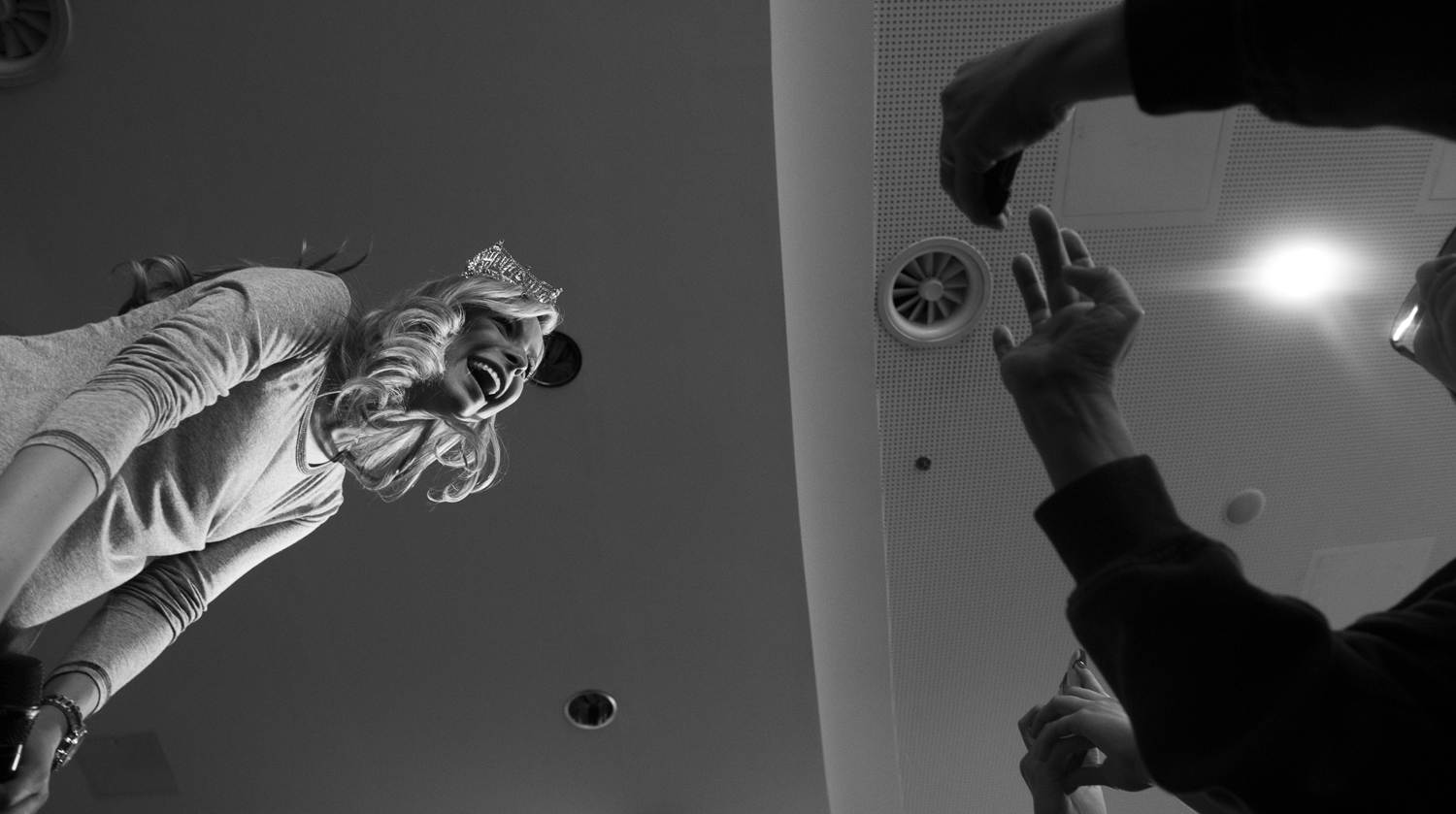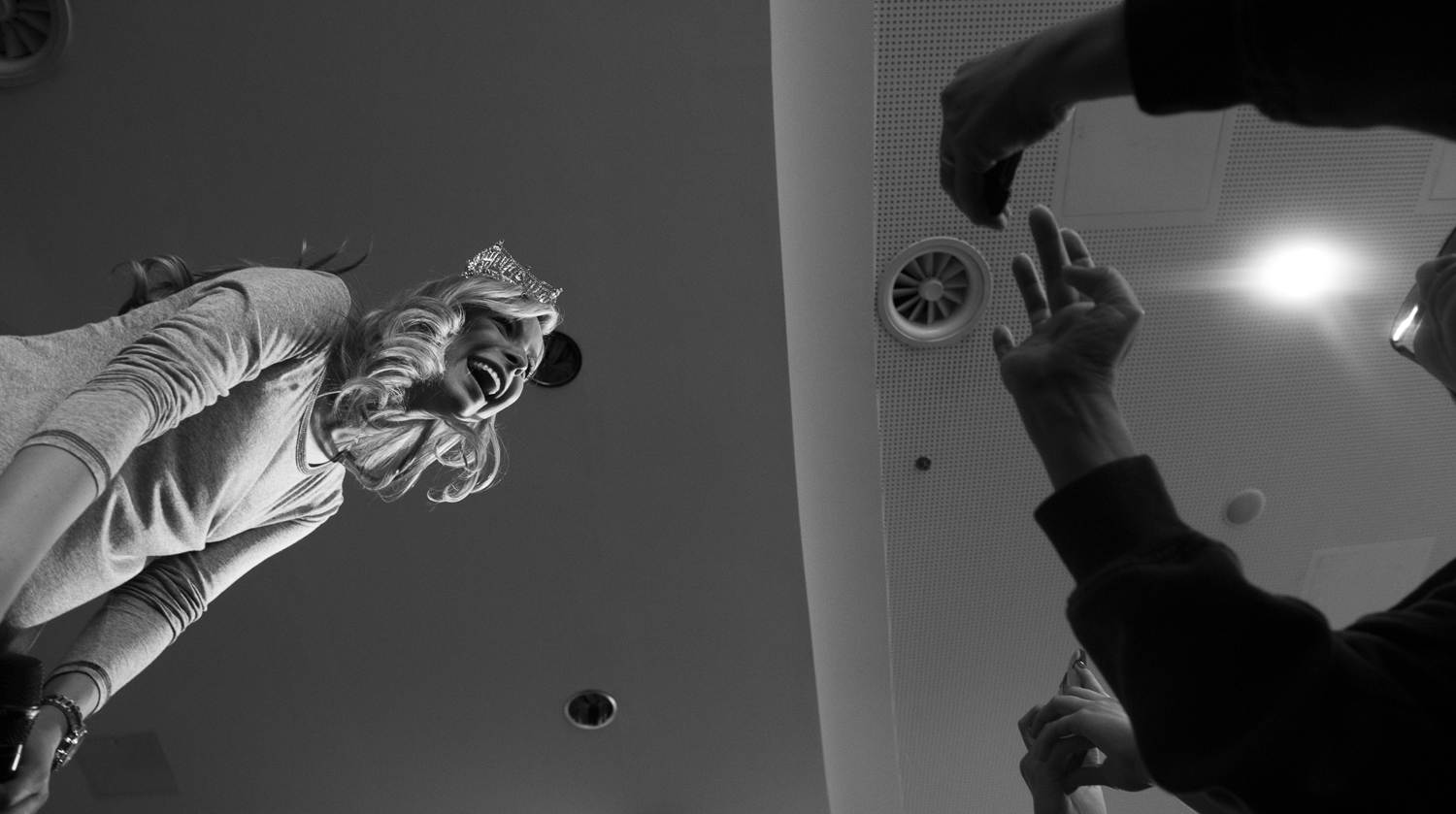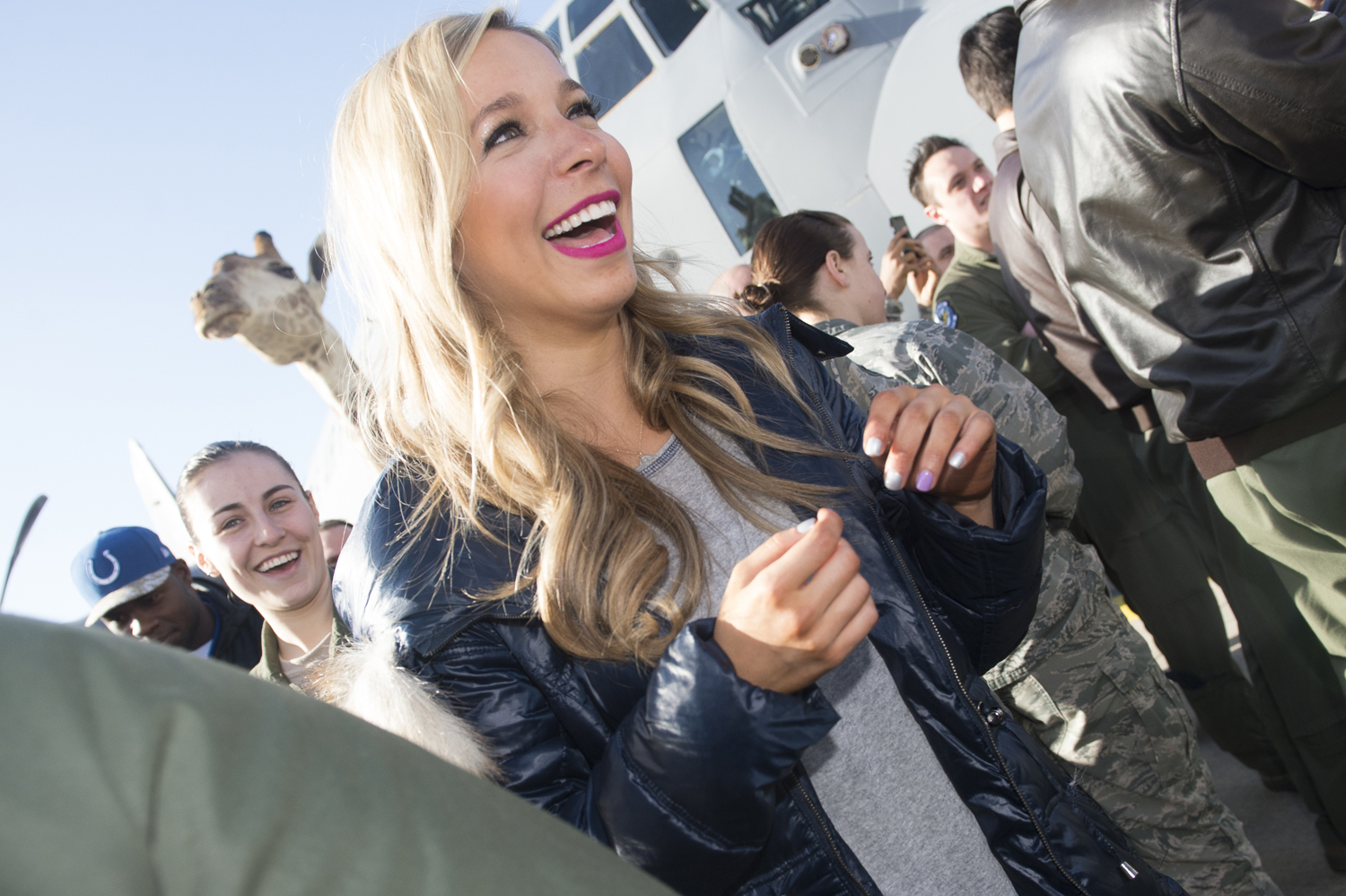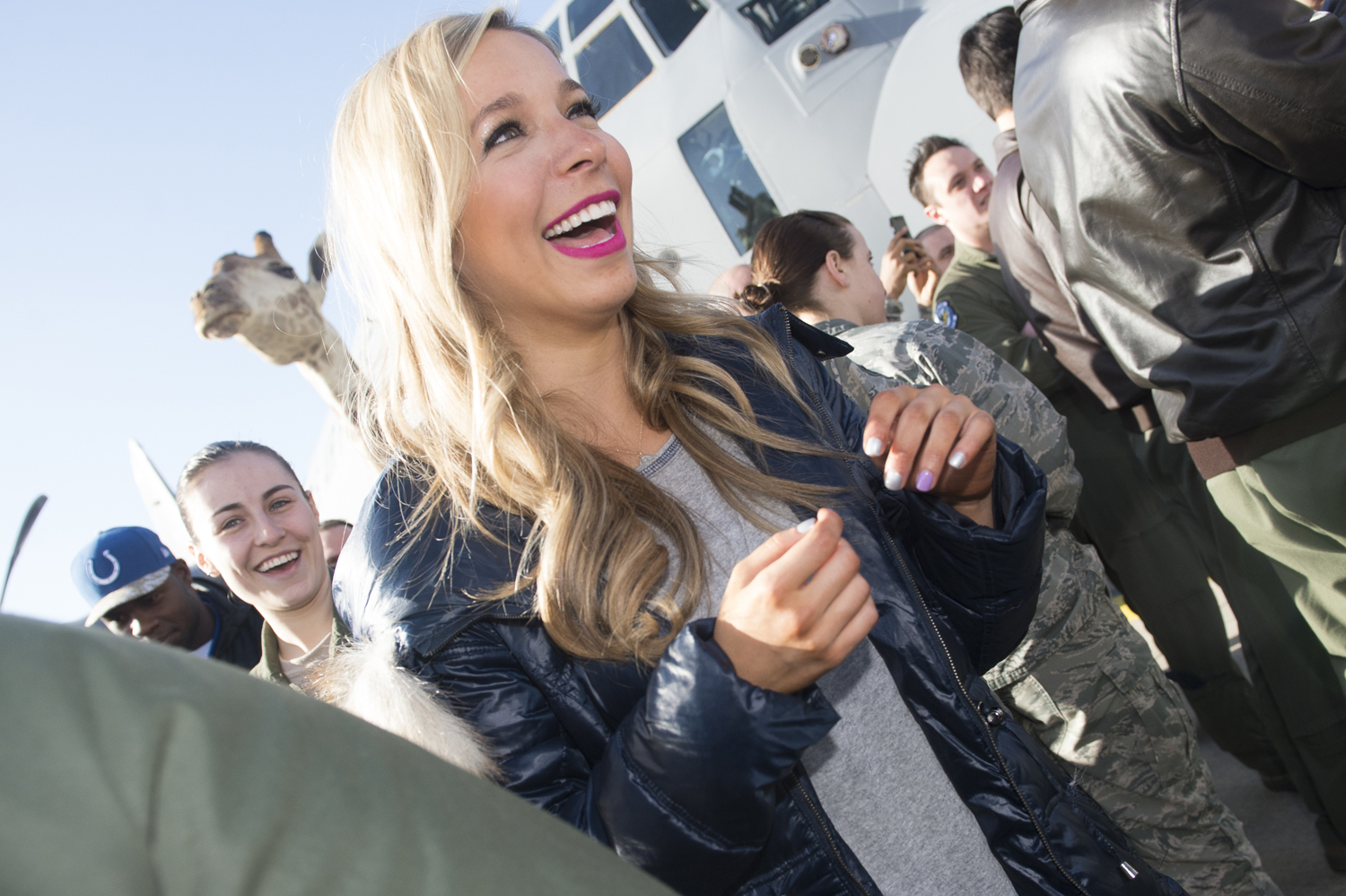 At the close of the show we sang a very emotional God Bless America, followed by a very fast USO meet and greet, then rushed to catch the plane for our next tour stop: Naples, Italy.
USO show #2 took place at Navy Support Activities Naples and was set up in the school gym on base – perfect for the football players portion of the show. Andrew Luck would generally call service members up, and they would get to do drills with the guys and throw some footballs. There was one little kid who wanted Luck to throw him a ball from probably 40 yards away. The kid caught it, and the crowd went wild. It was amazing to see the excitement that a simple football could bring to this base. For my section, Wee-Man introduced me via song, and continued to do so in every show. Our performance was followed by another USO meet and greet and then we were off to the hotel to finally get some dinner and have one of our few nights of sleep.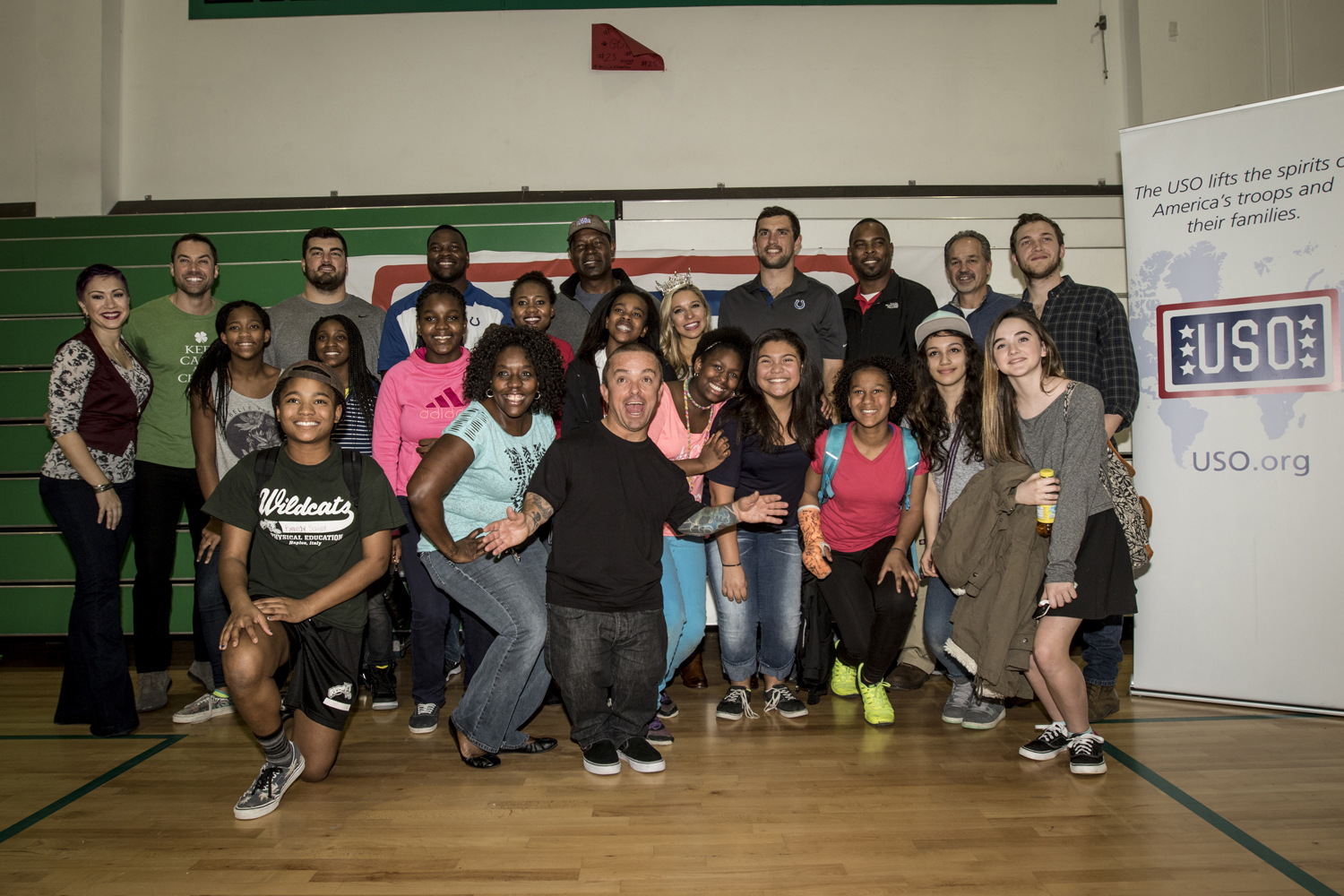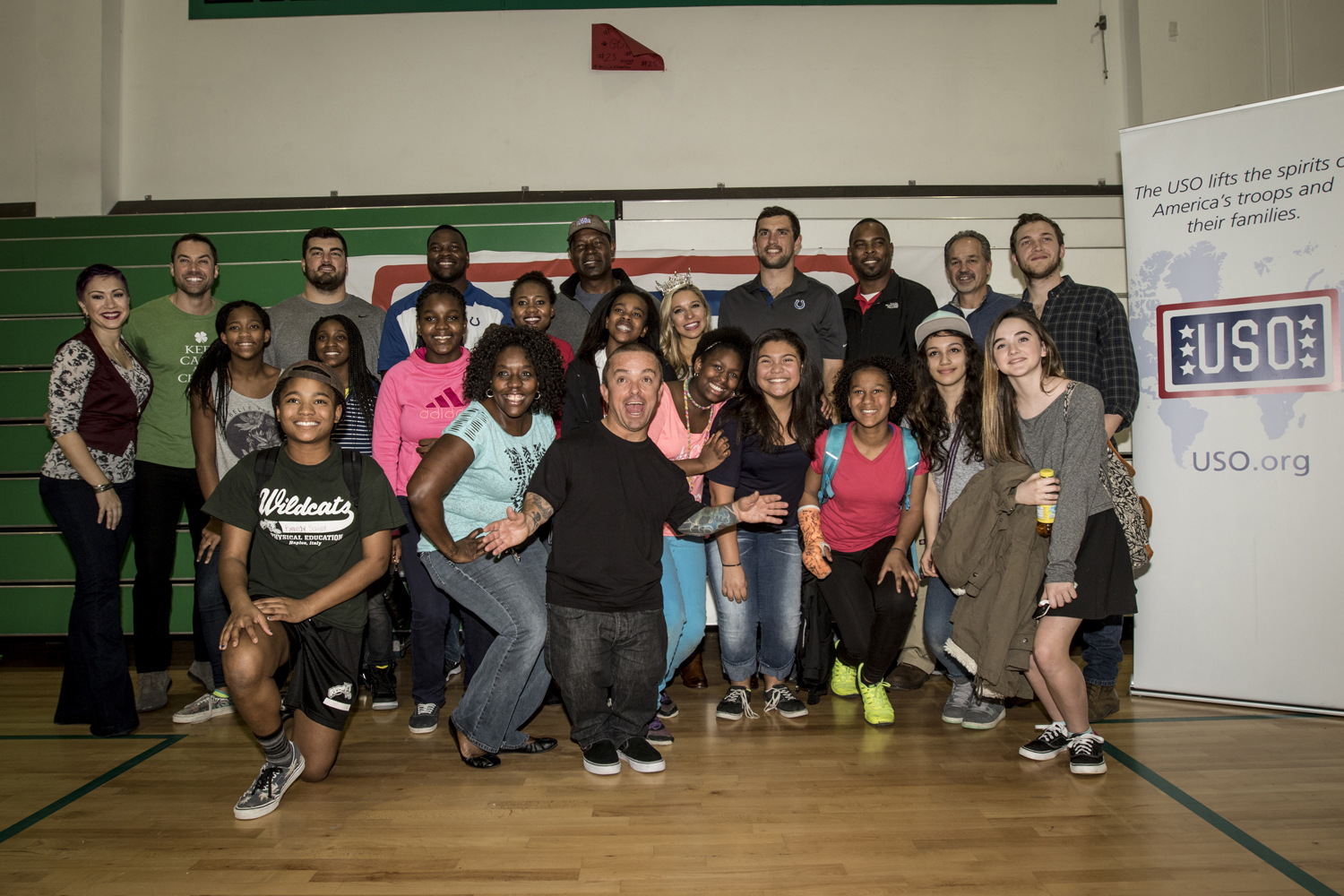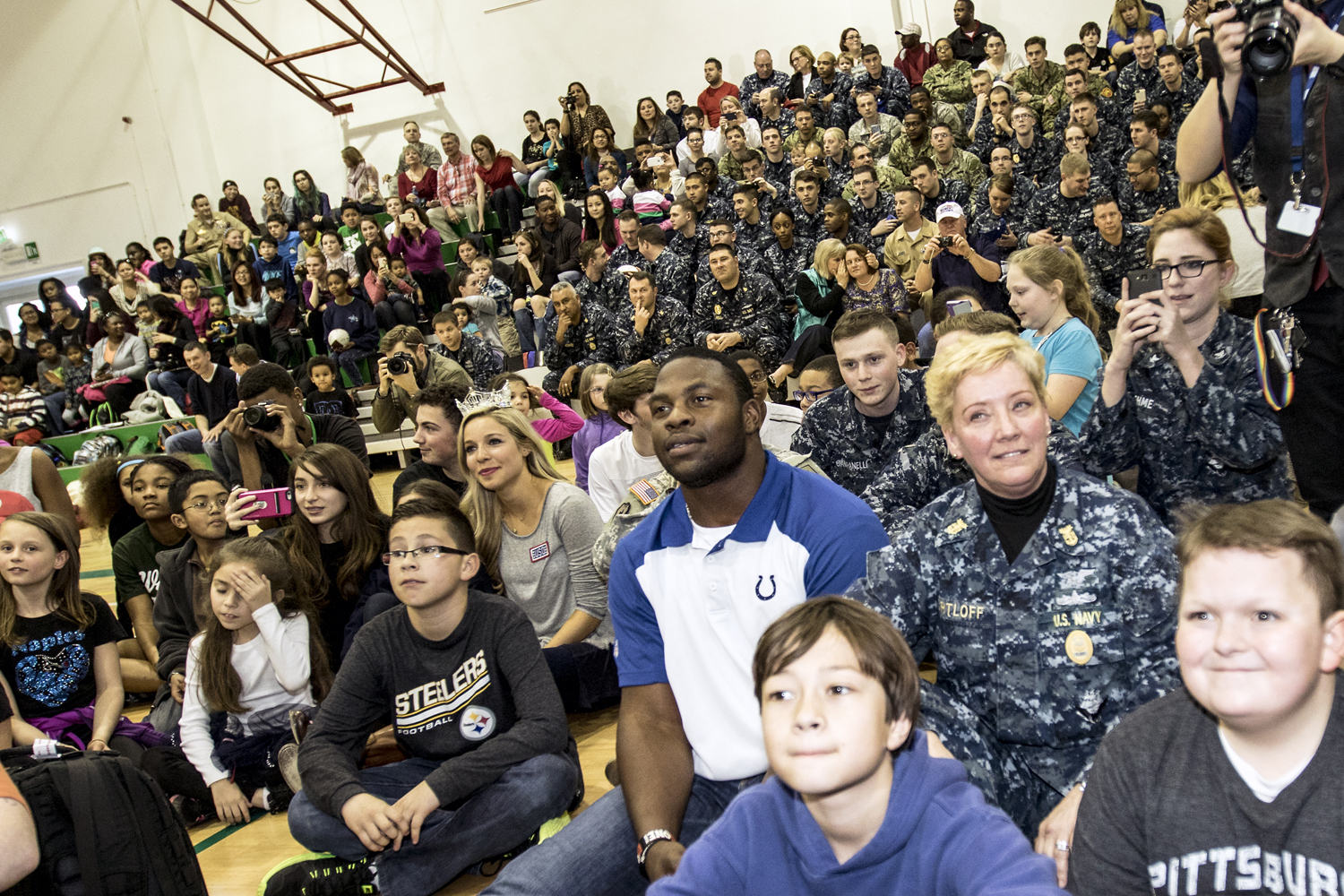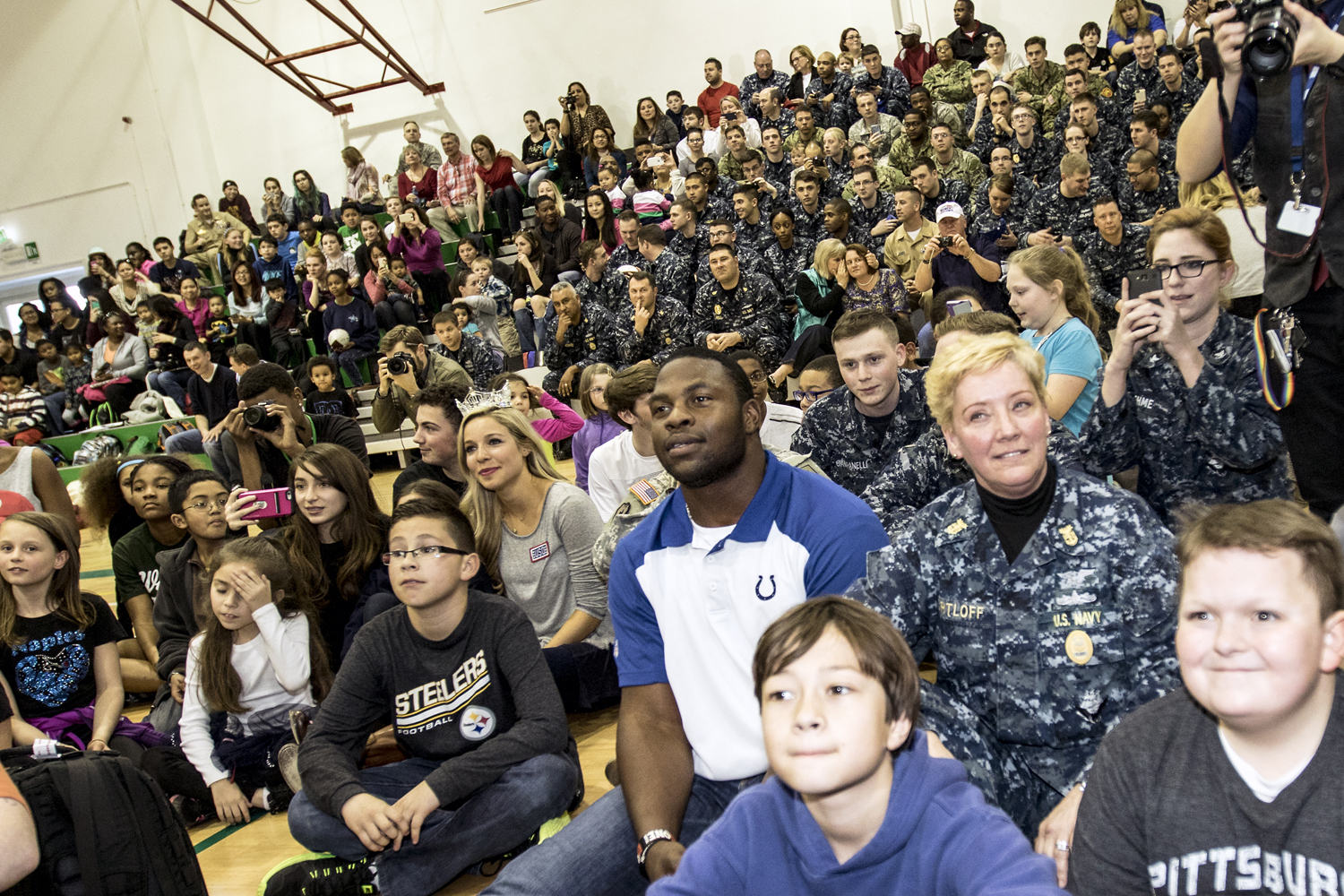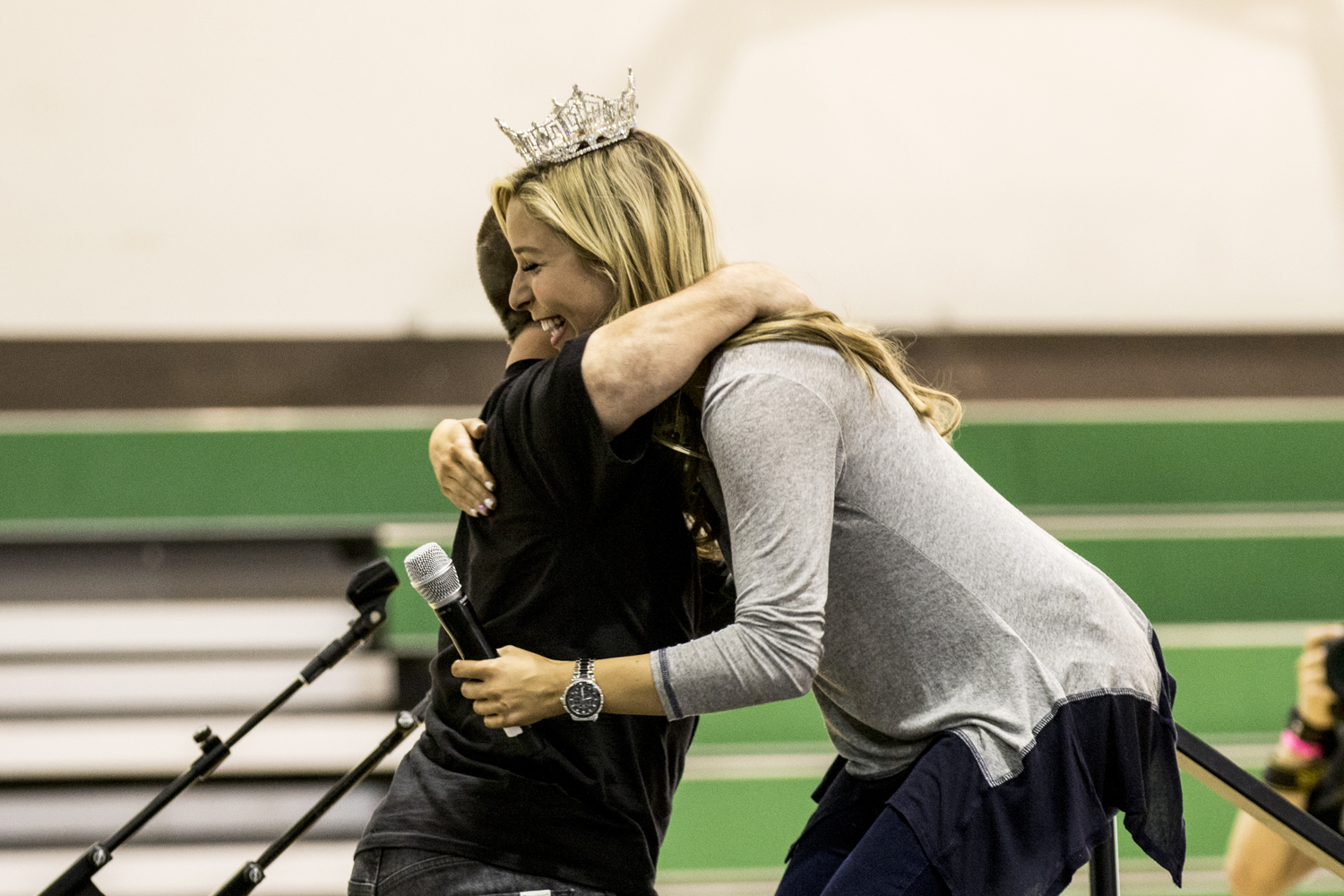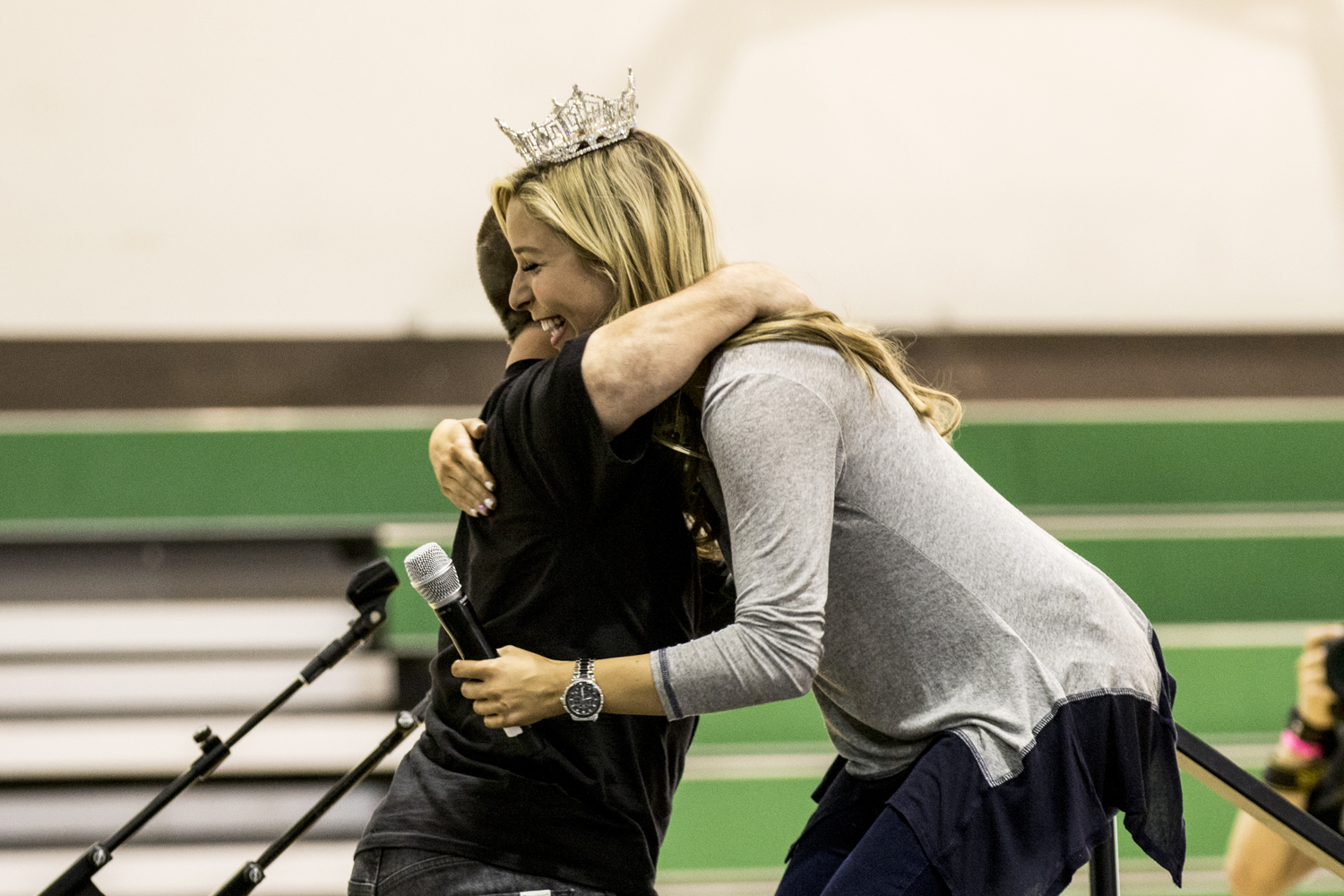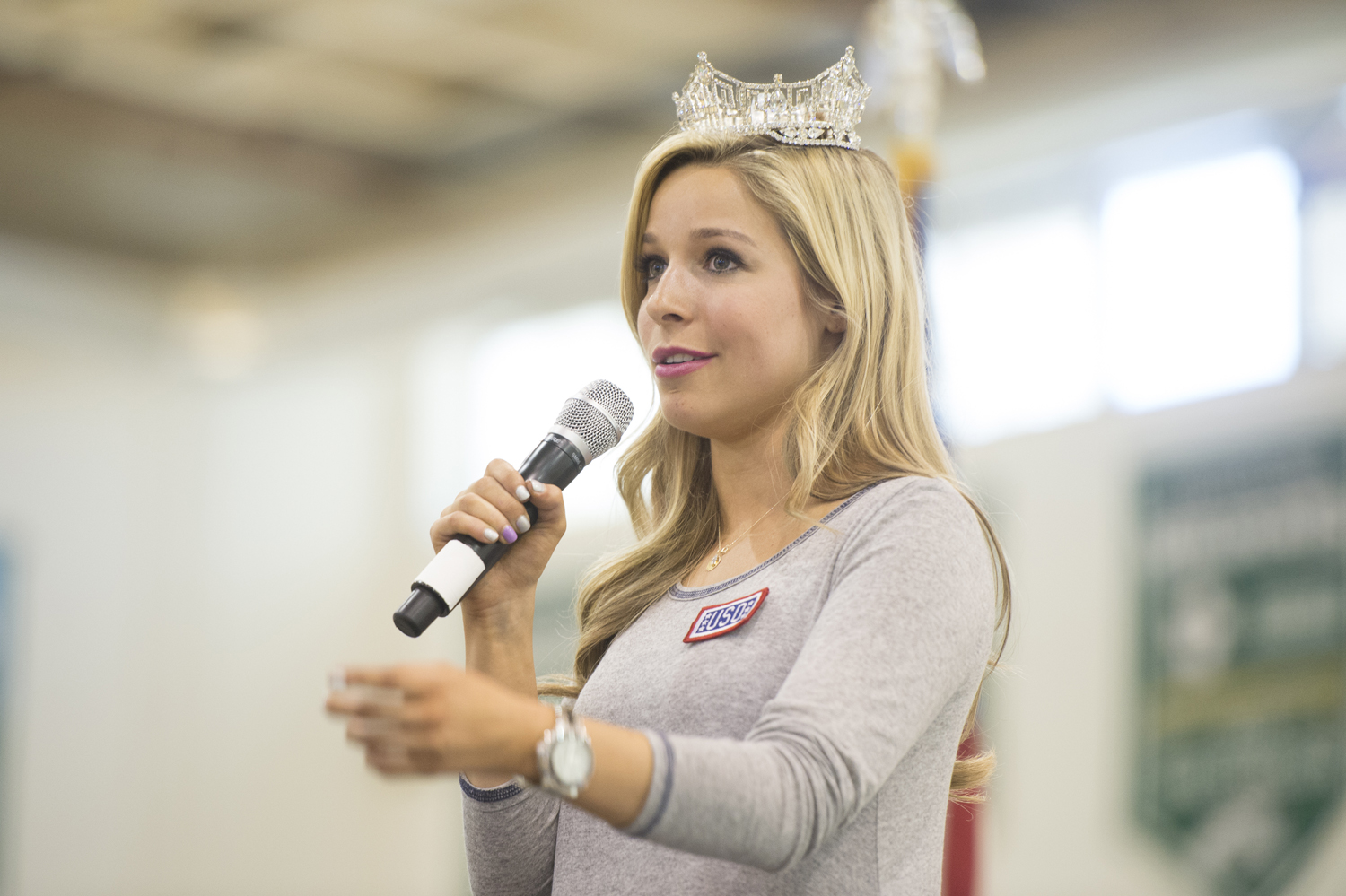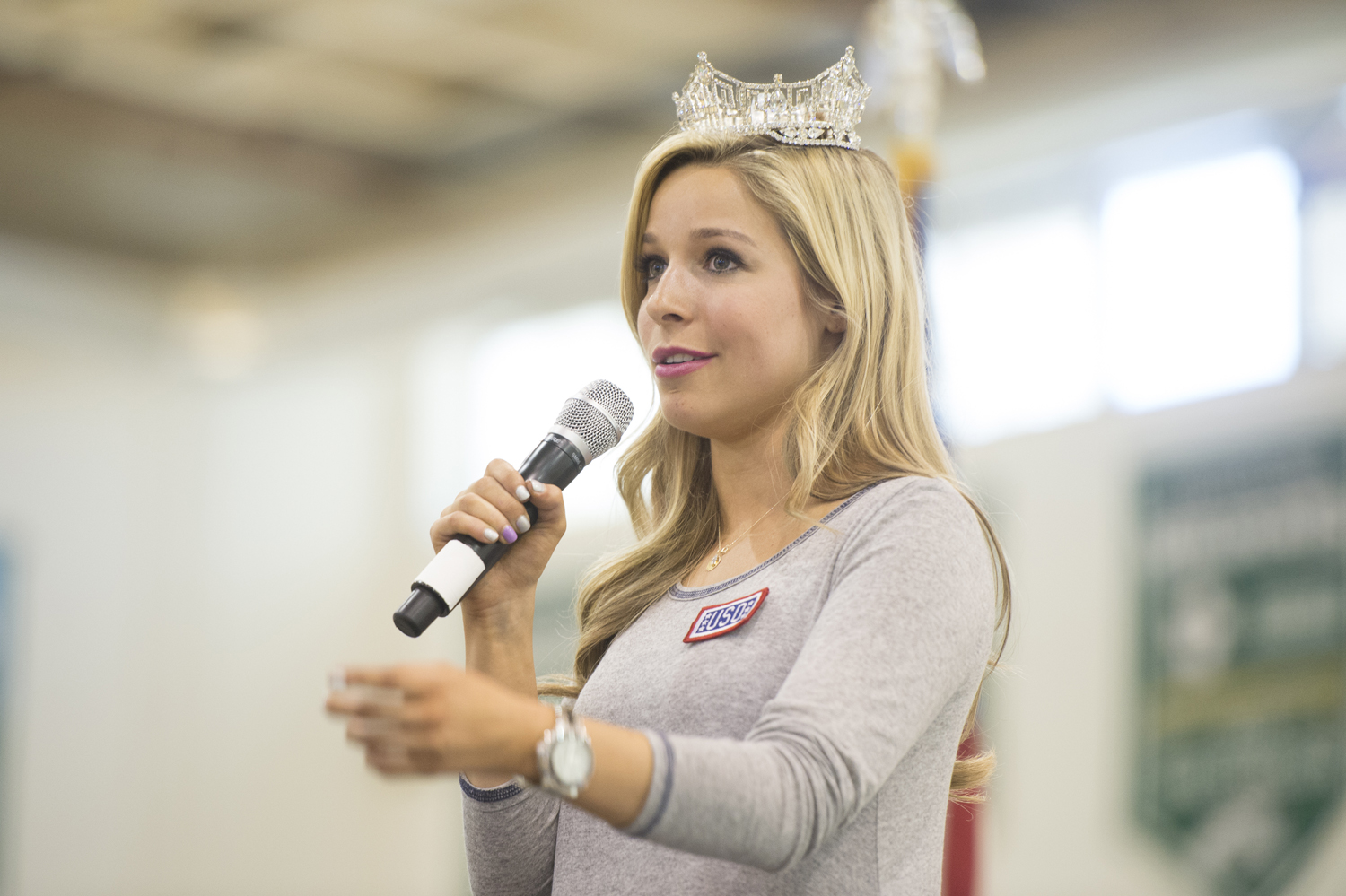 viagra au Day Three.
The next morning we were up exceptionally early to head to our next destination: Bahrain! This was my first time in a Middle Eastern country, and I definitely experienced some culture shock. The people watching at the hotel that night was particularly interesting, seeing European financial moguls and Sheiks all under one roof made for quite a picturesque scene. While visiting alcohol and viagra dont mix Naval Support Activity Bahrain, we were able to meet with Marines, and we also spent time with a group of sailors before we went into that night's show. I was surprised that there were actually families on base in Bahrain. These kids made our USO show amazing – enjoying every single minute. There were definitely some future Miss Americas there that night. We also happened to visit Bahrain at the perfect time of year, as the outdoor show was absolutely beautiful. It was so nice to spend time with the service members and their families, take pictures, and talk about life in a land far, far away from everything we know and love. A lot of their comments regarding the USO tour were that it was just so nice to have something American come and visit, a little piece of home. Hearing that really makes you realize how important USO tours are for our troops. It is the least that, any person who is given the opportunity, can do to give back. After another USO meet and greet we headed back to the hotel, had a great group dinner and then went to bed to rest up for what turned out to be one of the coolest experiences of my life.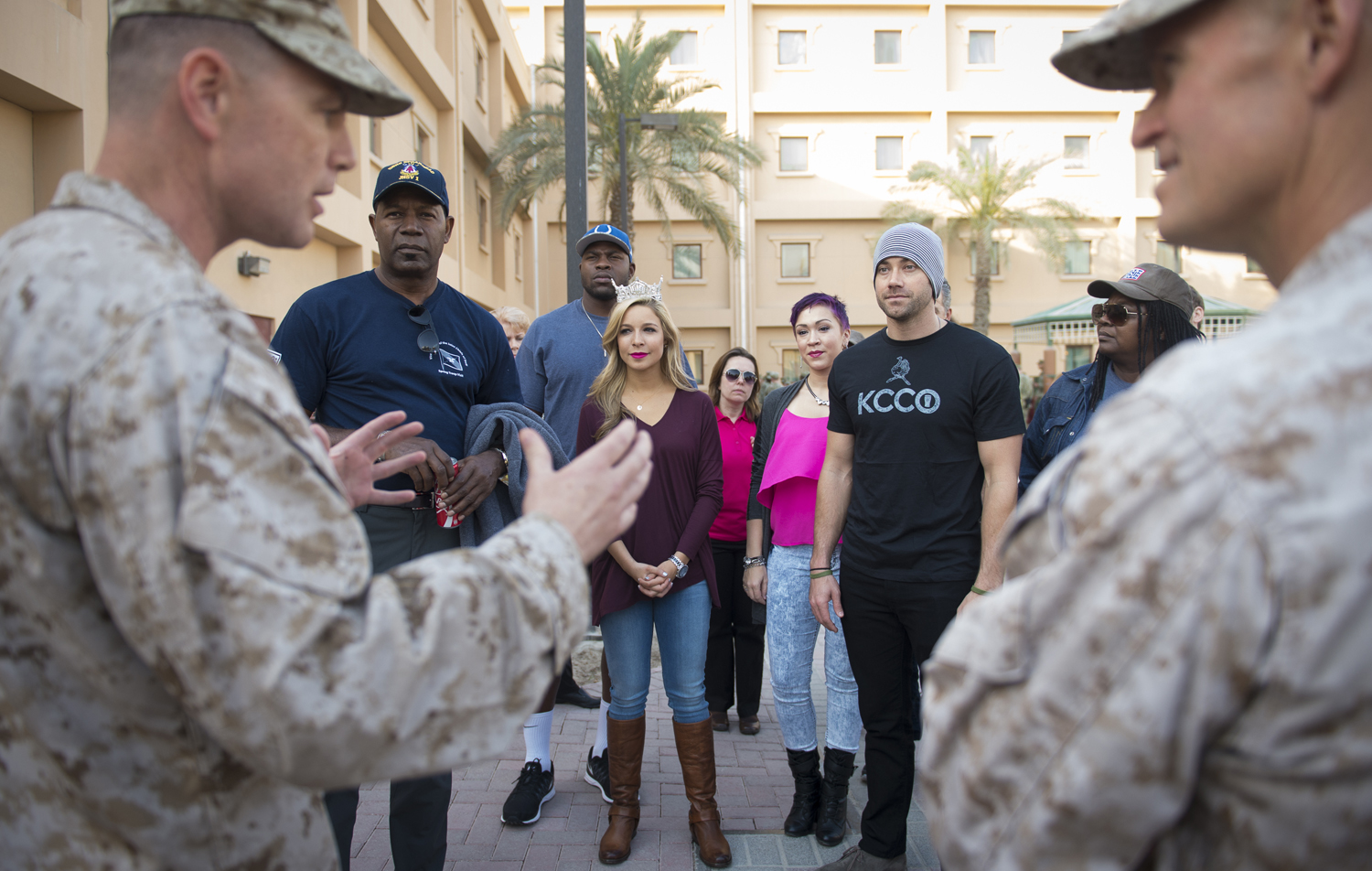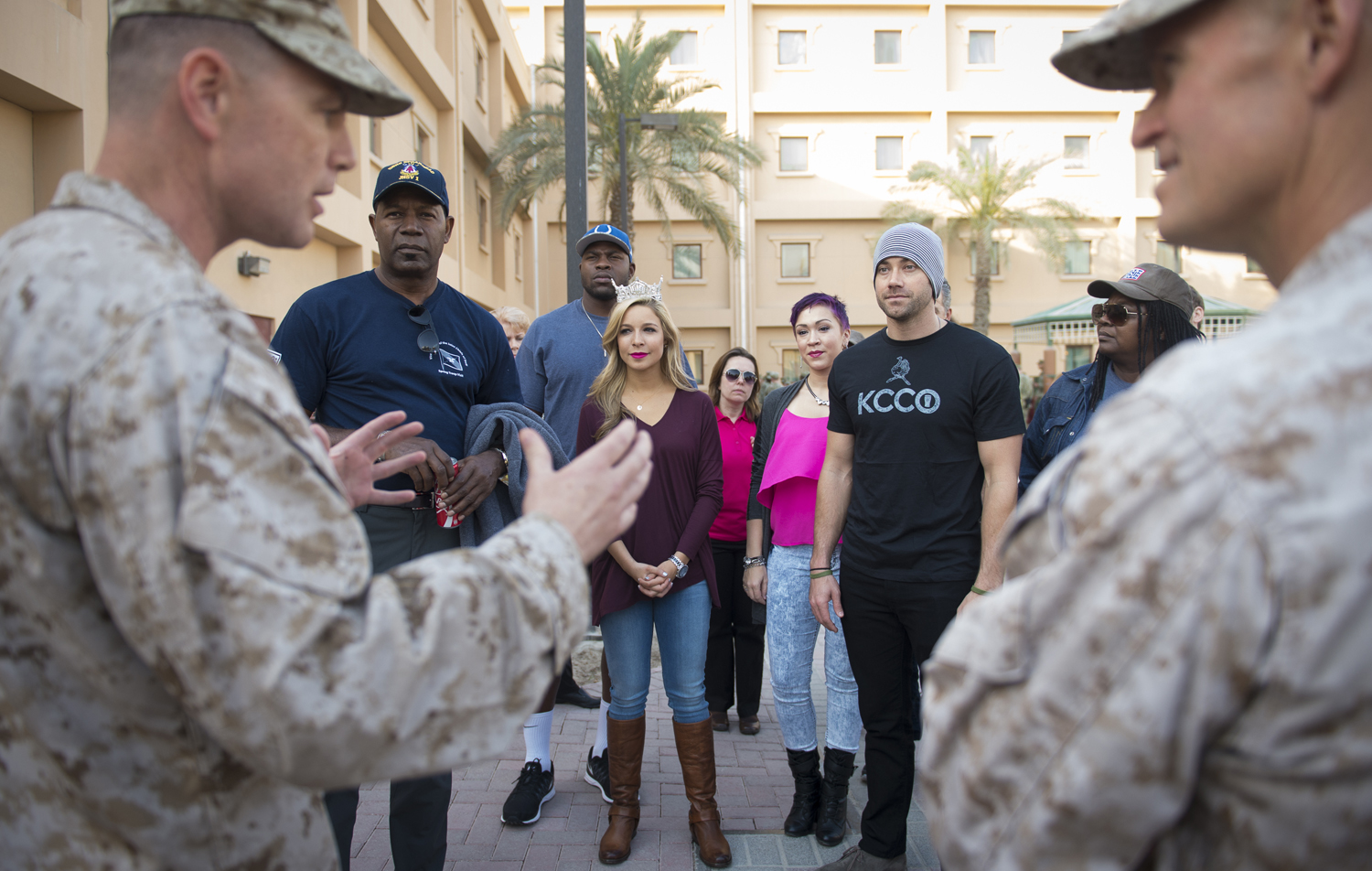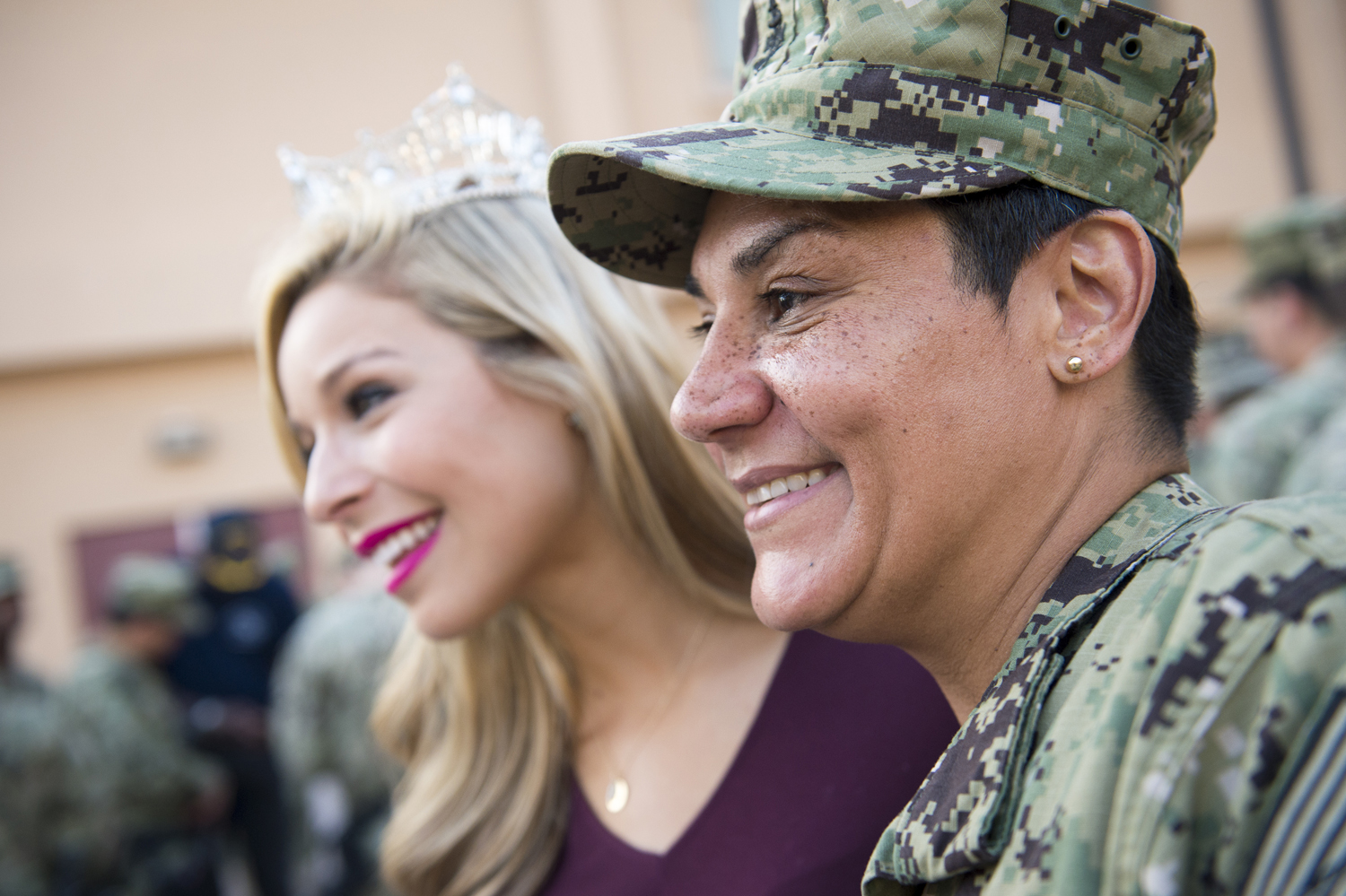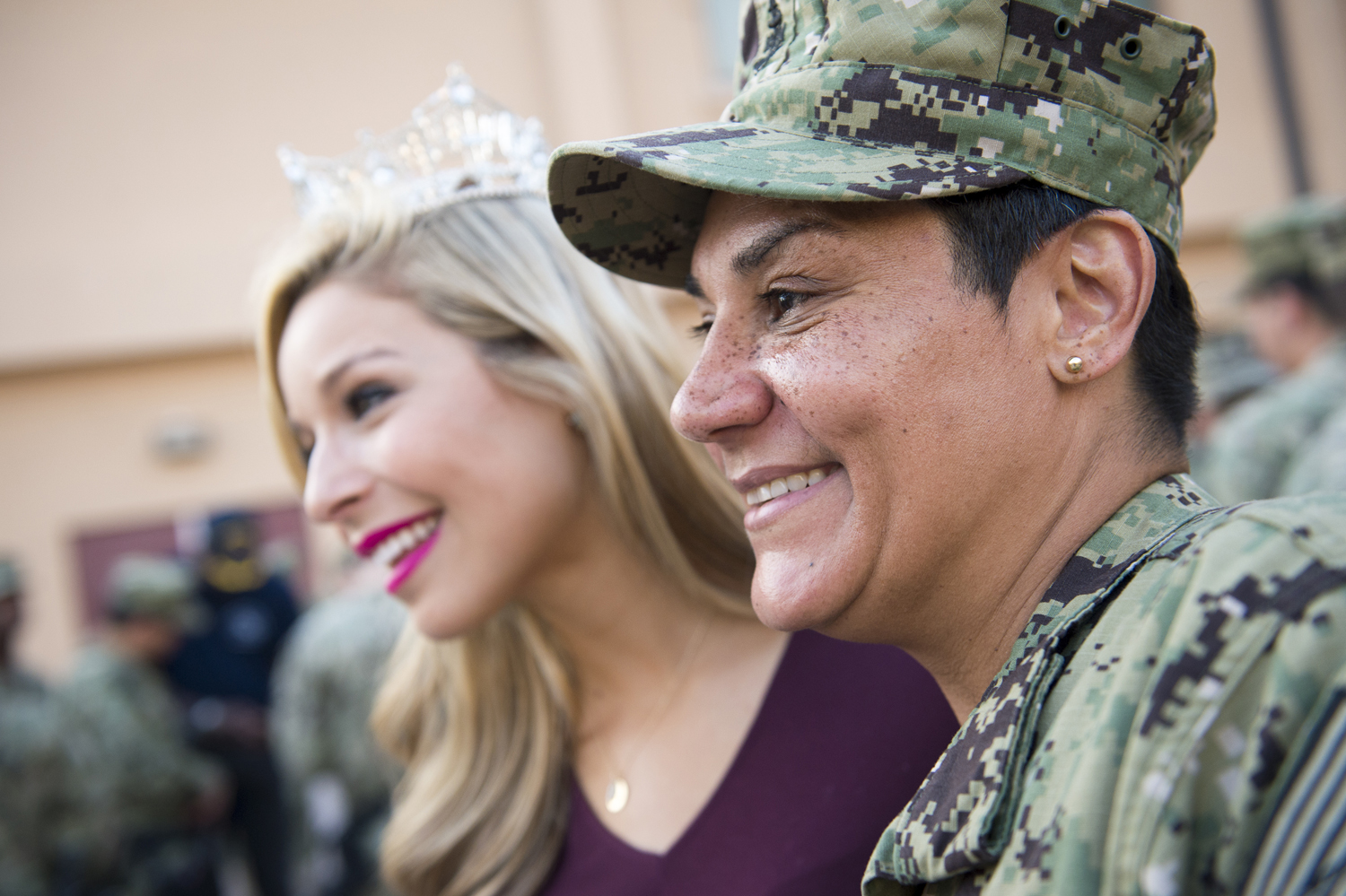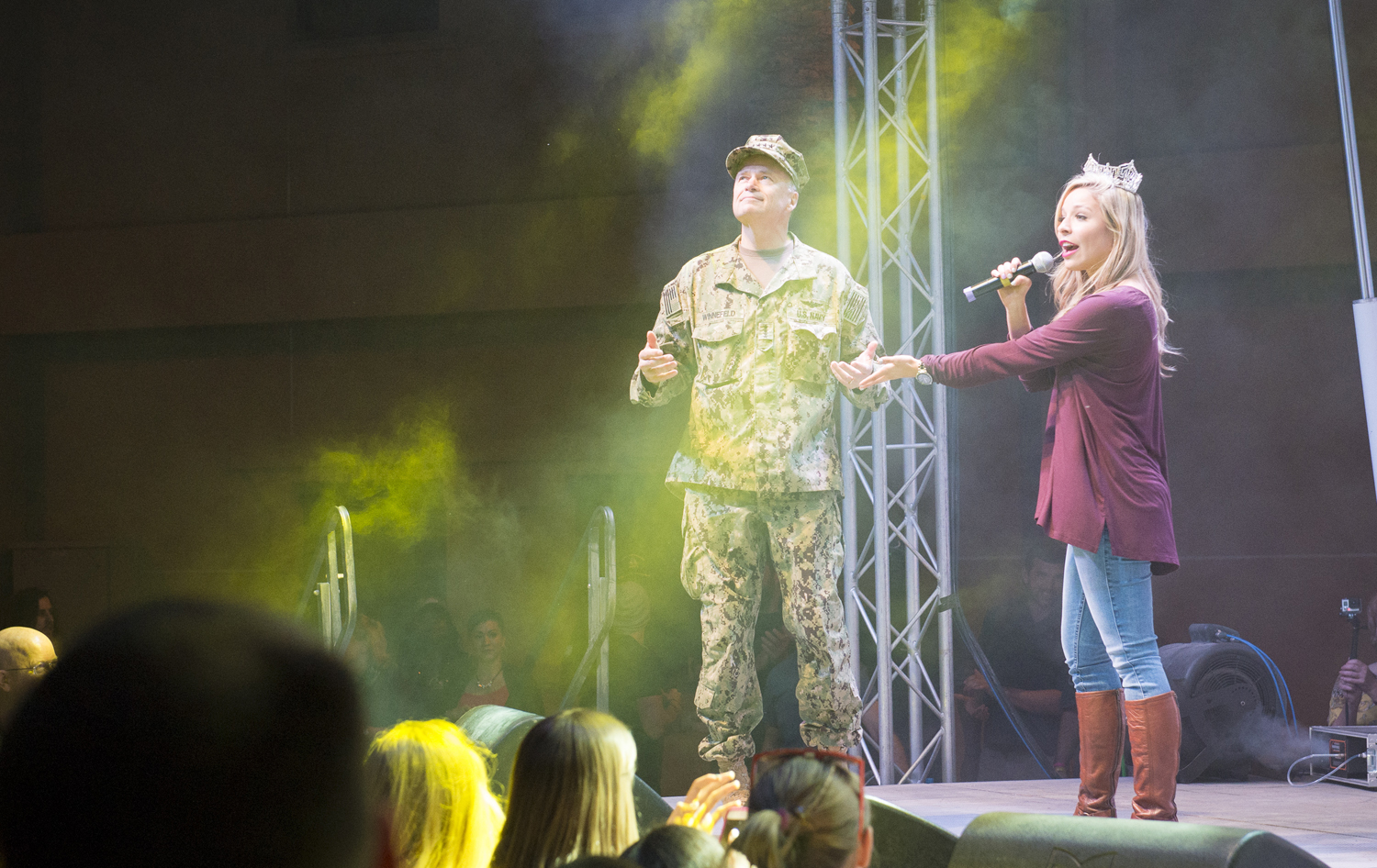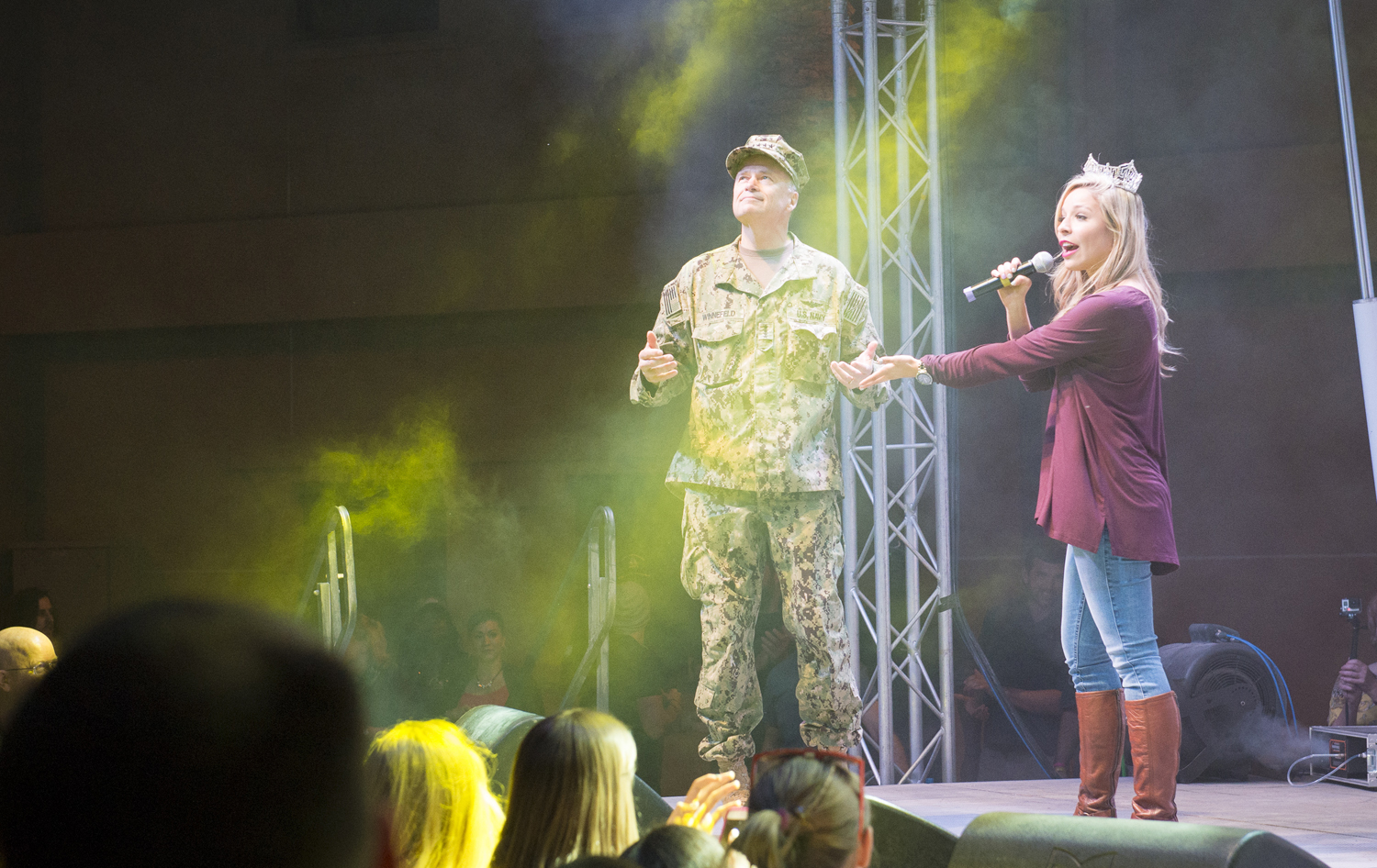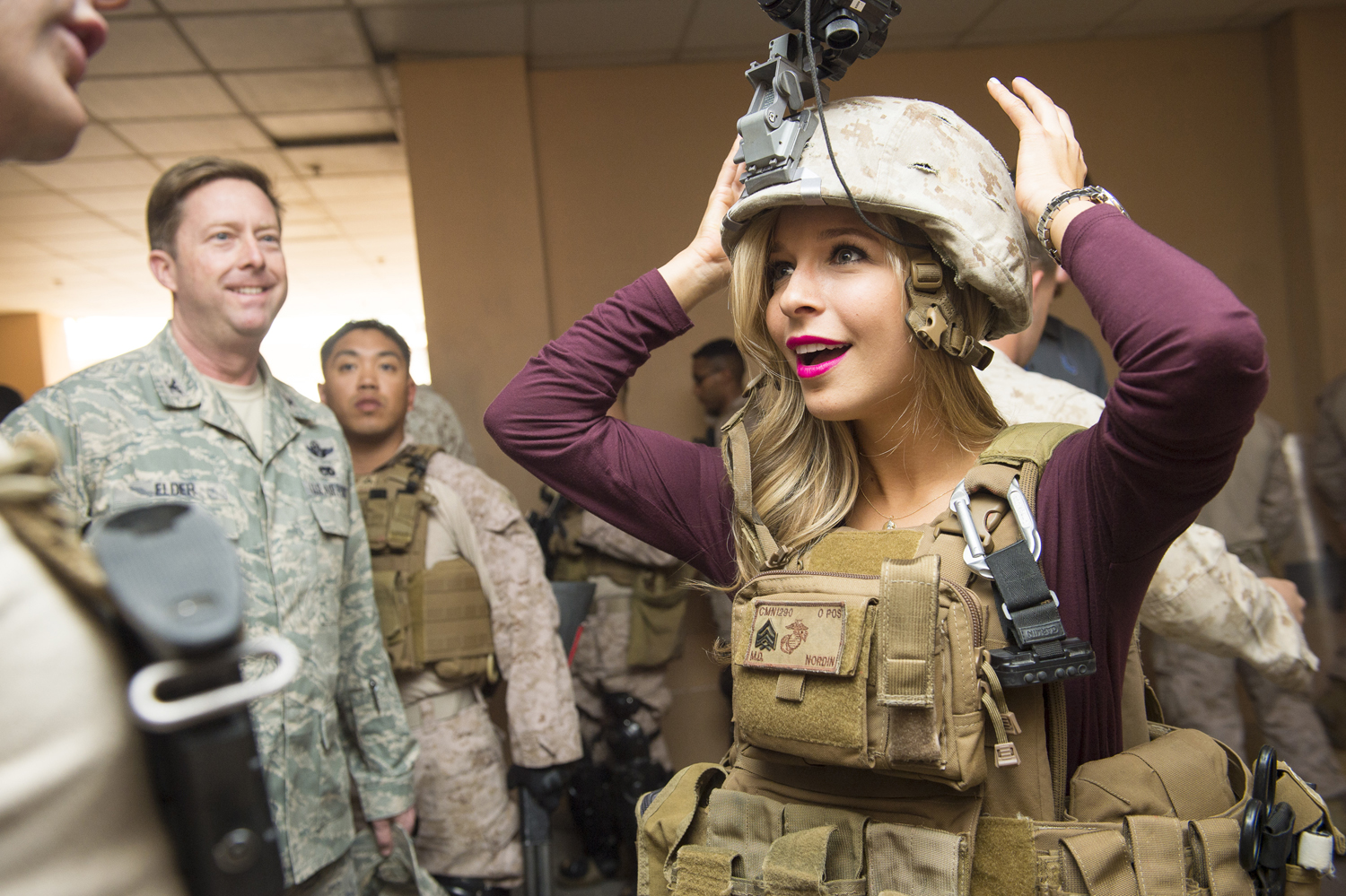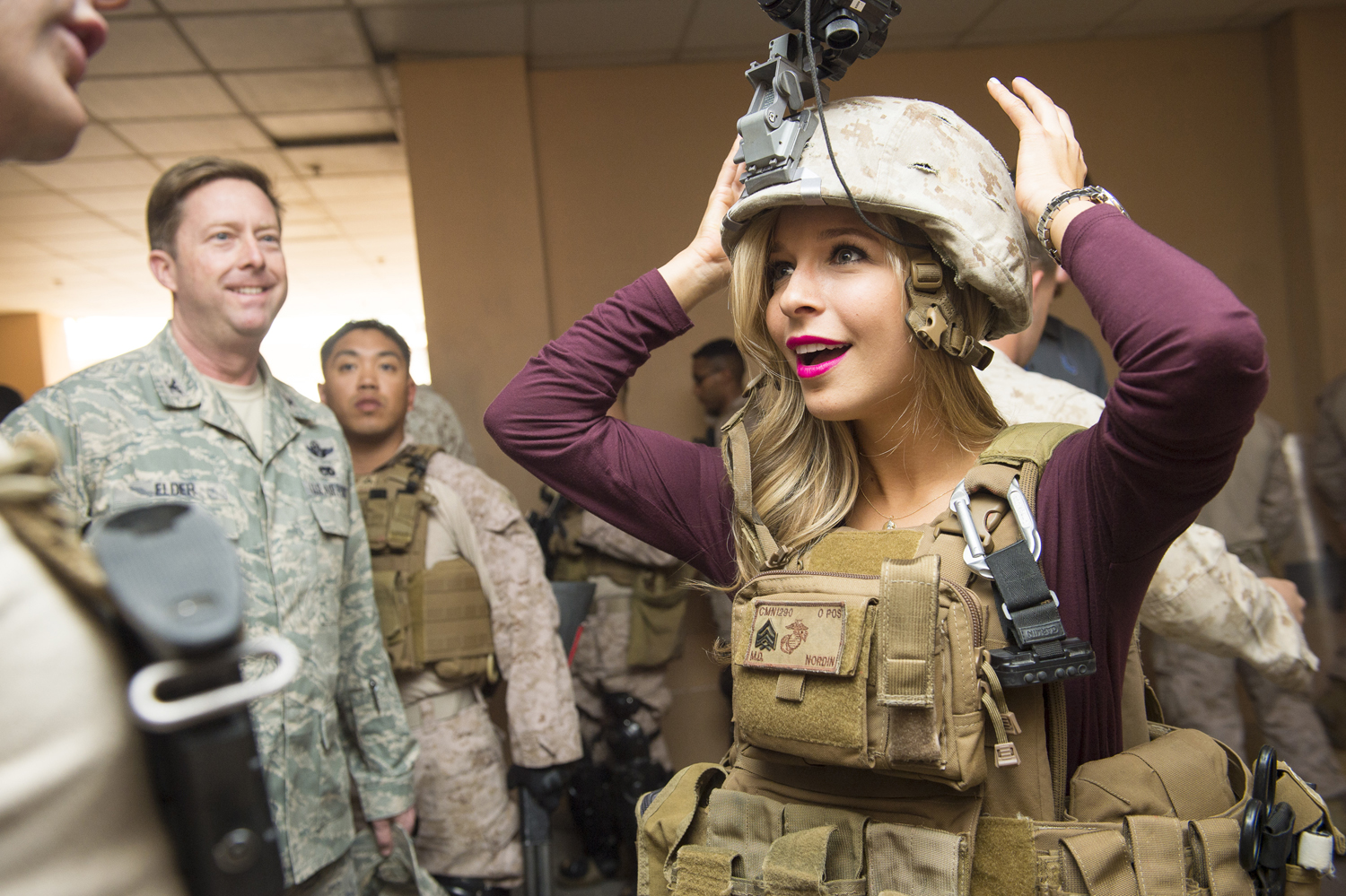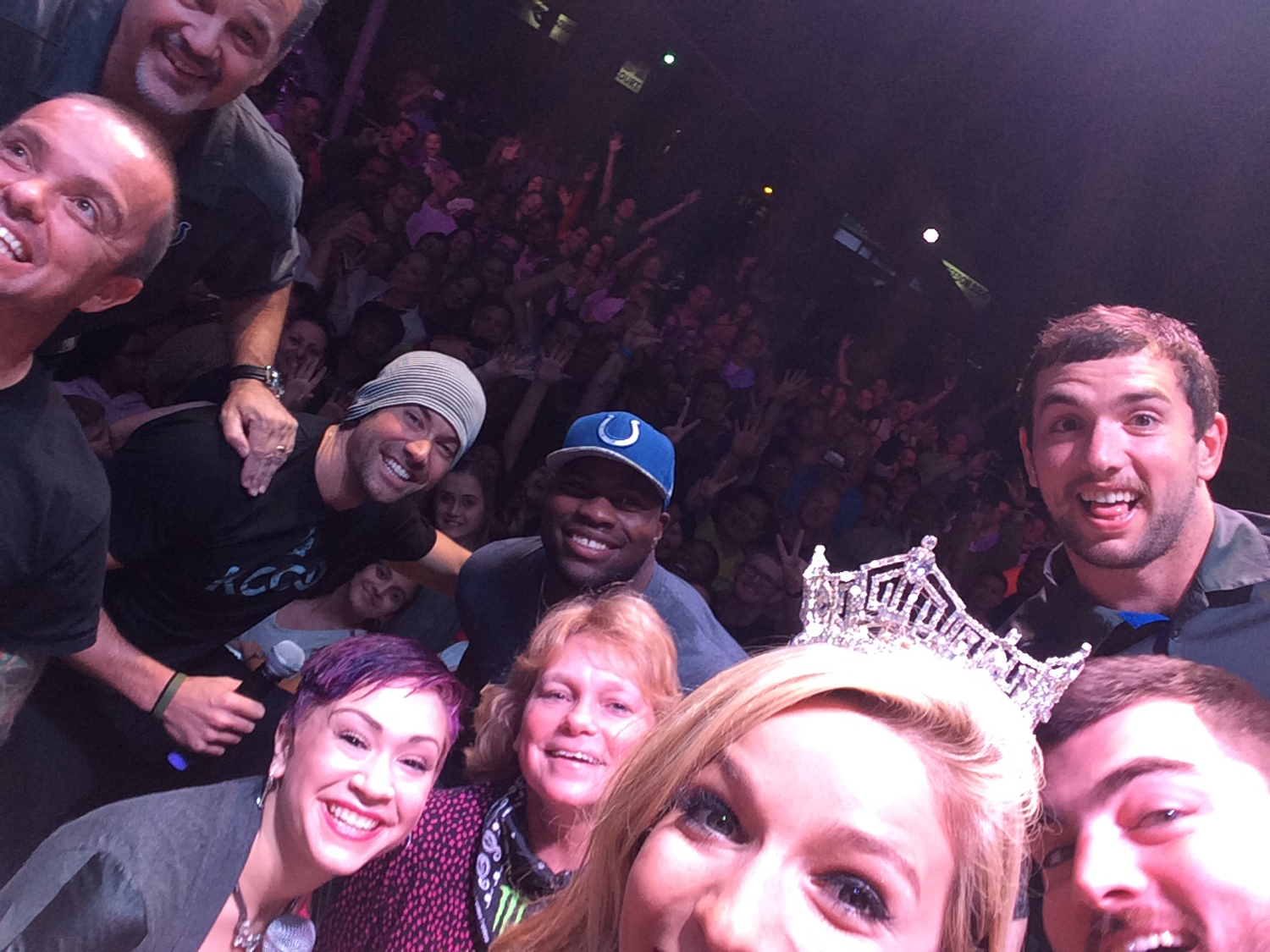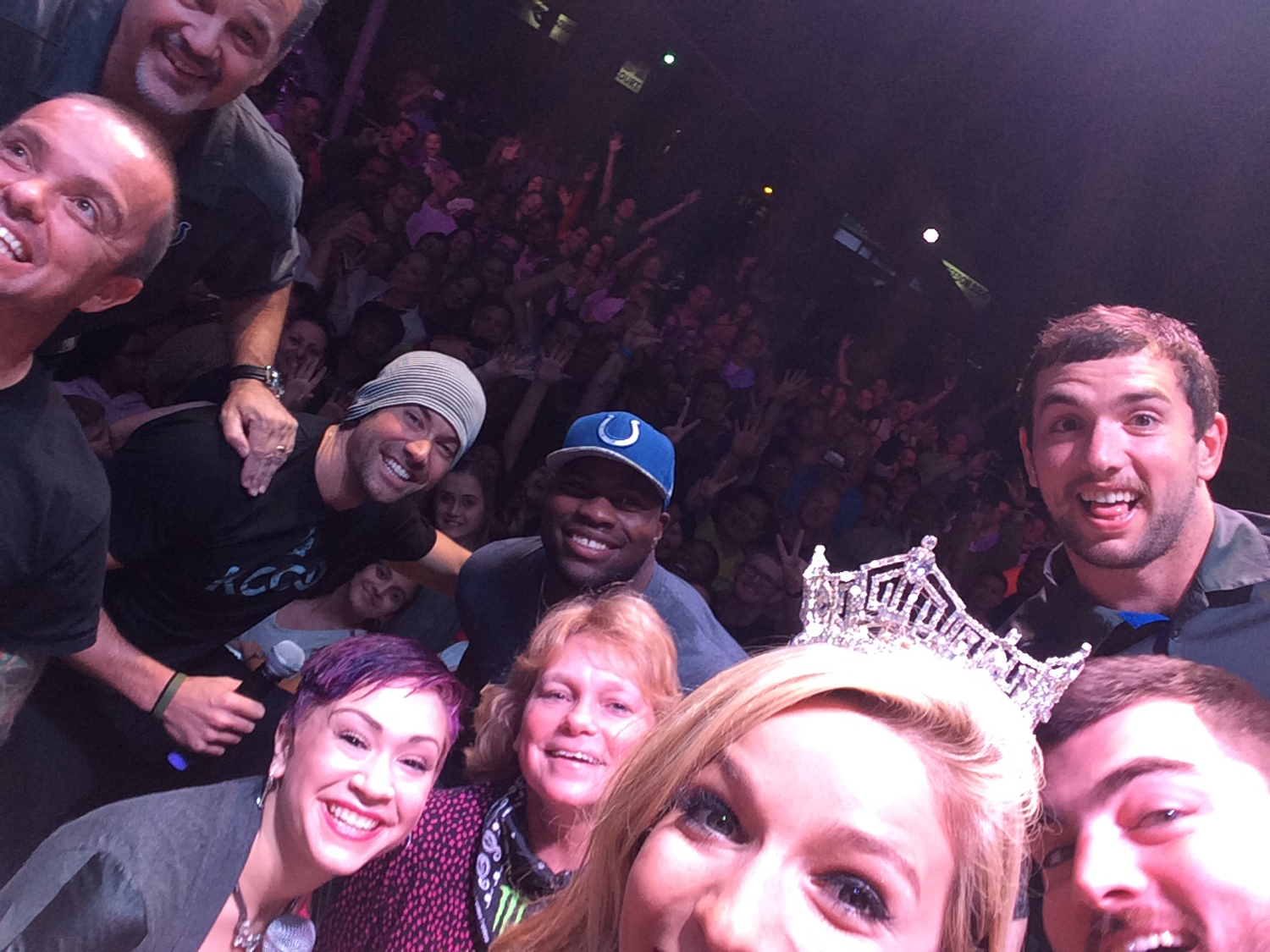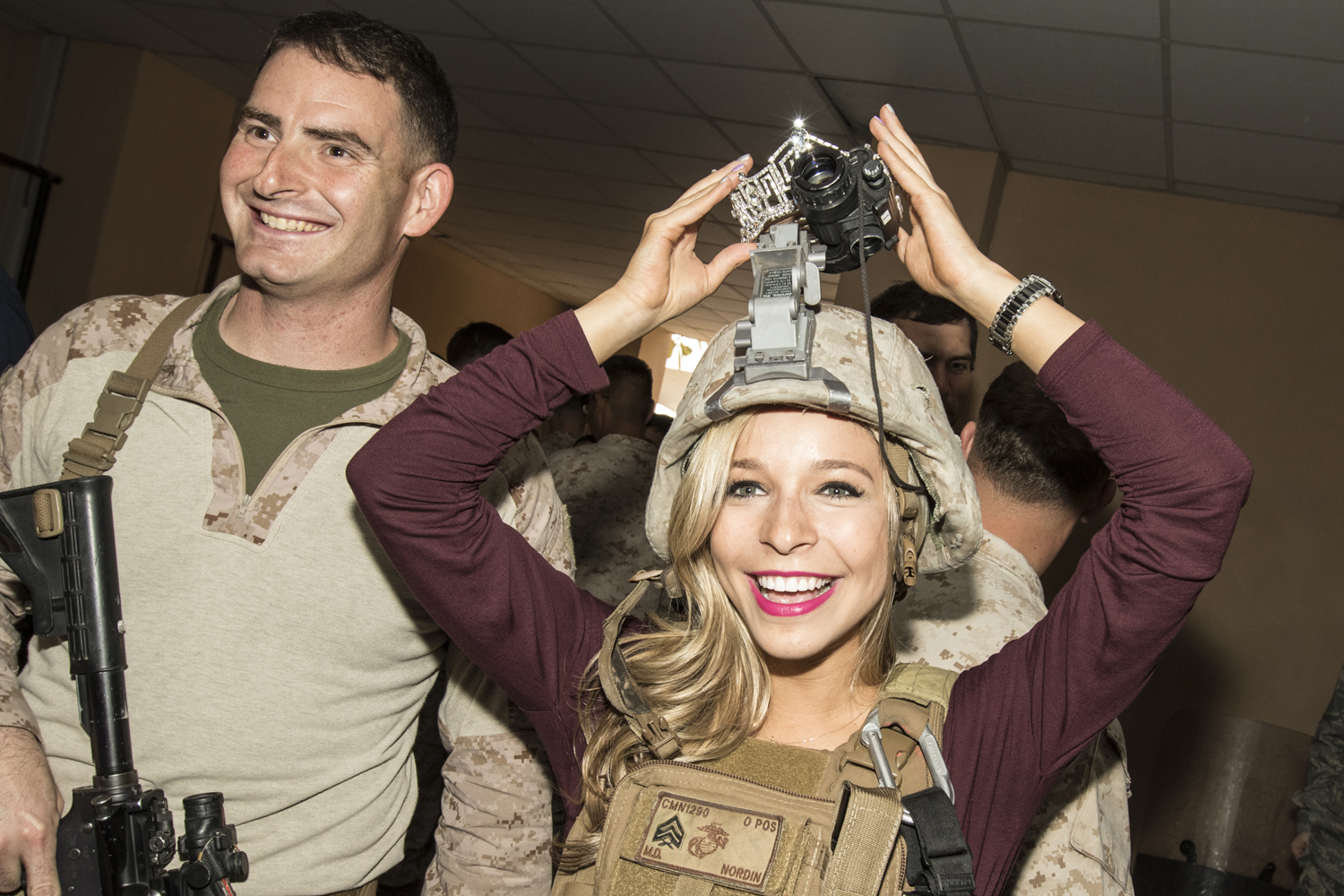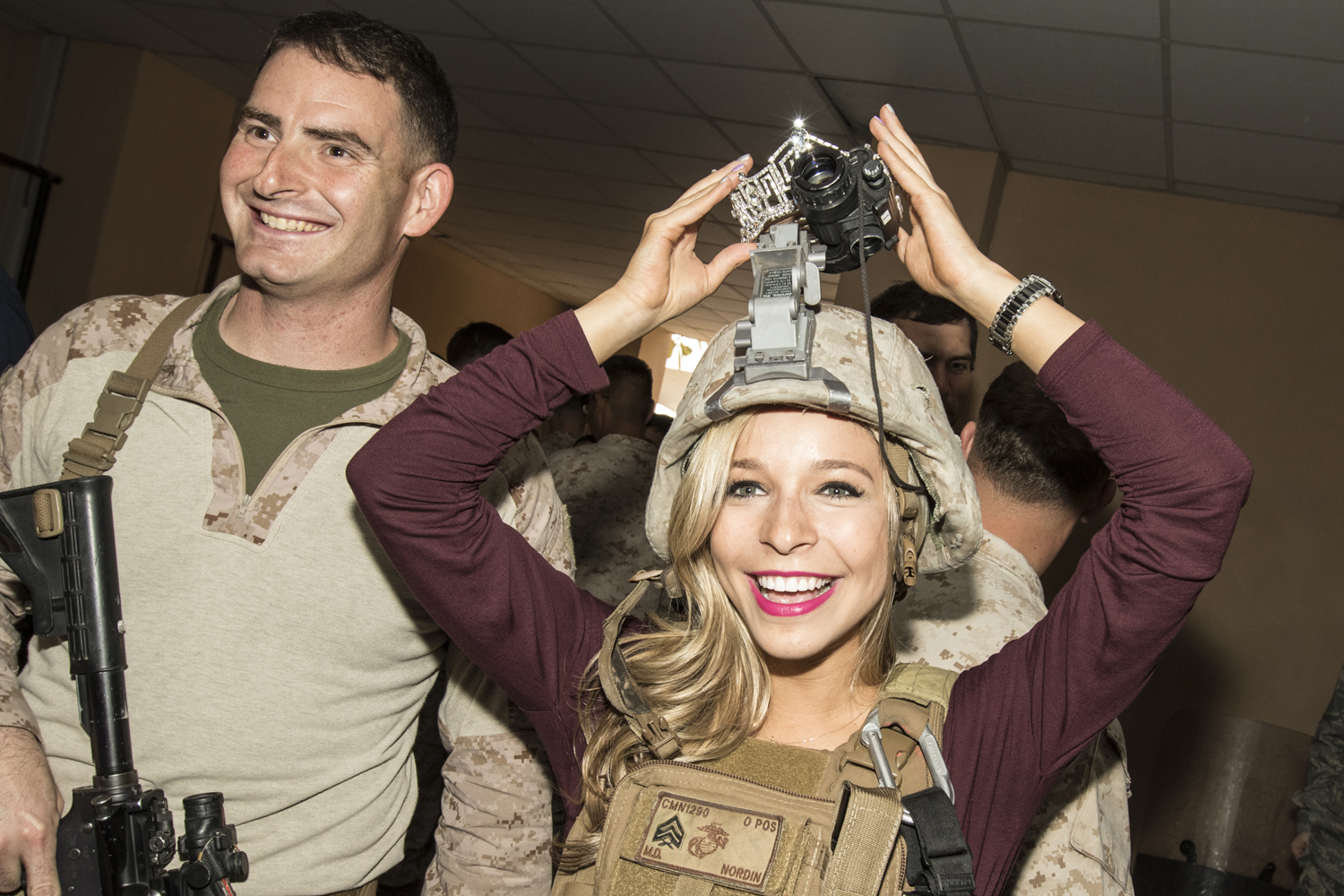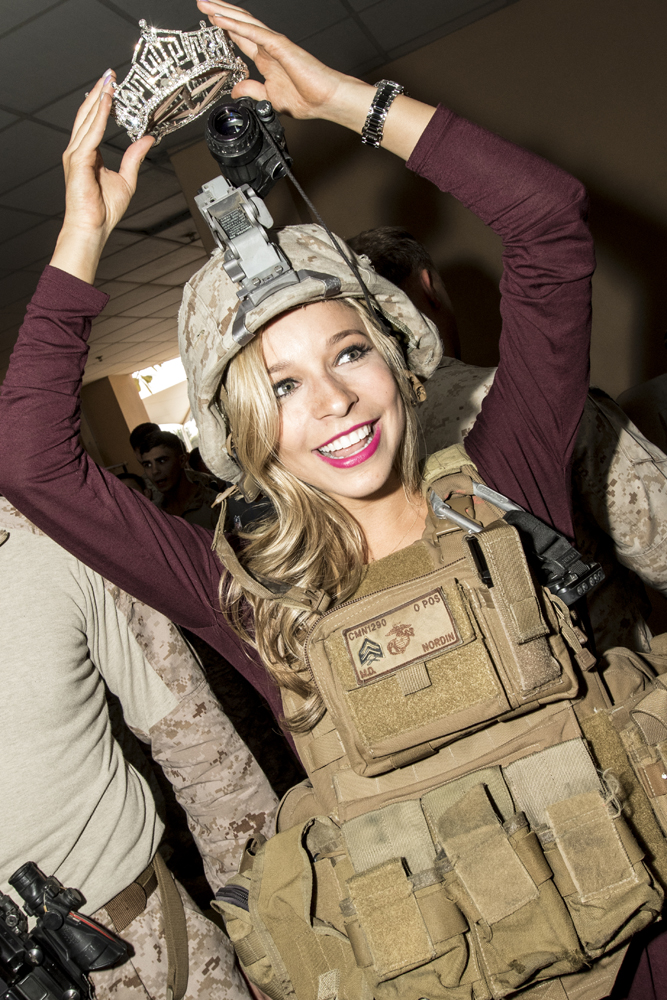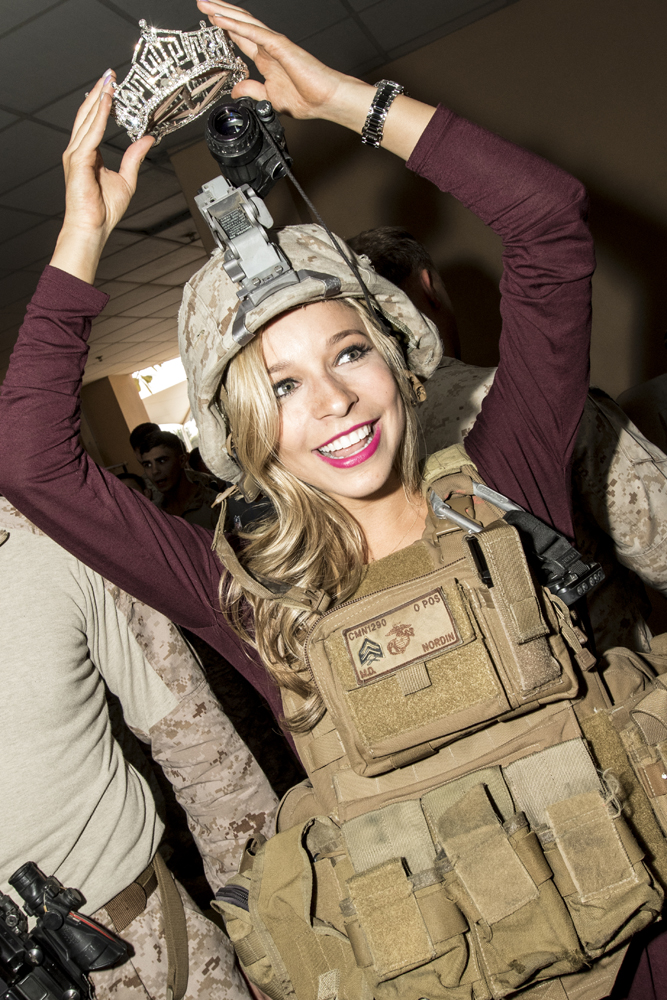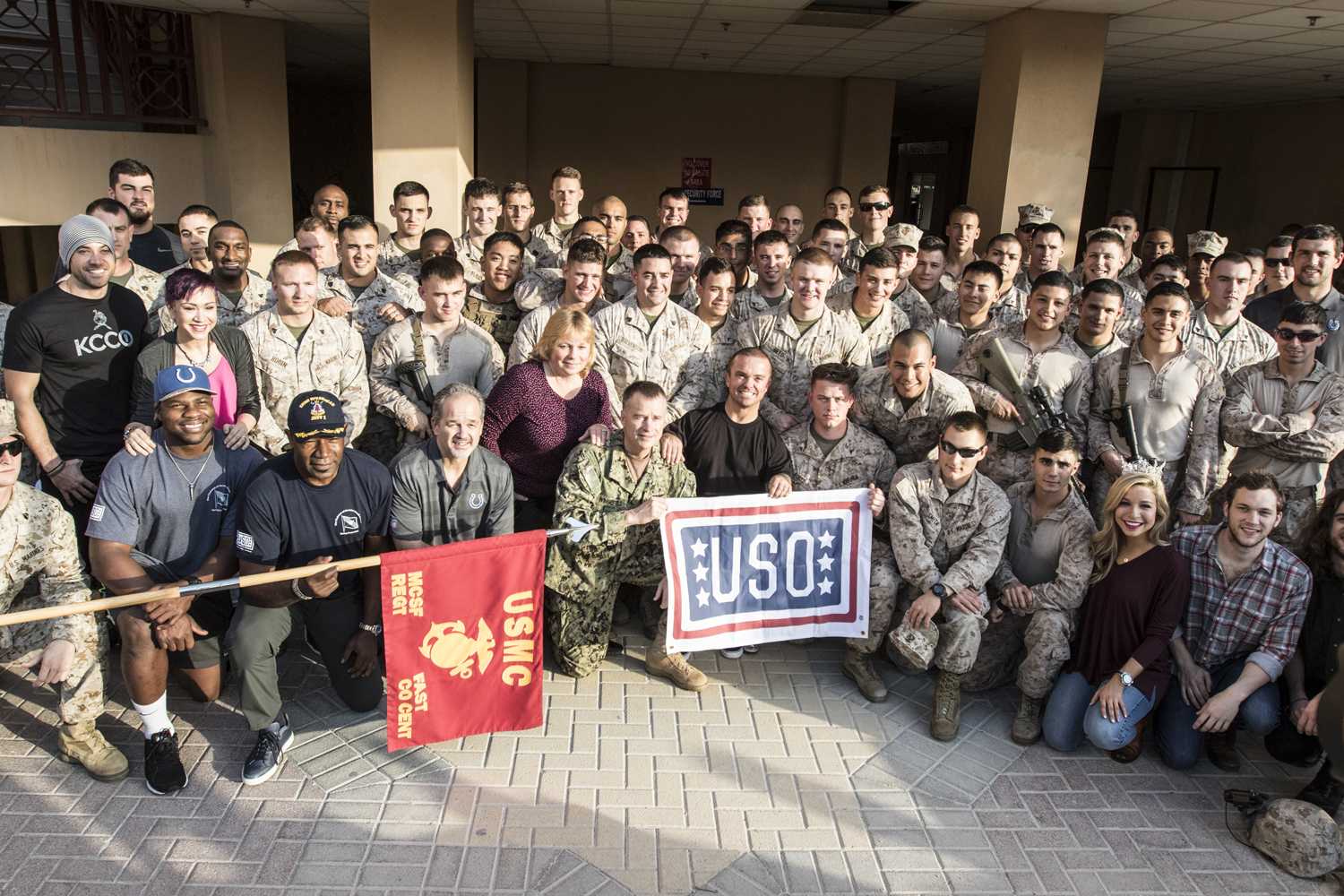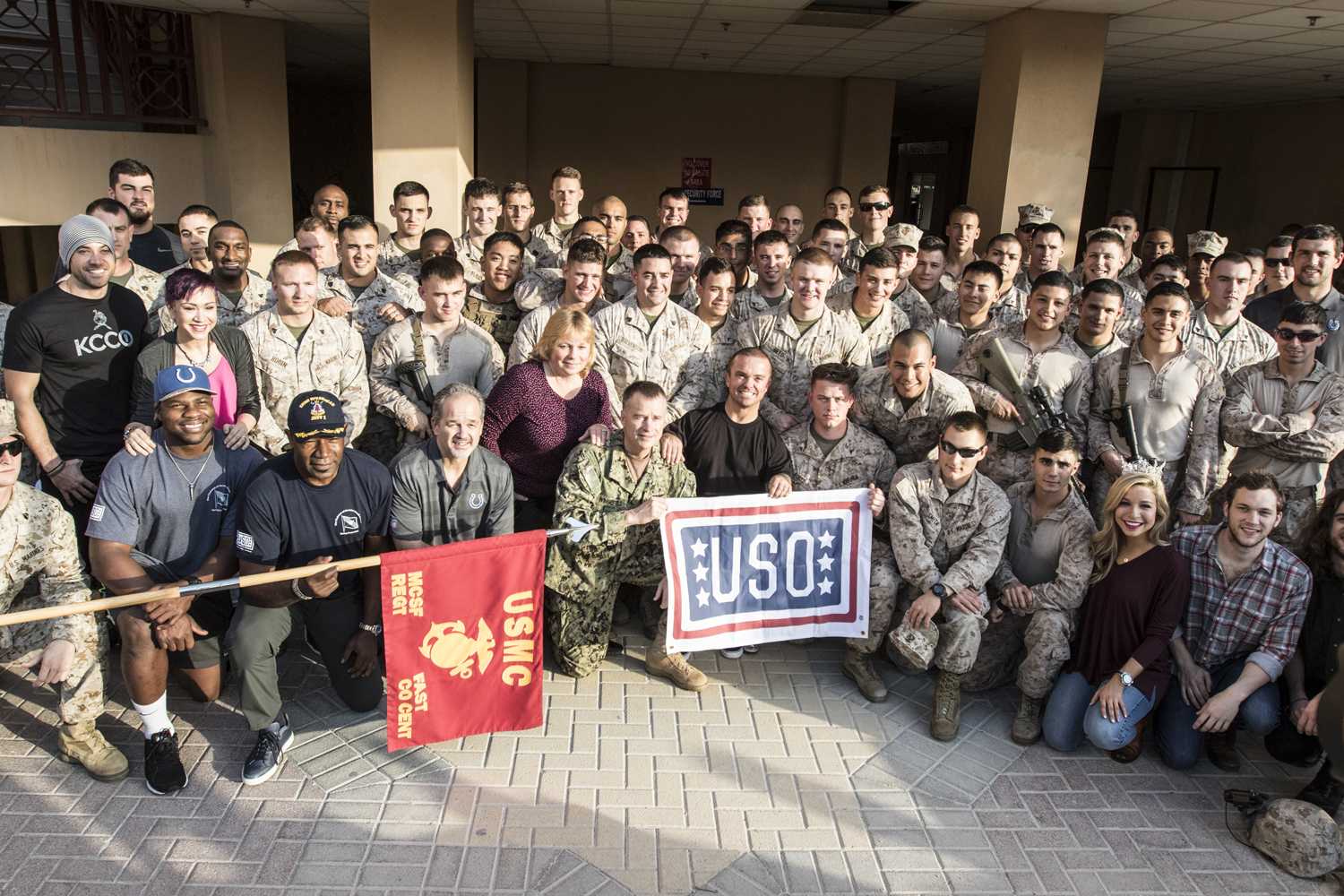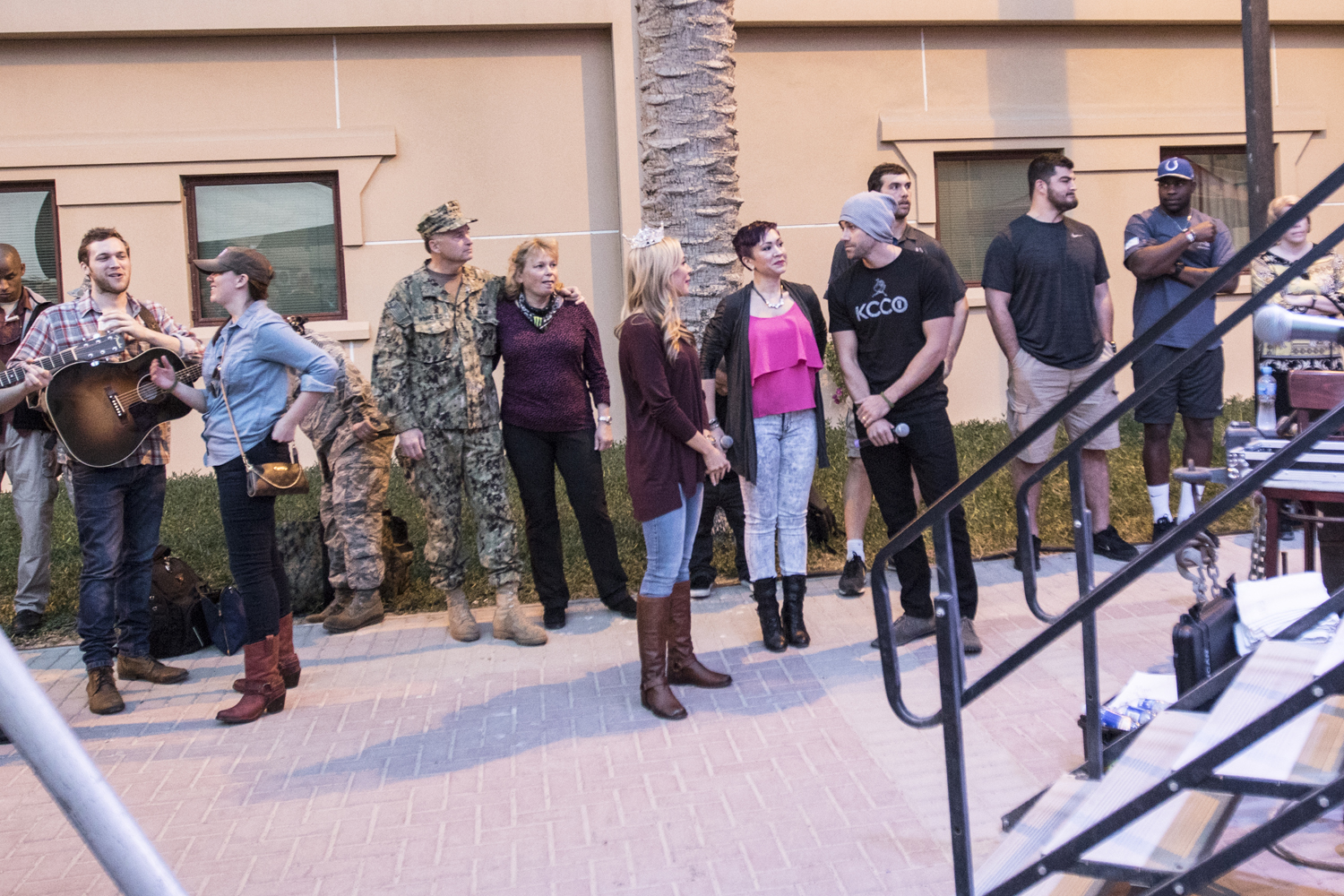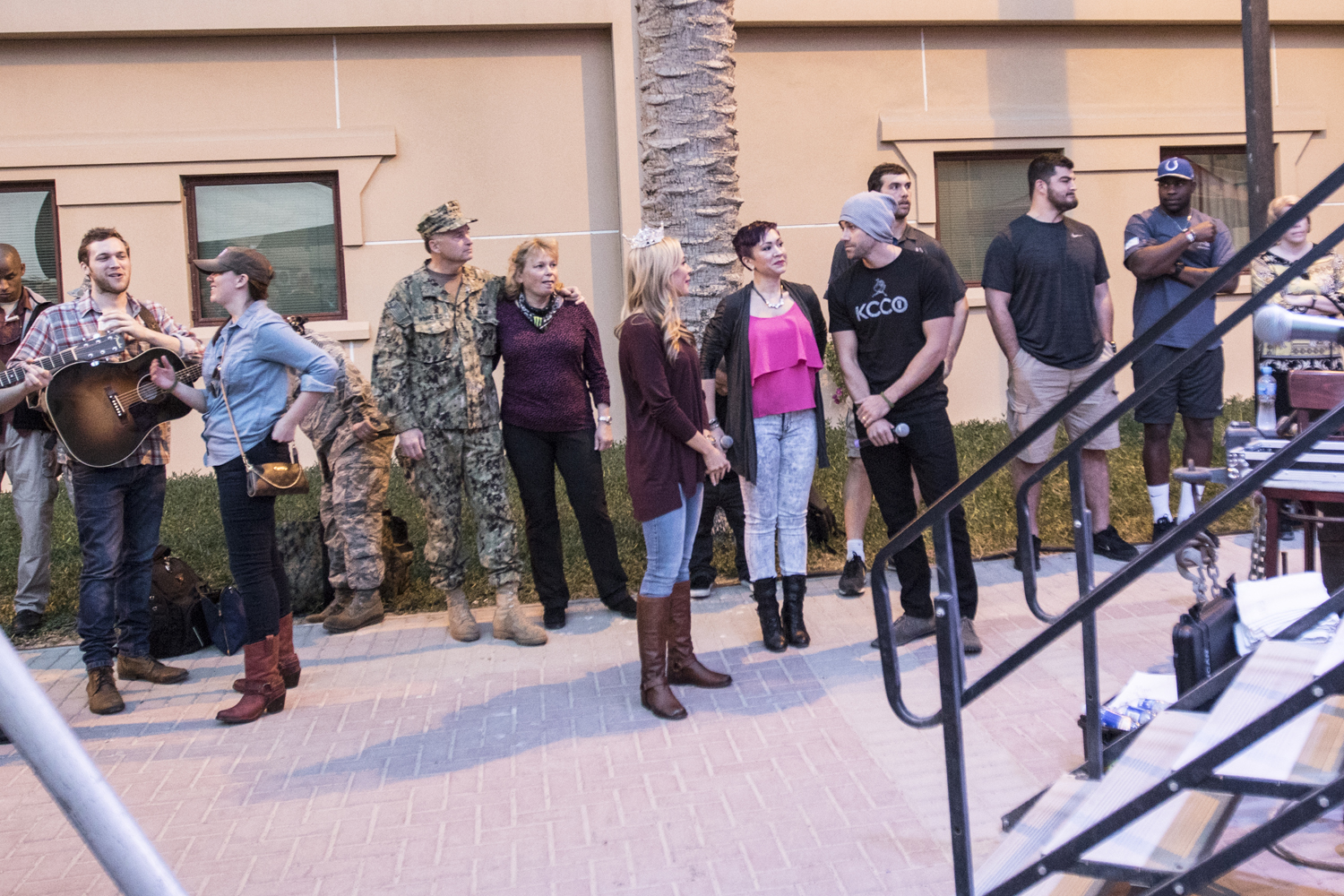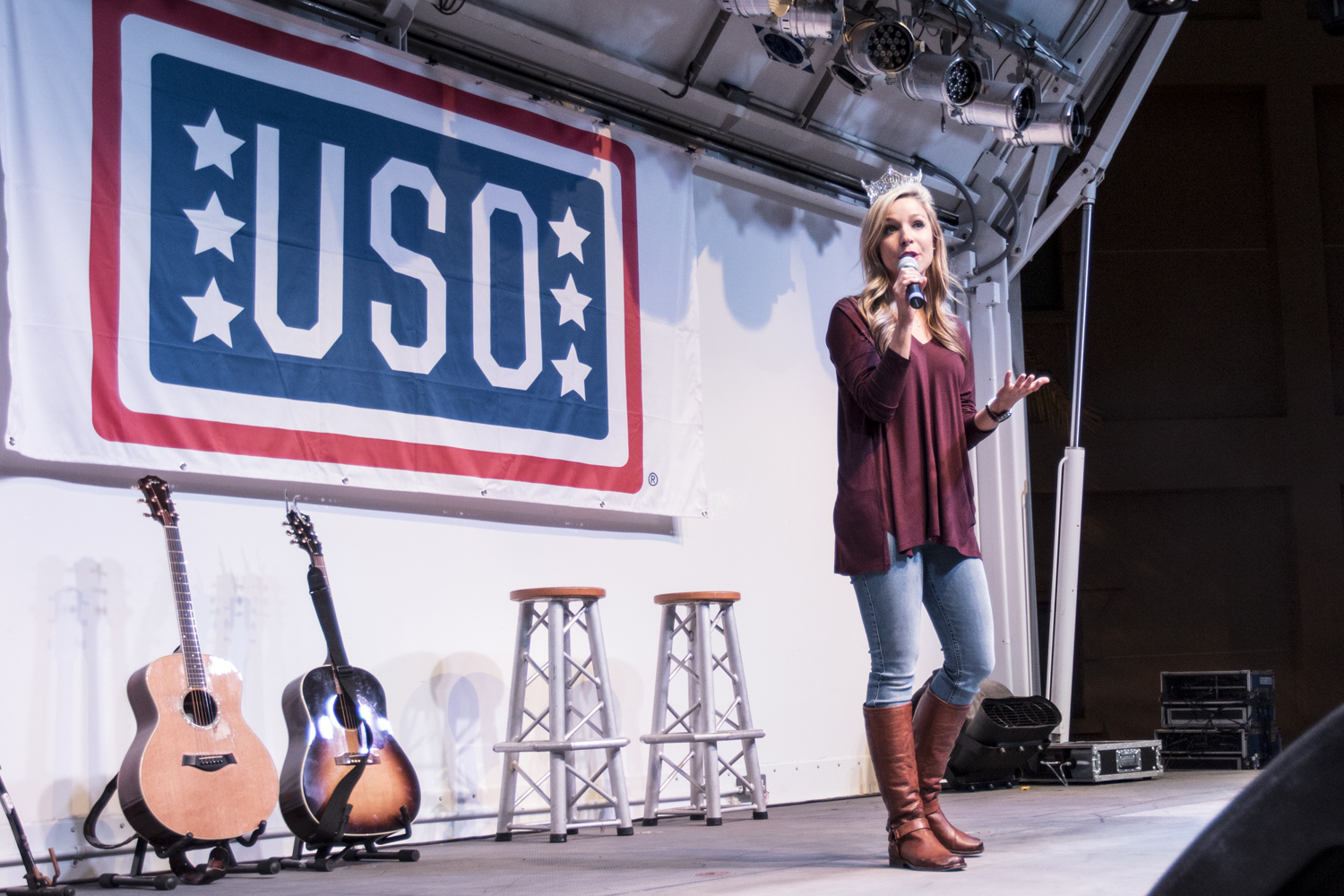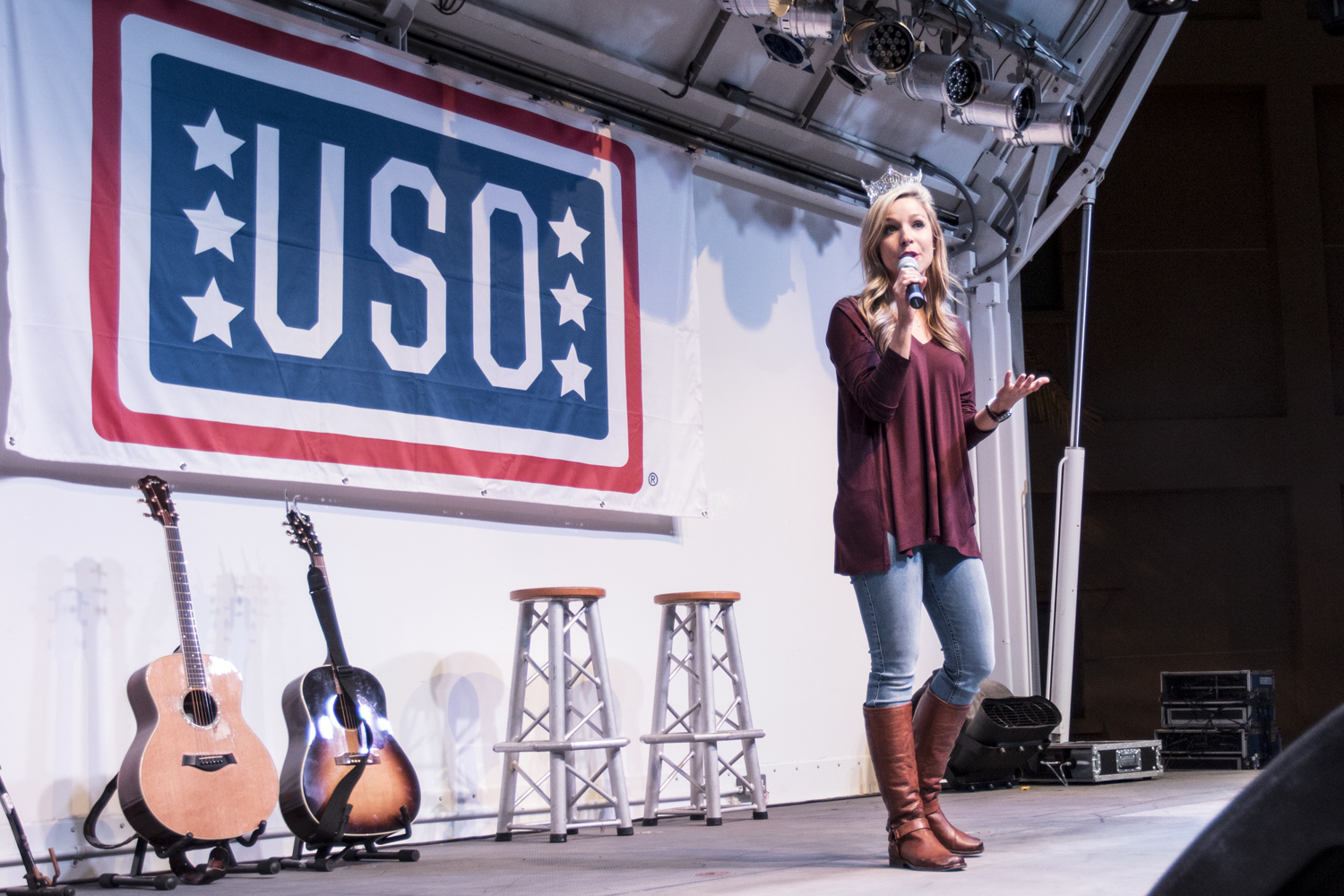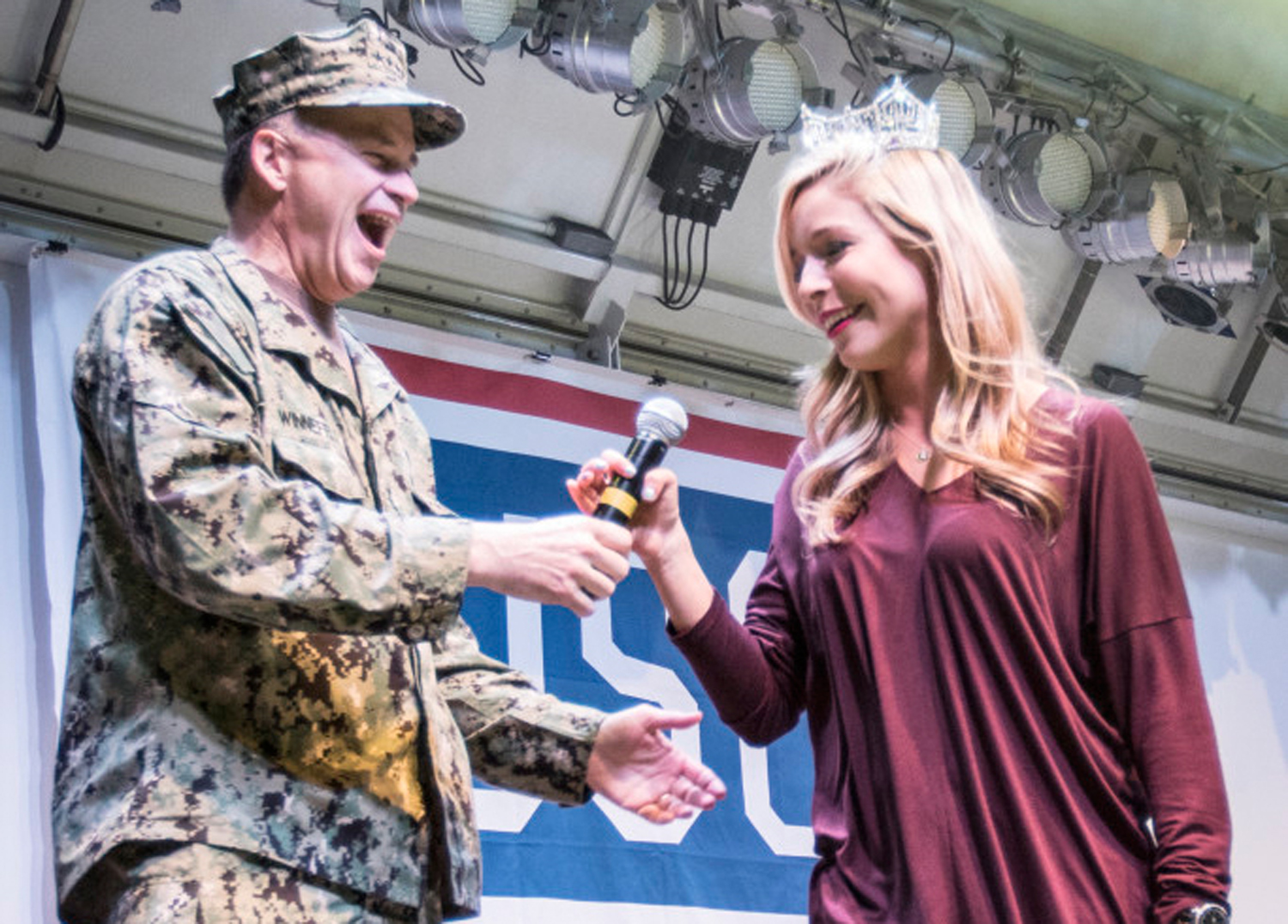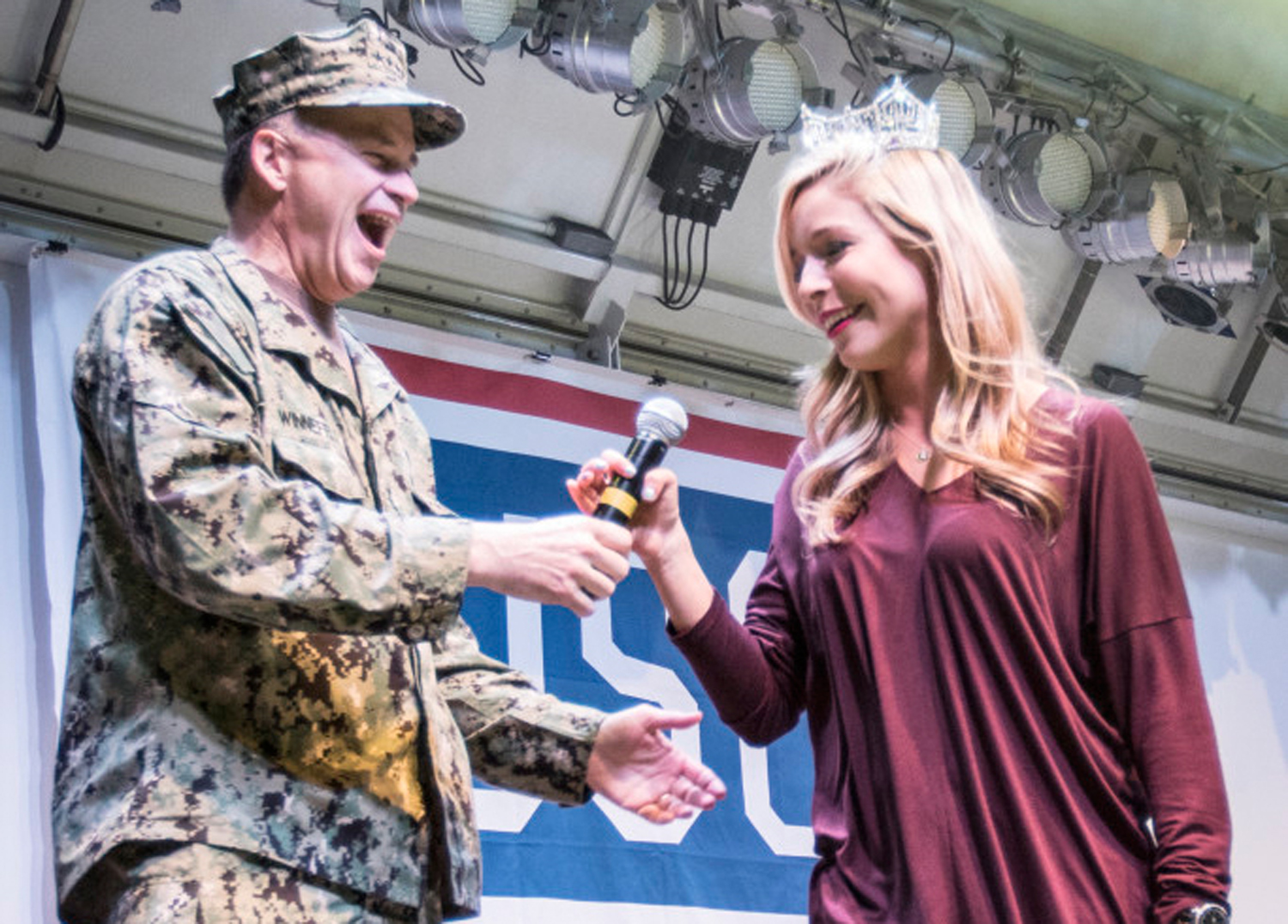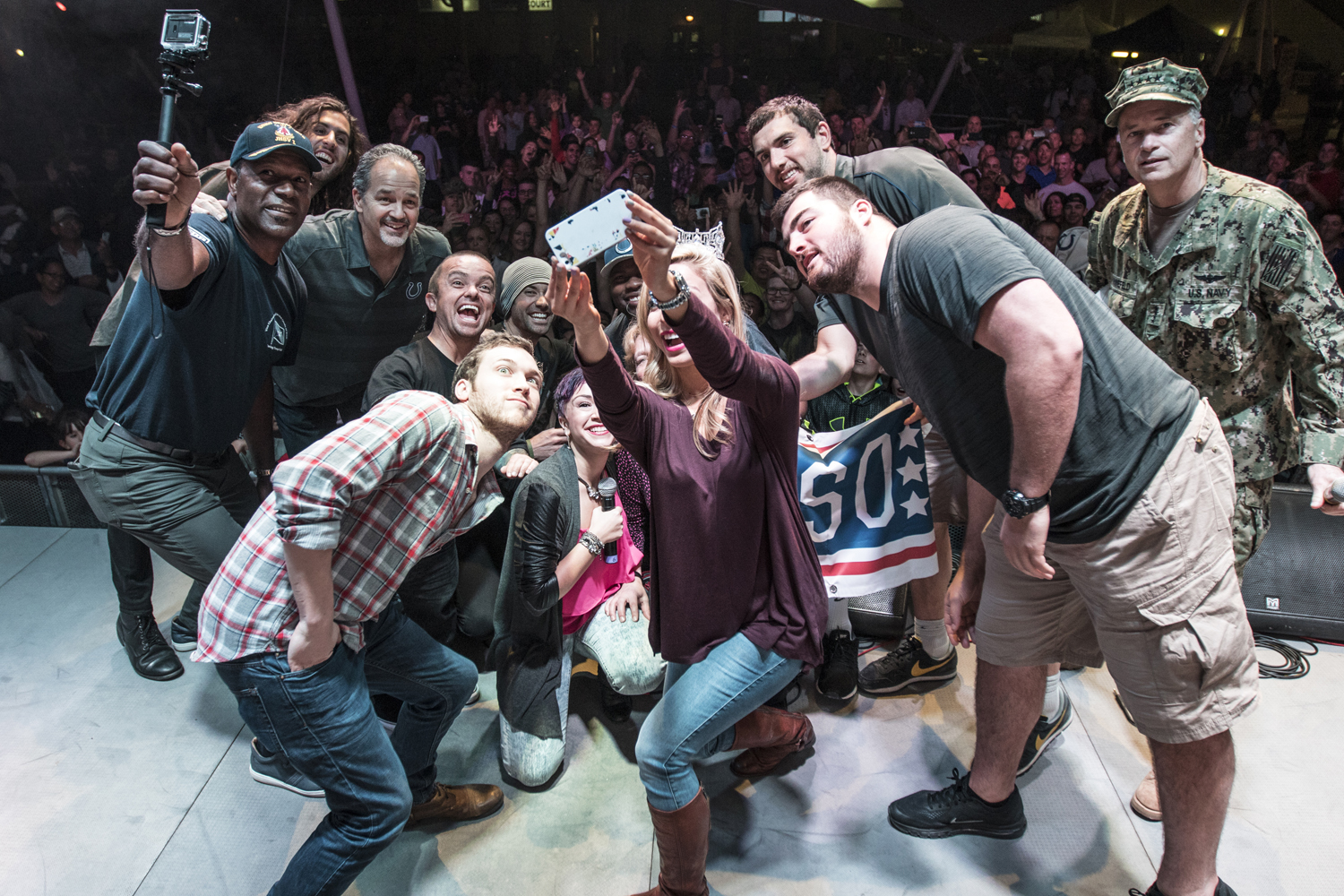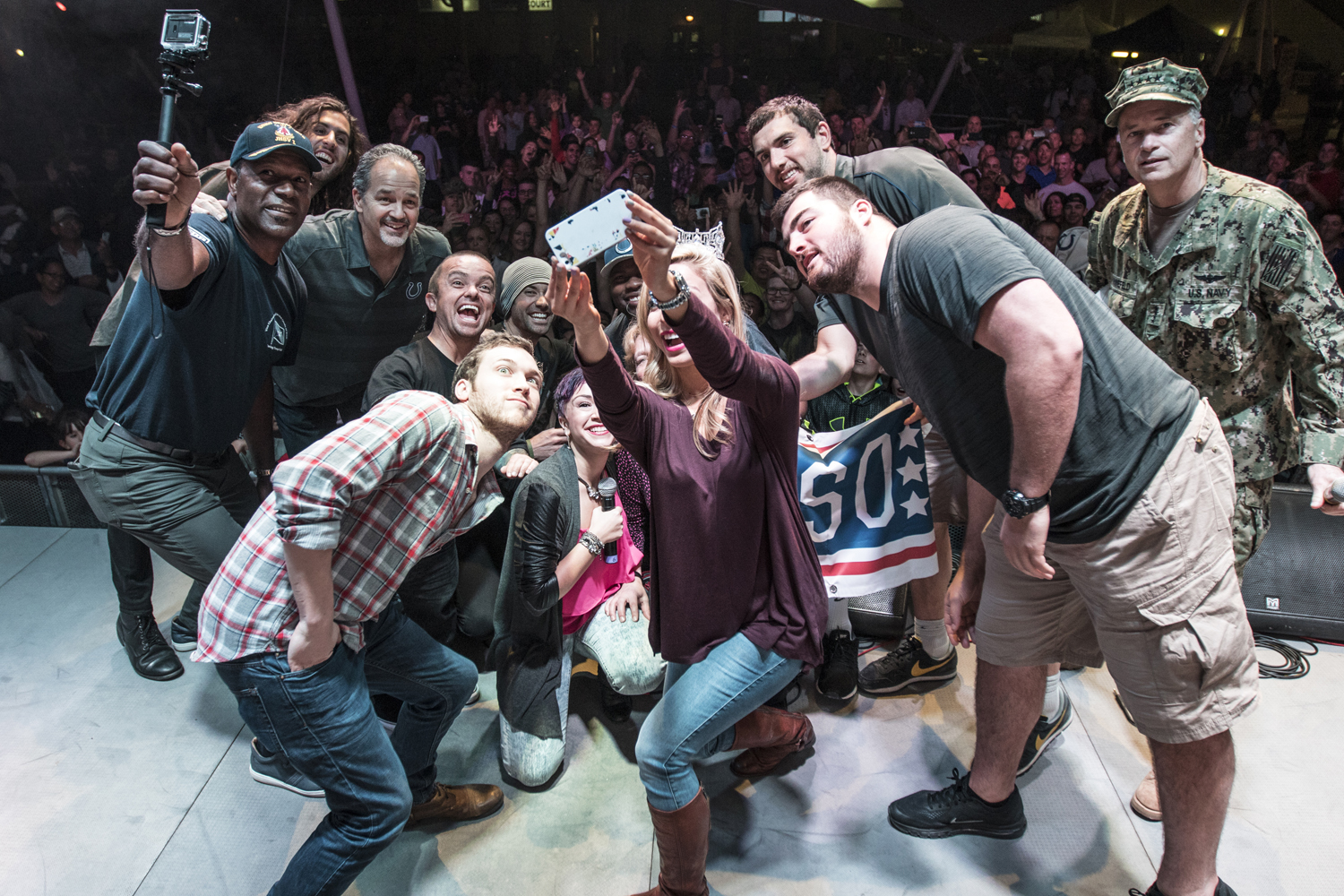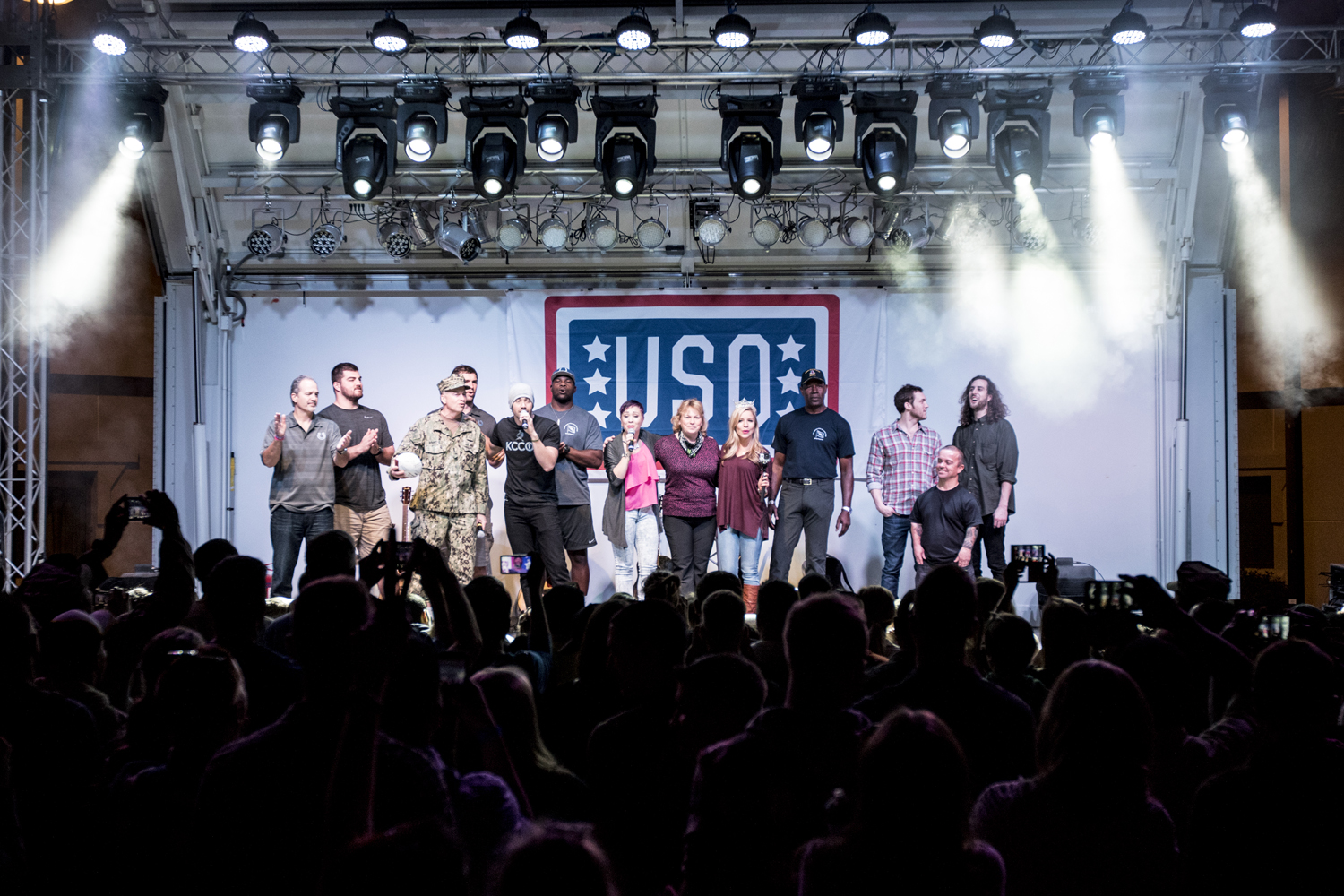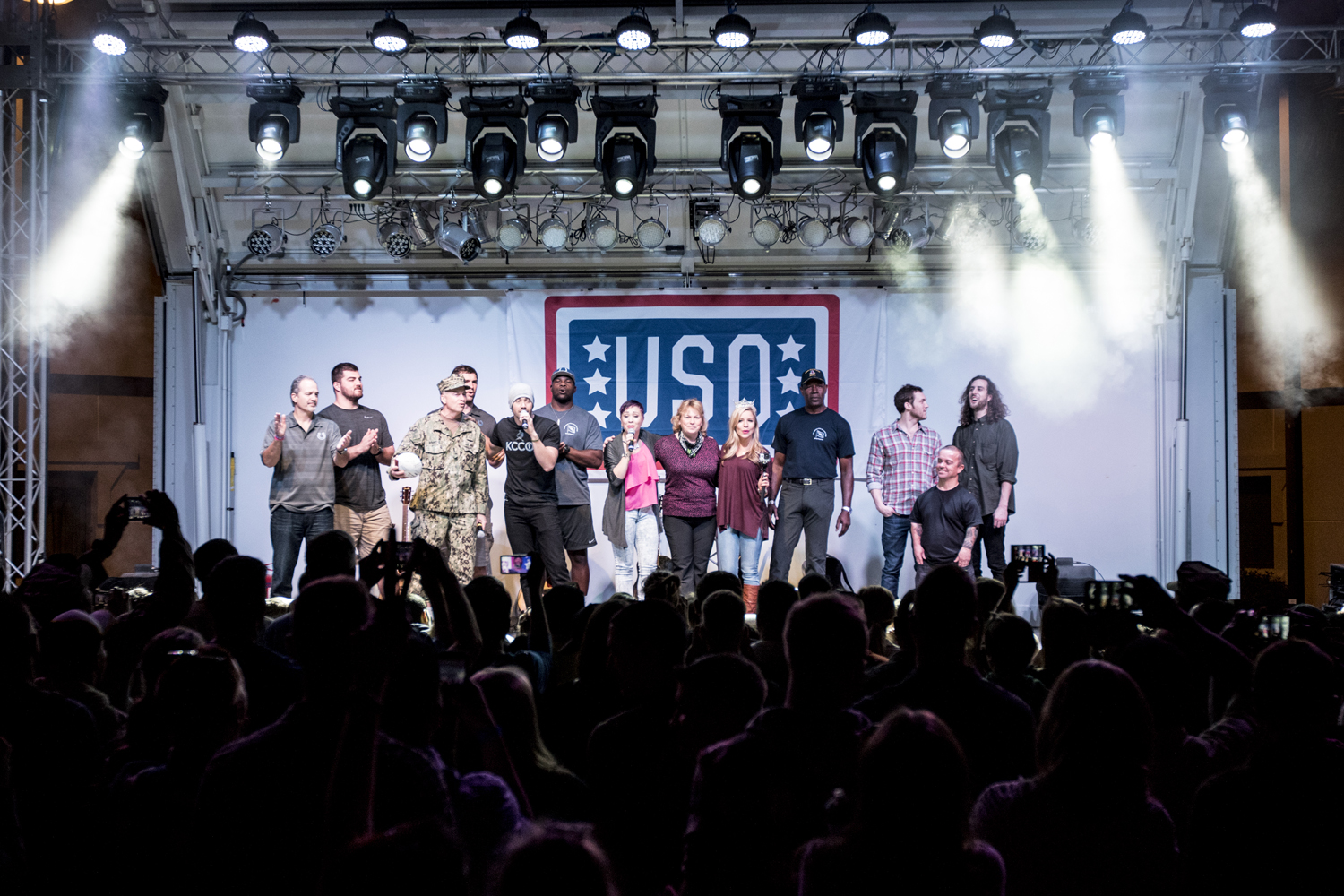 cialis causing elevated liver enzymes Day Four.
In the morning we loaded up onto COD planes to land aboard the how long for cialis to take effect USS Carl Vinson, an aircraft carrier currently out at sea. Landing and taking off on an aircraft carrier is obviously a little bit different than a normal aircraft. When you land, there is a tail hook hanging from the plane that has to catch one of four wires that straddle the runway. Landing is like a roller coaster. On the way back, you are literally catapulted off of the carrier and the feeling is that of a rollercoaster gone off the rails. This was an absolute once in a lifetime experience and as a civilian, something I might never get to experience again, so I am so happy I was able to scratch that one off my bucket list.
Once we arrived on the ship, we all split up into groups and had lunch with service members in various parts of the ship. My group was kind enough to tell me about what it's like to live on board an aircraft carrier for nine and a half months…from the food to the social setting to outside world communication. One of the Naval officers very casually mentioned that every week, his wife sends him videos of his son's tennis lessons. To me, this is the biggest sacrifice. Hearing that made my heart burst, but to this officer, it is part of the sacrifice that he makes in order to serve our country.
After lunch we went up to the main hangar with airplanes parked as far as the eye can see to do our show. From the stage, you could see the various maintenance crews sitting atop their F-18 fighter jets that would later fly to carry out their missions. The juxtaposition of it all was quite interesting; here we were in the midst of so much action – jets were returning overhead from missions – having an amazing time together on an aircraft carrier in the middle of nowhere. The end of the show brought another opportunity to meet the sailors on board, followed by a brief tour. The last part of our visit was to actually go on to the flight deck and watch some F-18s take off and land for a training exercise. I will never forget this. It was surreal to see people, who are mostly younger than me, maneuver these jets with such skill. The F-18s landing overhead and catching the wires with their tail hooks seemed surreal to defy all laws of physics and nature.
When we returned from the USS Carl Vinson on our COD planes, we made a special trip to the USS New York, which is docked in Bahrain and was getting ready for deployment. This visit was especially meaningful to me, being a Miss New York. The ship is actually made with several tons of steel from the World Trade Center, and the ship itself serves as a floating memorial to all of the heroes who perished on 9/11. Walking through the ship, everything is New York themed. From a major hallway named Broadway to Jets and Giants themed mess halls, the ship had so much memorabilia, including several uniforms of first responders who perished on that dark day. They hung ominously in their frames along Broadway. We were actually able to touch a piece of one of the planes that flew into the towers and a piece of the rubble, sprung free, from the destruction. The experience was incredibly emotional for me. As we were doing our next USO meet and greet, and the Marines and sailors lined up to take pictures, maybe it was because it had been such a long day, but I lost my composure for just a second as the emotion of everything we had seen and done for the last three days finally hit me. The sweet Marines paused in horror, thinking that they had done something wrong, ever the gentlemen. We all have our moments, so I pulled it together as quickly as I could and reassured them that I was just a little tired. At the end of the visit, I was able to speak for a few minutes, which was a very special moment for me, not only as Miss America, but simply as an American.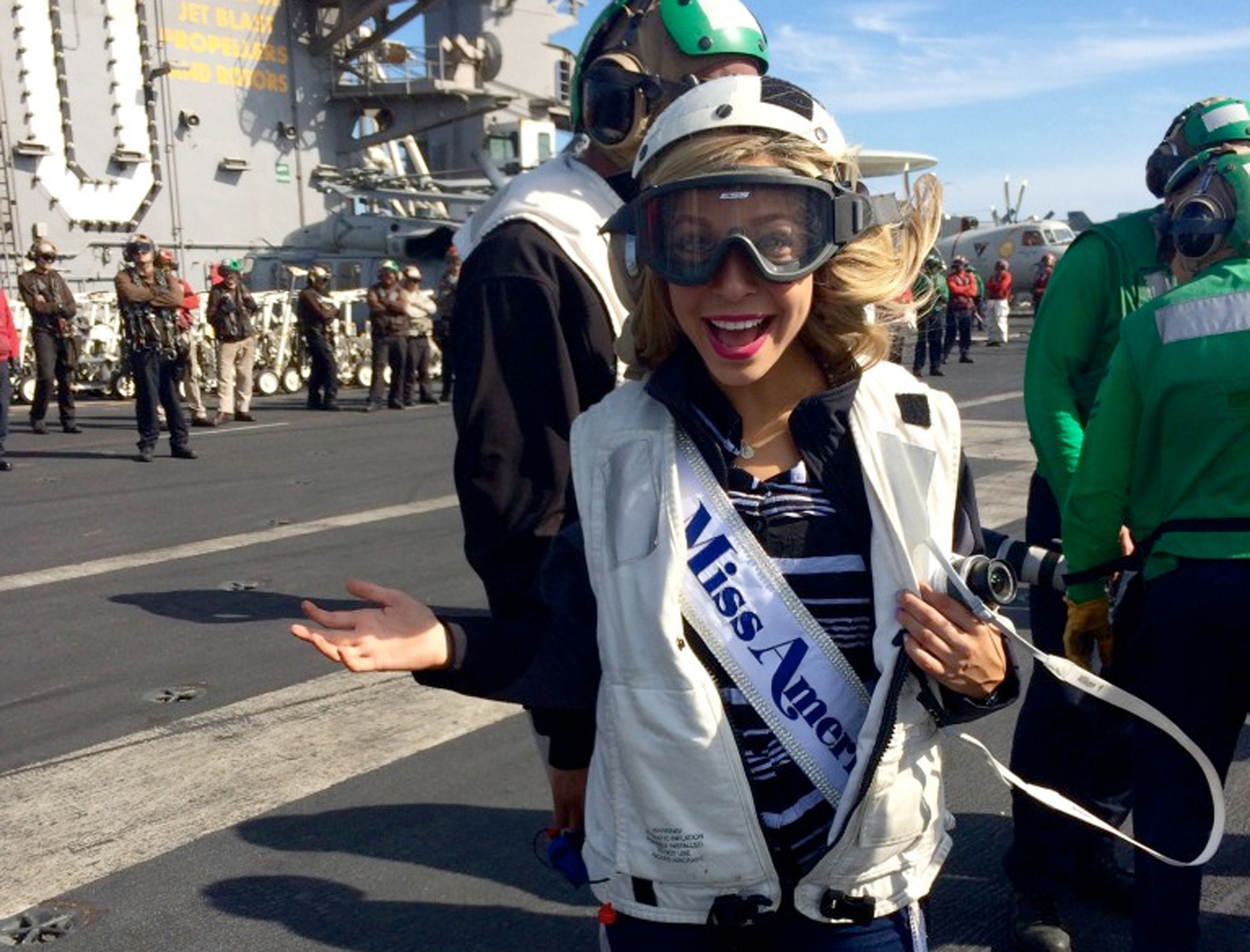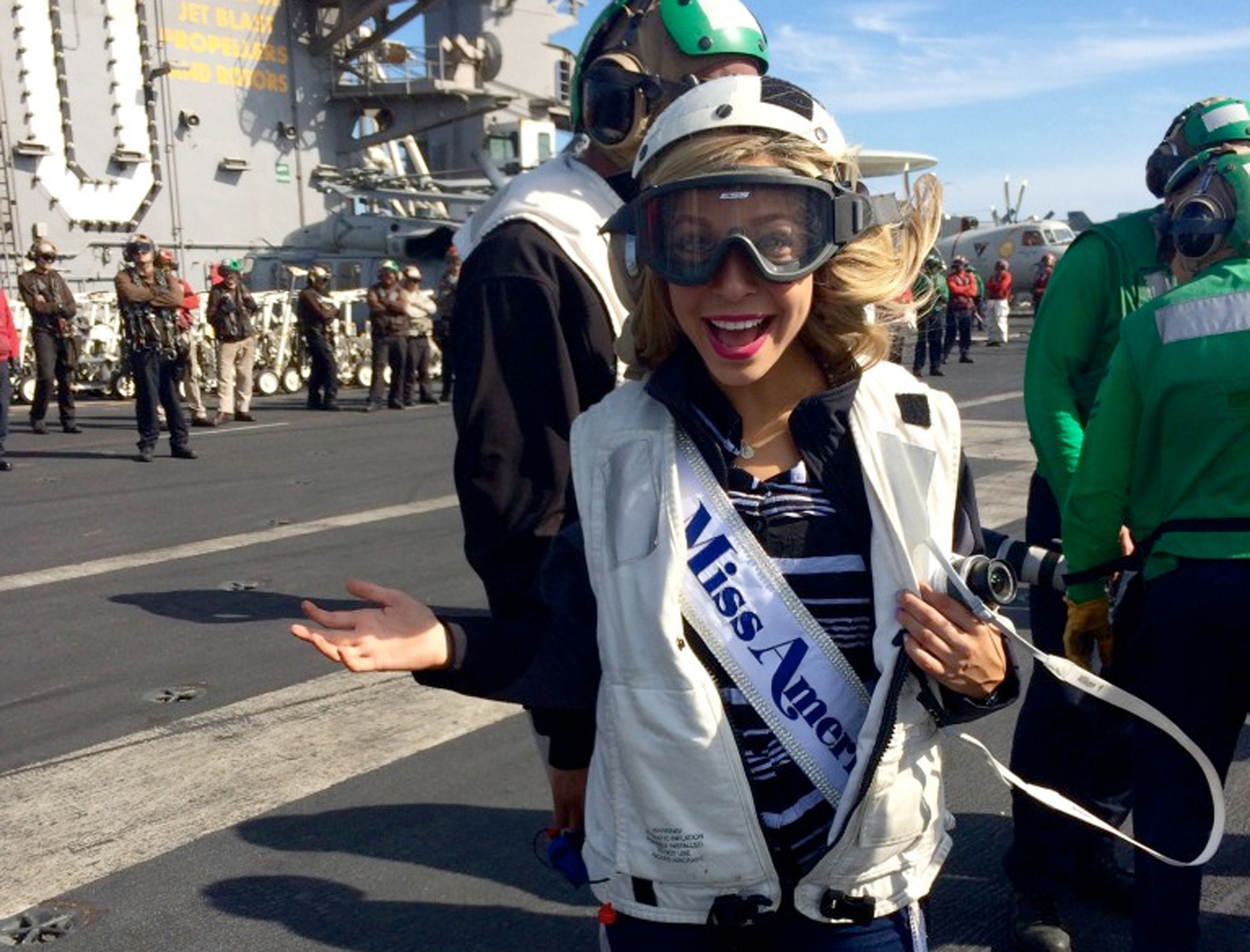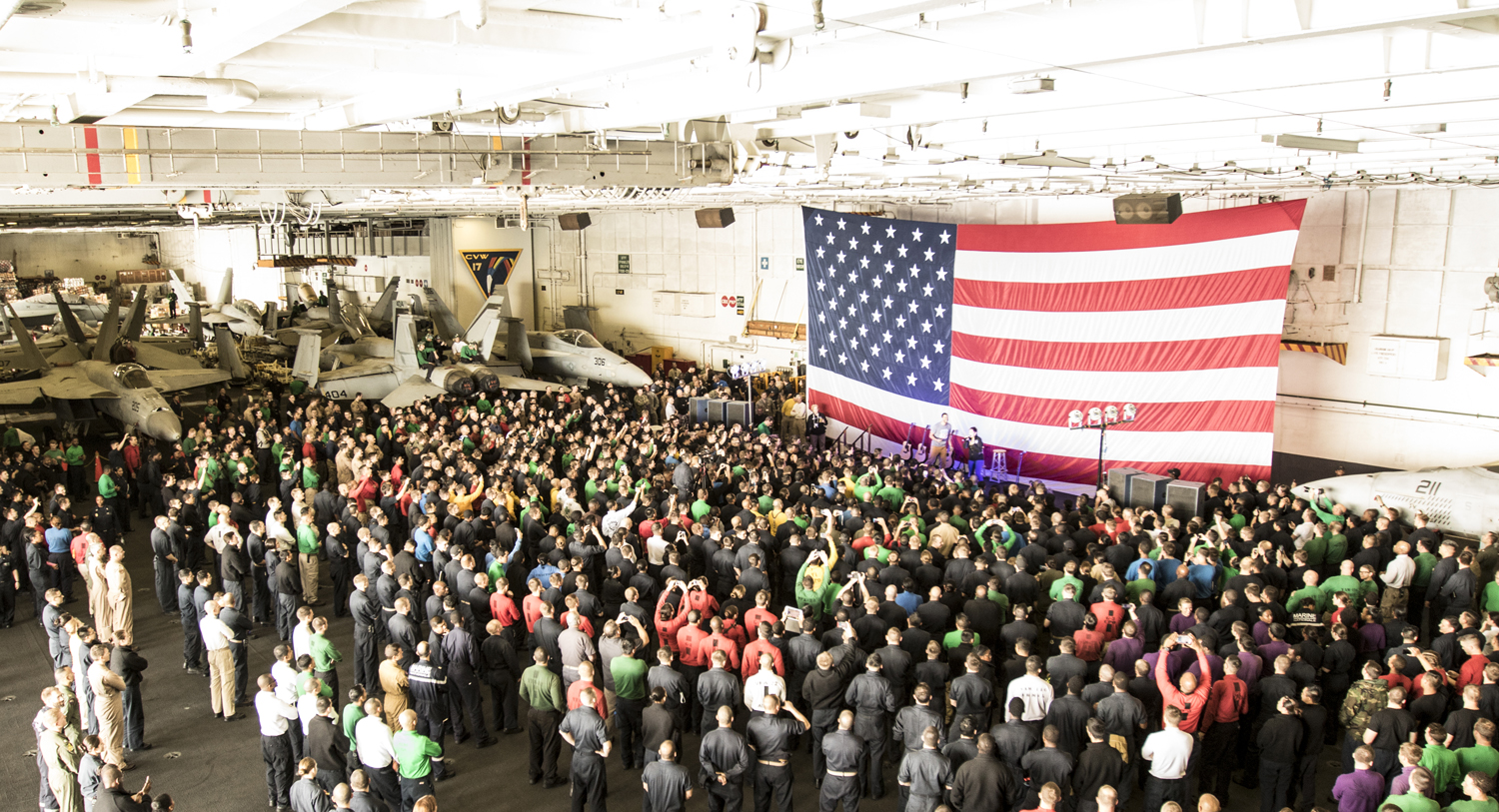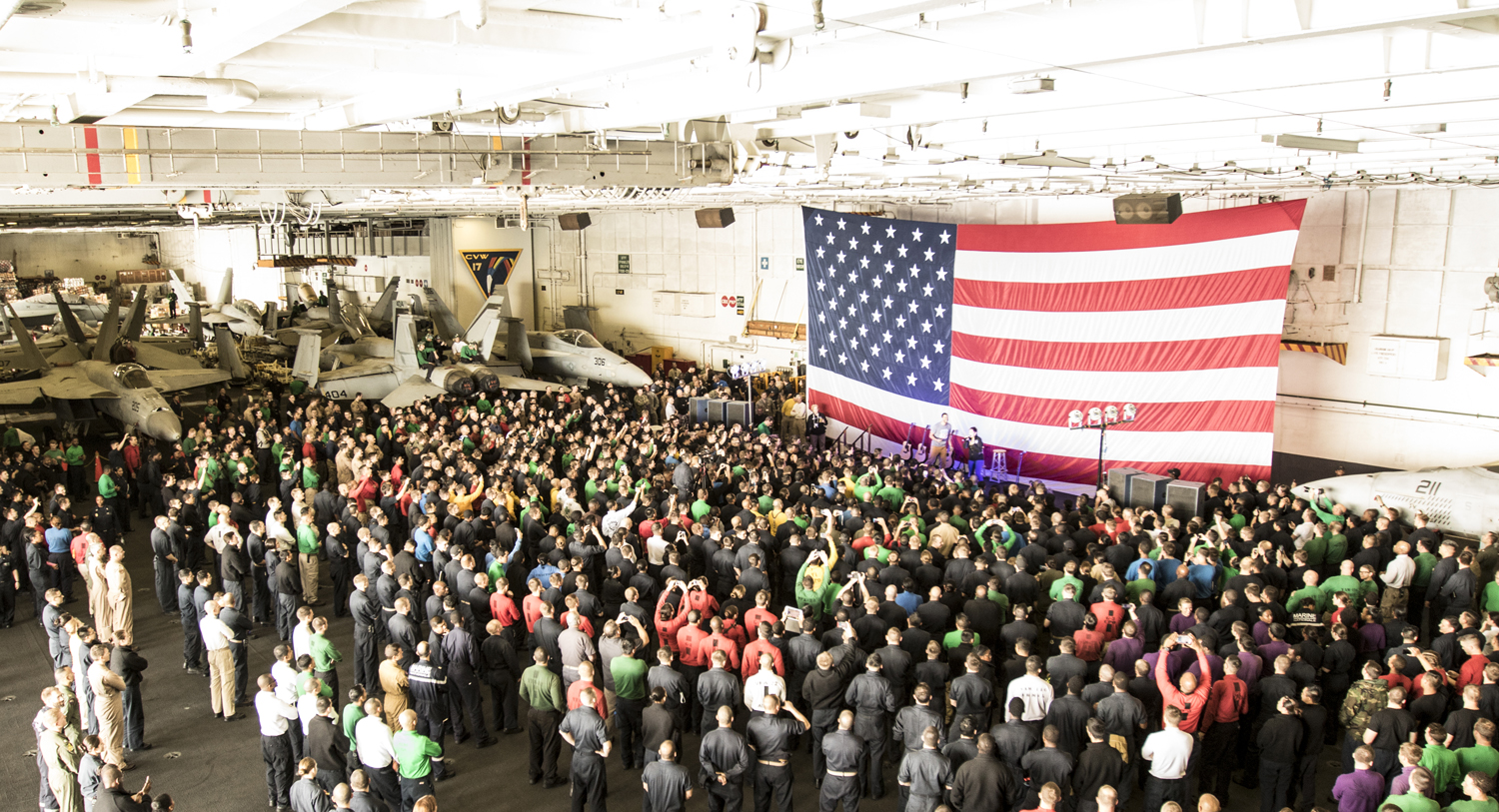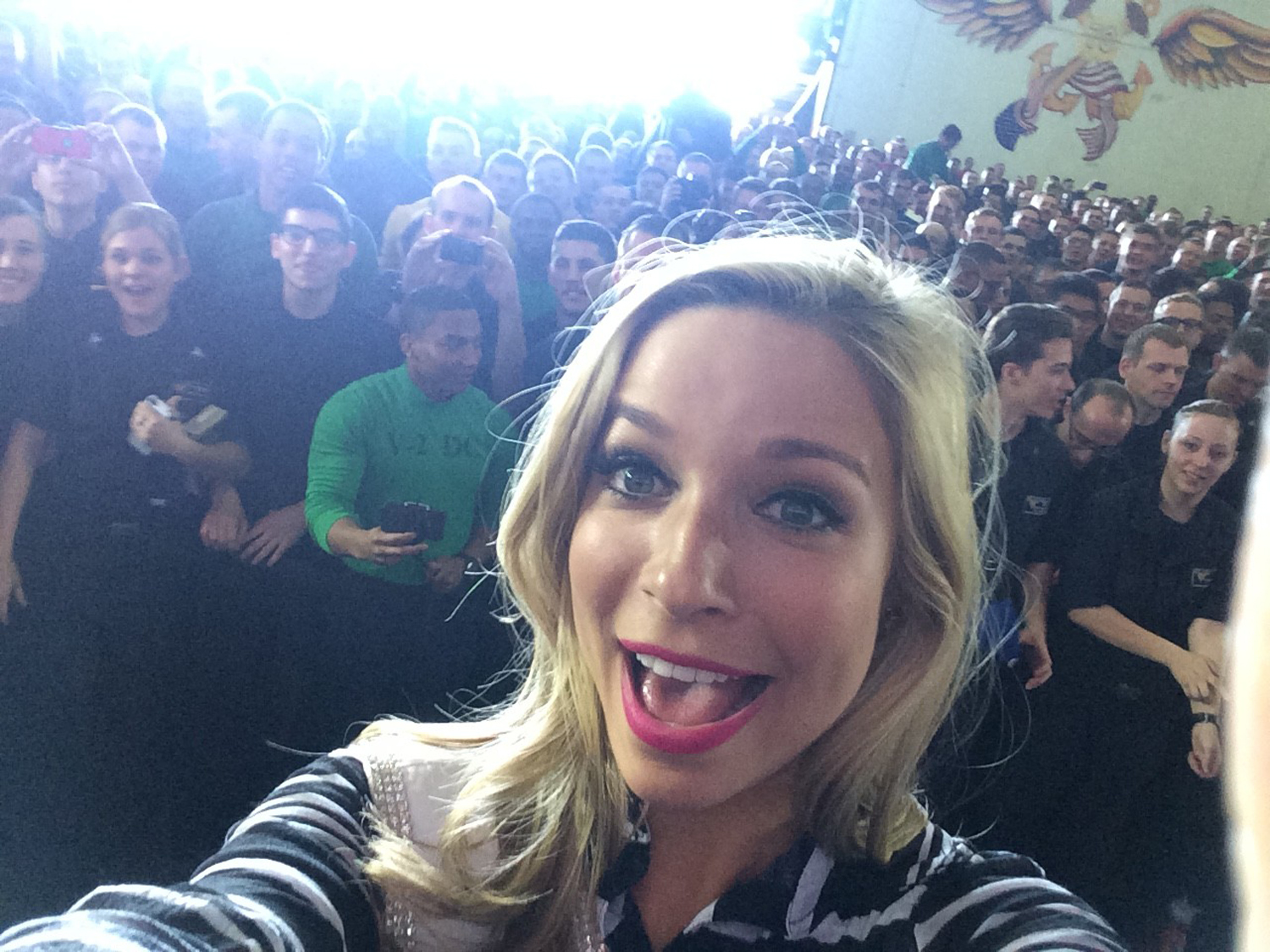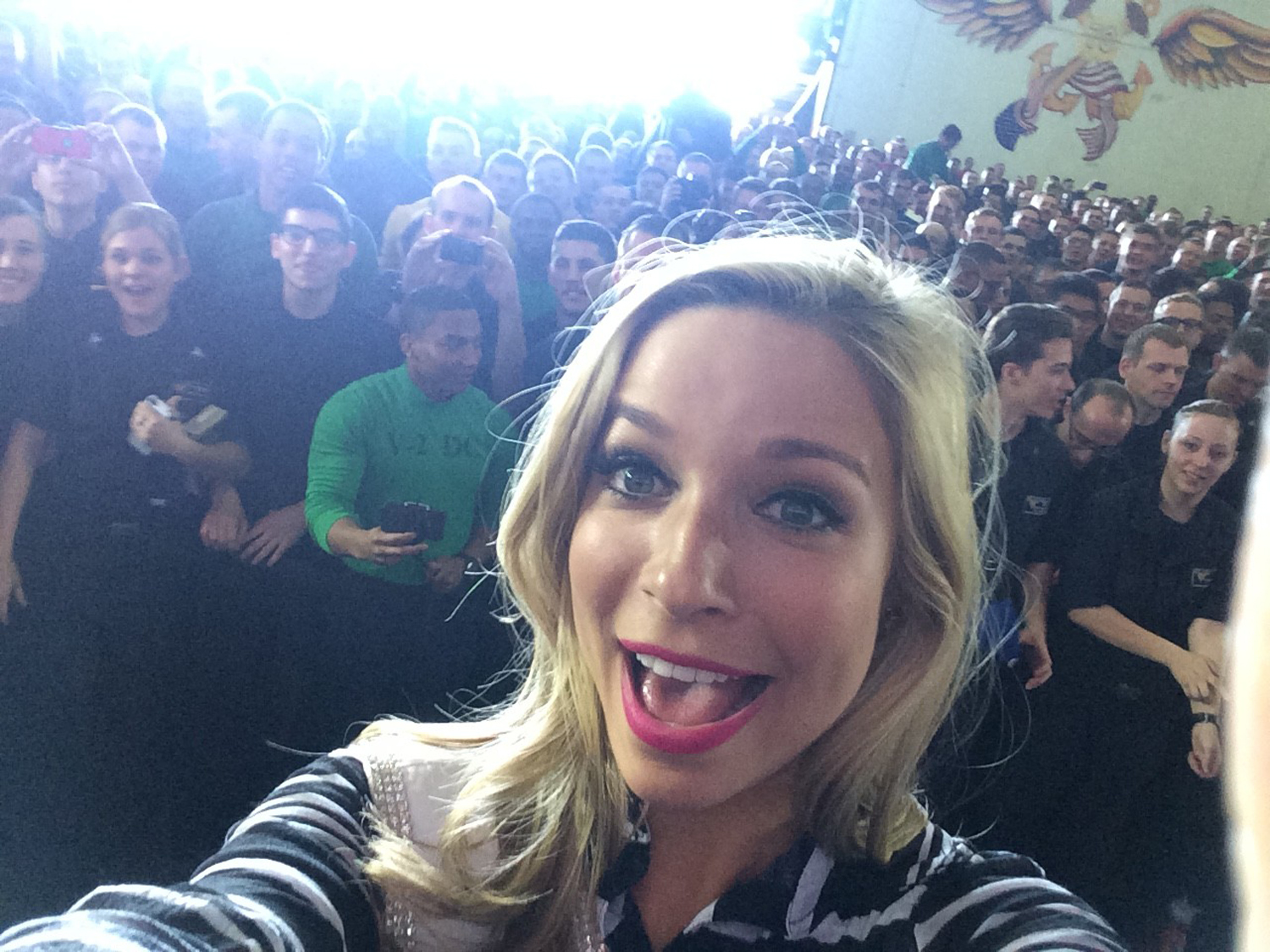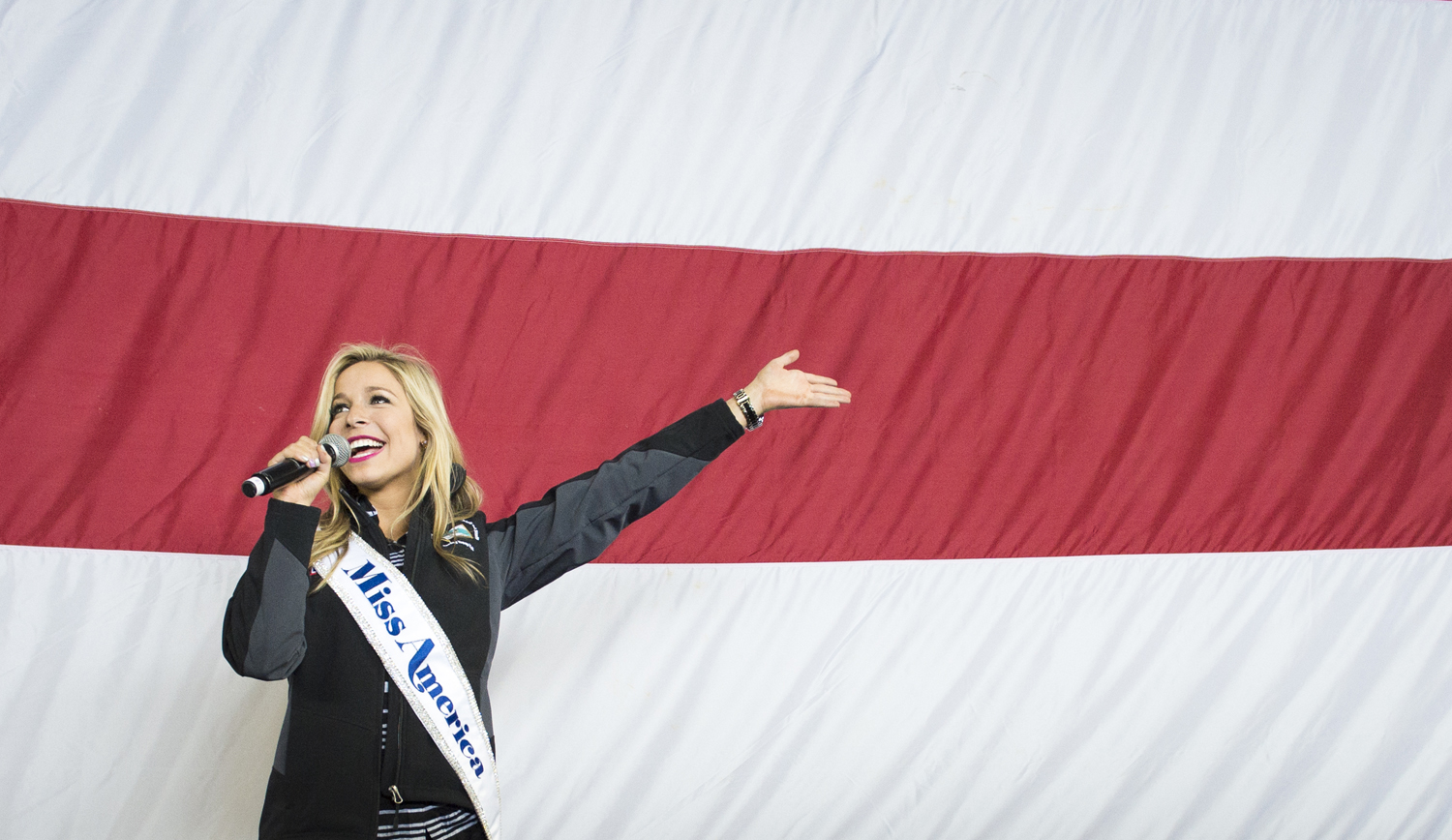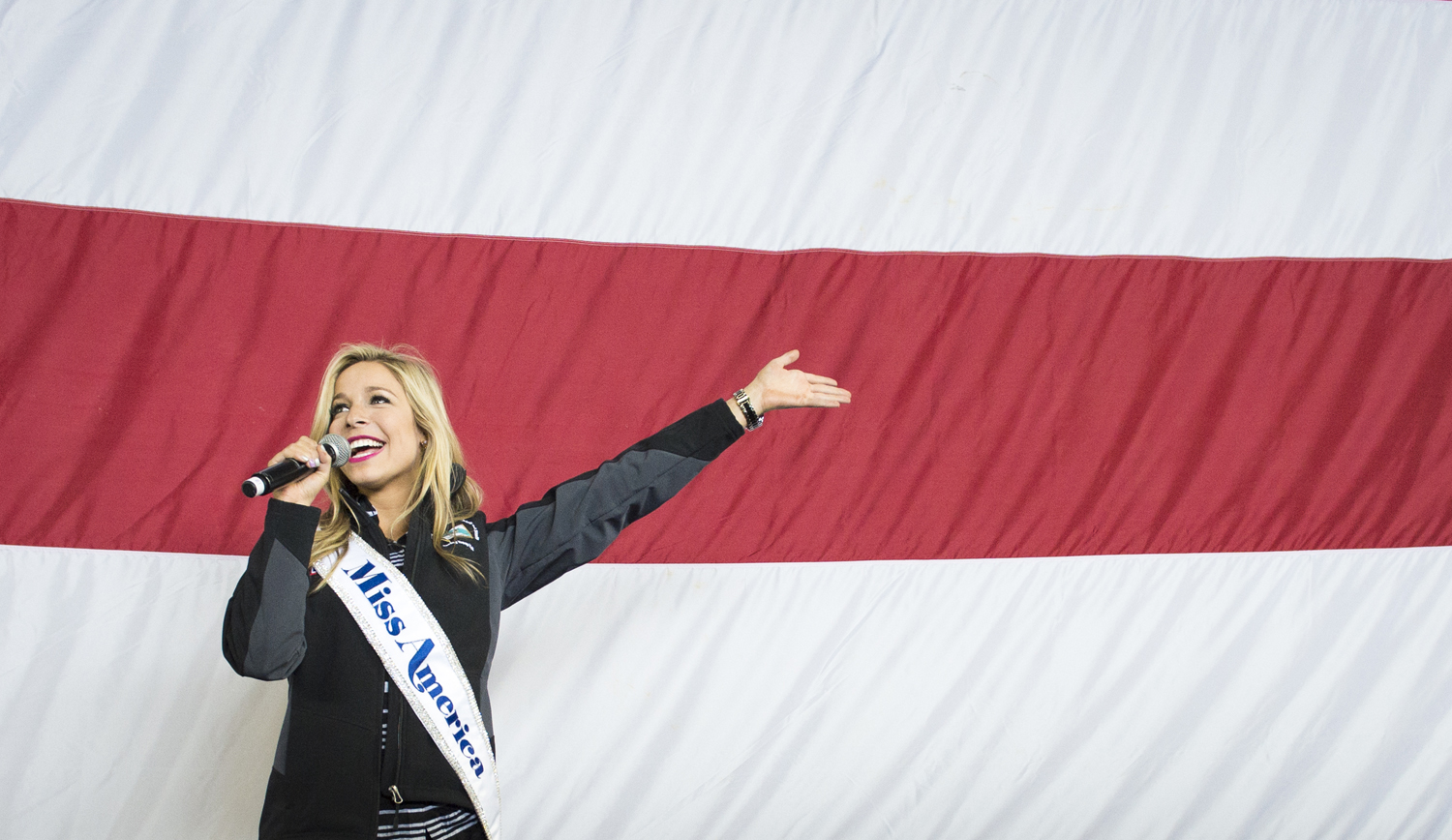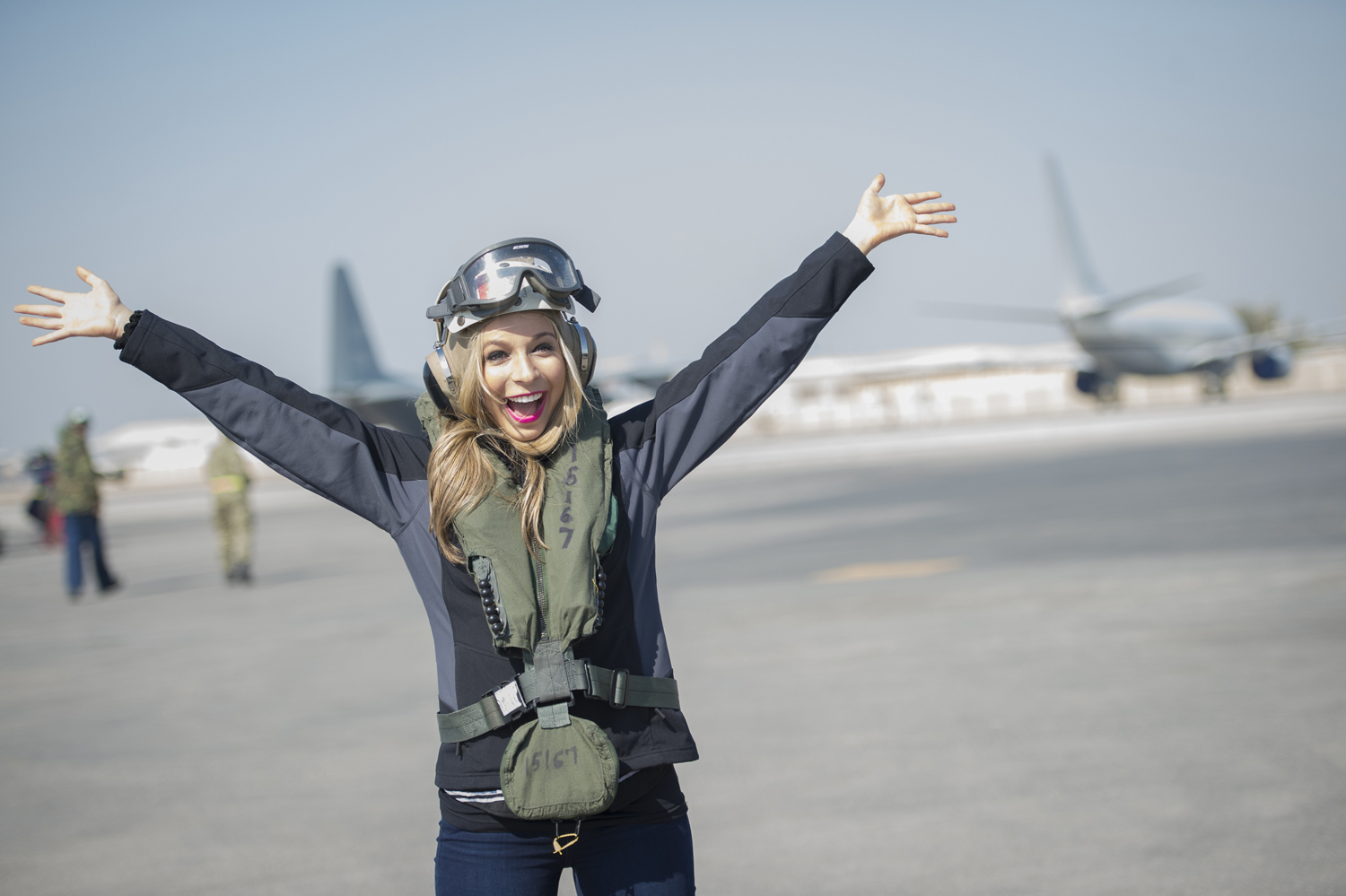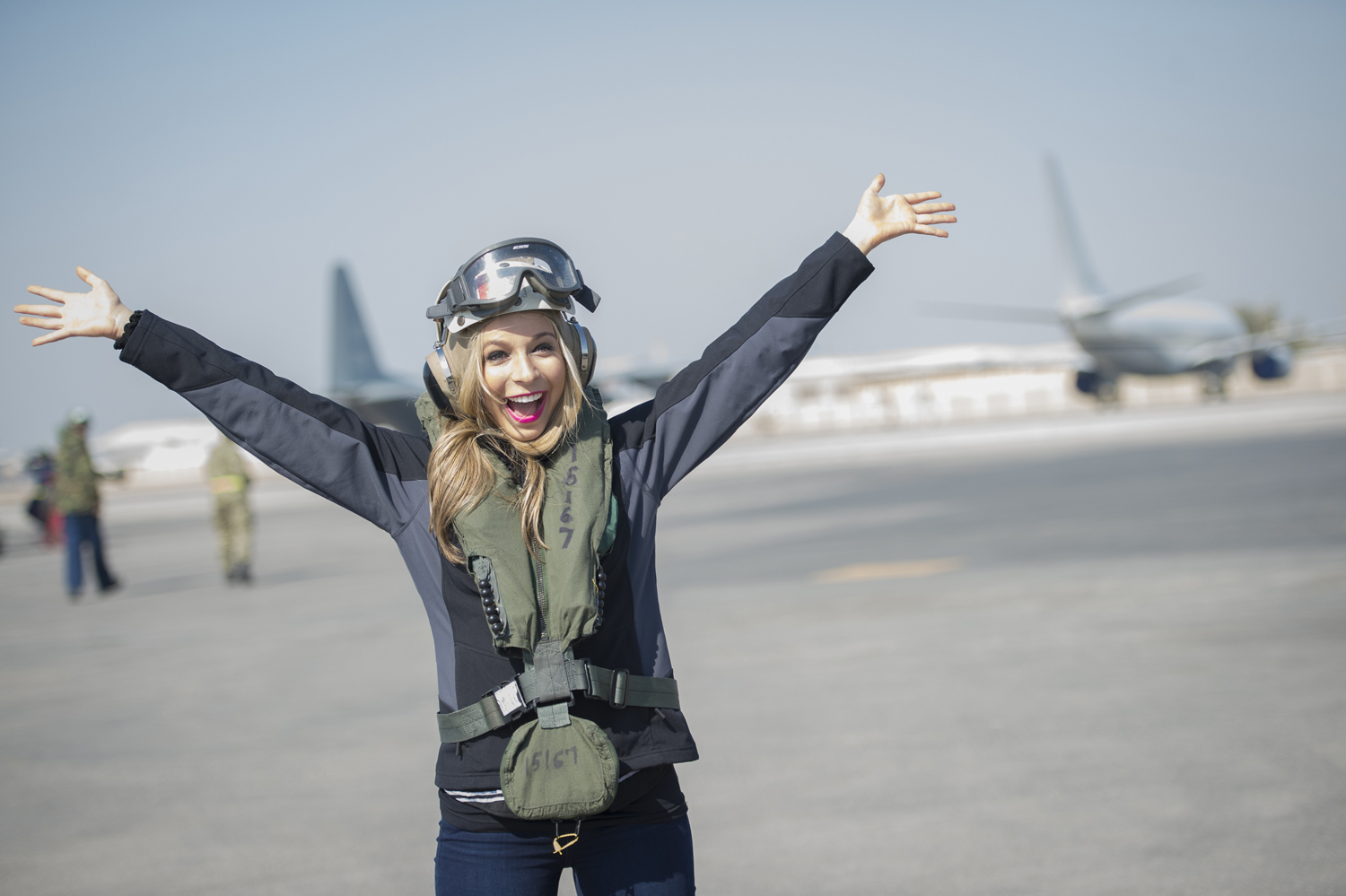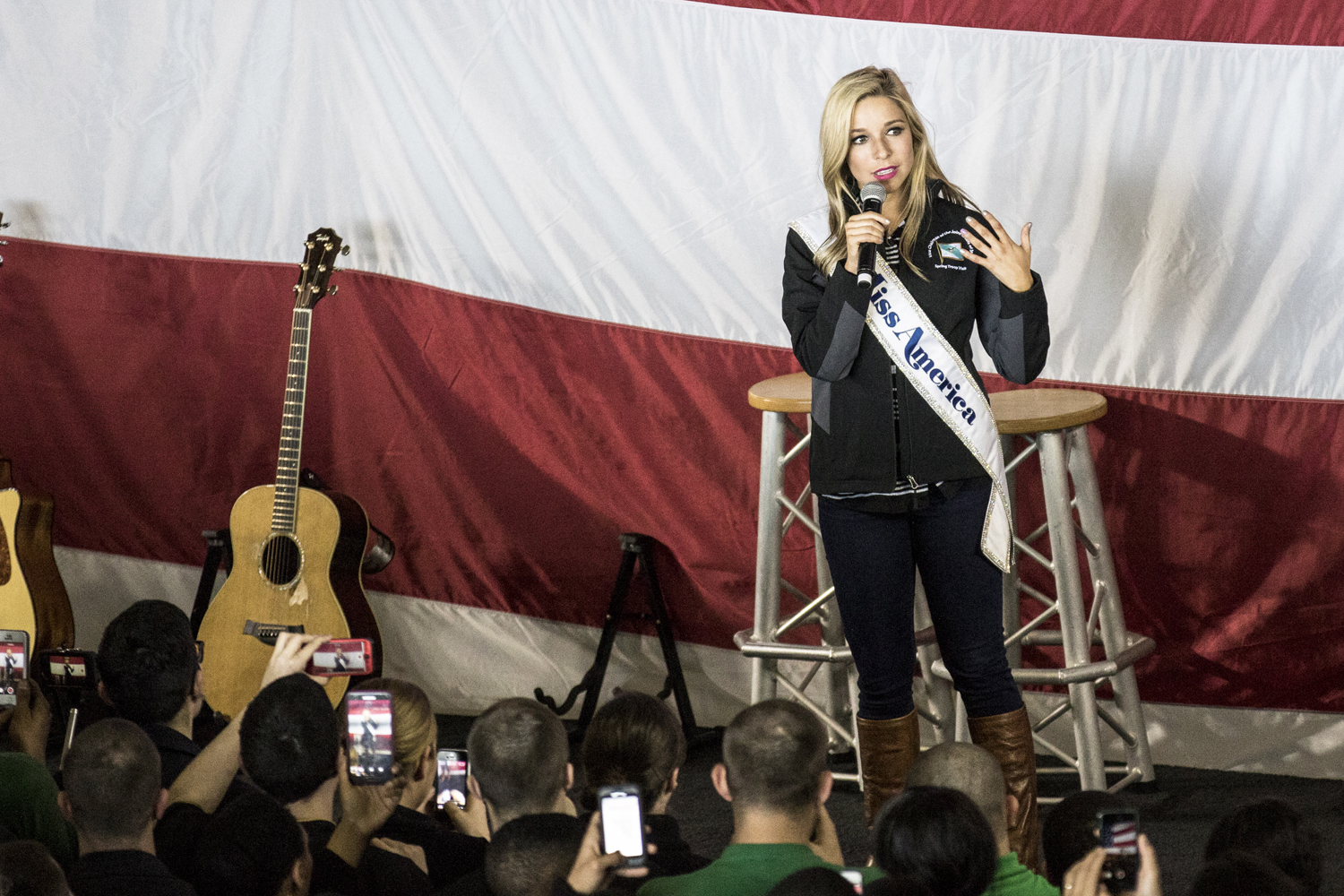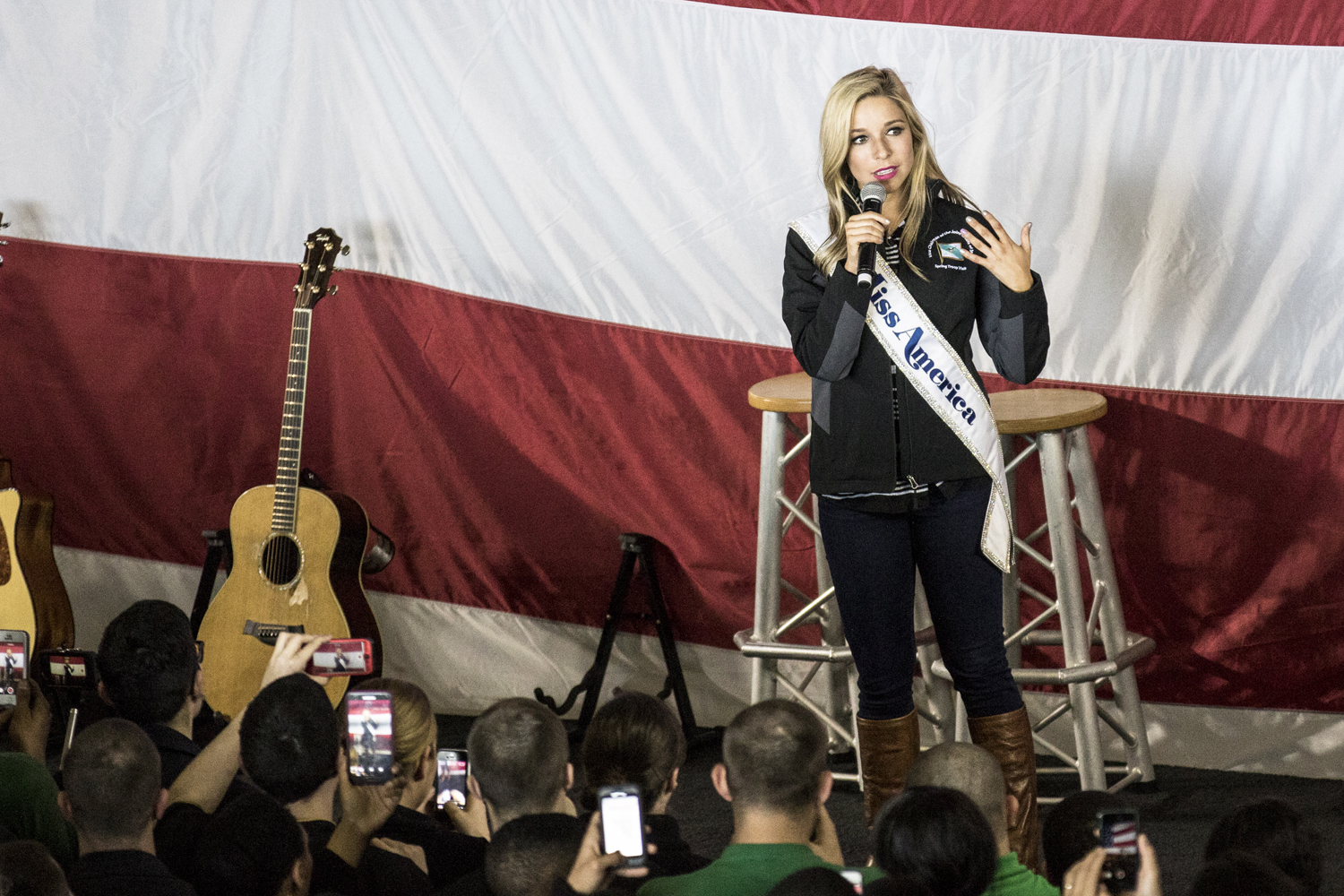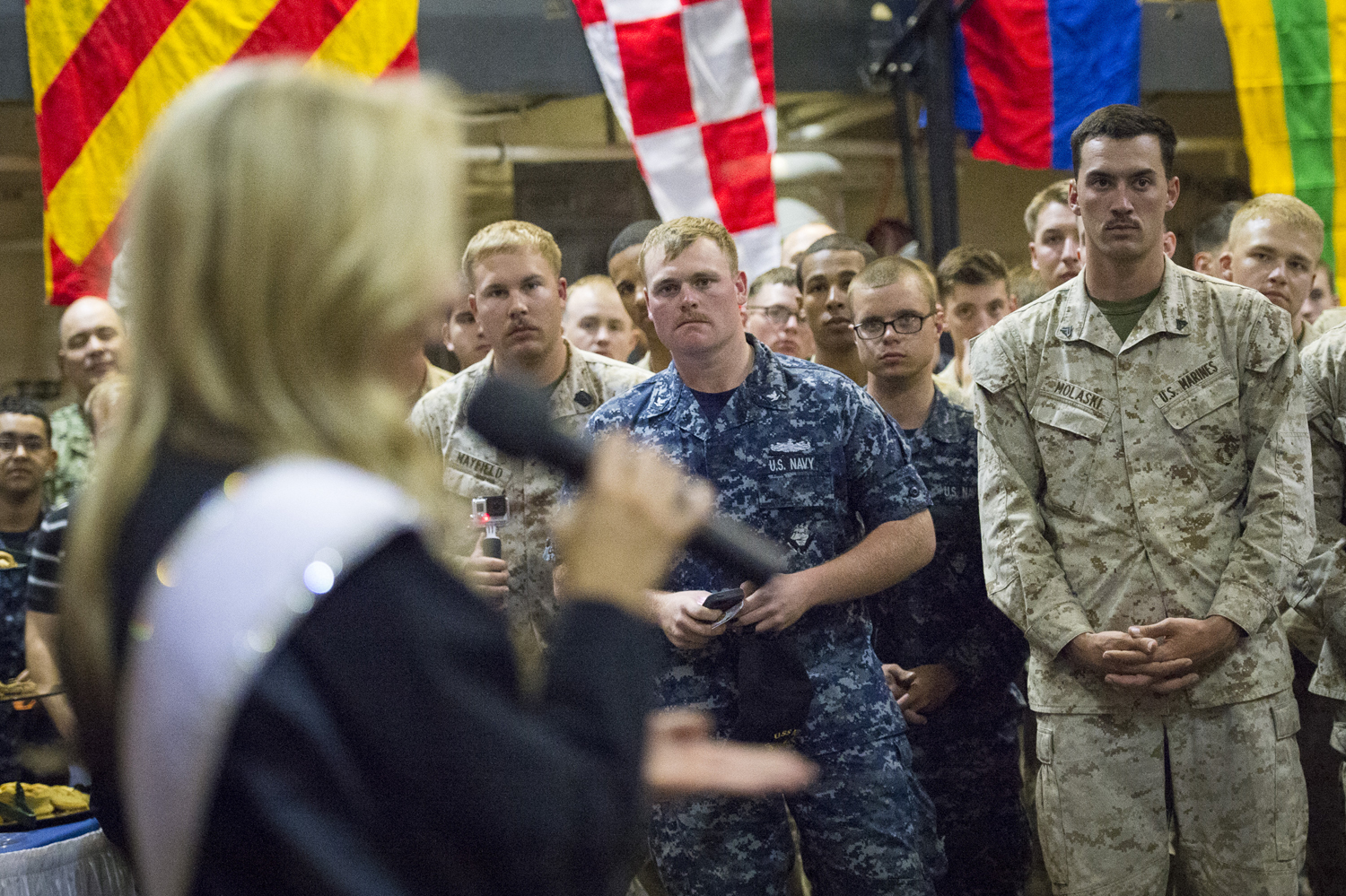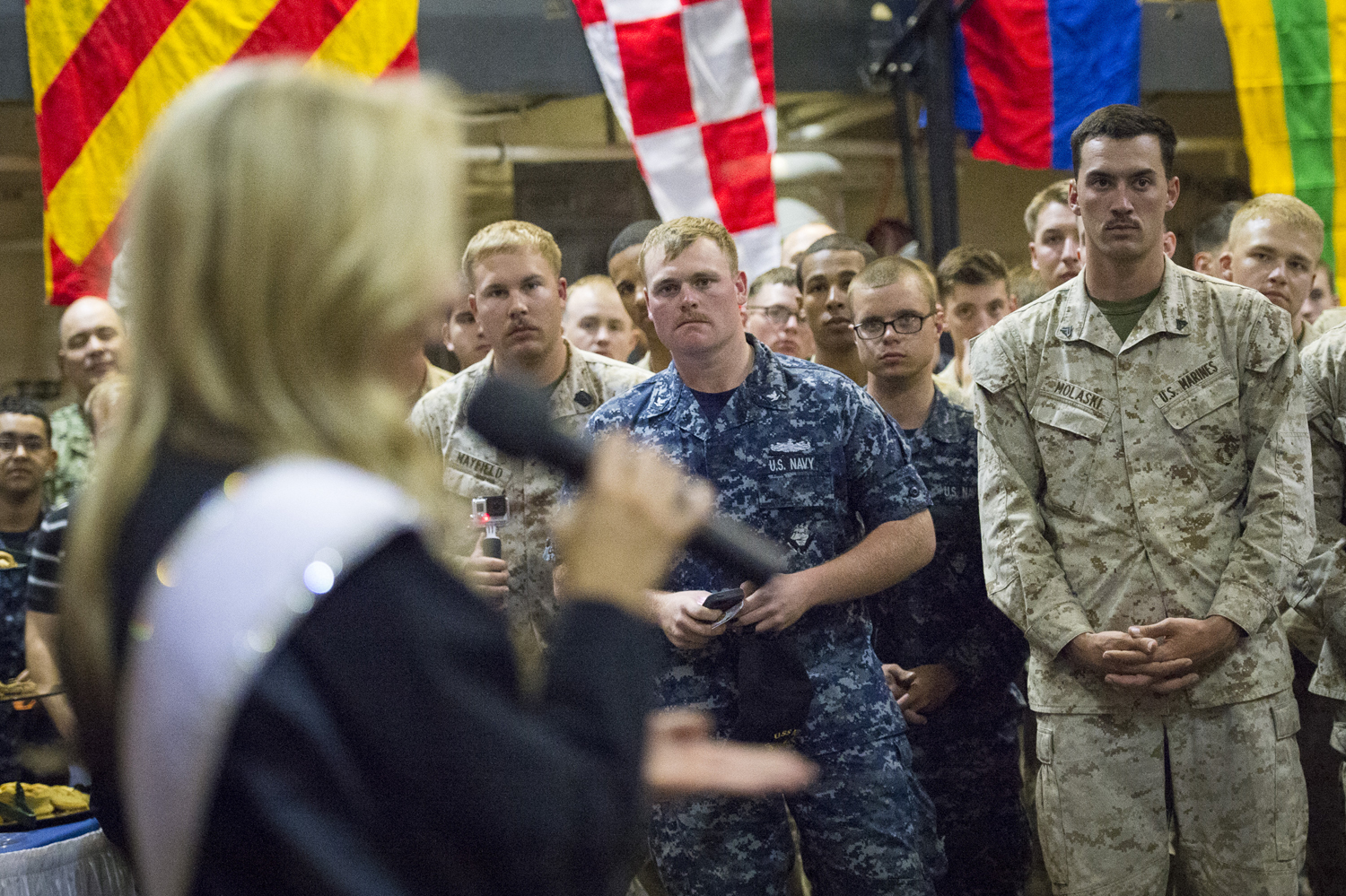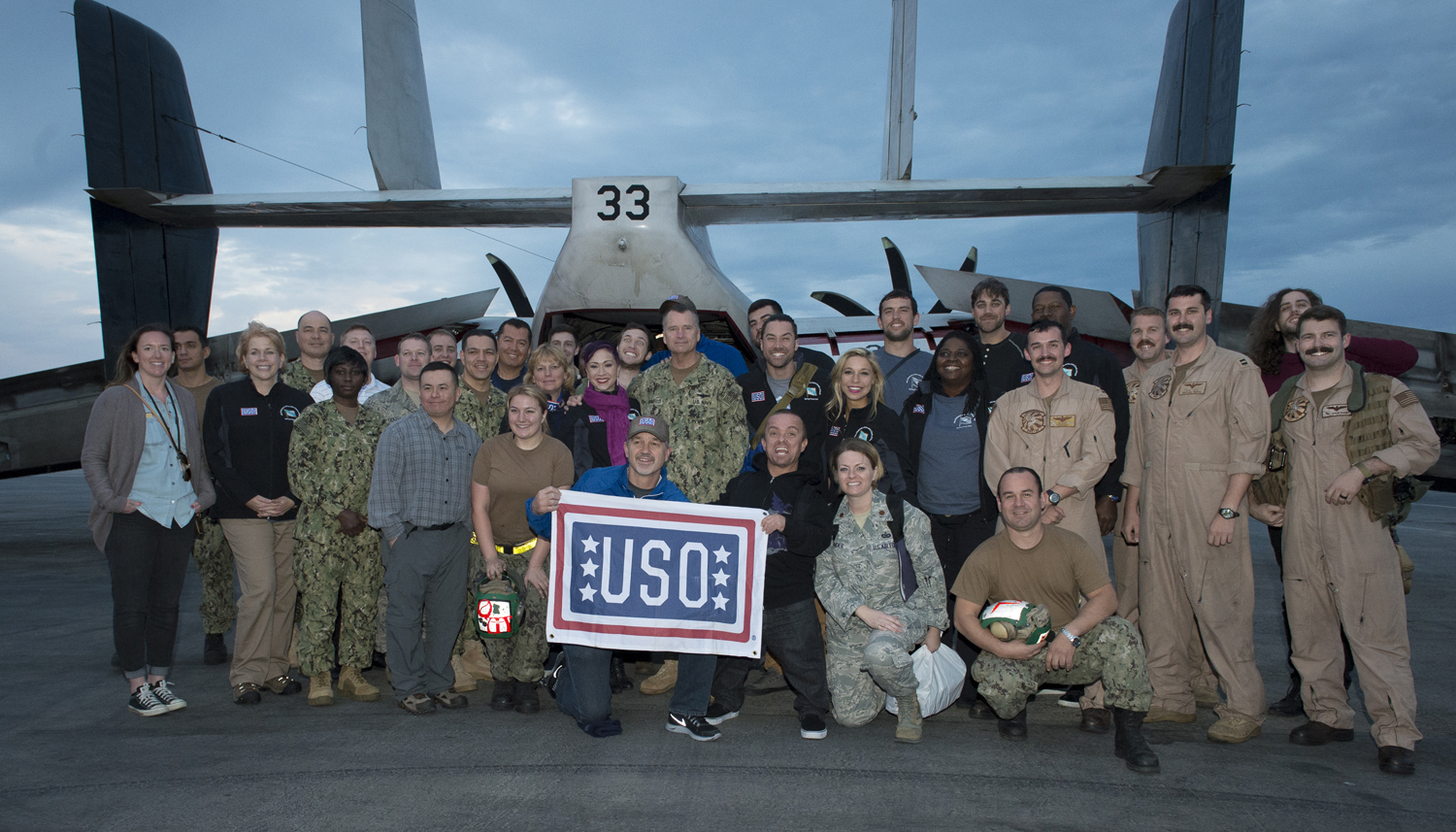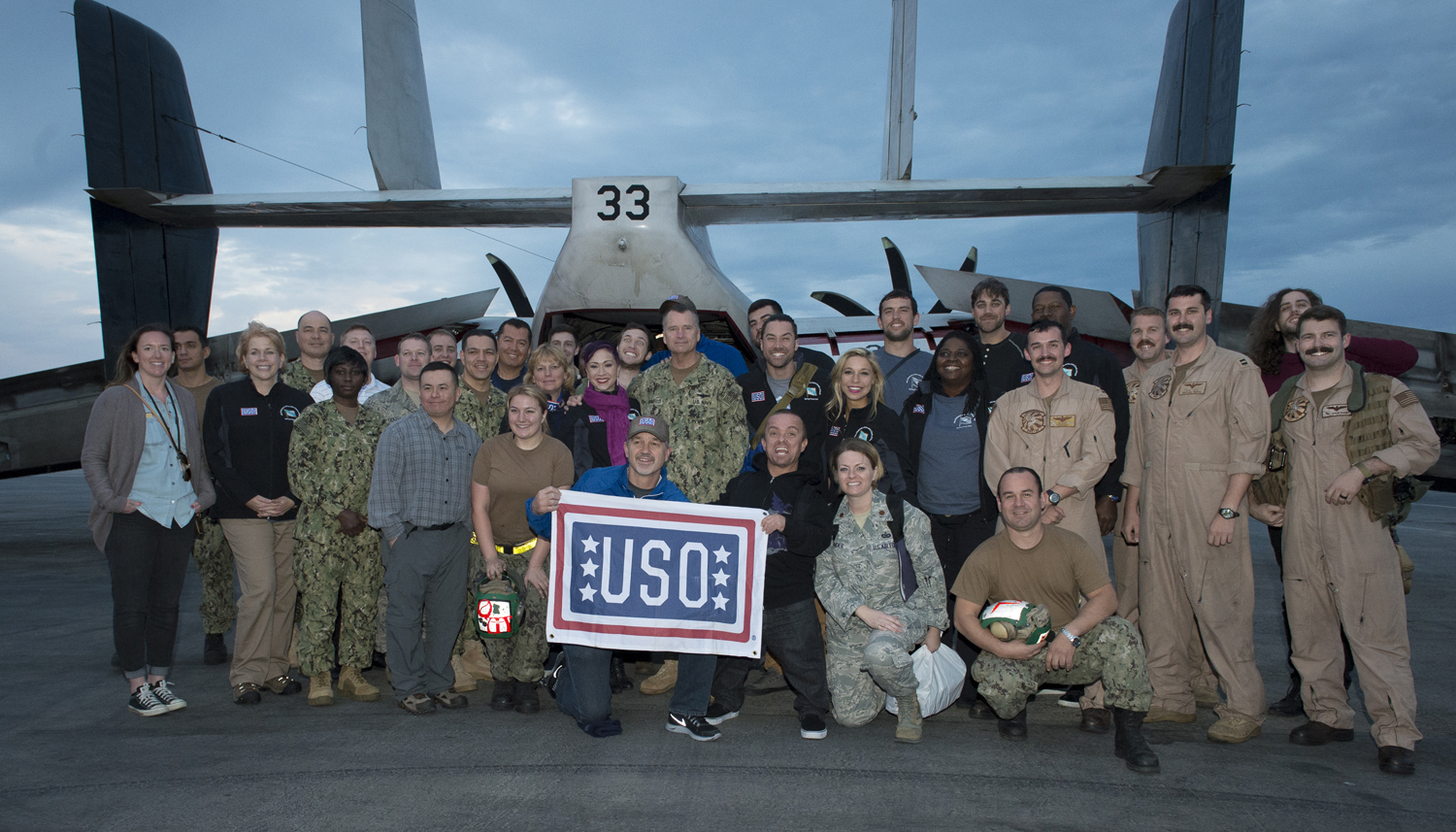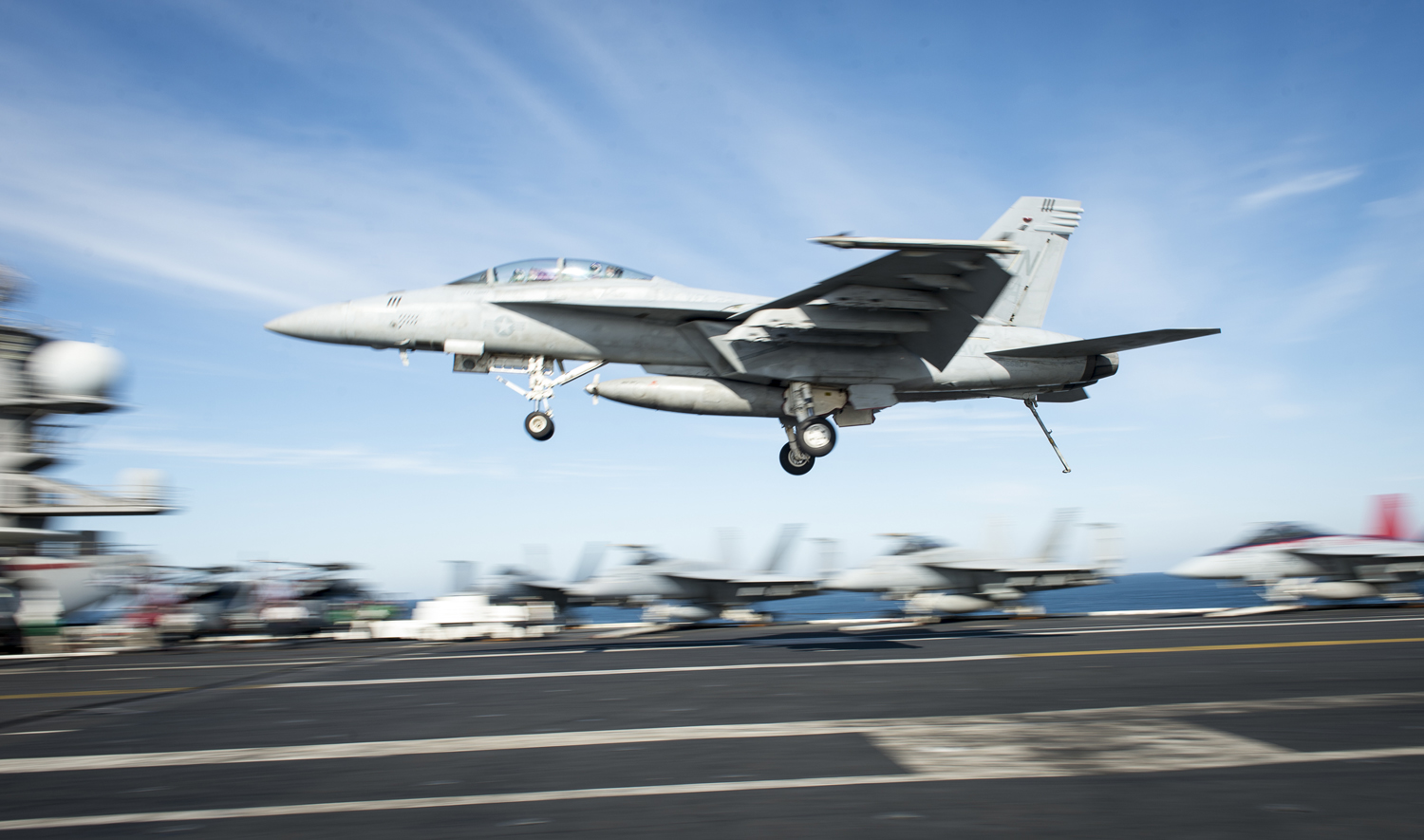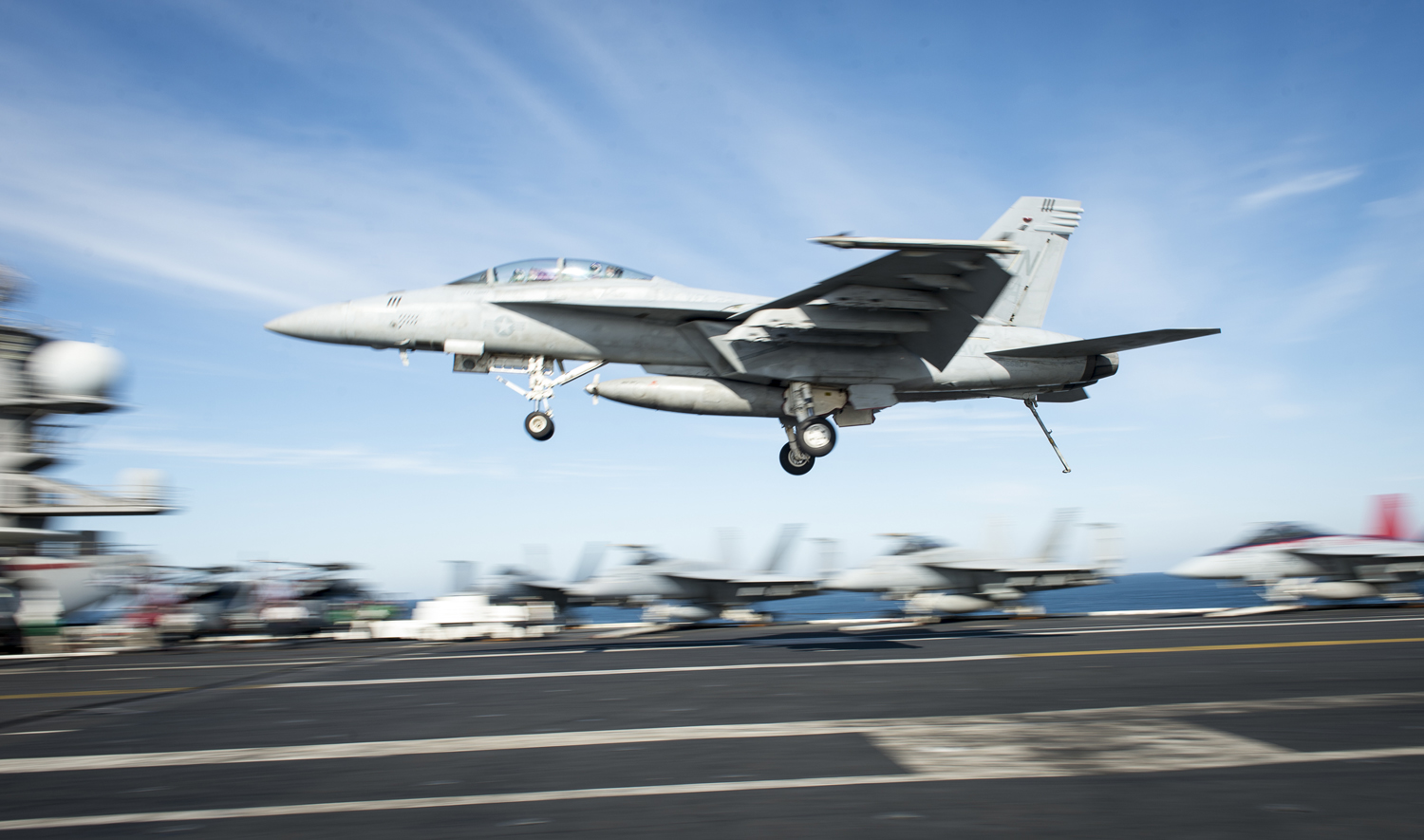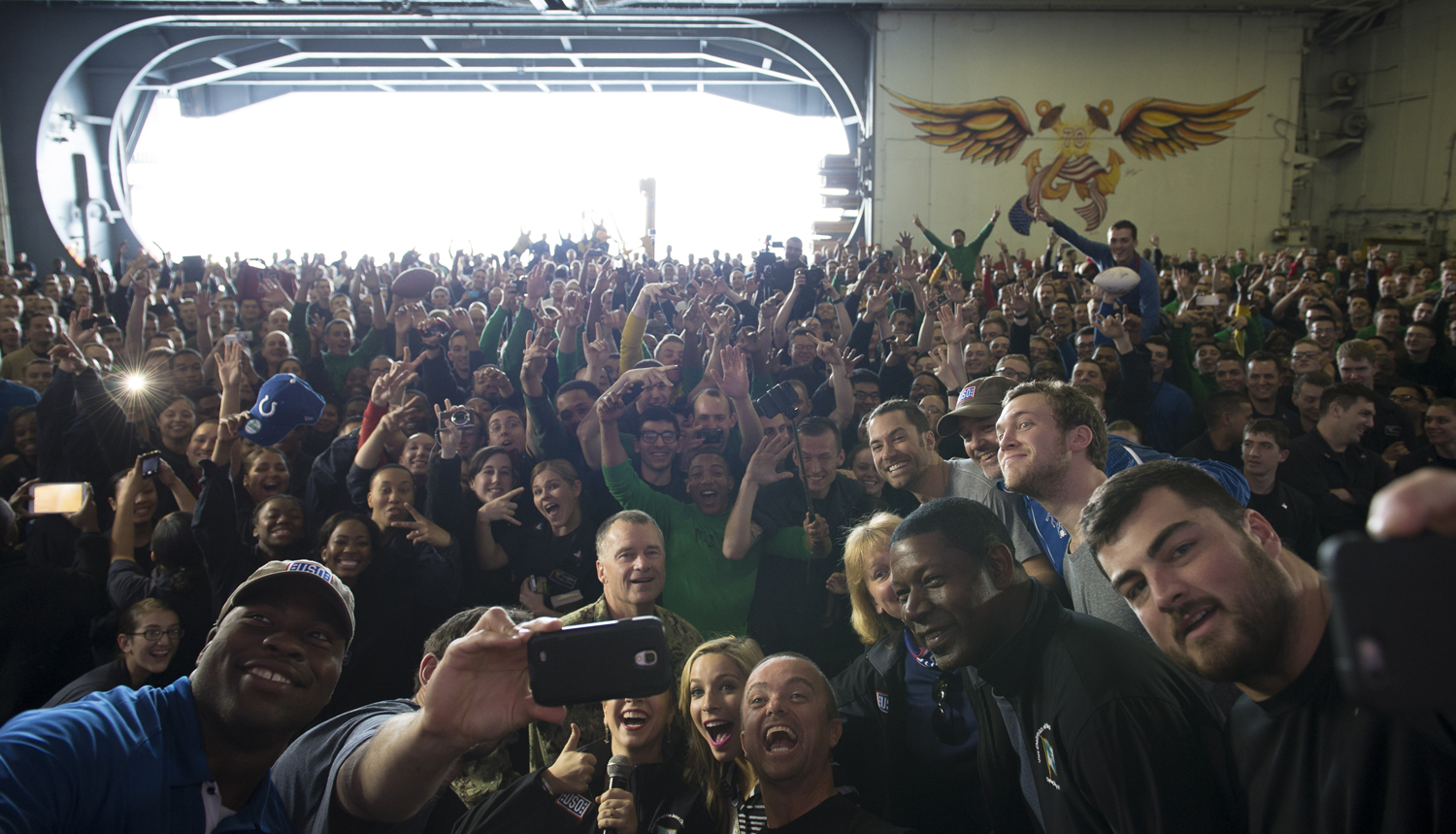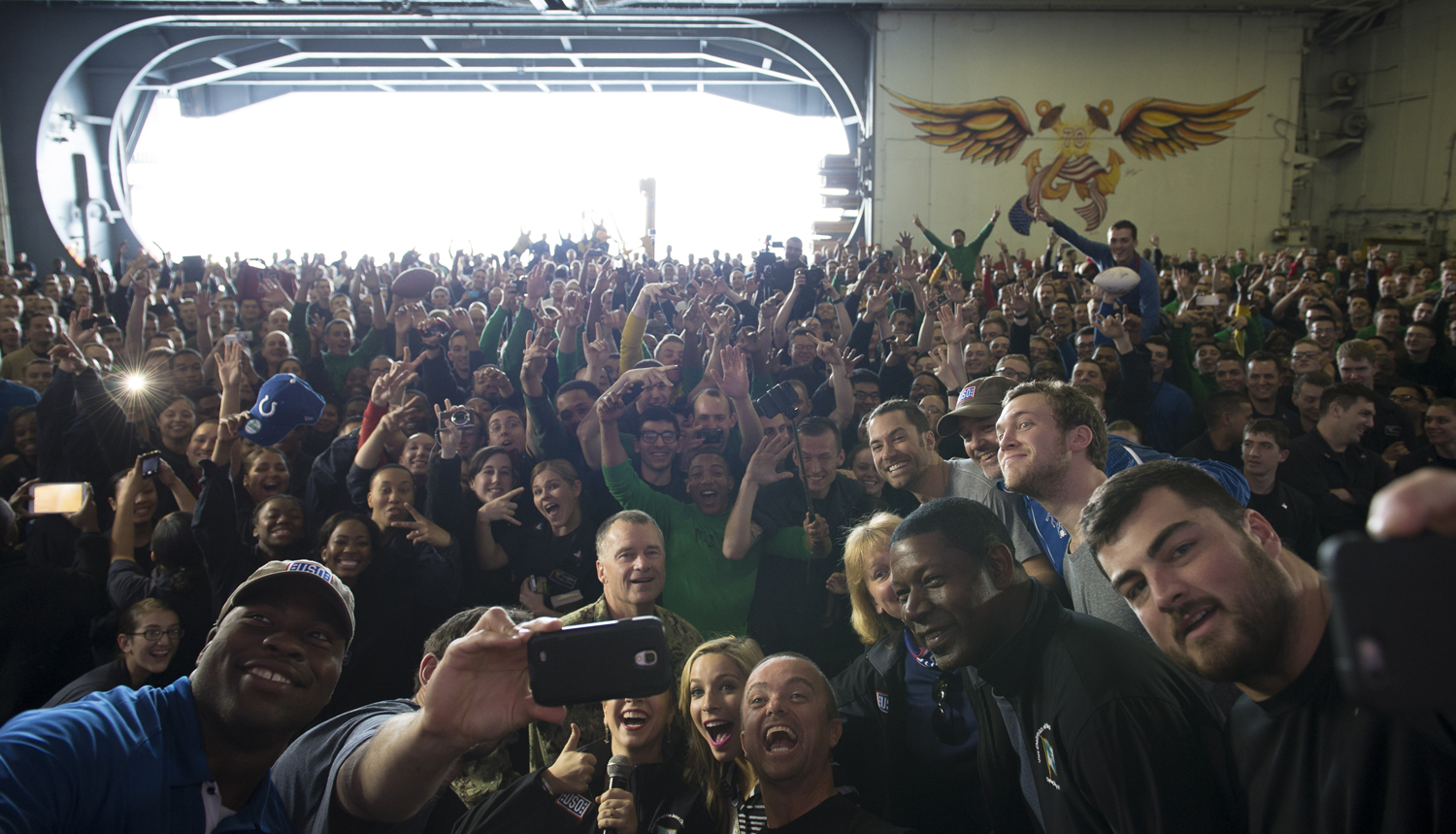 http://www.hemsleyandhemsley.com/how-does-viagra-work-yahoo/ Day Five.
Our call time the next morning was a very bright and early 3:00AM. We were on our way to Afghanistan!! After a quick nap on the plane, I got ready for the day and then went upstairs to the cockpit to check out the terrain from above. As I walked up, the smell of off-brand men's cologne filled the air. The pilots had applied their "combat musk", a ritual for every time they fly over the border into Afghanistan. This crew of pilots happened to be an amazing group of individuals, and I am so grateful to them for safely flying us 25,400 miles around the world!
Landing in Afghanistan was surreal. We immediately rushed to where several soldiers were awaiting our arrival, flak jackets in hand. They helped us into our jackets and helmets, and before I knew it, we were climbing into Blackhawk helicopters. Despite yielding my GoPro and taking photos, the very apparent machine guns sticking out from all sides were telling of the real danger that still remains. The original plan was to travel to Kabul and meet troops stationed there. Unfortunately, due to weather, we were unable to land, and we were forced to turn around. However, on the ride back, we could very clearly look down through the windows and take in the countryside. It is an entirely different world. To see it in person made a very deep, lasting impression on me.
Keeping with U.S. military protocol, the staff flawlessly adjusted for the change in plans, and we instead headed to the hospital at enter Bagram Air Field. This hospital and its staff are absolutely incredible. If a wounded soldier arrives with at least their major organs more or less in tact, they have a 98% chance of survival, which are fairly good odds if you ask me. Speaking of arriving wounded, the emergency entrance through which patients are brought contains a giant American flag fastened to the ceiling. Such that, when a patient is brought in and is lying on their back on a stretcher, he or she can look up and know that they are home. We were able to do a USO meet and greet with the entire hospital staff and learn about the different departments and what they do. Ever the emotional one, when we got to the end of the tour, there was an entire wall dedicated to memorializing the fallen heroes in Iraq and Afghanistan that were also medical professionals. Reading each one of the stories was very overwhelming for me, so I again had to take a moment, regain my composure and smile that Miss America smile.
After the hospital visit, we had a quick lunch and then show time! Out of all the USO shows we had done so far, this was by far the most meaningful to me. Every single one of the service members there has sacrificed so much; it was an honor and a privilege to stand before them. That day's rendition of God Bless America was especially emotional. After the show, we did a USO meet and greet, conducted in precise military order, and as quickly as we arrived, it was already time to depart. The experience of being in Afghanistan has since stayed very fresh in my mind, and I often think of the men and women we met that day. If it weren't for them, there would not be a Miss America, and that was not lost on me.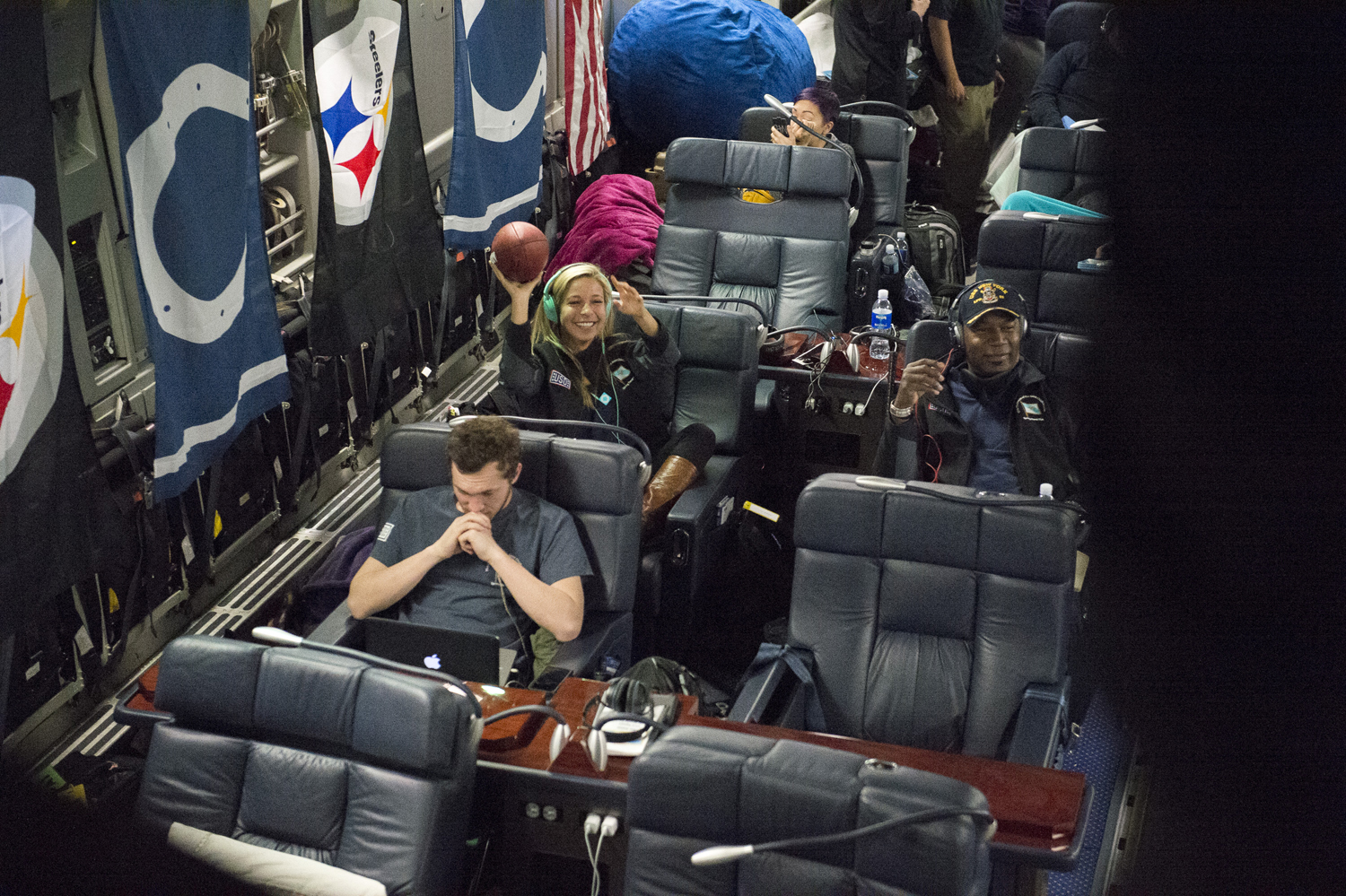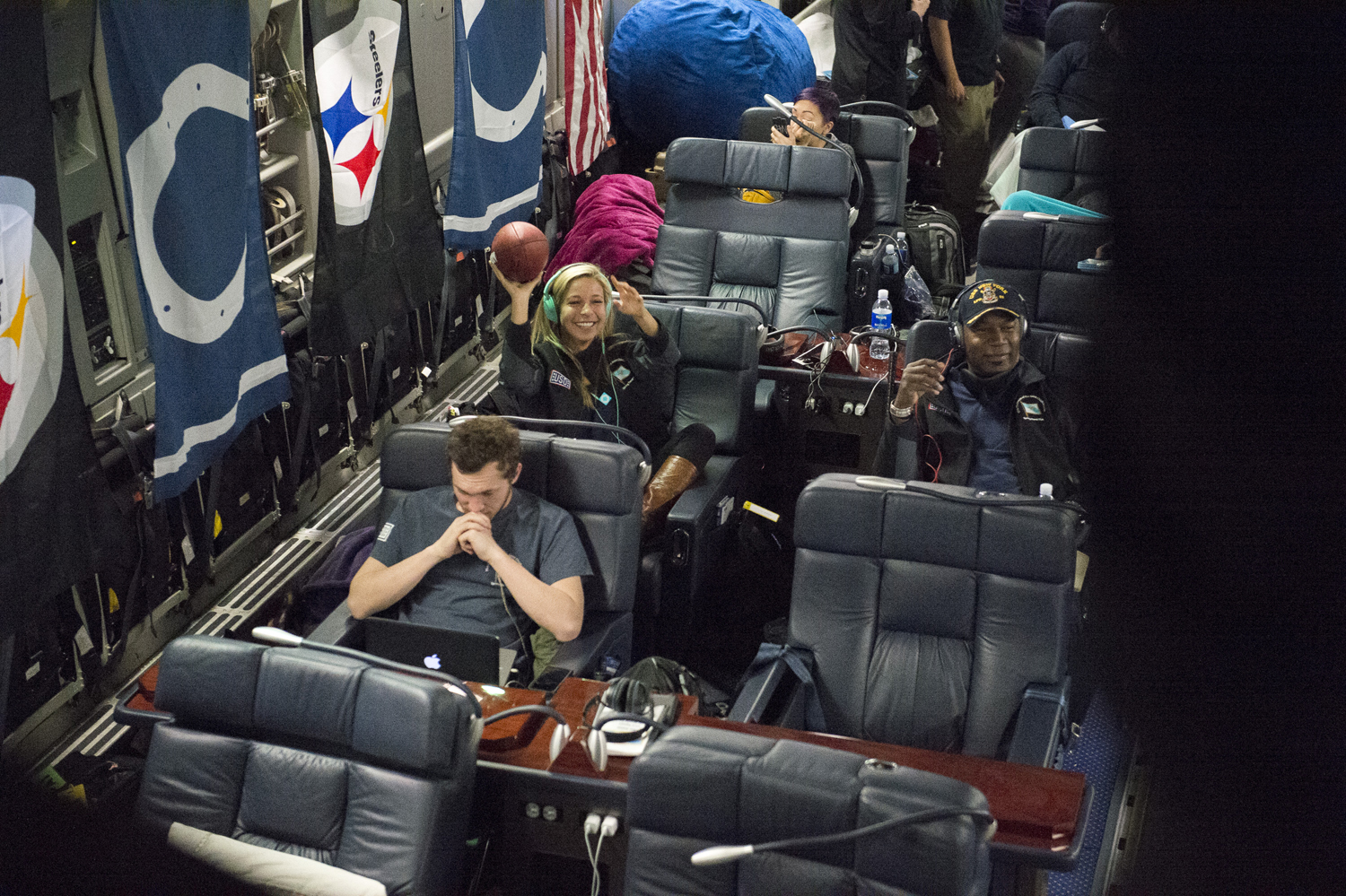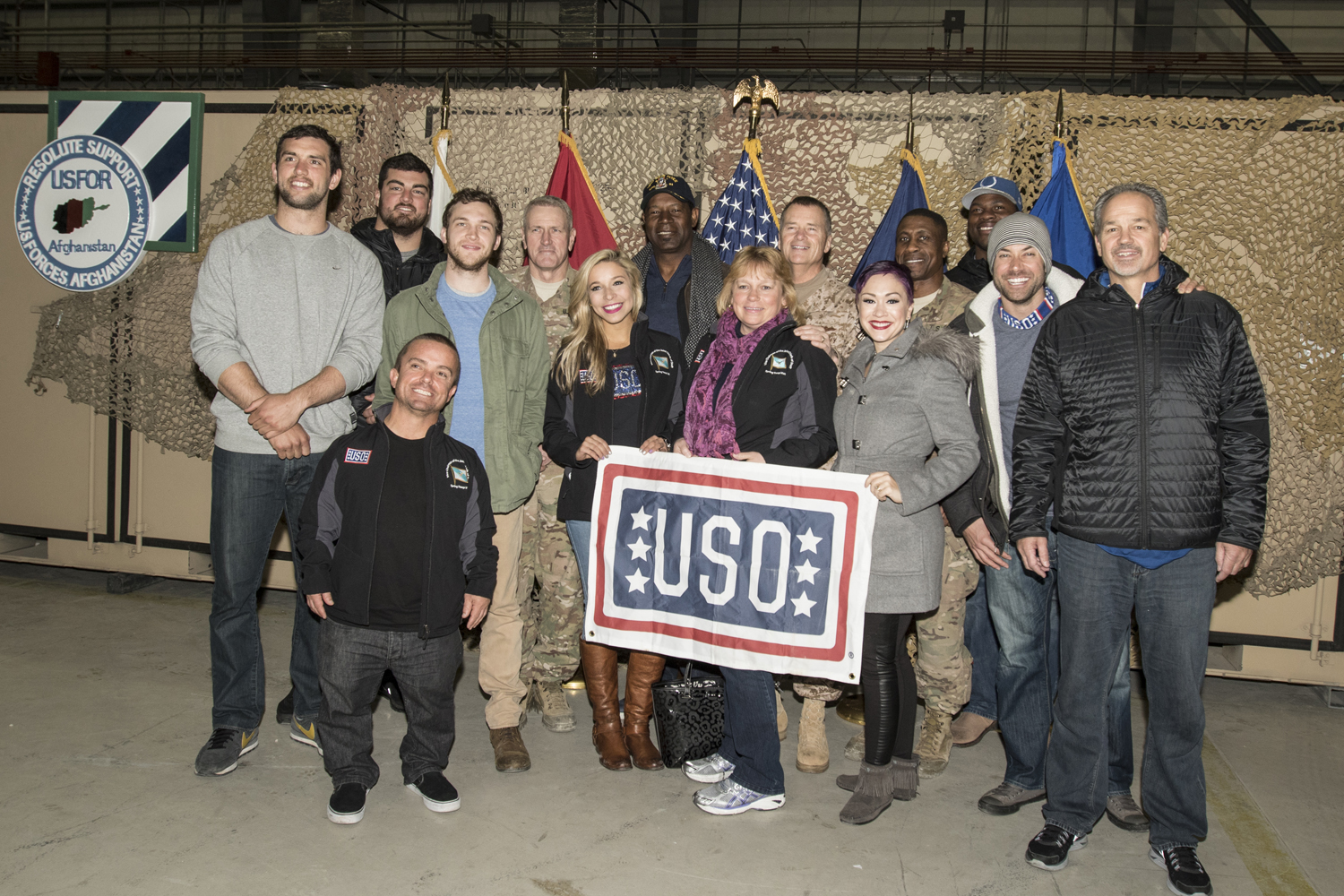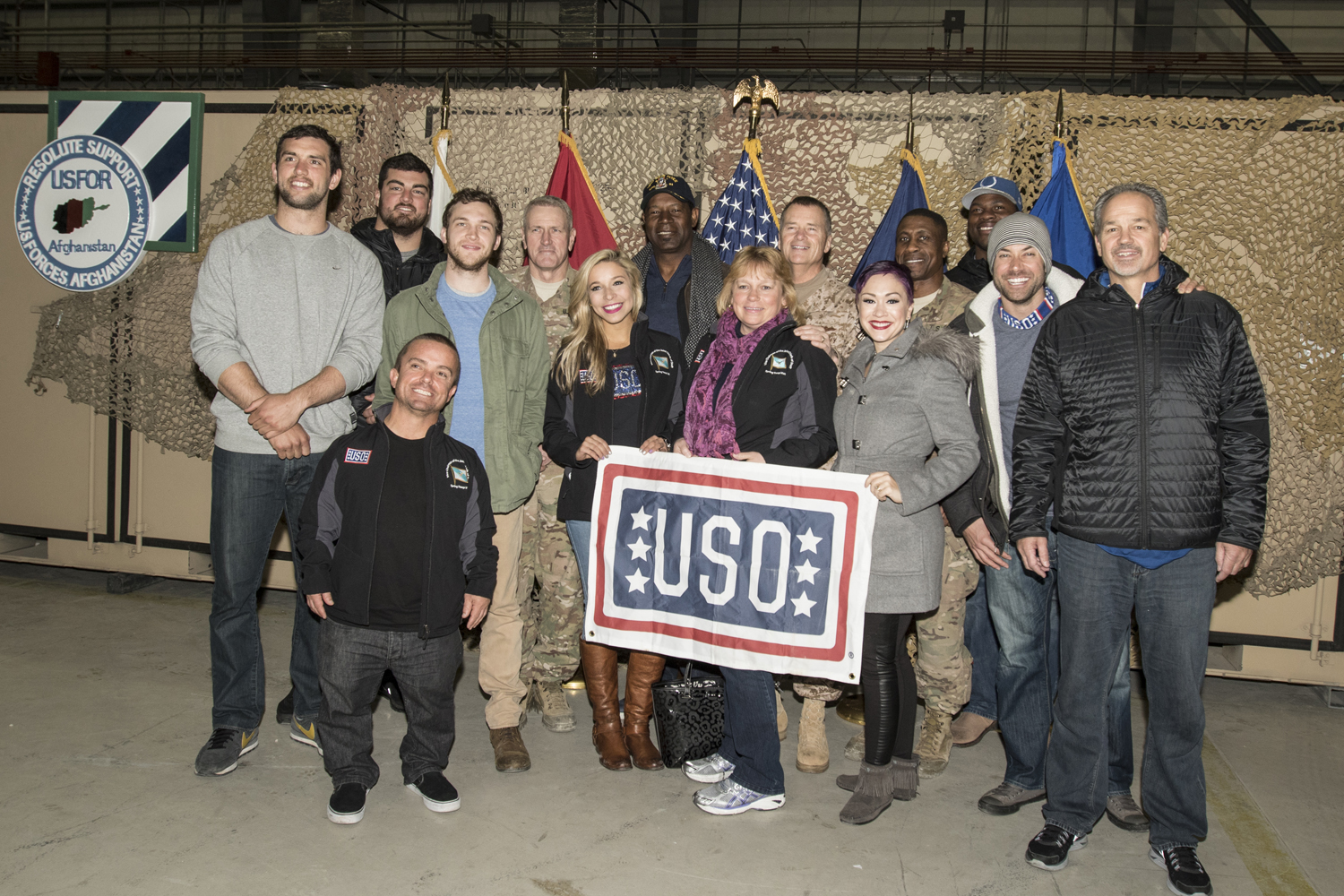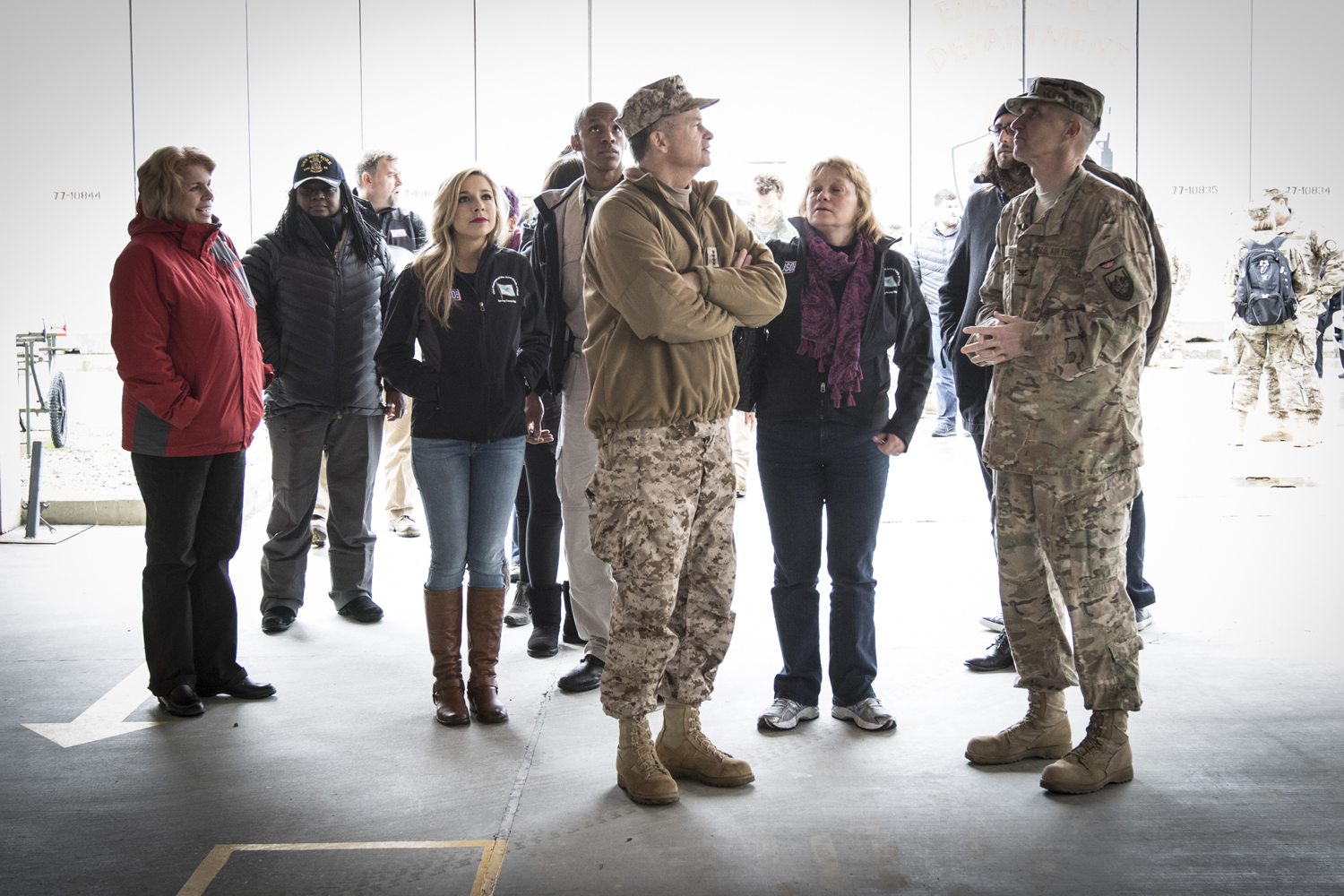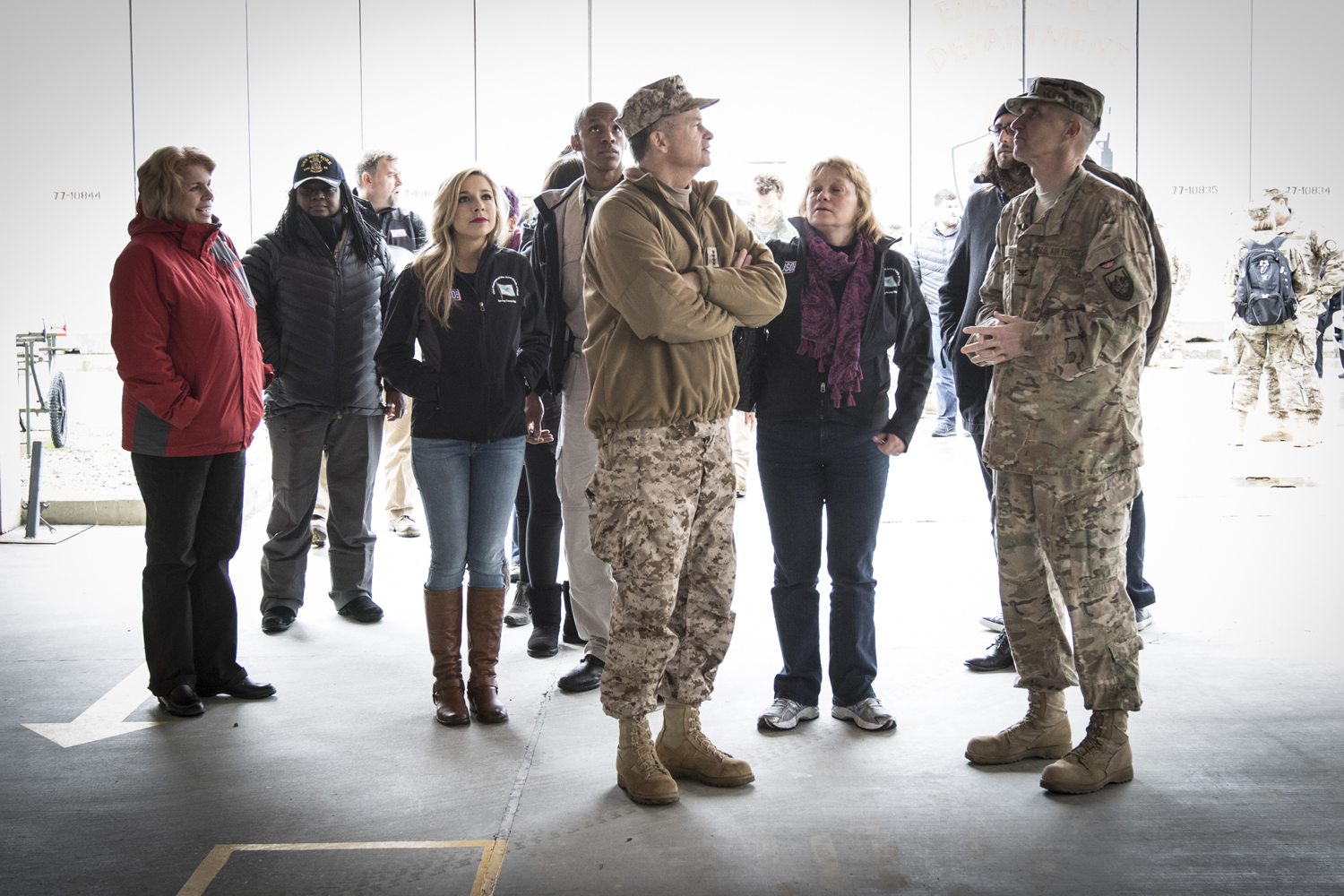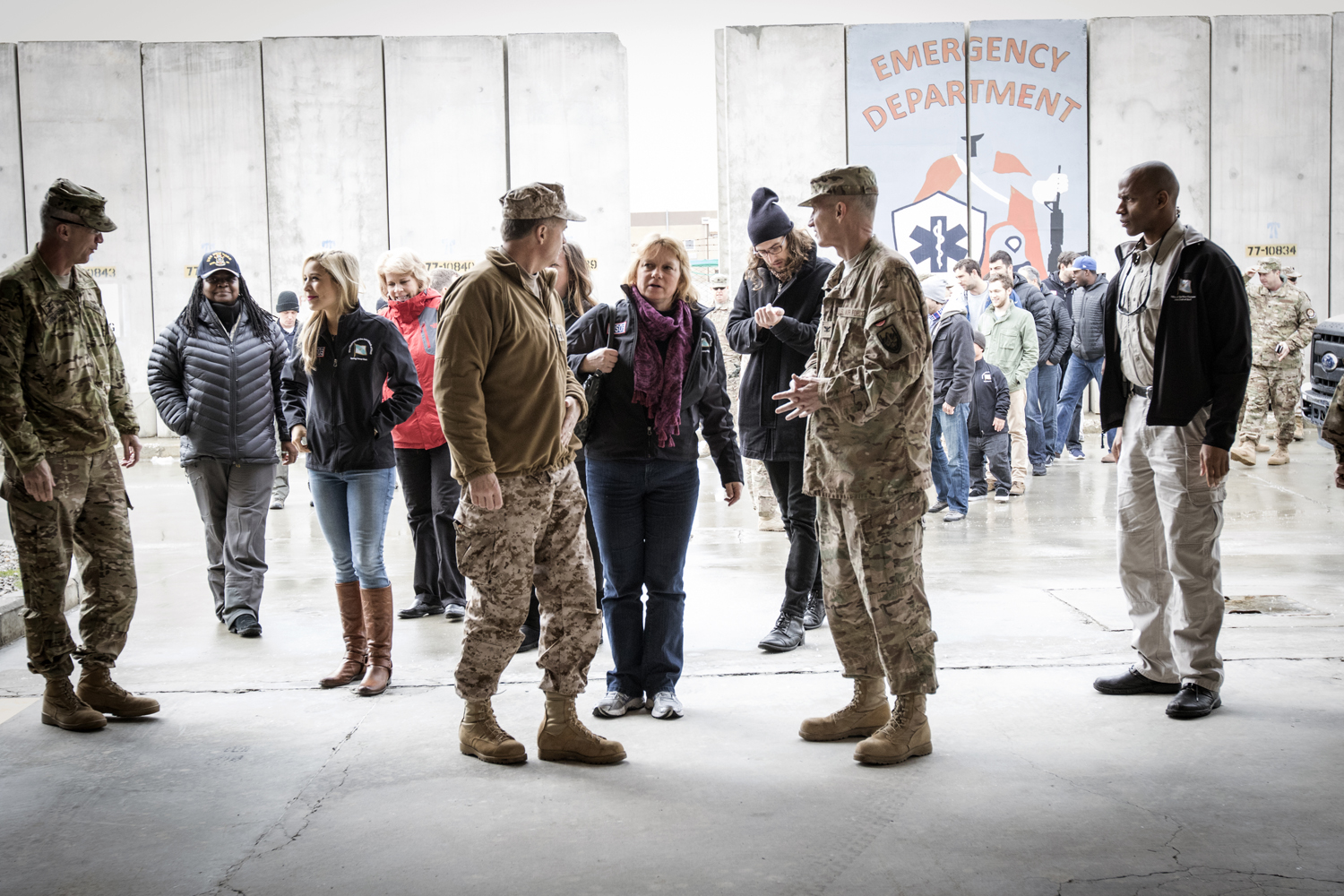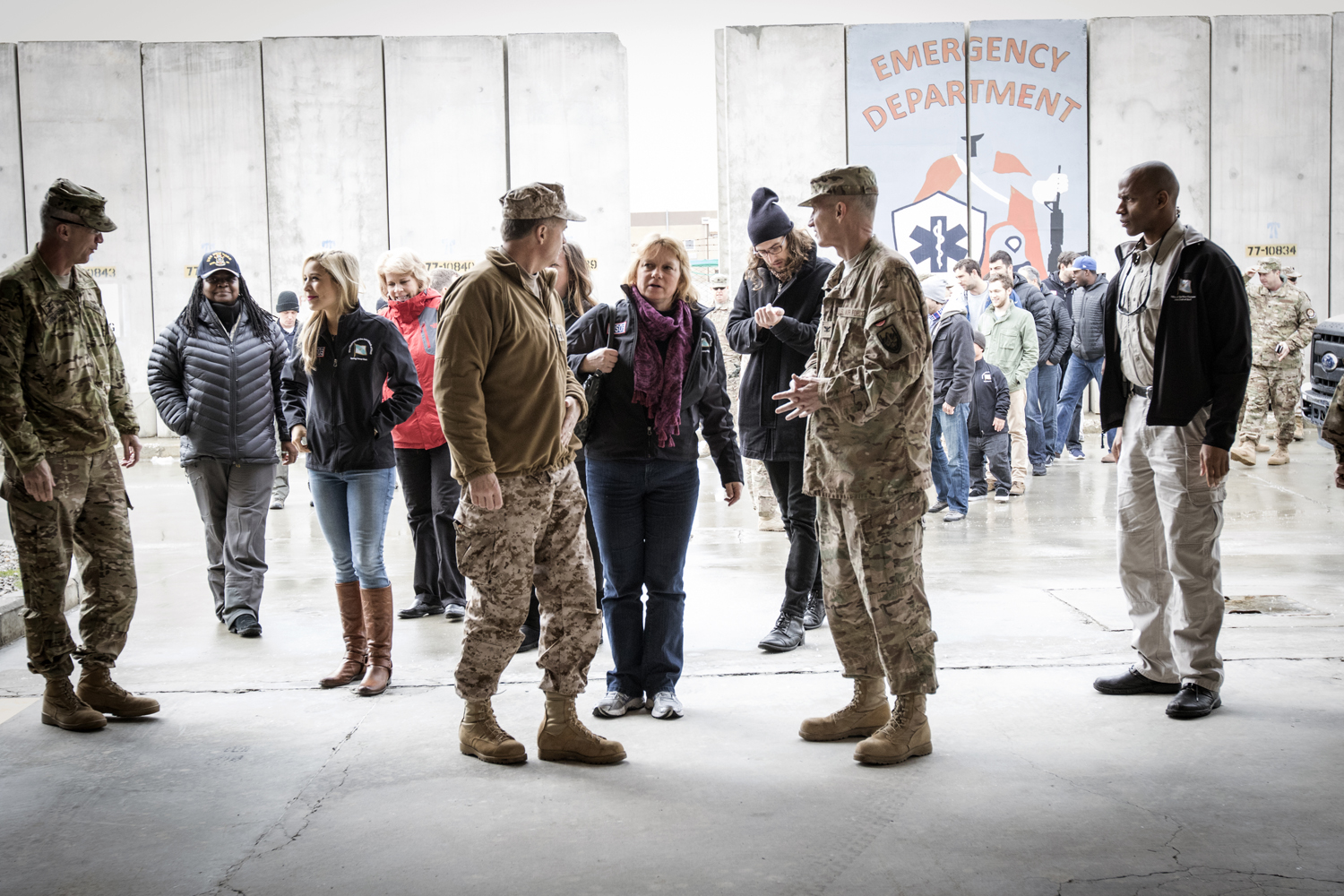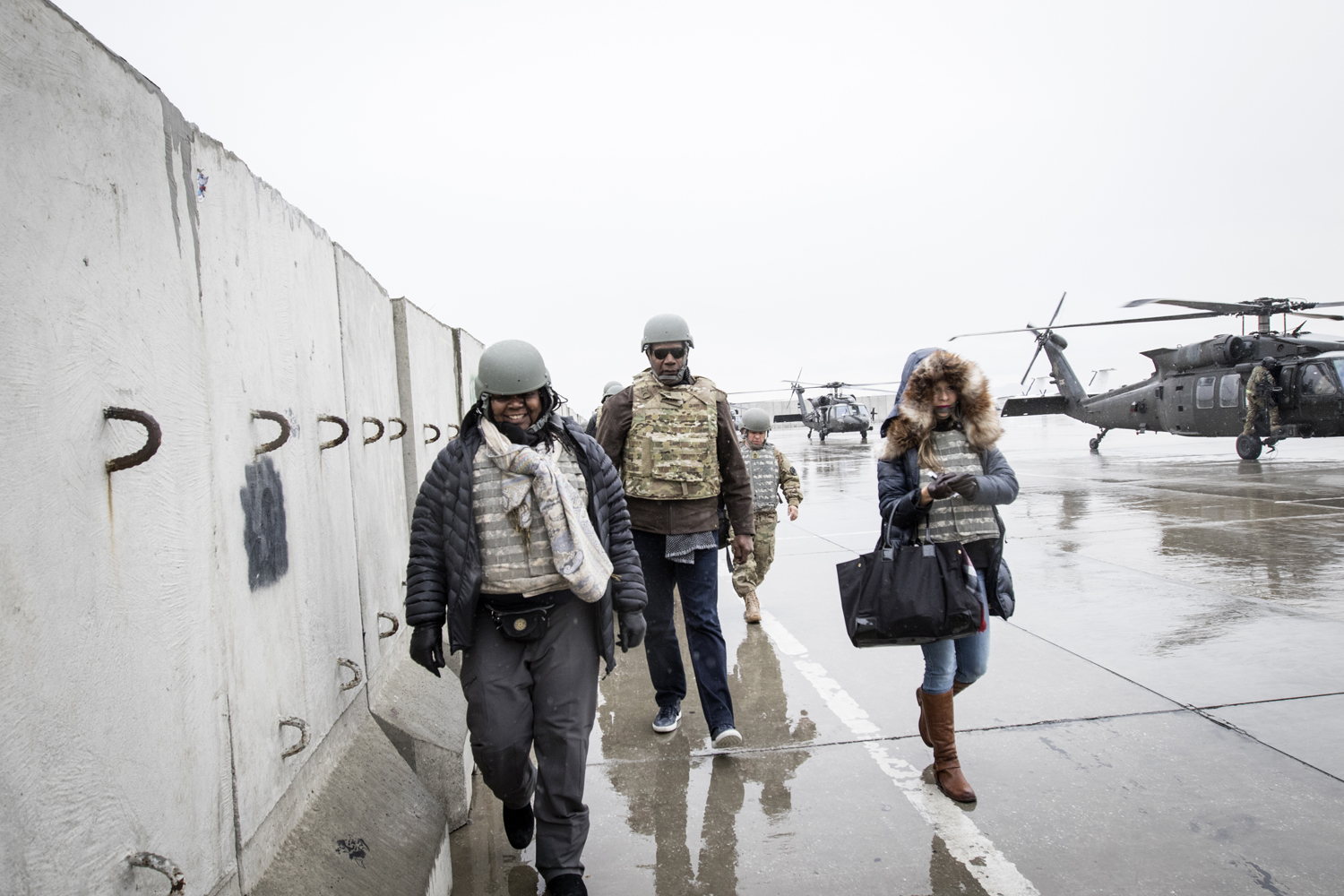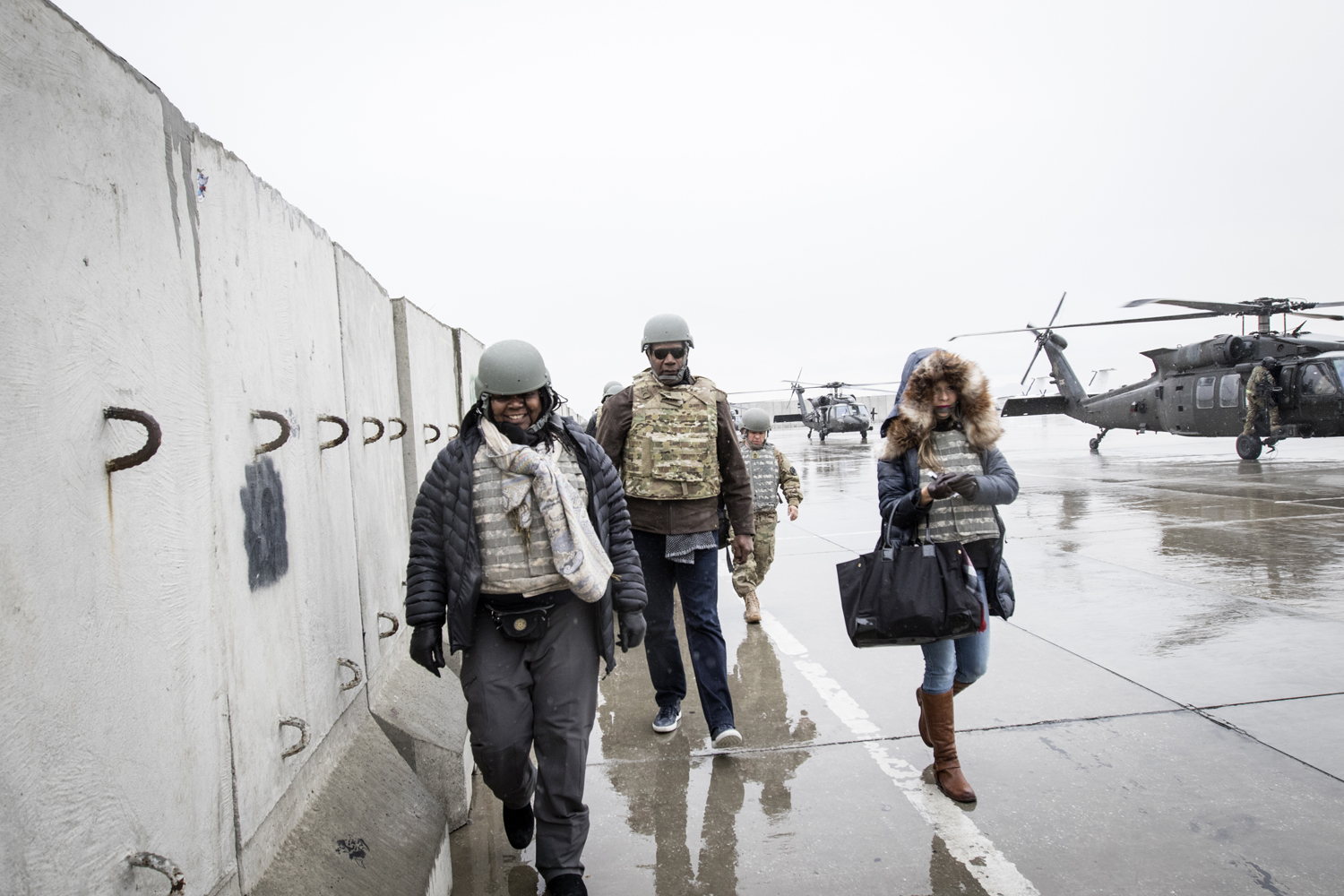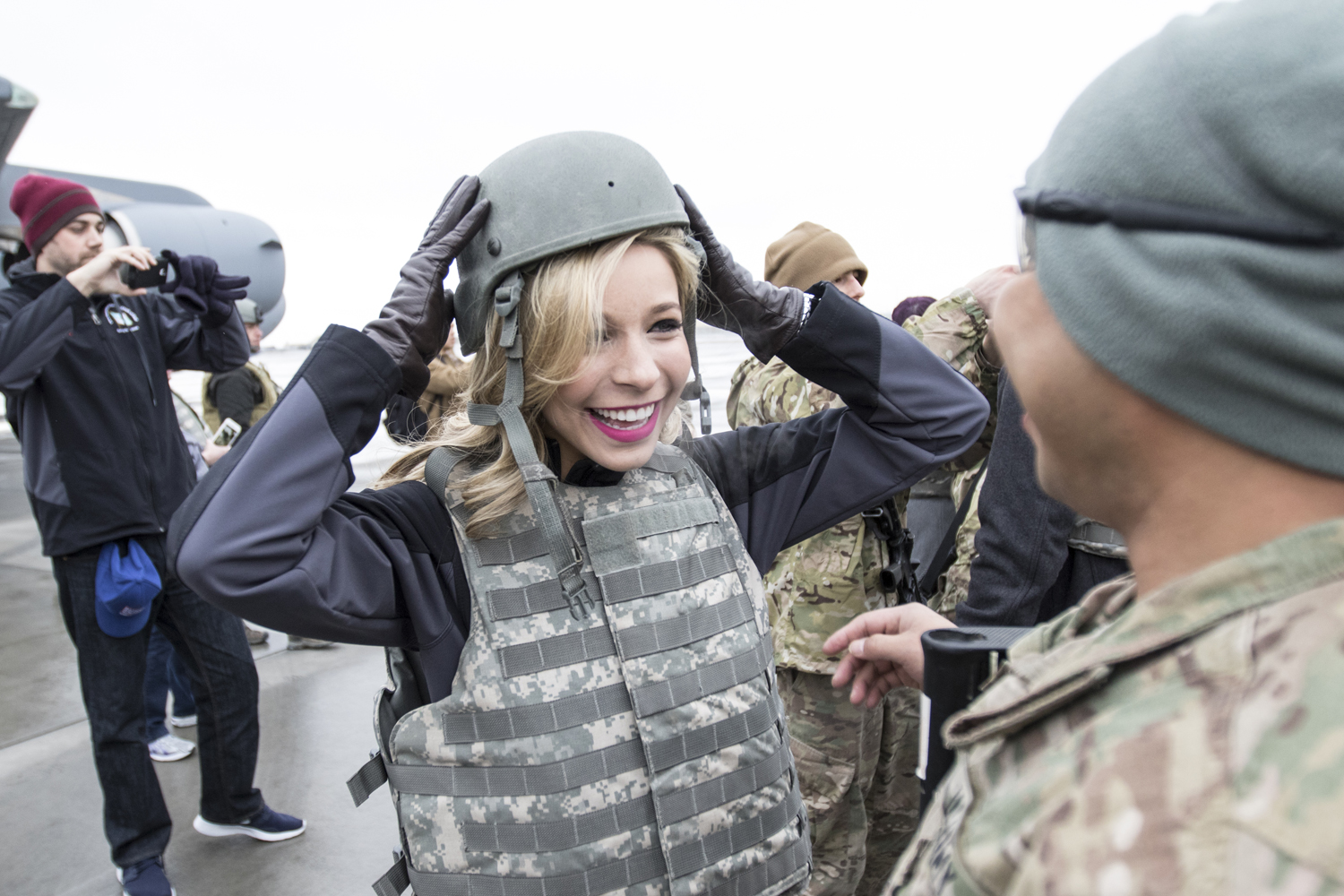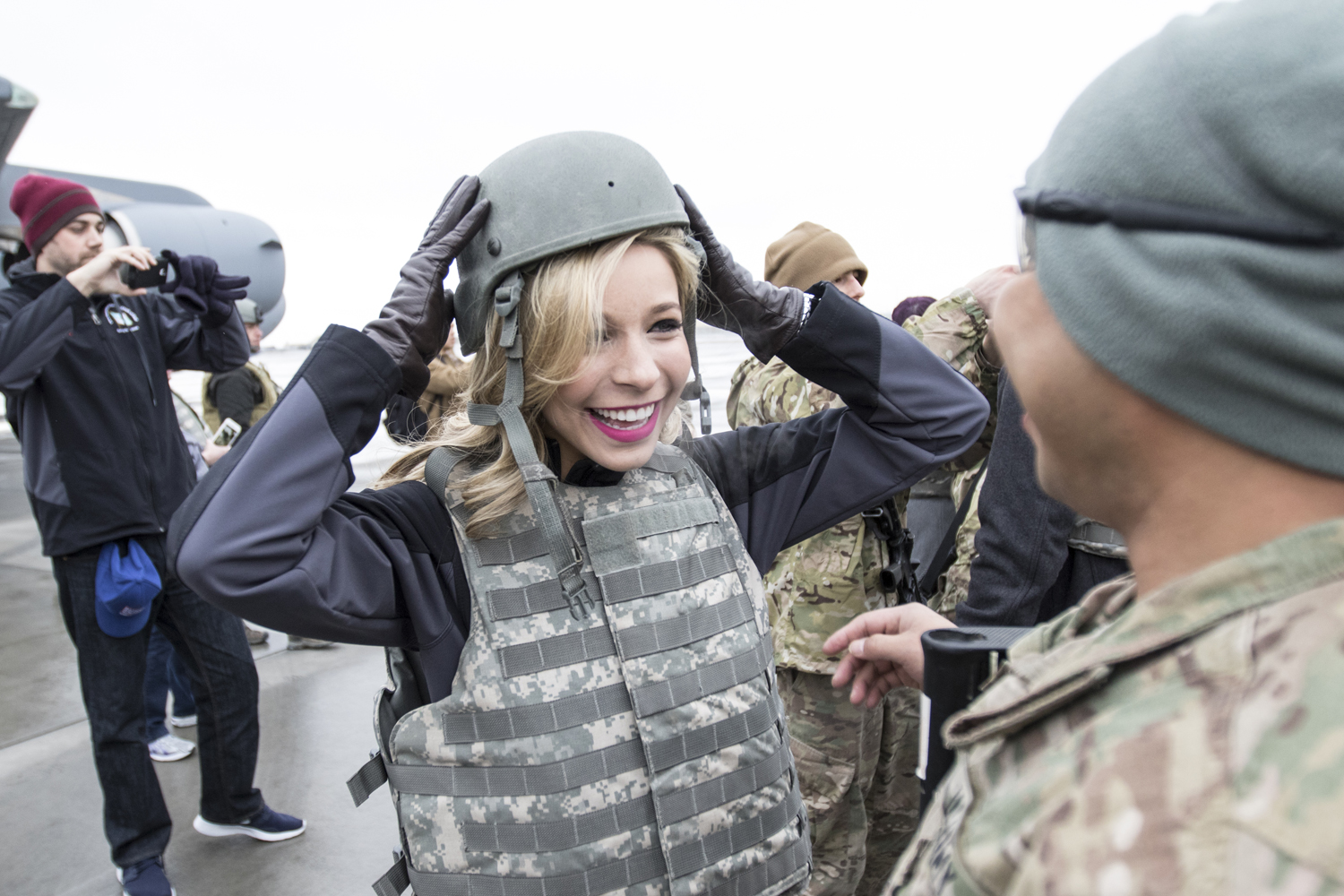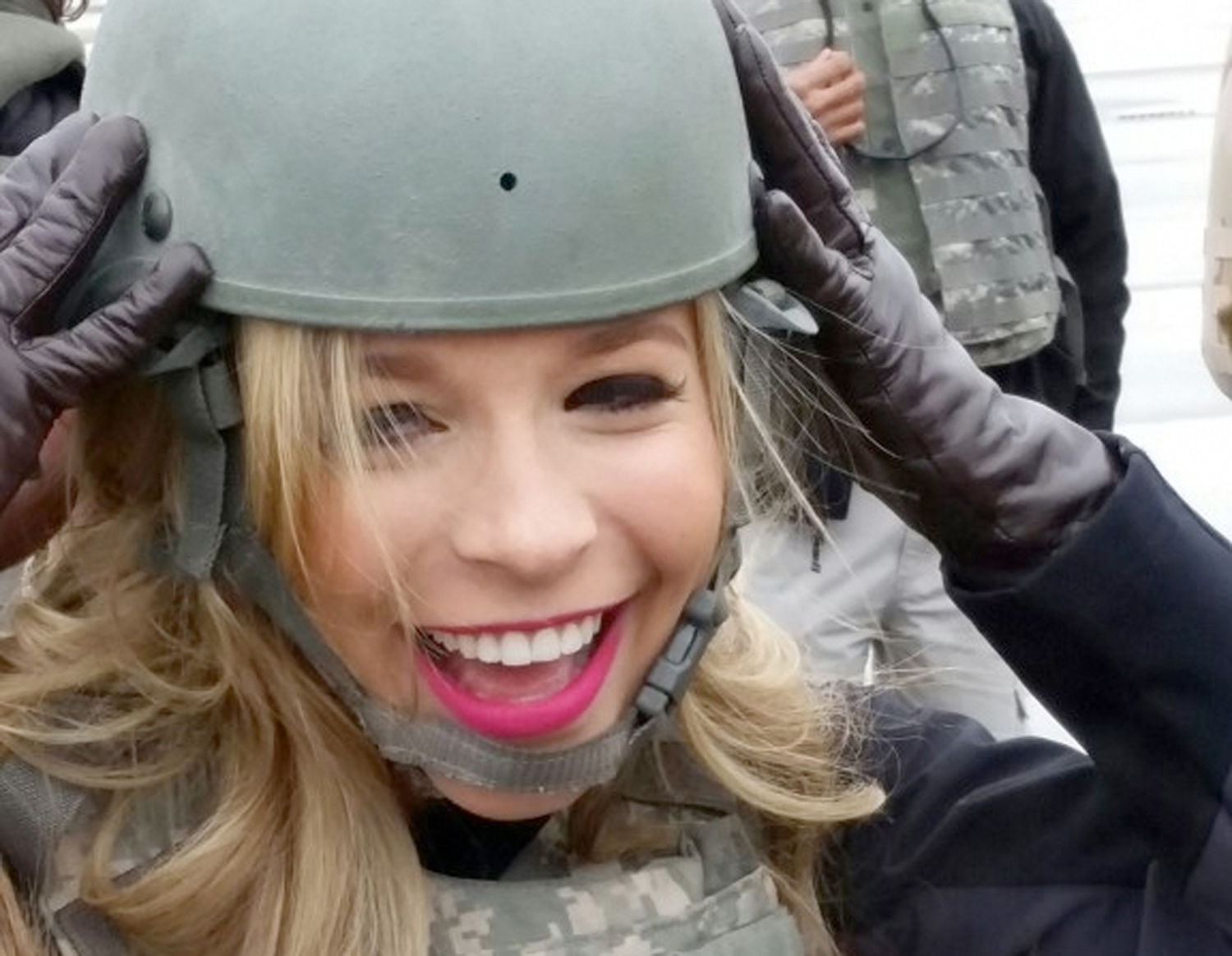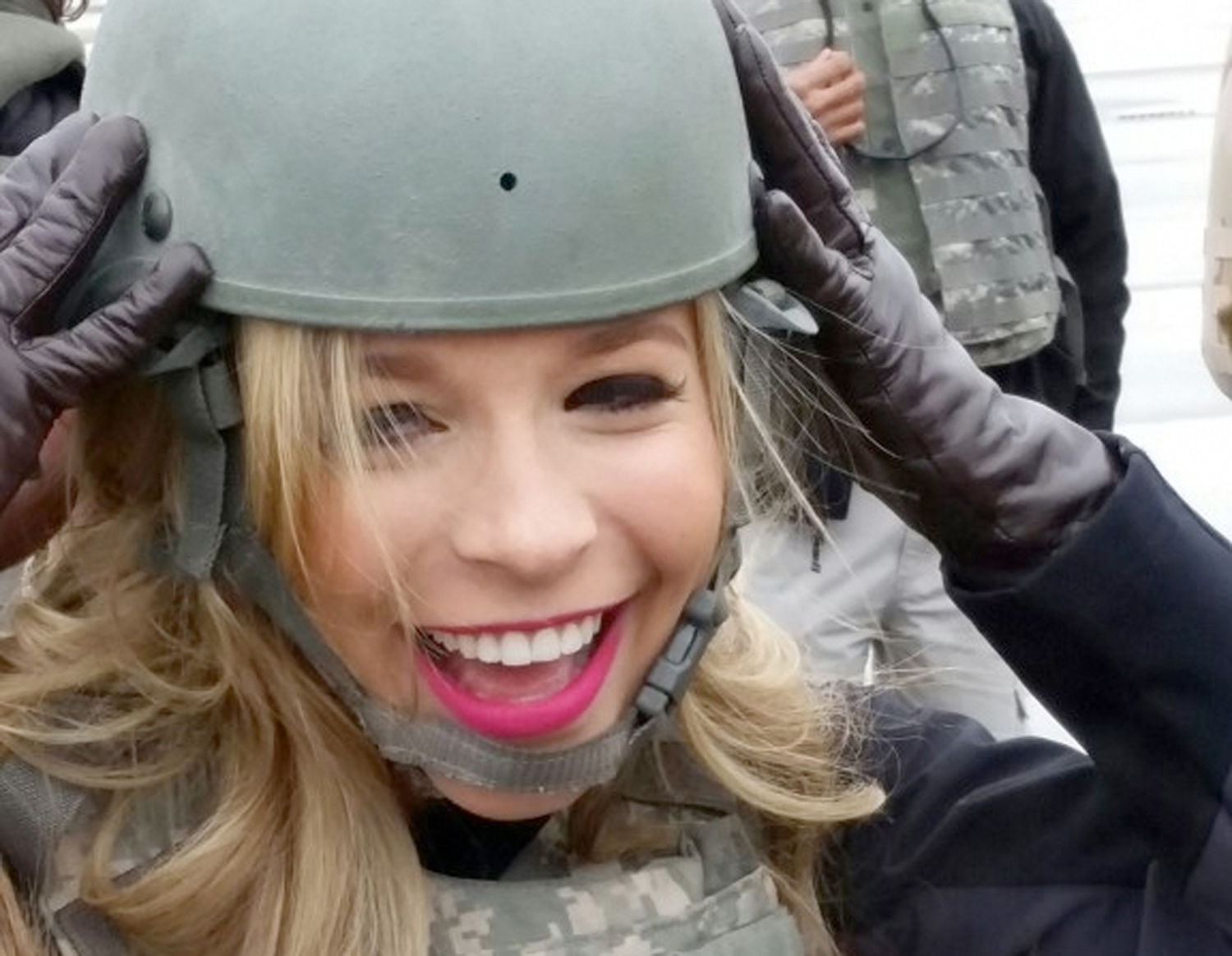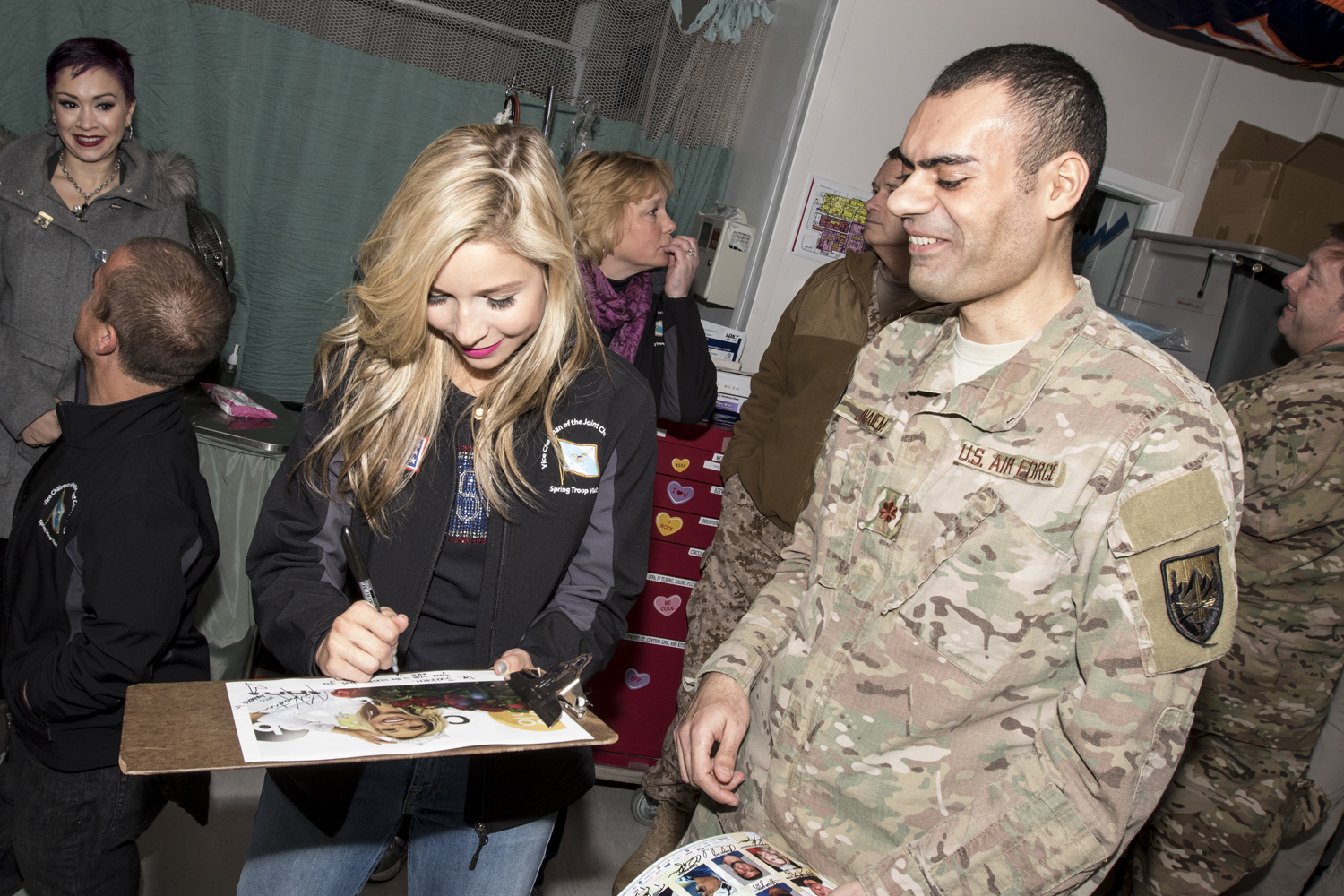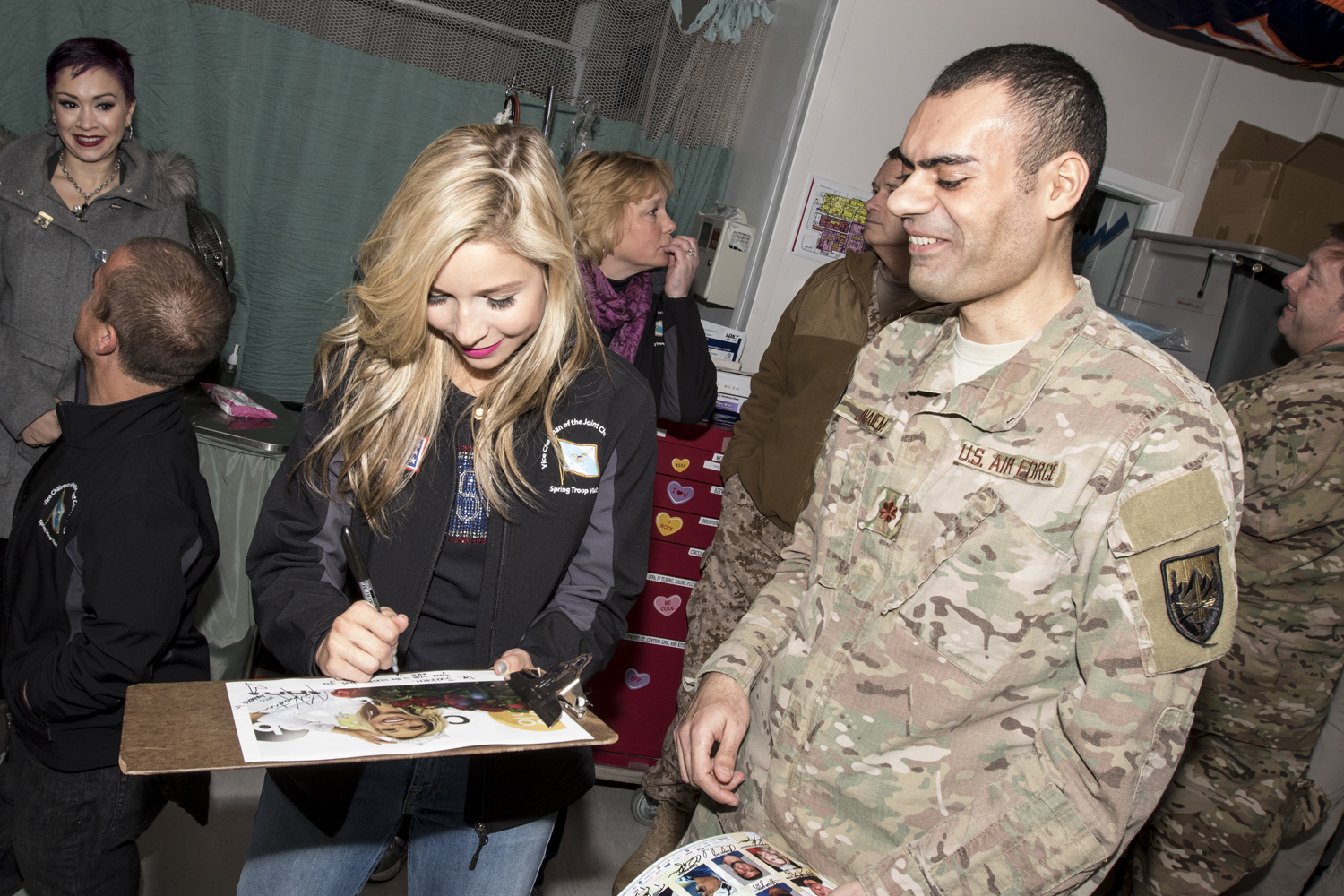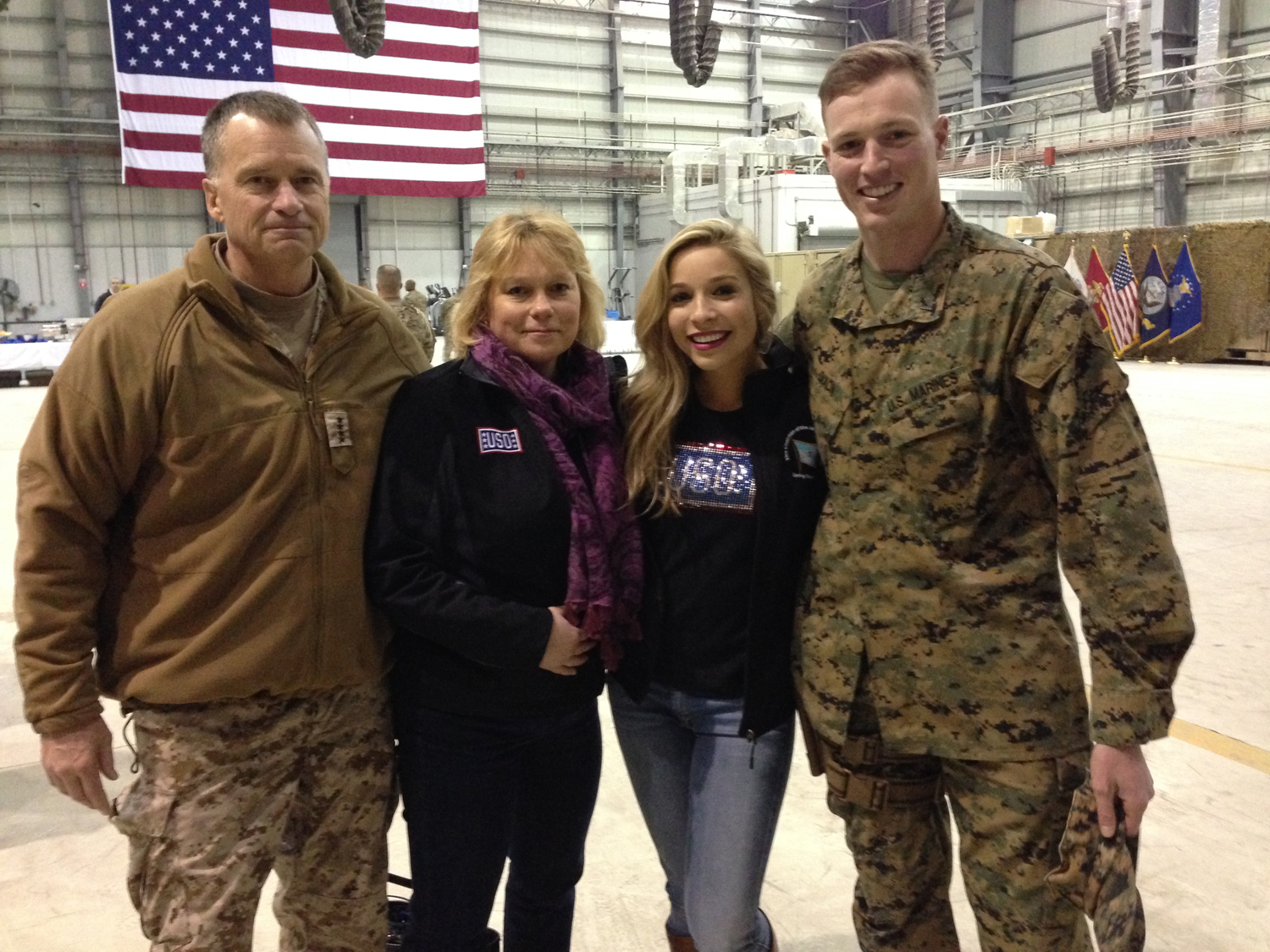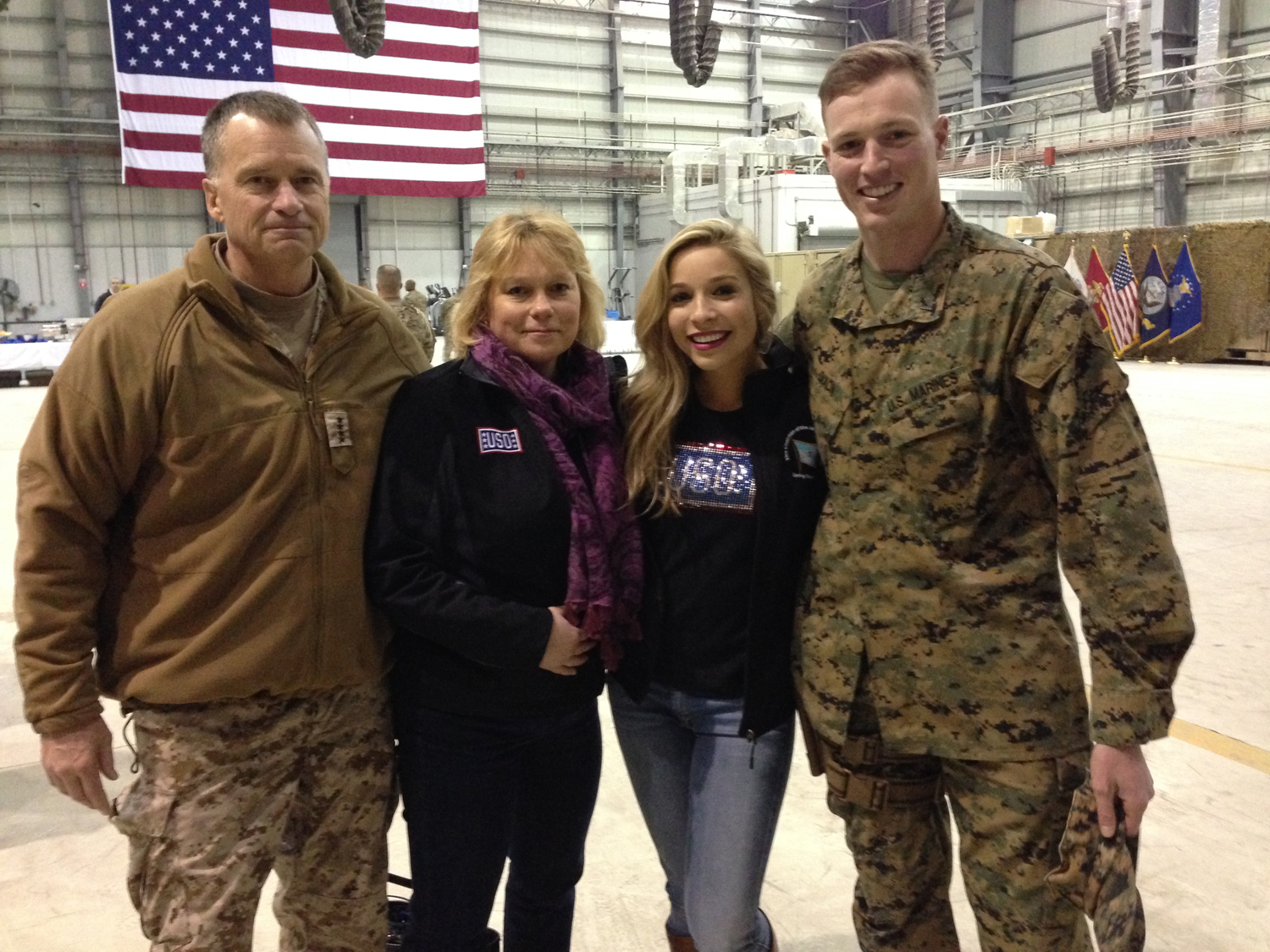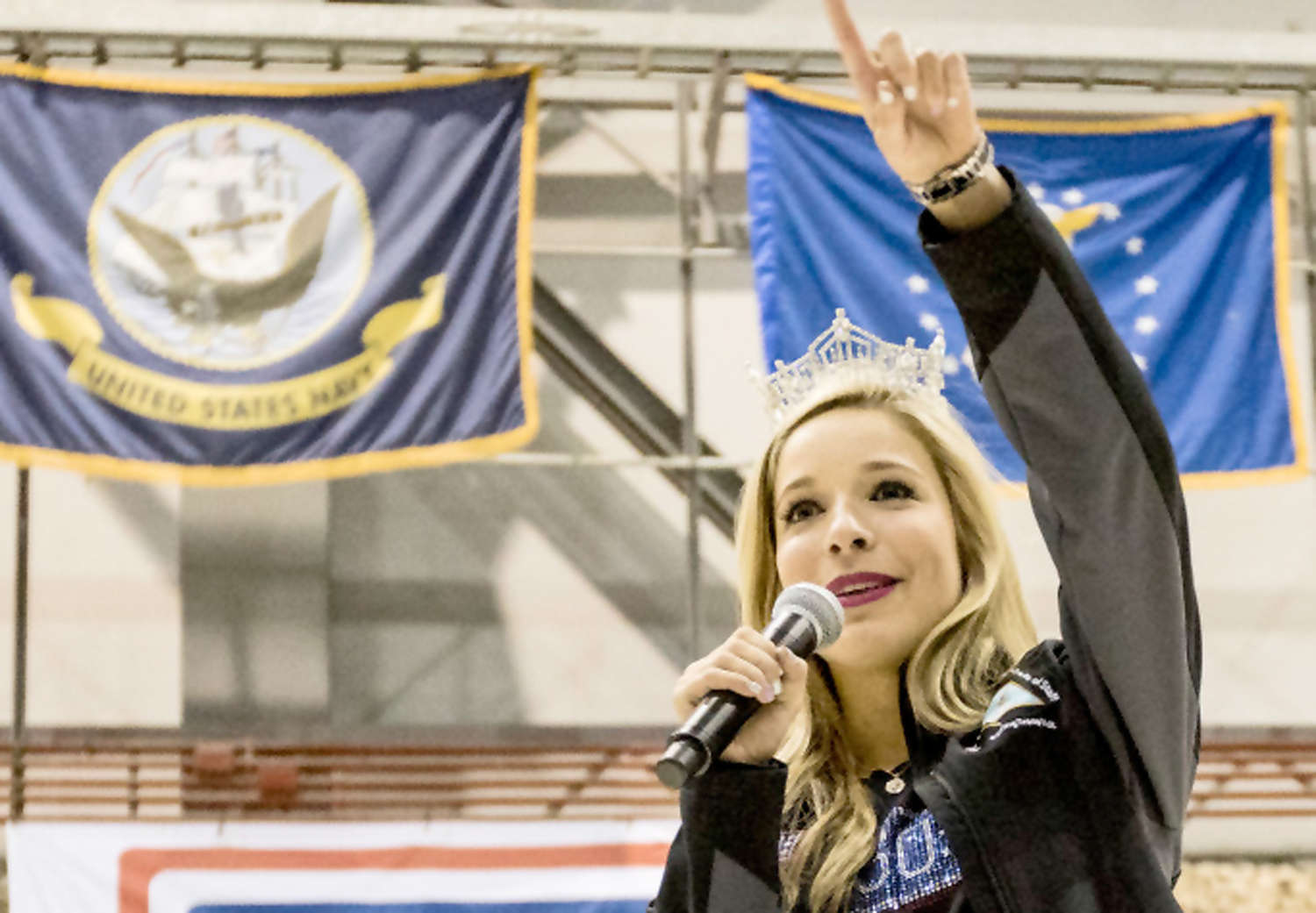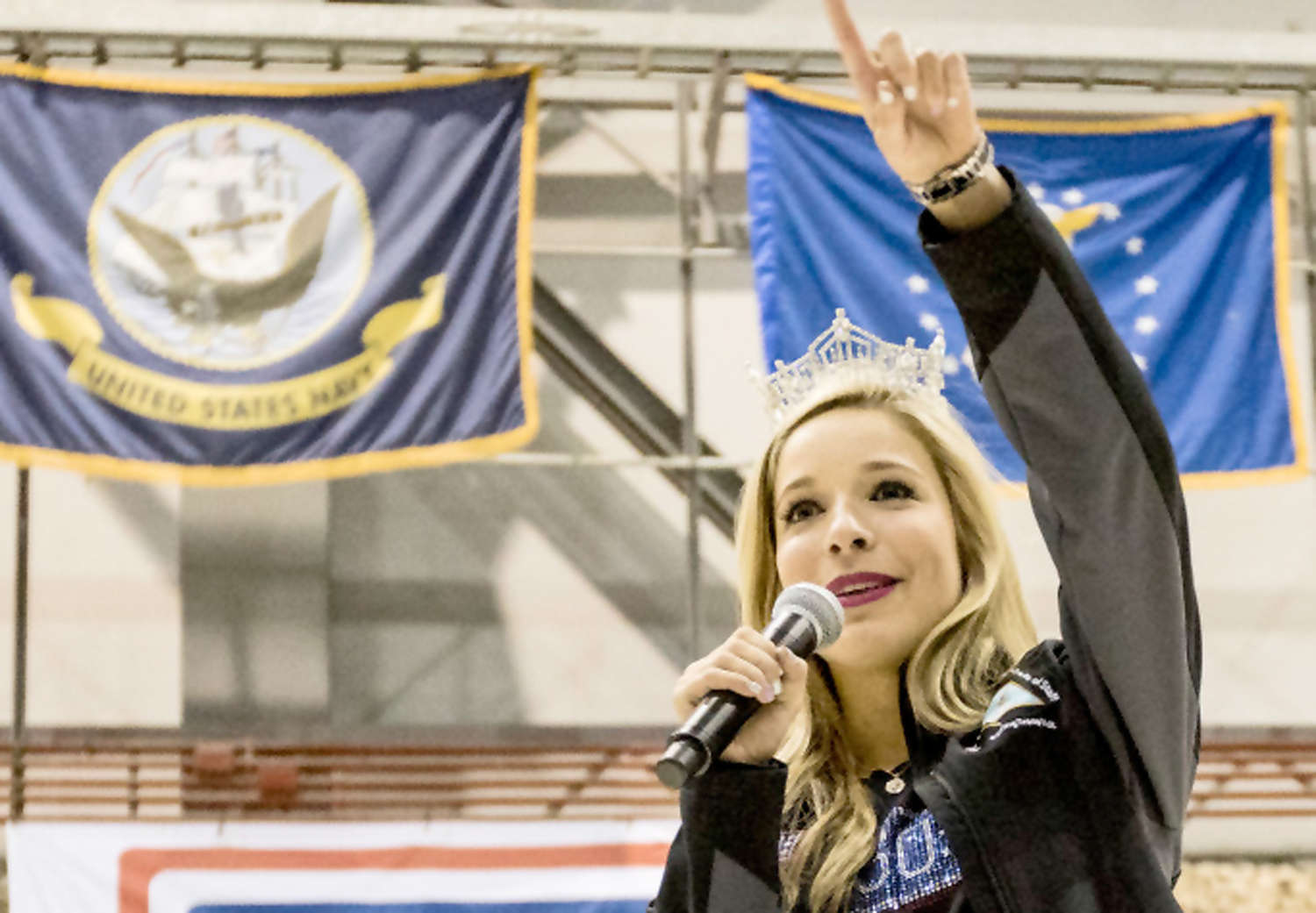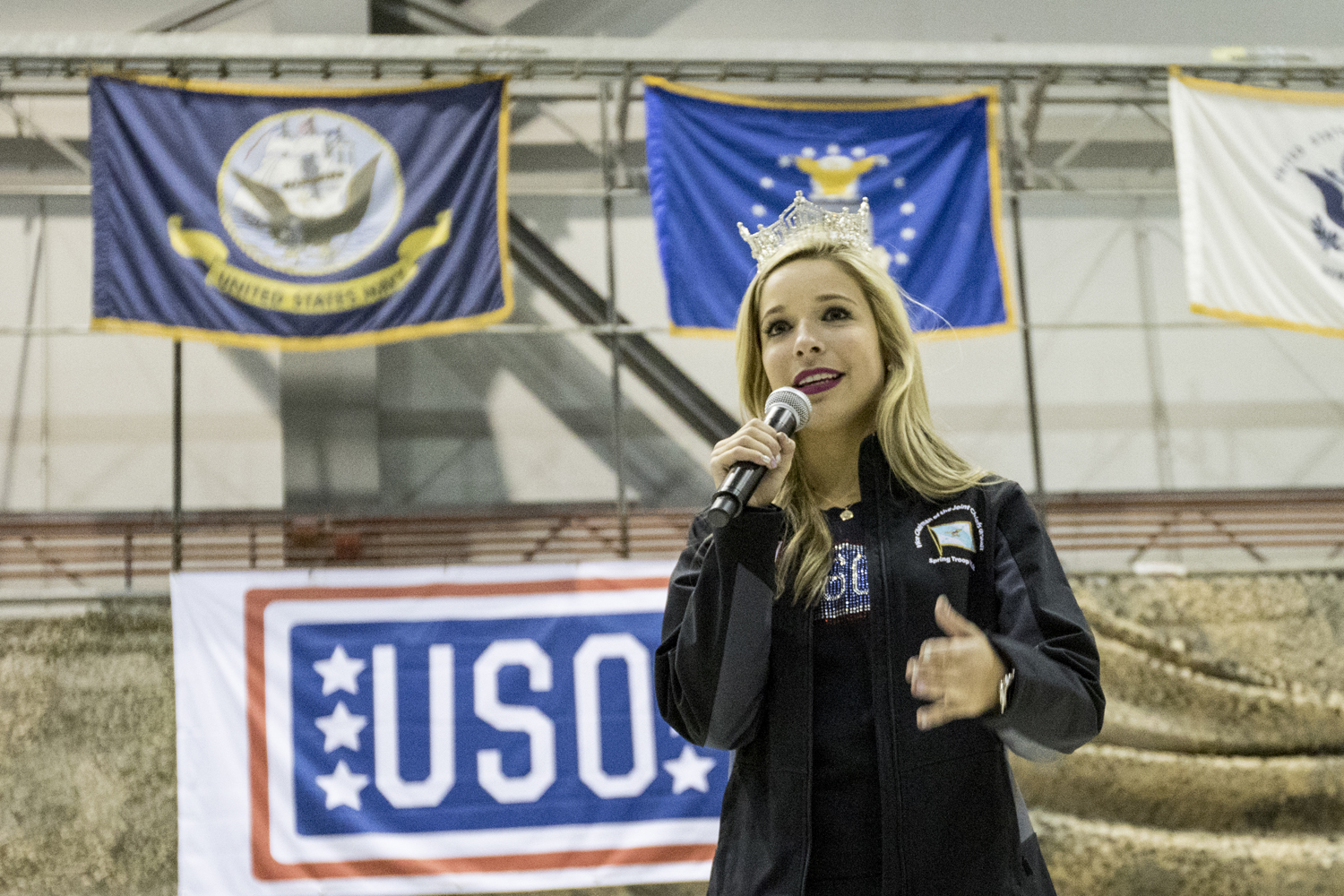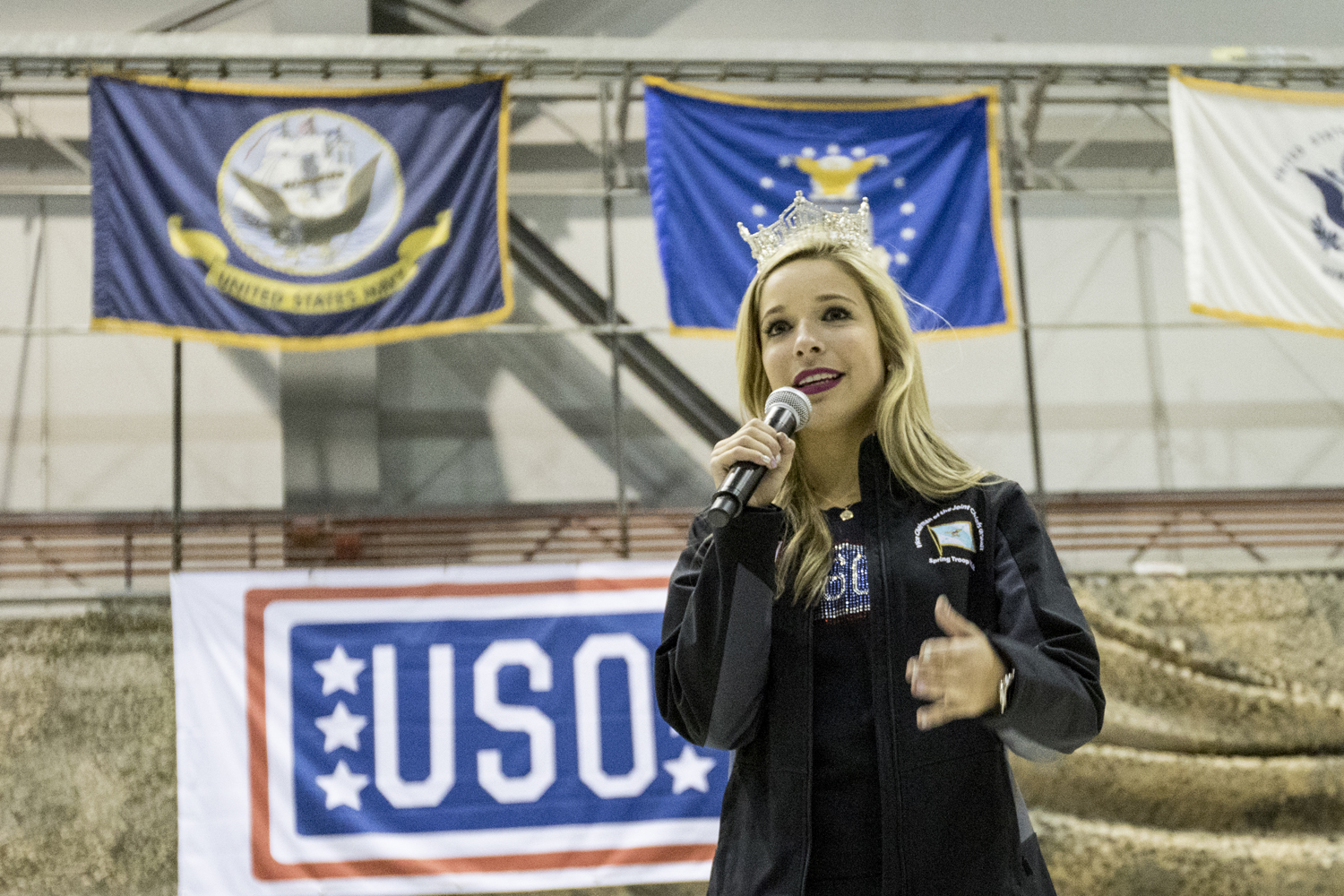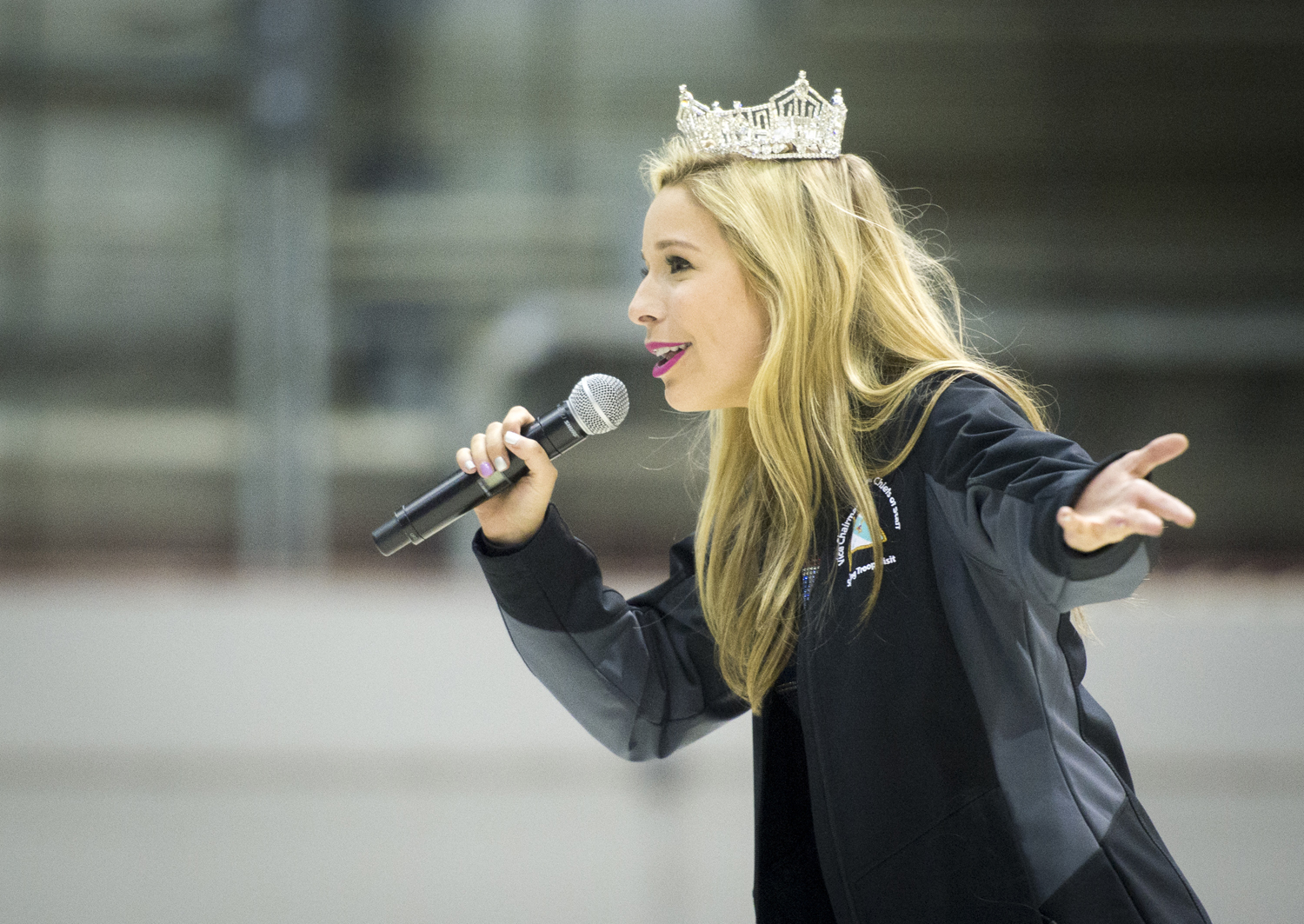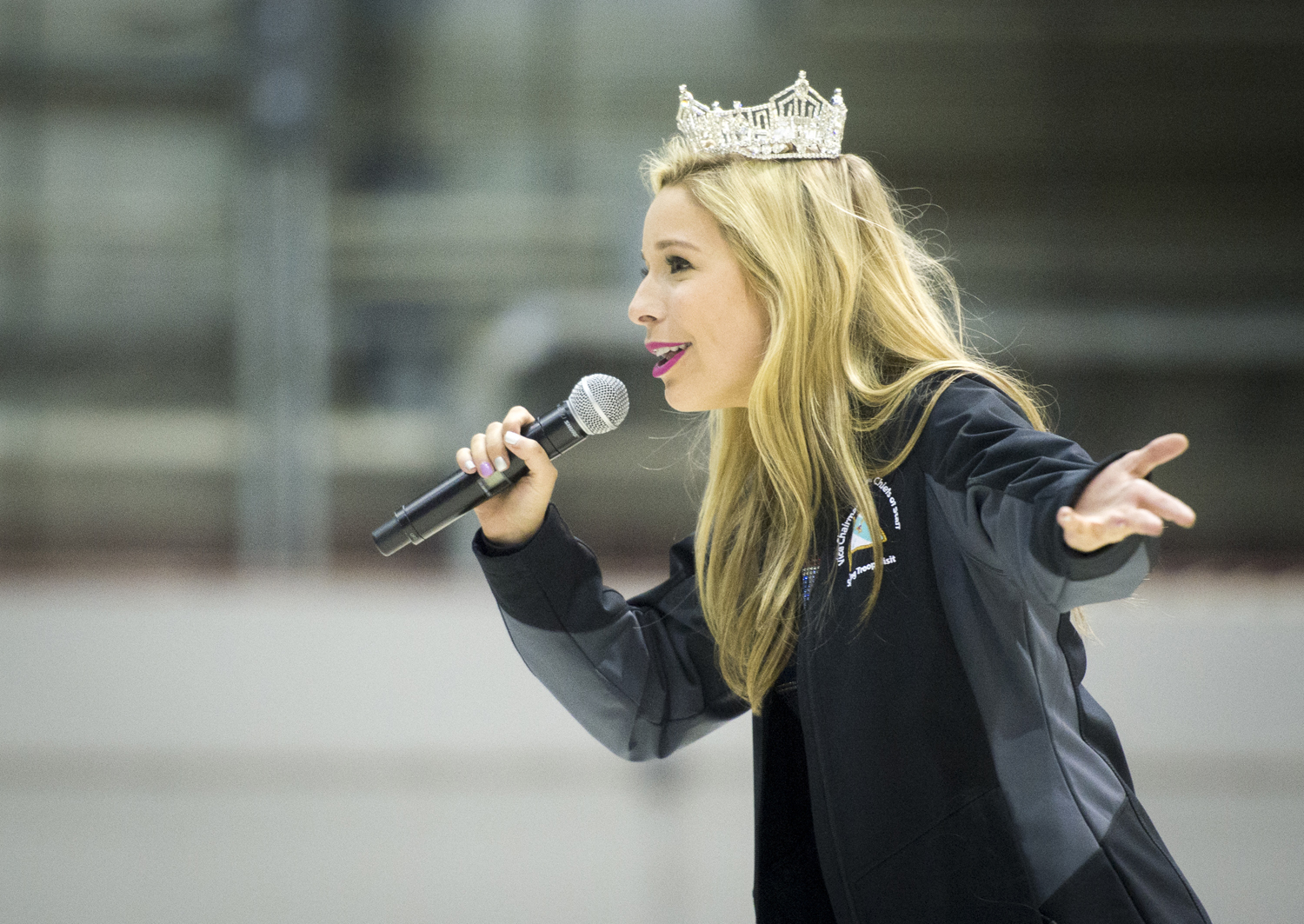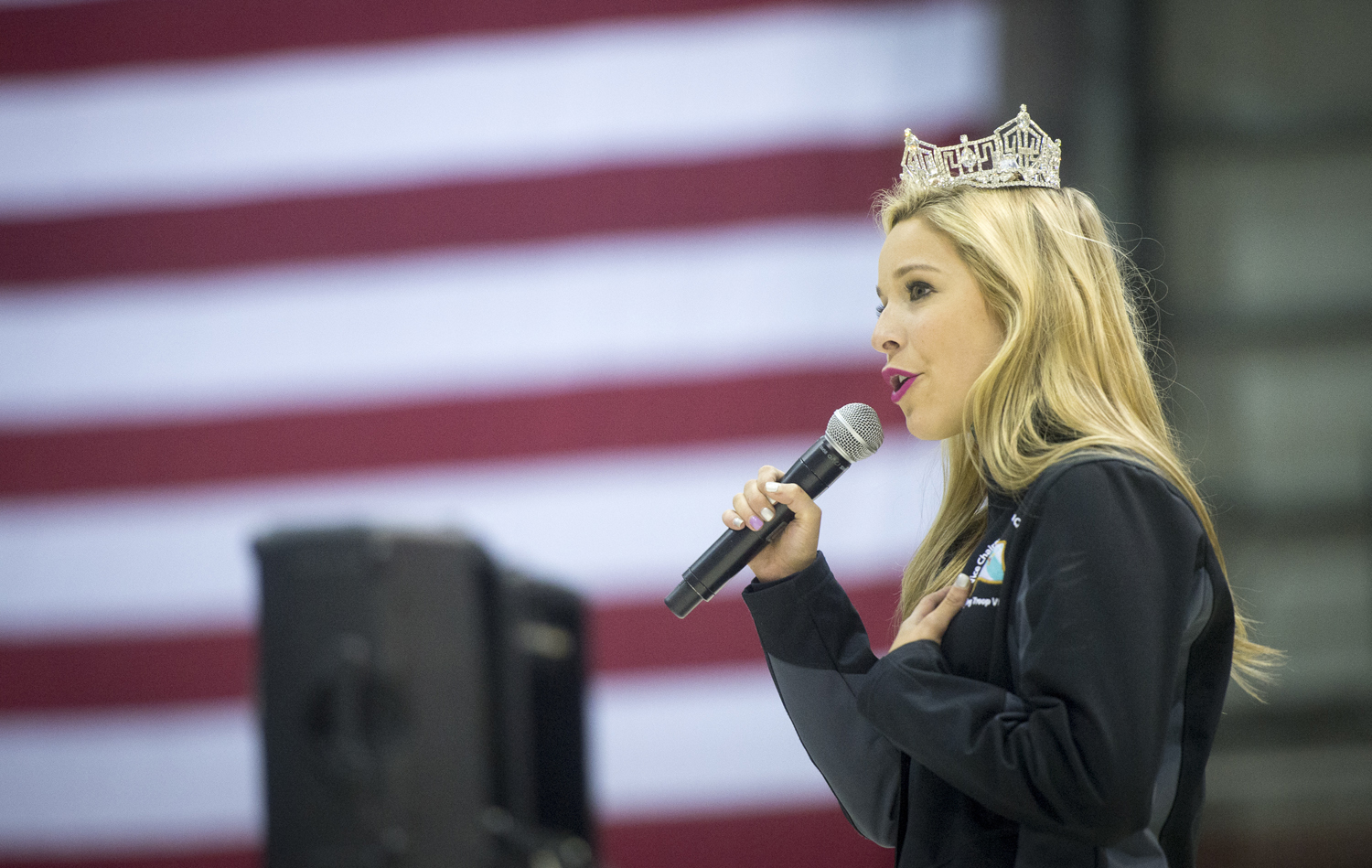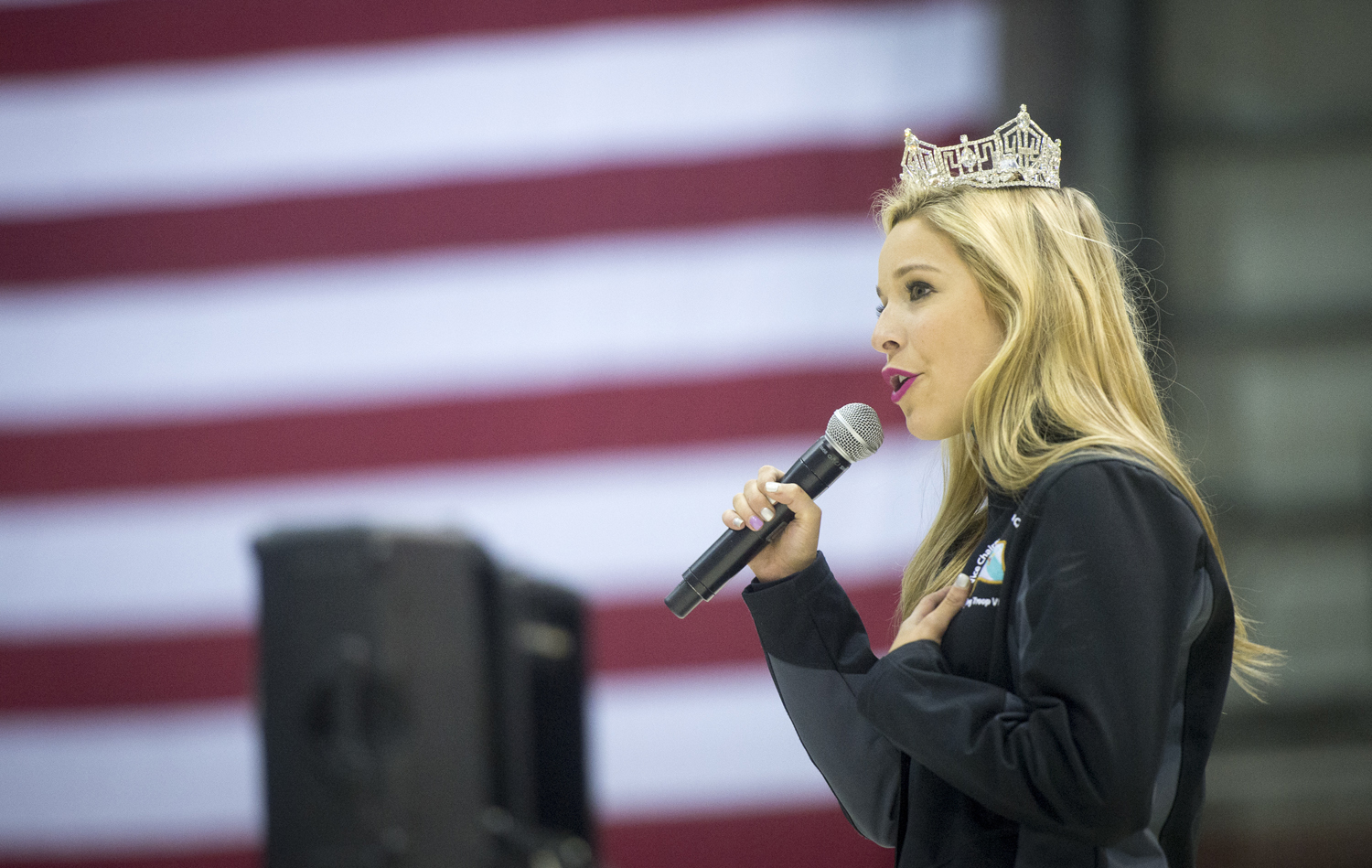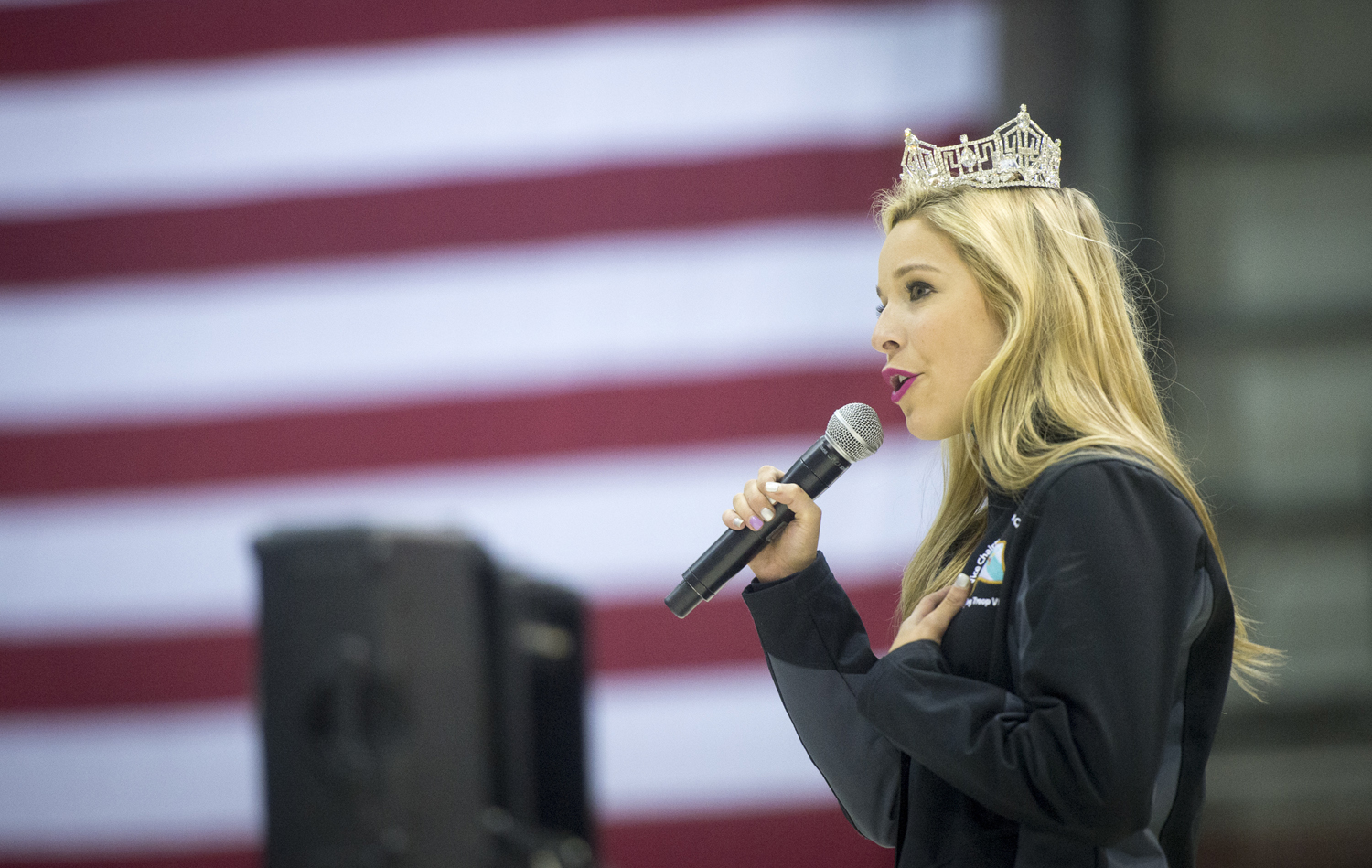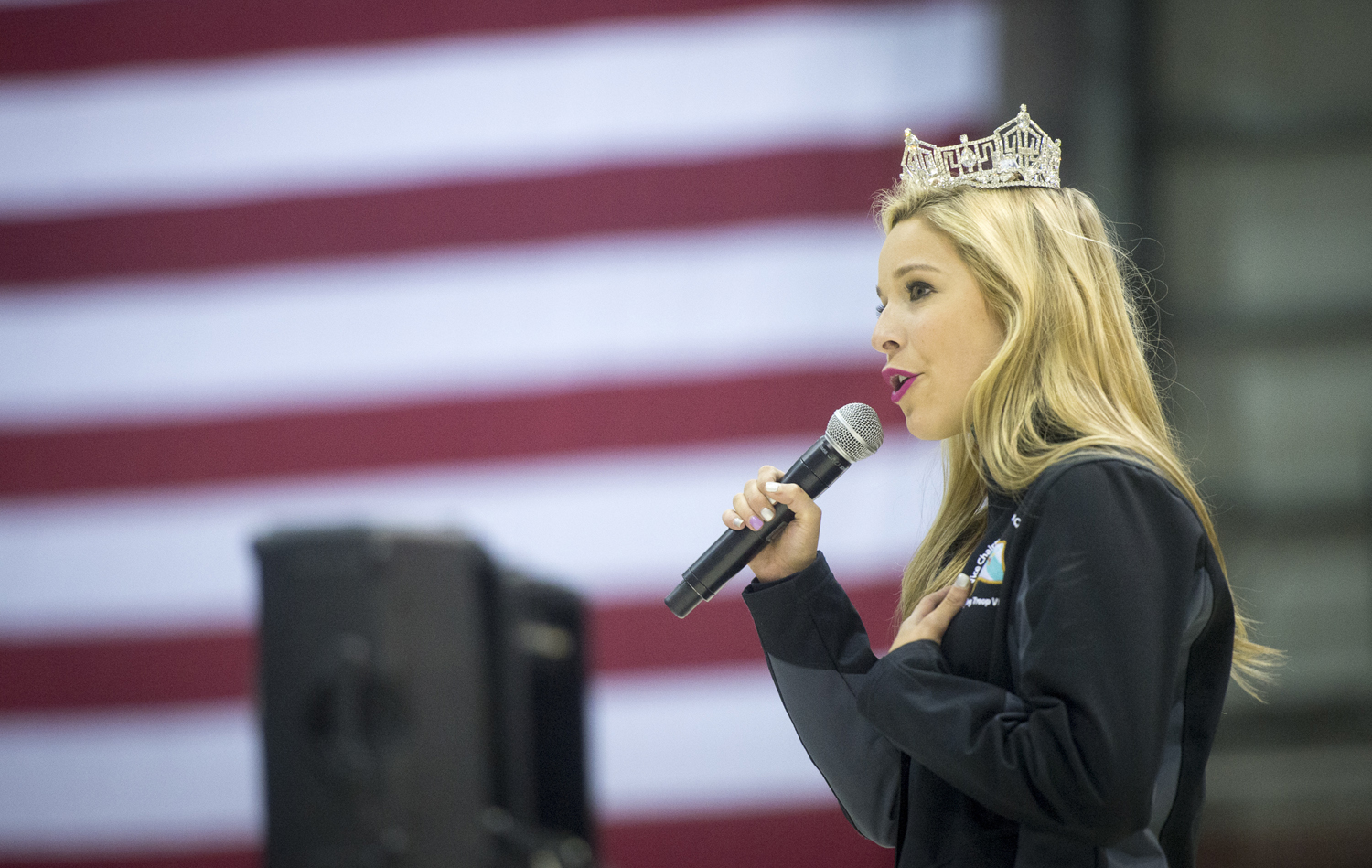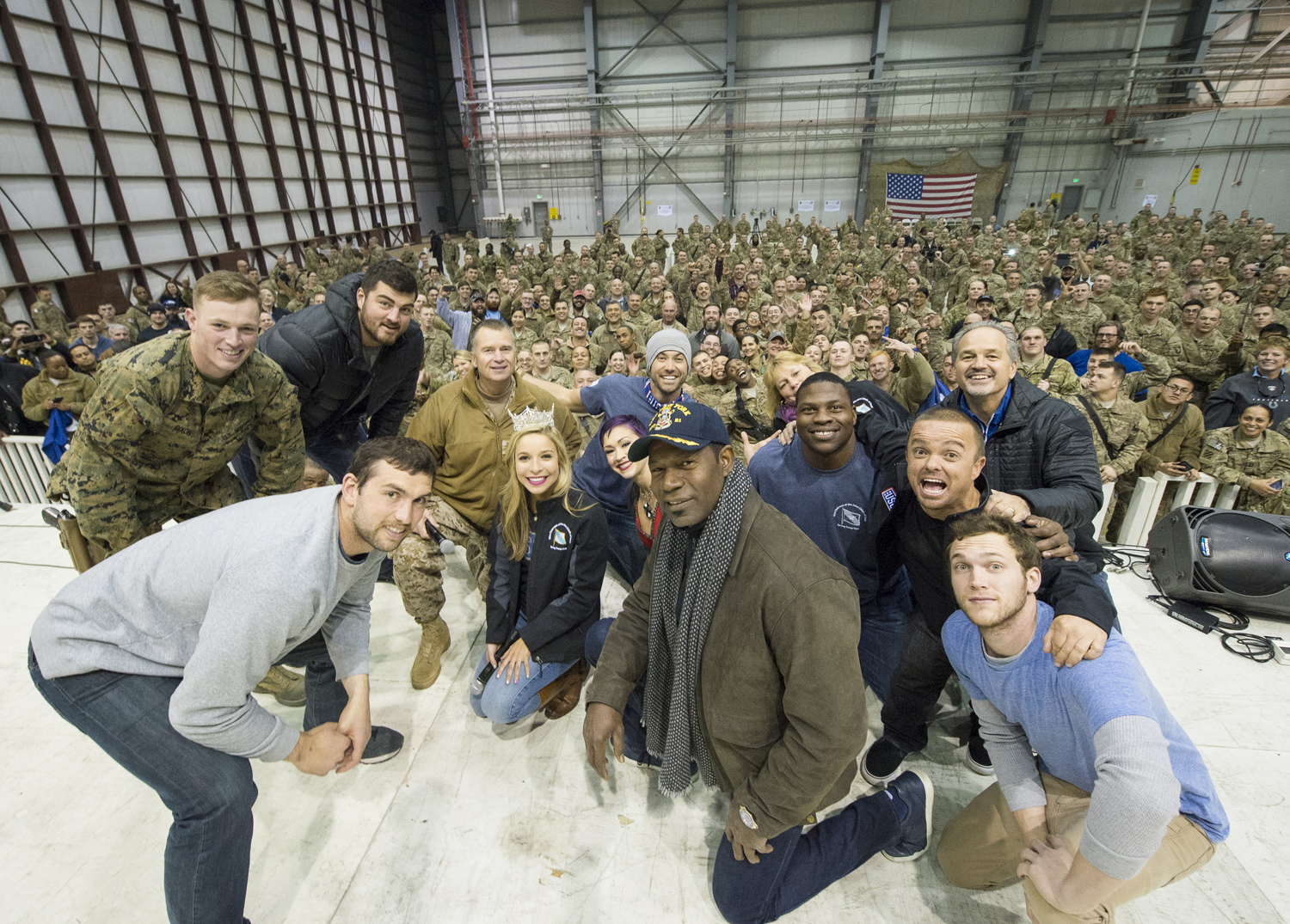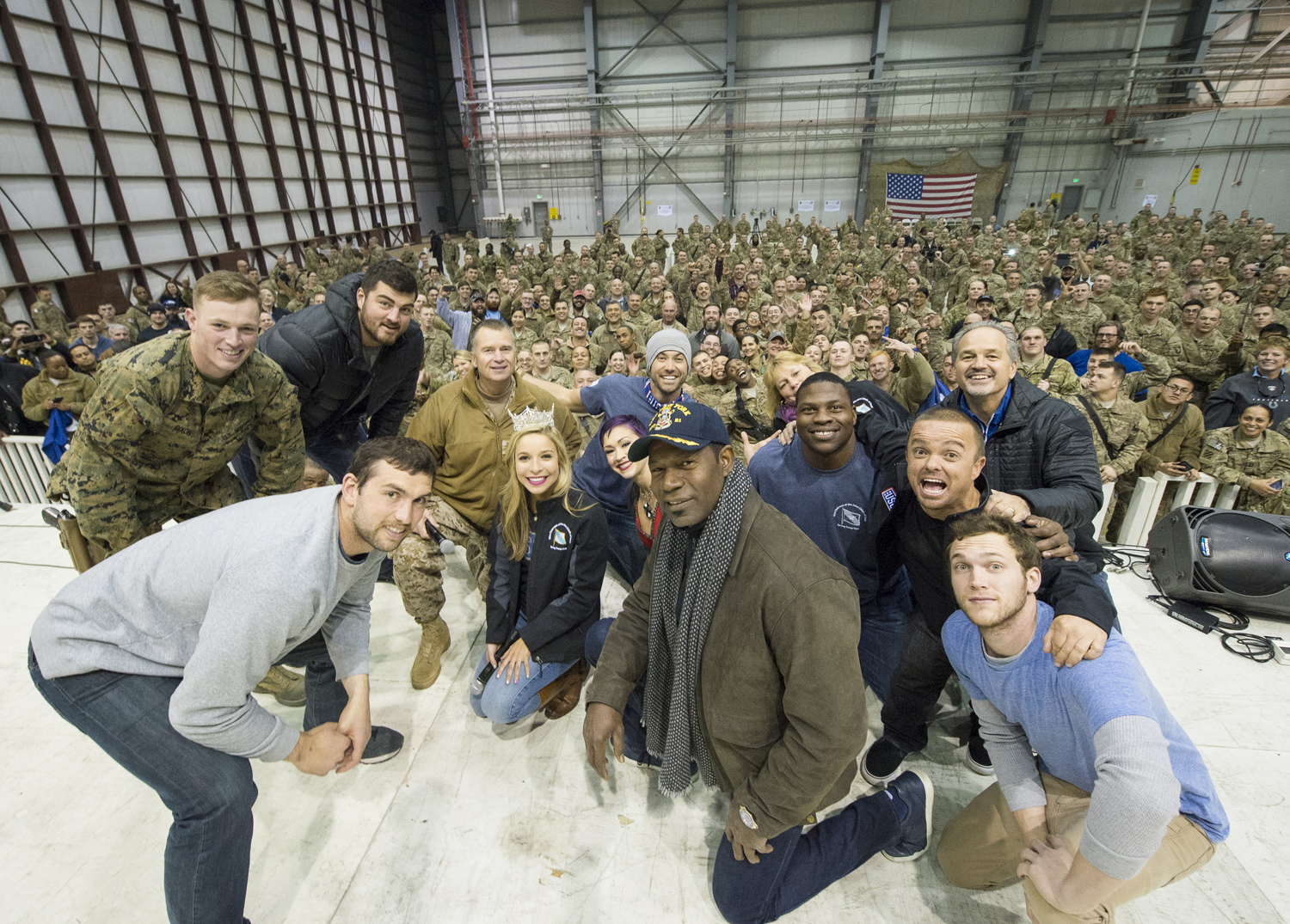 Within moments we were wheels up and off on our next adventure: the island of Diego Garcia. Now I'll be honest, I had never heard of this place before in my life. It's a tiny, remote island in the Indian Ocean that is actually owned by the British. The only way that you can get to the island is if you are military personnel and have a legitimate reason to be there. AKA, no civilians permitted, except for the seasonal workers that fly in from surrounding countries to support the island with maintenance, food, etc. The pristine beaches and crystal clear, turquoise water was breathtaking. This is most likely a place I will never get to visit again, so I very much valued the time we got to spend there. Upon arrival, we all relaxed at the officers club, spent time with the officers who call the island home, and enjoyed the tropical night breeze. Wee-Man wasted no time jumping down from the safety of the "O club" deck to take a stroll along the shoreline rocks, where no doubt various critters were hiding, while the football boys engaged in a very intense game of foosball with some officers. The evening actually ended up going from a casual hang out to a jam session, with Phillip Phillips, his guitarist Nate Mercereau and Ace Young getting up on the small stage to do an impromptu performance. It was a night of bonding and a wonderful time spent with the cast and crew.
The next morning I made it to a round of golf! My friend Dennis and I both enjoy a great round of golf and we were very lucky to get to play the course on Diego Garcia. First, it was absolutely beautiful, but just a little different than what I have ever played on. The fairway was definitely not grass; it was more of a really thick shrub material that you could walk on. There was also no rough area. It was just fairway and then jungle, with cute little crabs scuttling across from side to side. The greens were essentially cement with a little turf spread over them, so there was quite some adjusting. But I had an incredible time and got to play with two young officers. After our round, we rushed back to get ready for that afternoon's show: another success. The audience that day was also pretty interesting. It was mixed with American service members, British and Australian forces, and the people who work on the island. After the show, we did a quick USO meet and greet, and before we knew it we were back on the C-17 for a 10-hour flight to Osan Air Base, South Korea.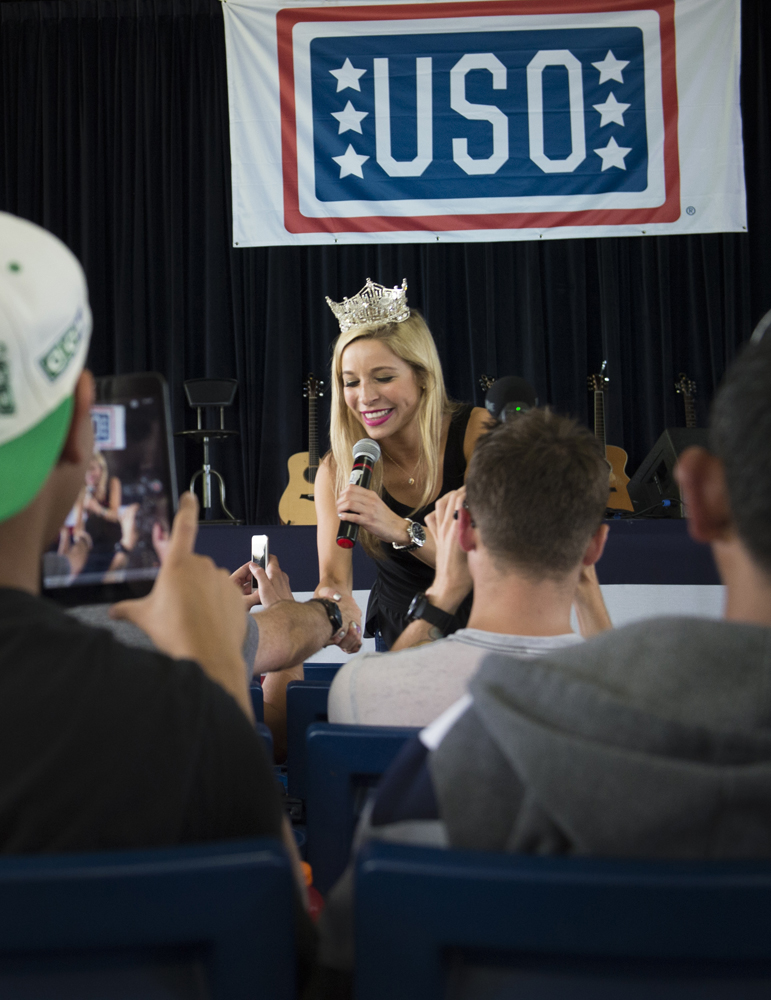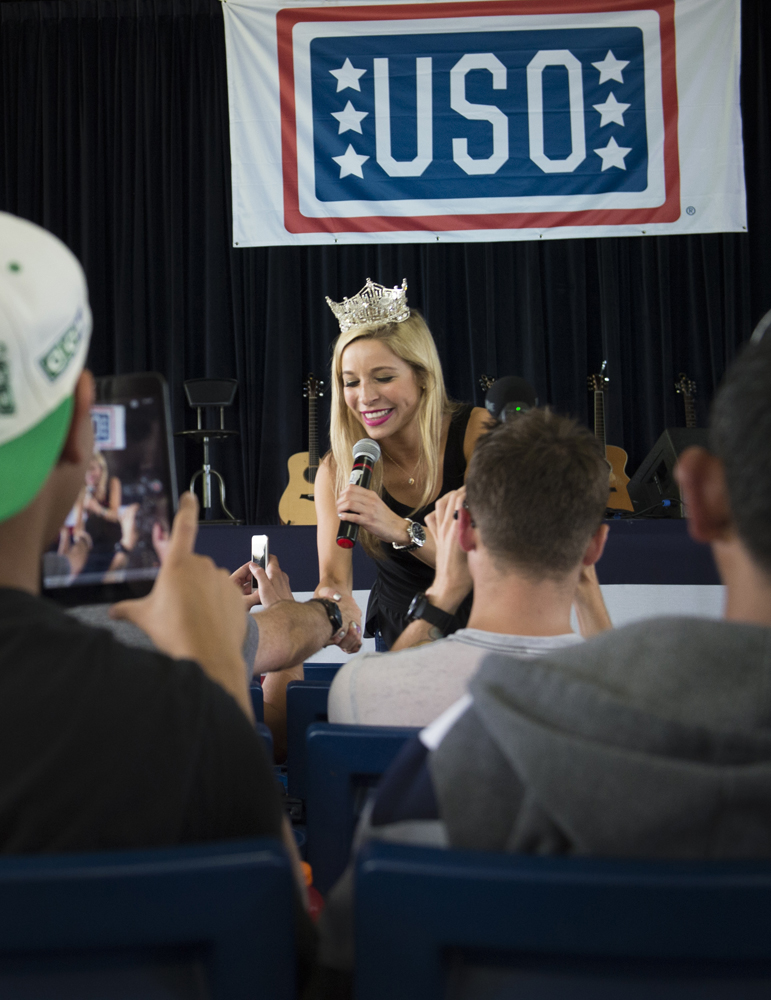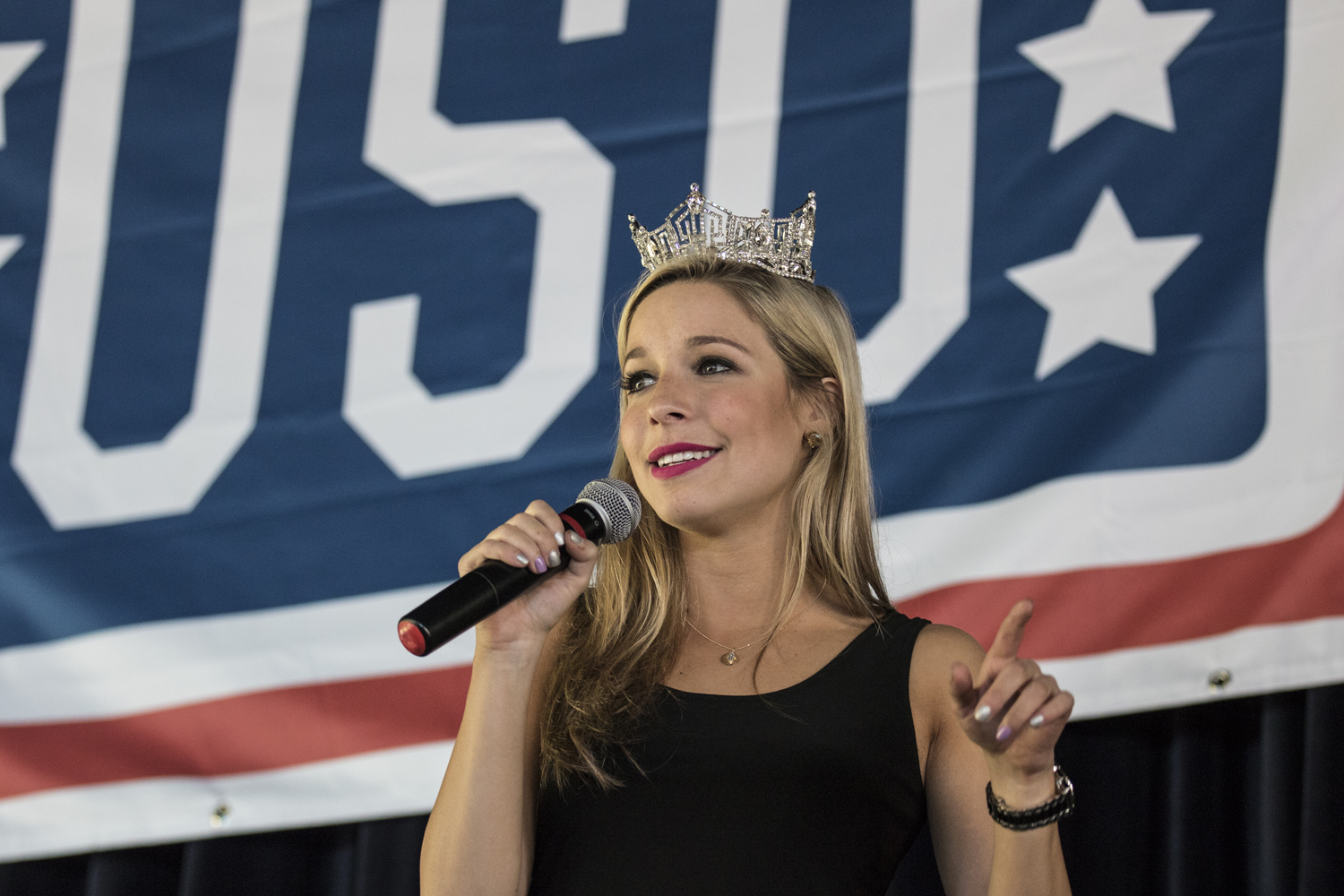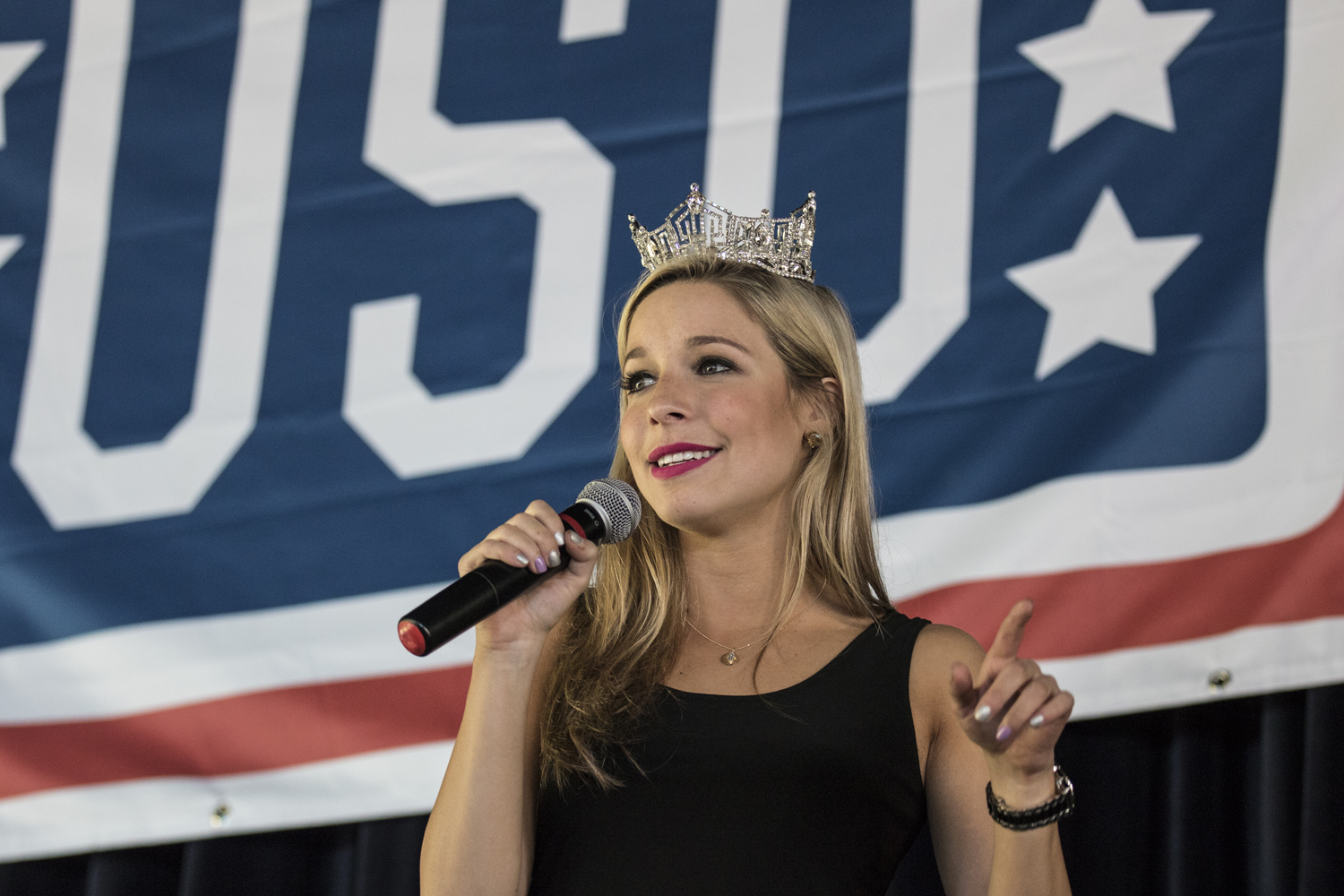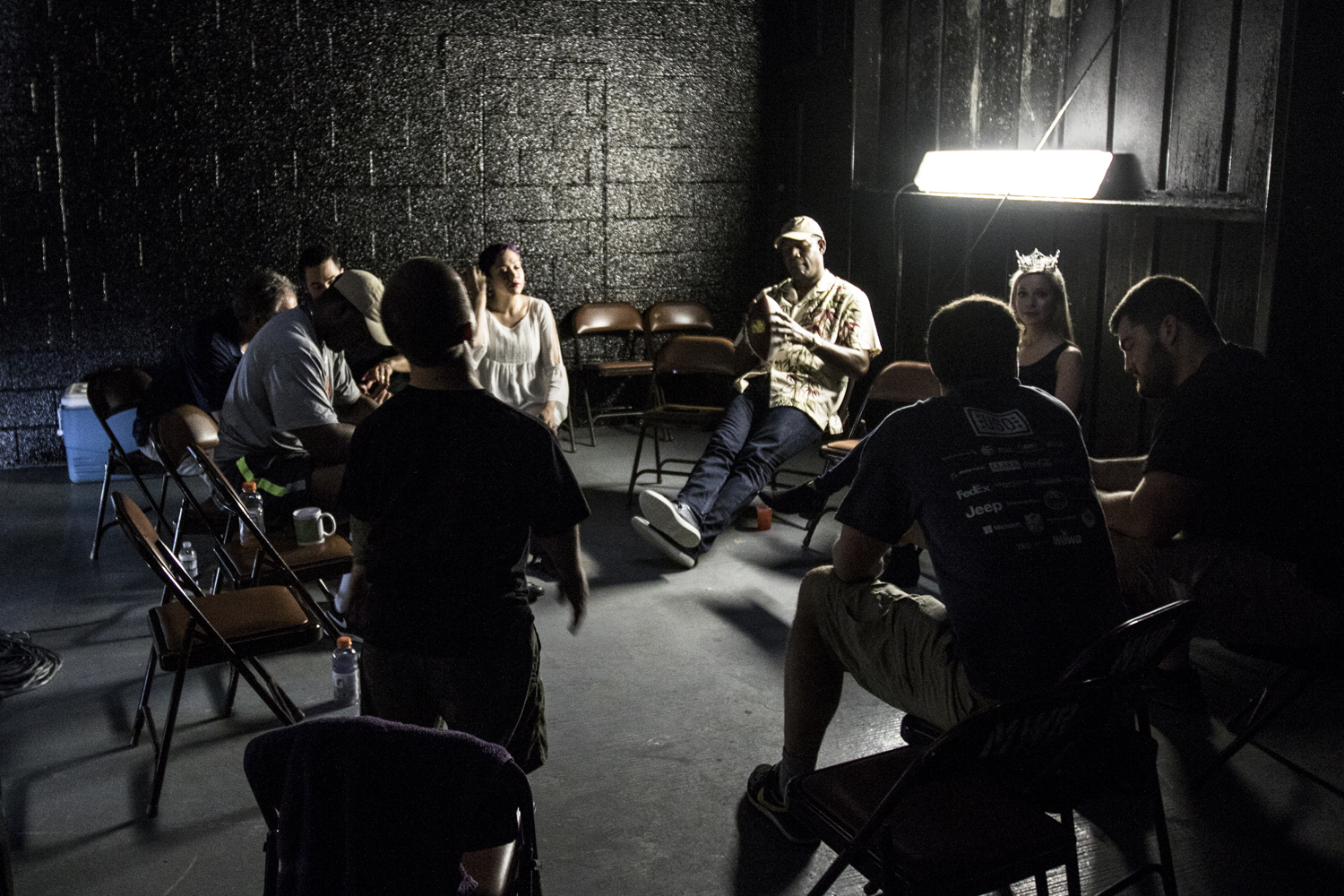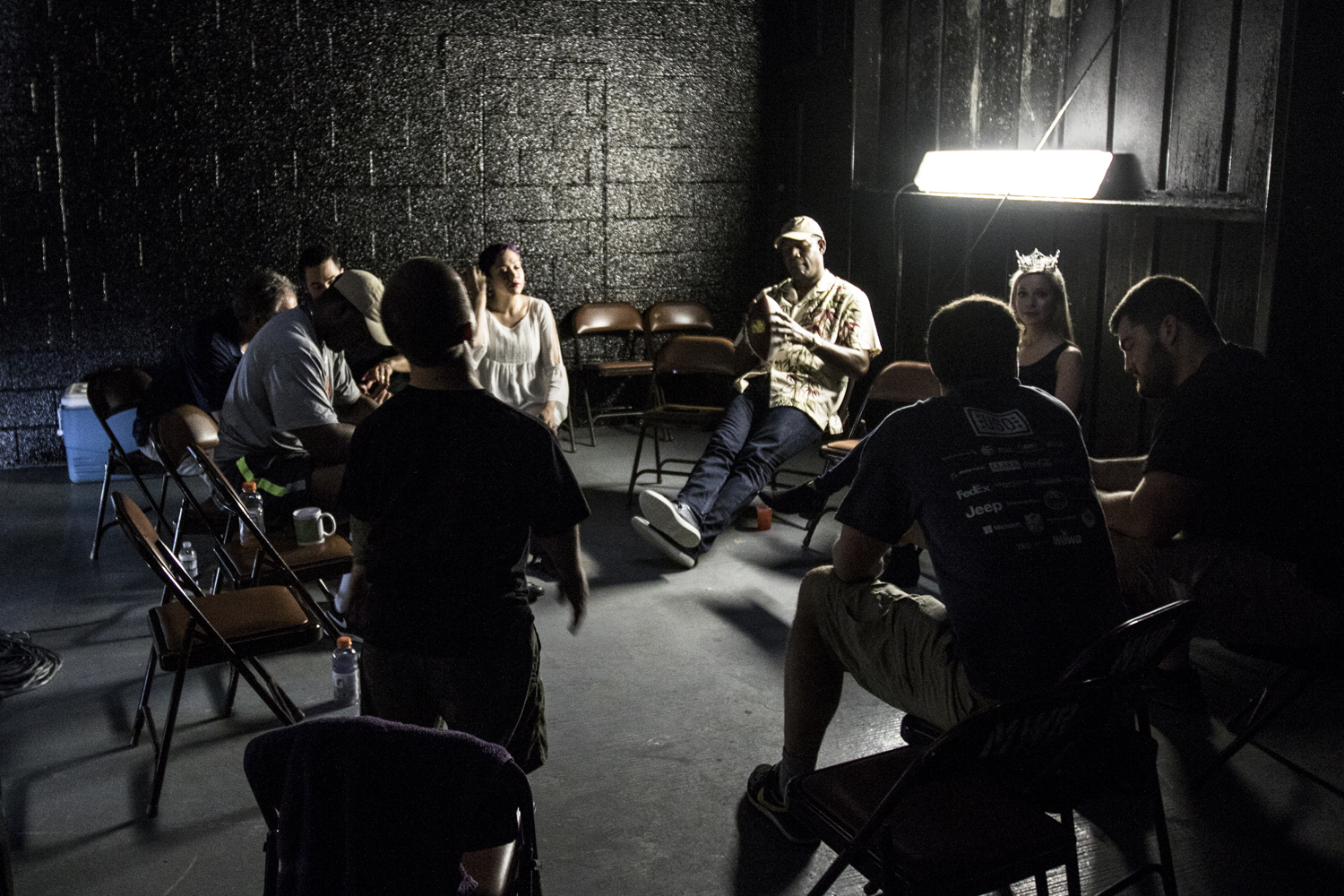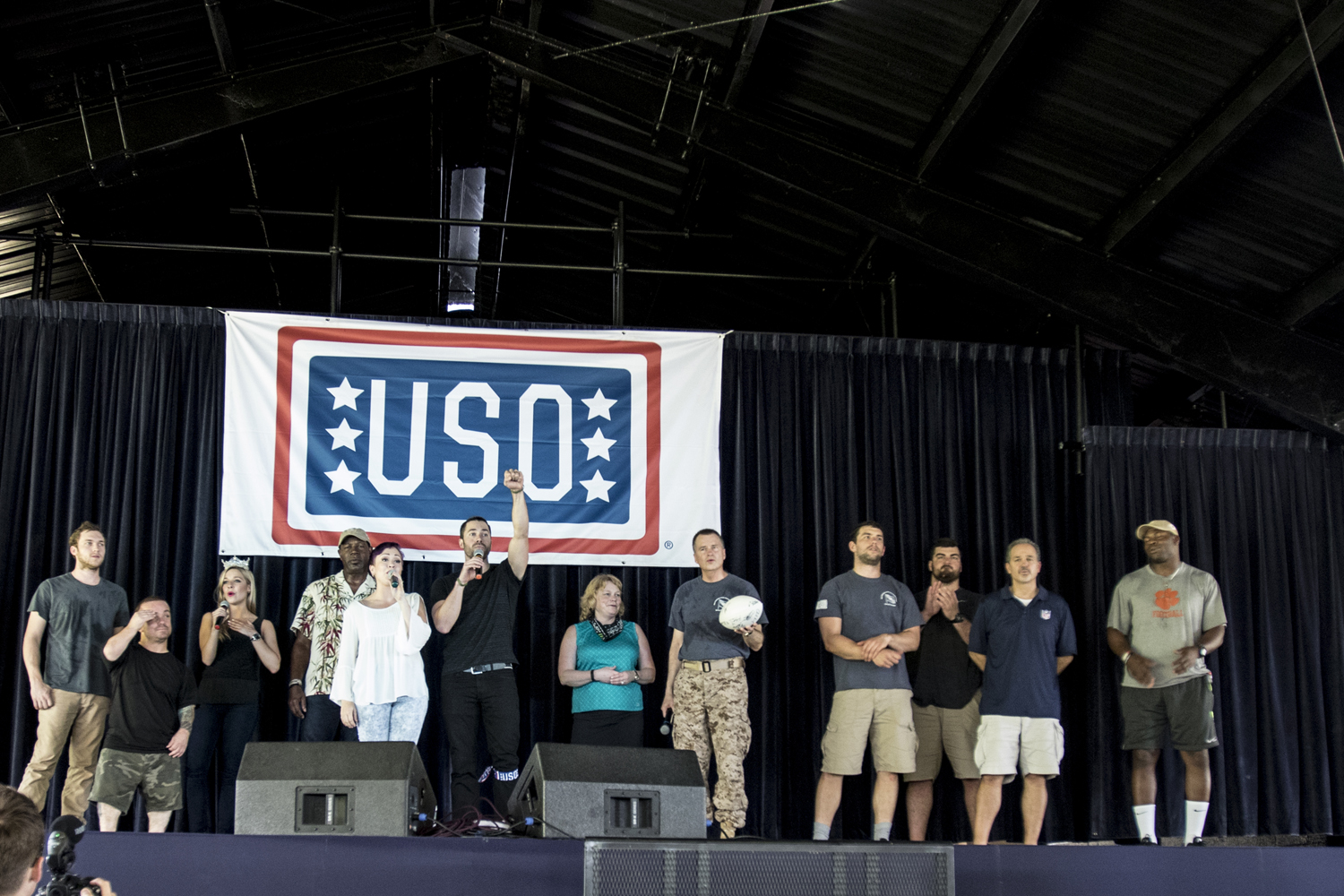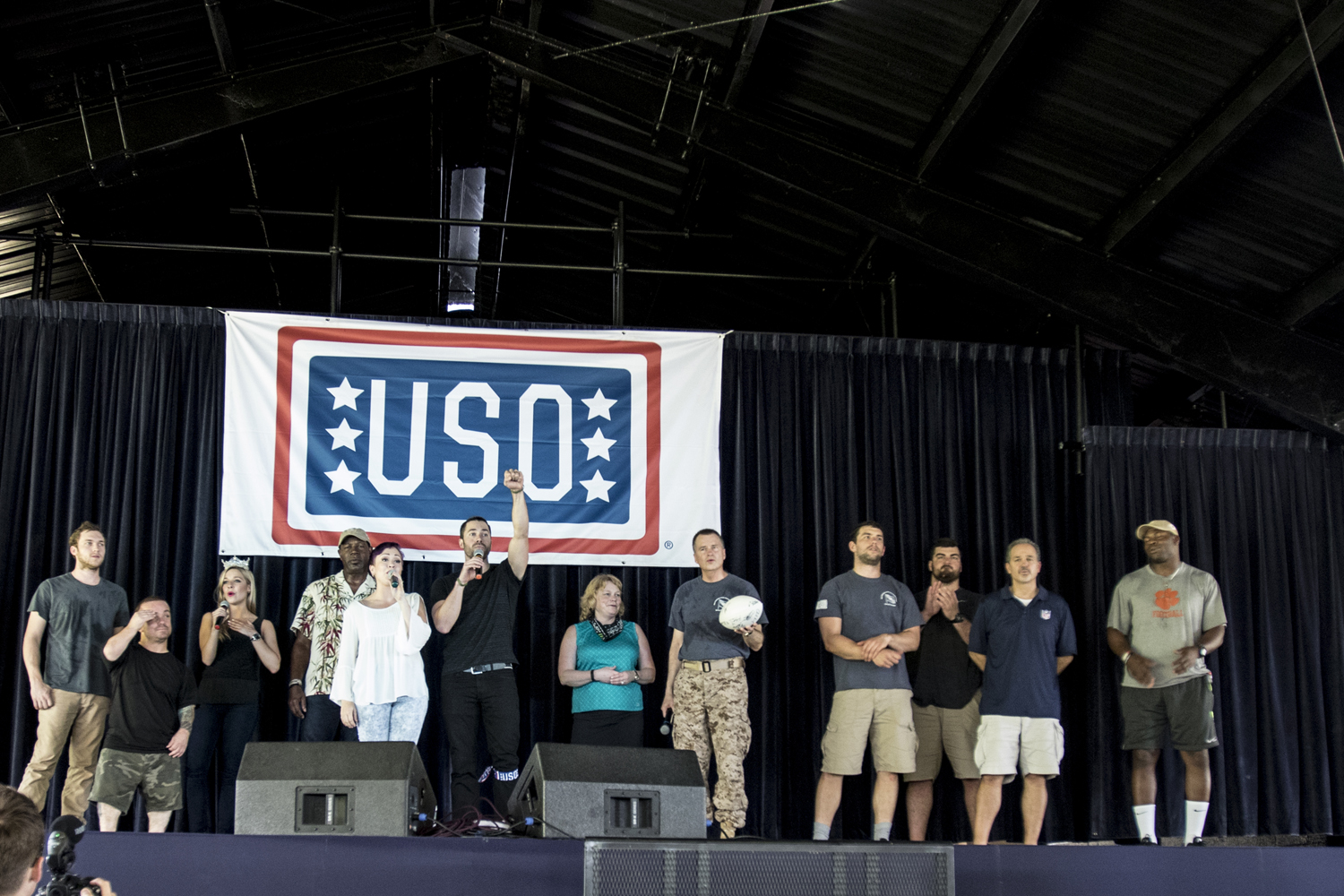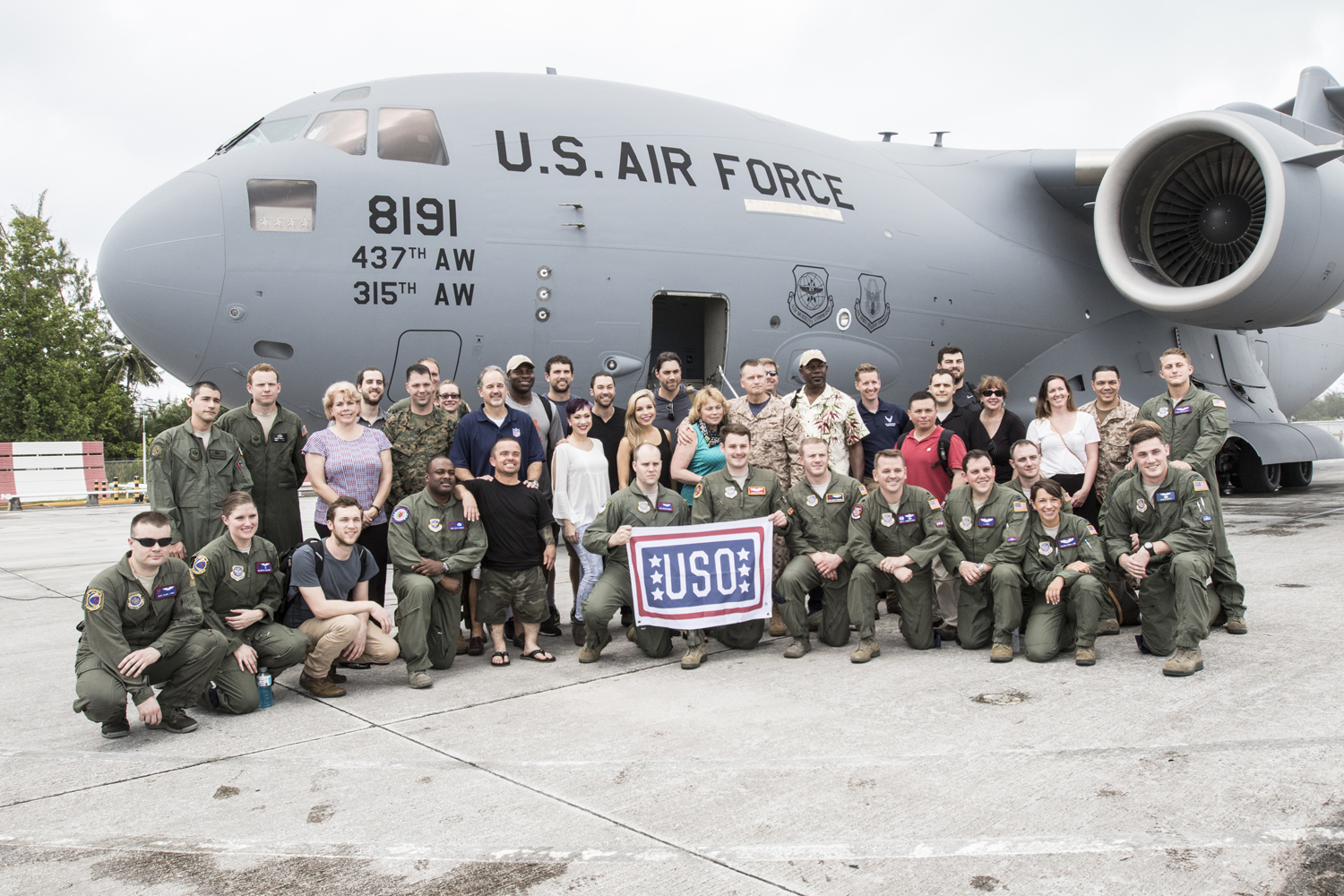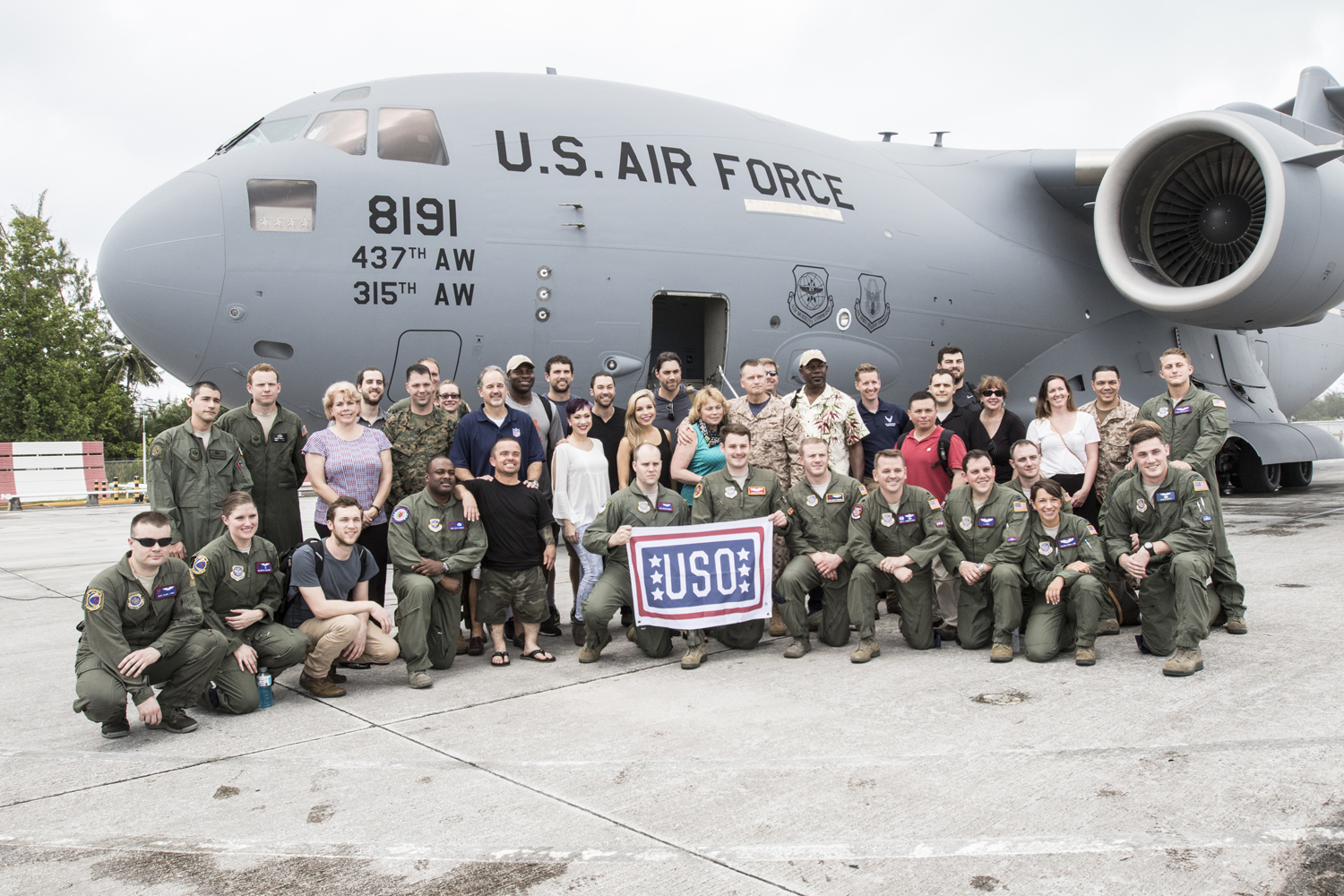 follow link Day Six.
Korea, in general, was a surreal experience. When we arrived, we immediately went to the on-base hotel to catch a nap and get ready for that day's trip to the https://stageone.org/no-essay-scholarship/ Korean Demilitarized Zone (or DMZ). A few hours later we were loading onto Chinook helicopters to head to that very talked about line. I lucked out and got to sit in the middle seat upfront with the pilots and take in the view. As we flew over South Korea, I could see thousands of identical high-rise apartment buildings, spotted the Olympic stadium, and the beautiful nature and scenery of the countryside. When we landed, we were greeted by the soldiers who are stationed at the DMZ, tasked with protecting the border. Each of the cast members was able to sit with a different group of soldiers and talk and learn about them. I even had a mutual friend with one of the soldiers at my table, Miss Minnesota! They spoke of what life is like there, and I was shocked to learn that they even cook their own meals (apparently they eat a lot of frozen food). One soldier told me about his upcoming wedding plans and another told me that he misses hockey (he's from Wisconsin and enjoys the cold weather). Also seated with us was one of the ROK (Republic of Korea) soldiers. Although he spoke in broken English, you could very easily tell that this person was kind and genuine and had a great love for his country. After lunch we had a fun time mingling before it was time to load onto the buses and head up to the Demarcation Line. The Colonel, who is the highest-ranking official at the DMZ conducted a security brief and then we were able to go outside and see an image that I thought I would only ever see on the news. There it was, North Korea. When we came outside on our side of the line, there seemed to be quite the fuss on the other side. We happened to be visiting on a Sunday, a day when tours are usually not conducted, but the Colonel was also with us, which meant that something important and out of the ordinary was happening. The North Korean soldiers immediately ran out of their corners and down the stairs with cameras in hand. They were taking pictures, not because they were happy to see us but to document our faces and most likely later compare to facial recognition software.
There was a little blue building that straddles the line and within it, negotiations take place. One side of the table is South Korea and the other side is North Korea. The Colonel said we were more than welcome to come on the North Korean side of the table which meant that technically we were all in North Korea.
We spent the rest of the afternoon learning about the history of the DMZ, its effects, what life is like for South Koreans living in the near area, and life for the North Koreans. In this day and age, it is very hard for me to understand how this can still exist. The entire experience was extremely eye opening.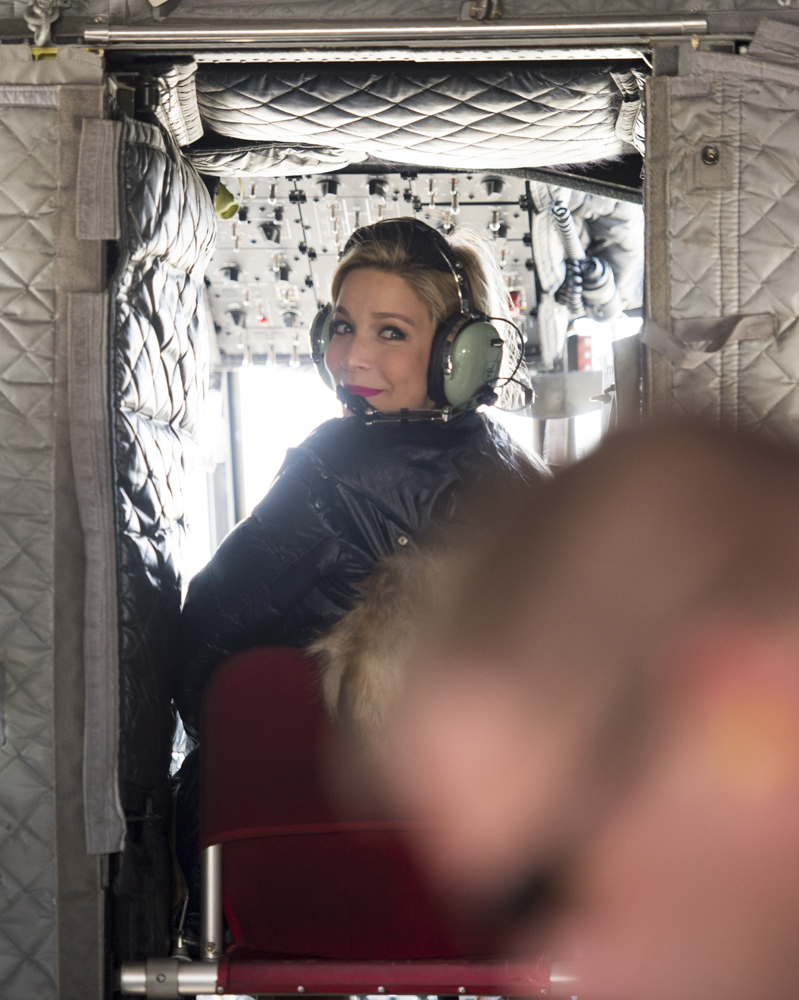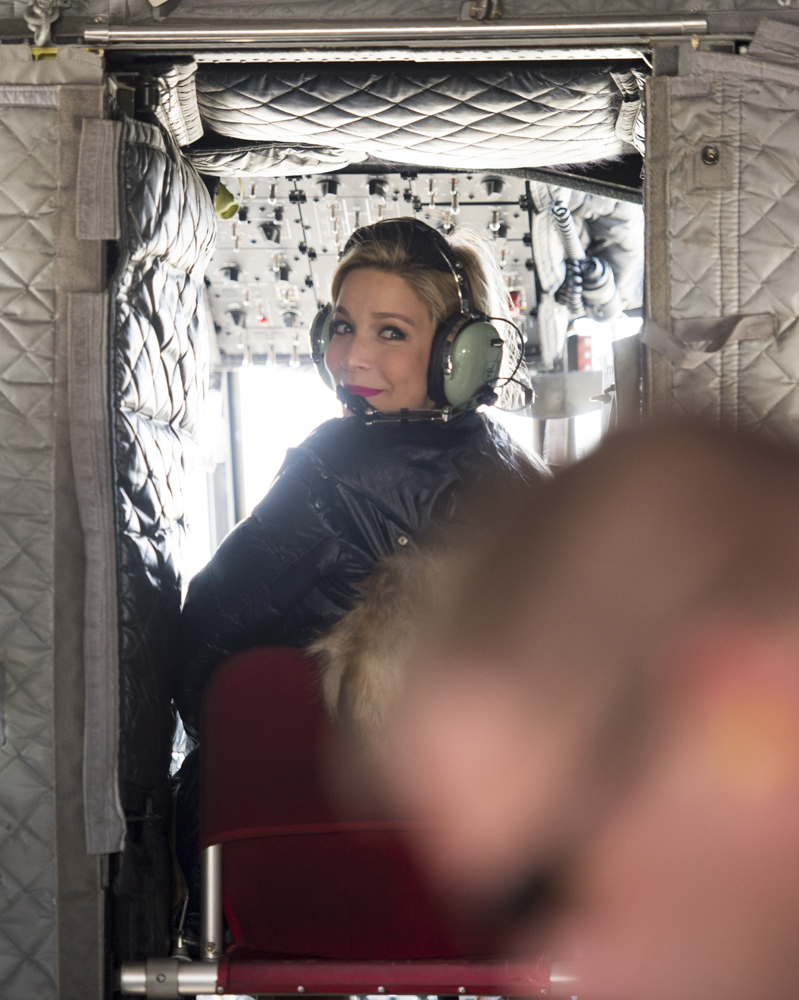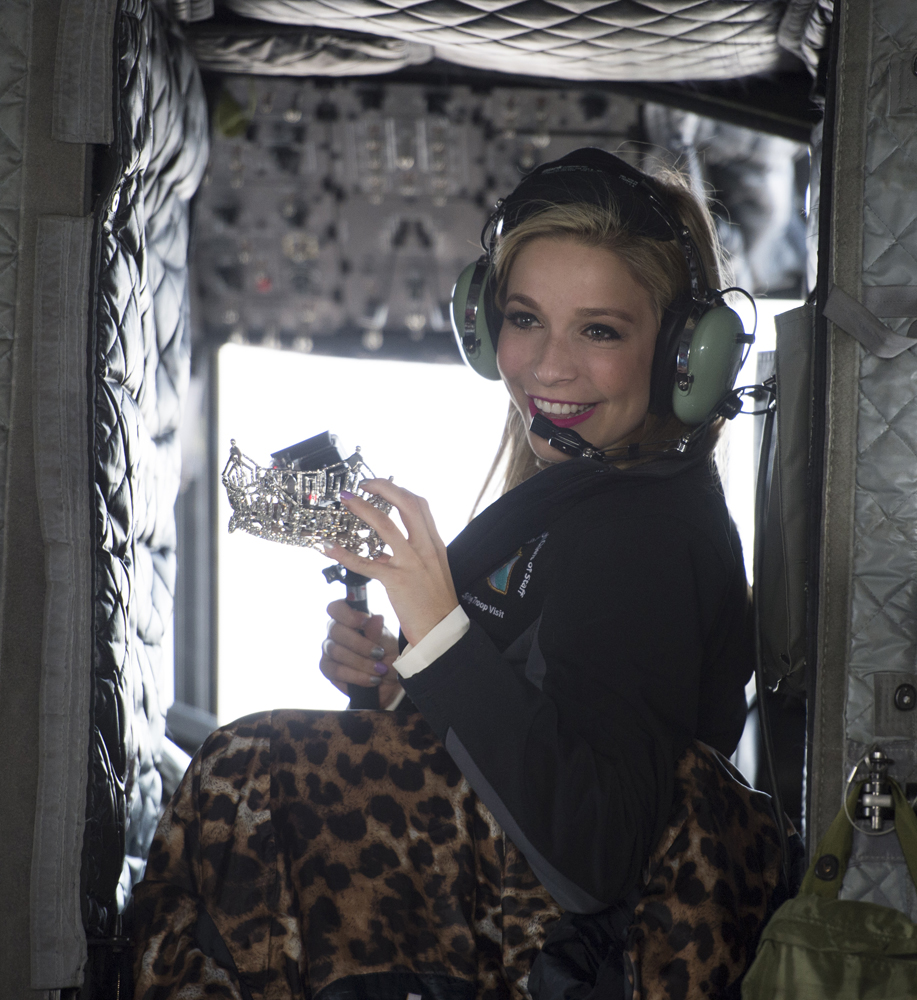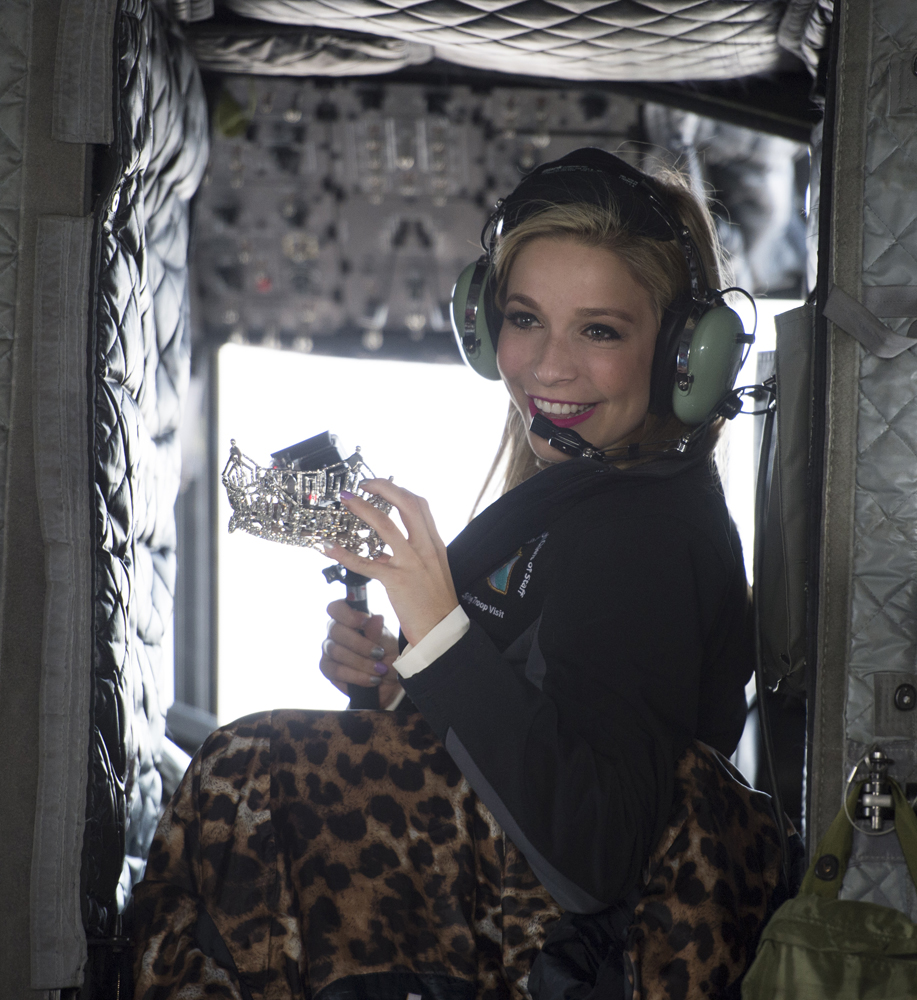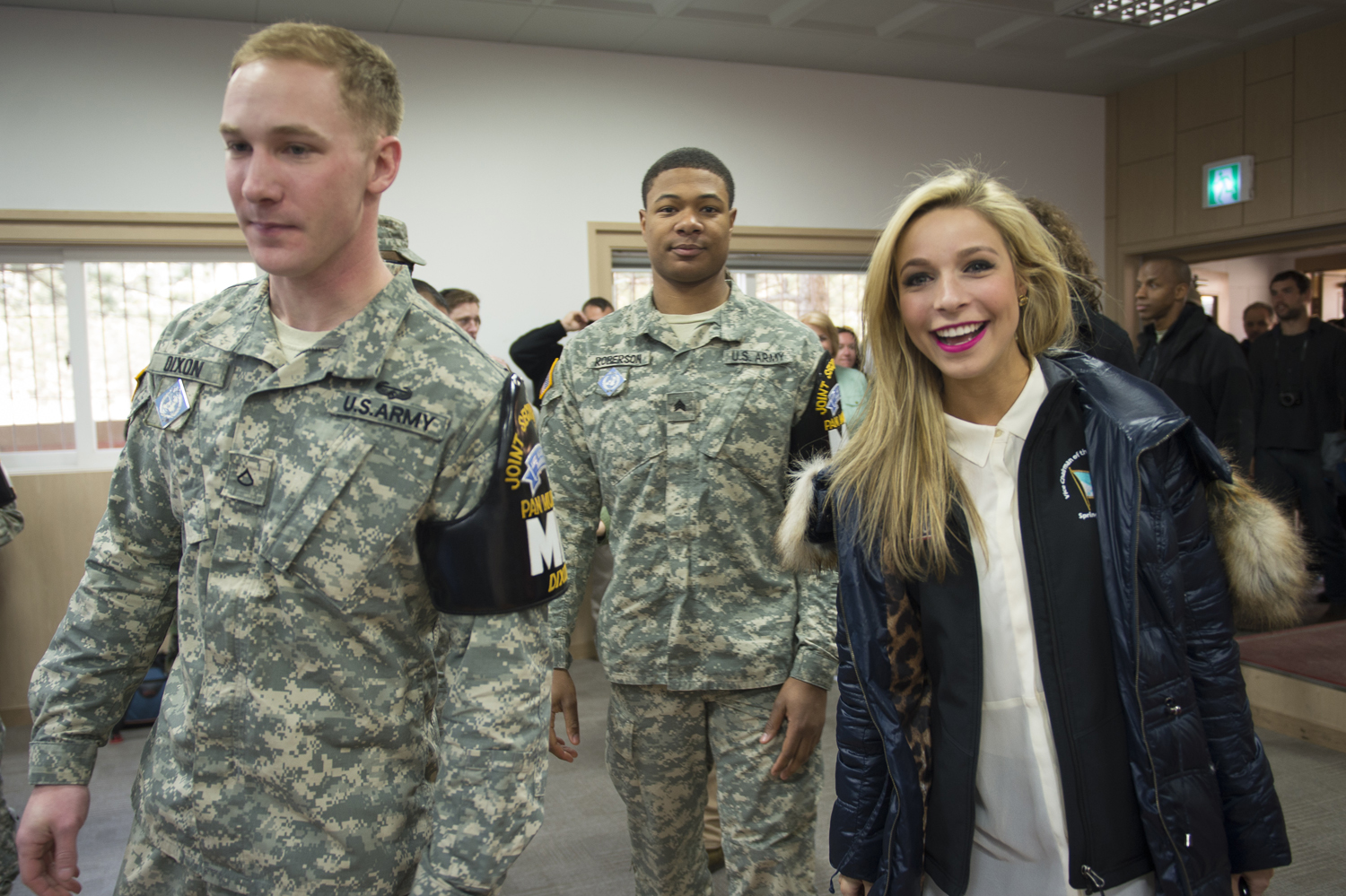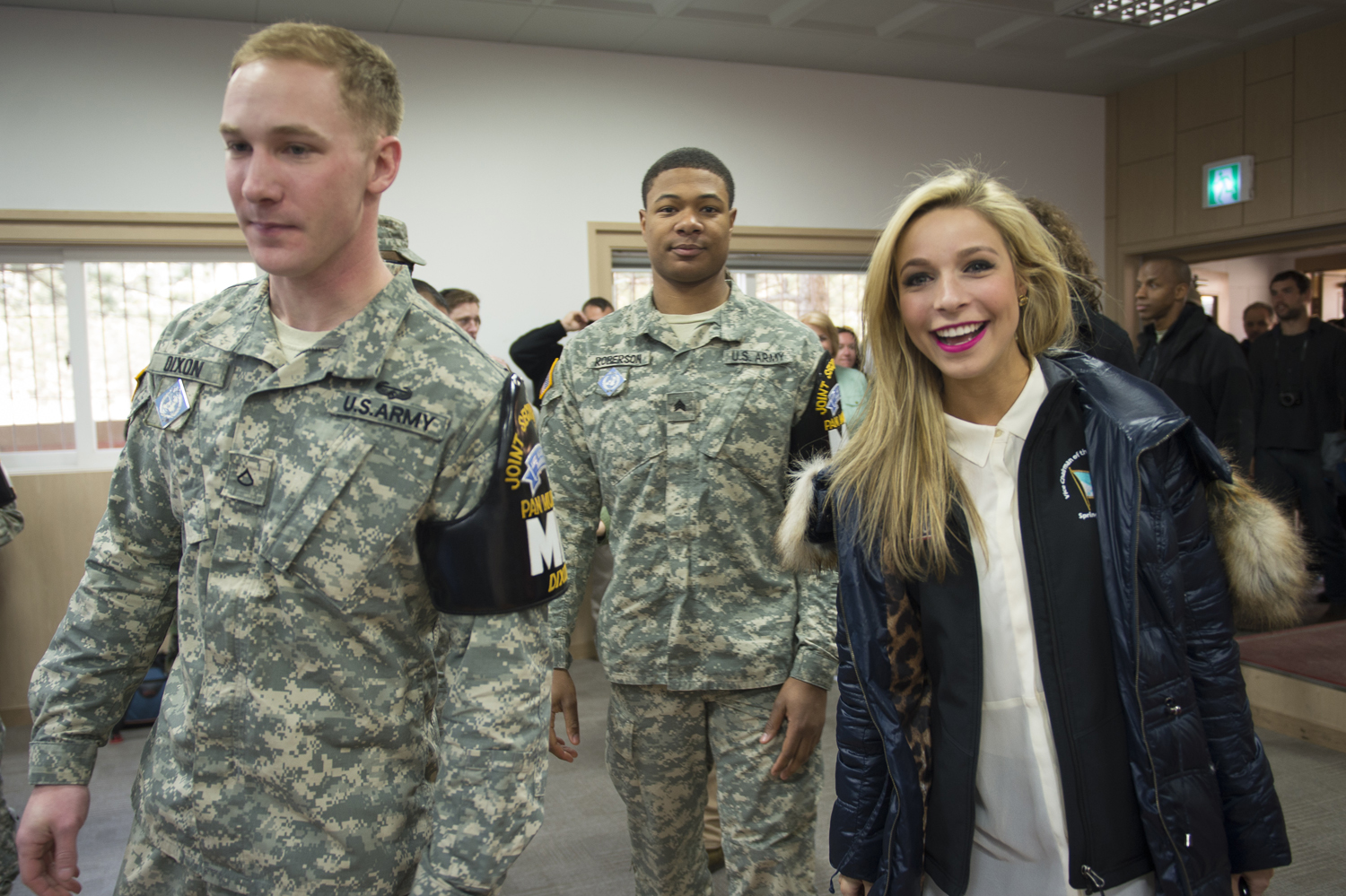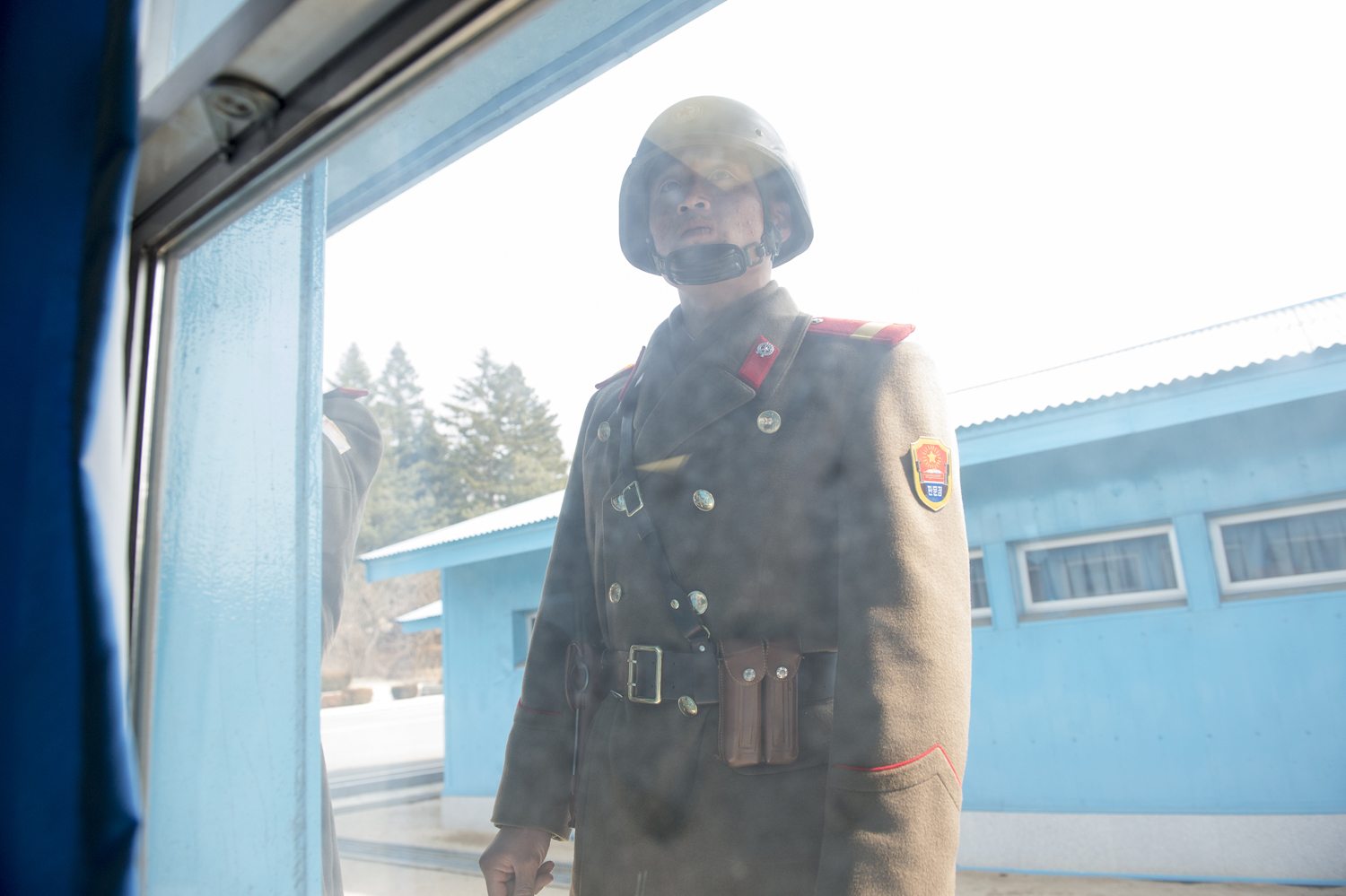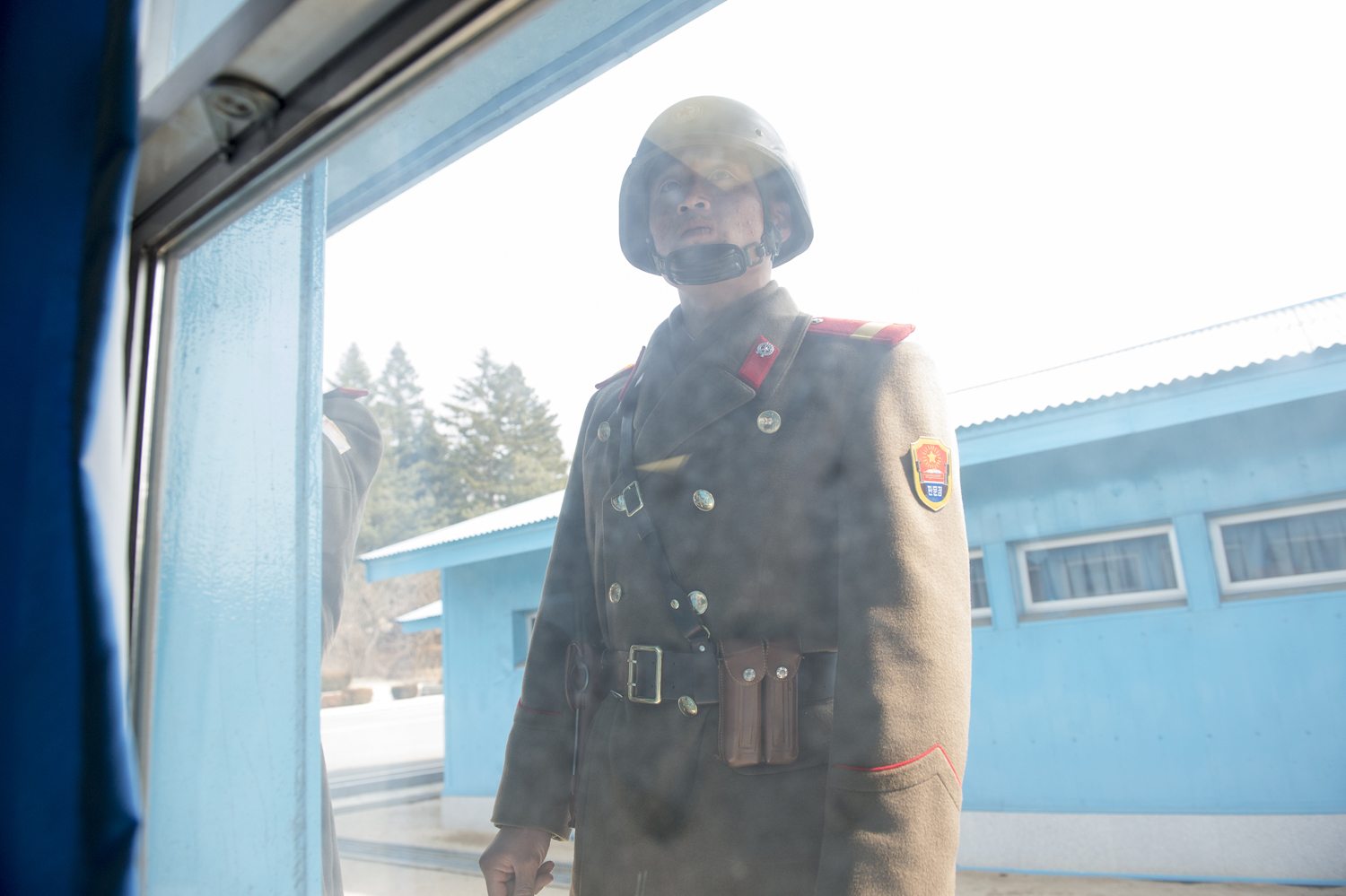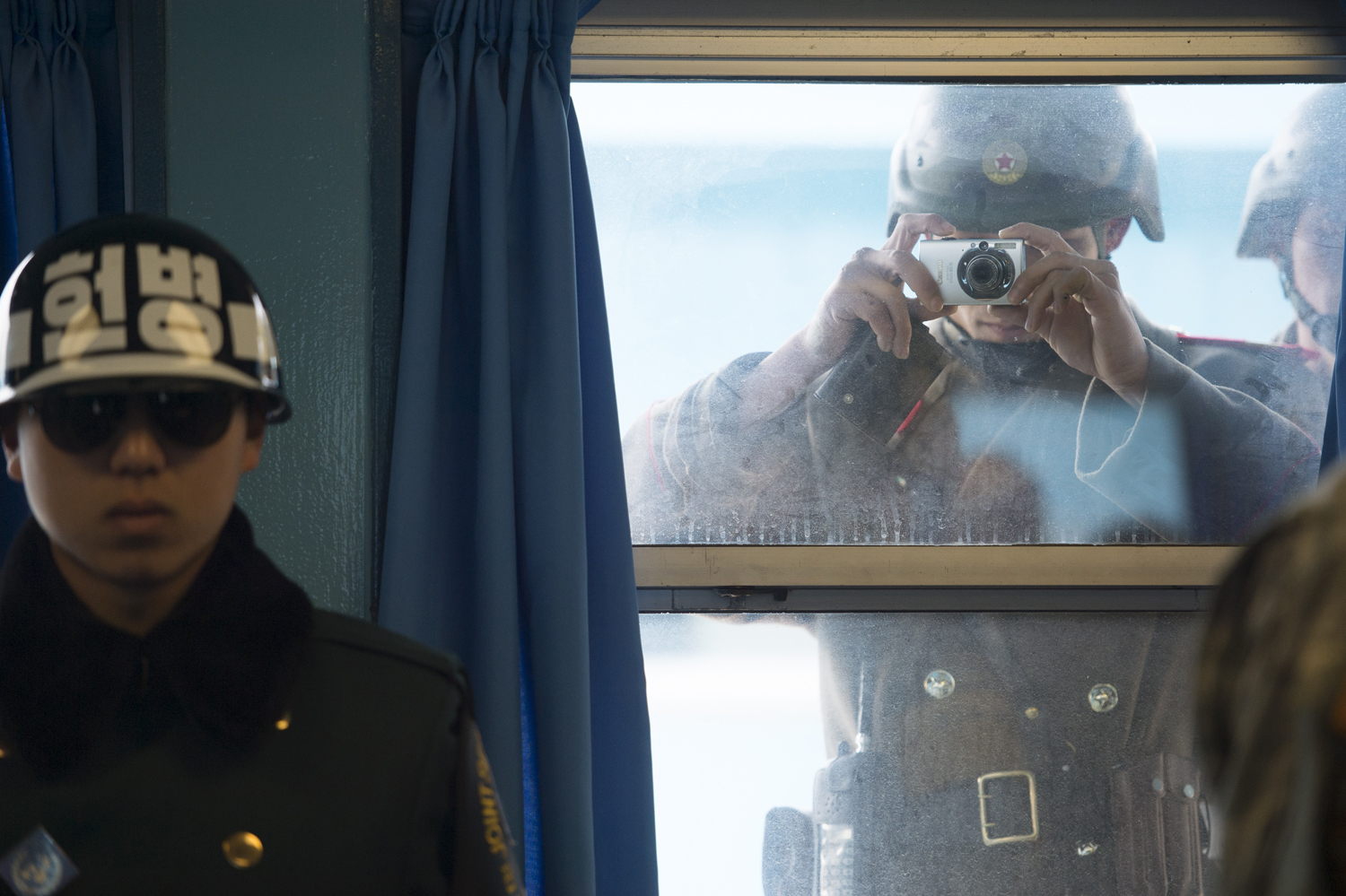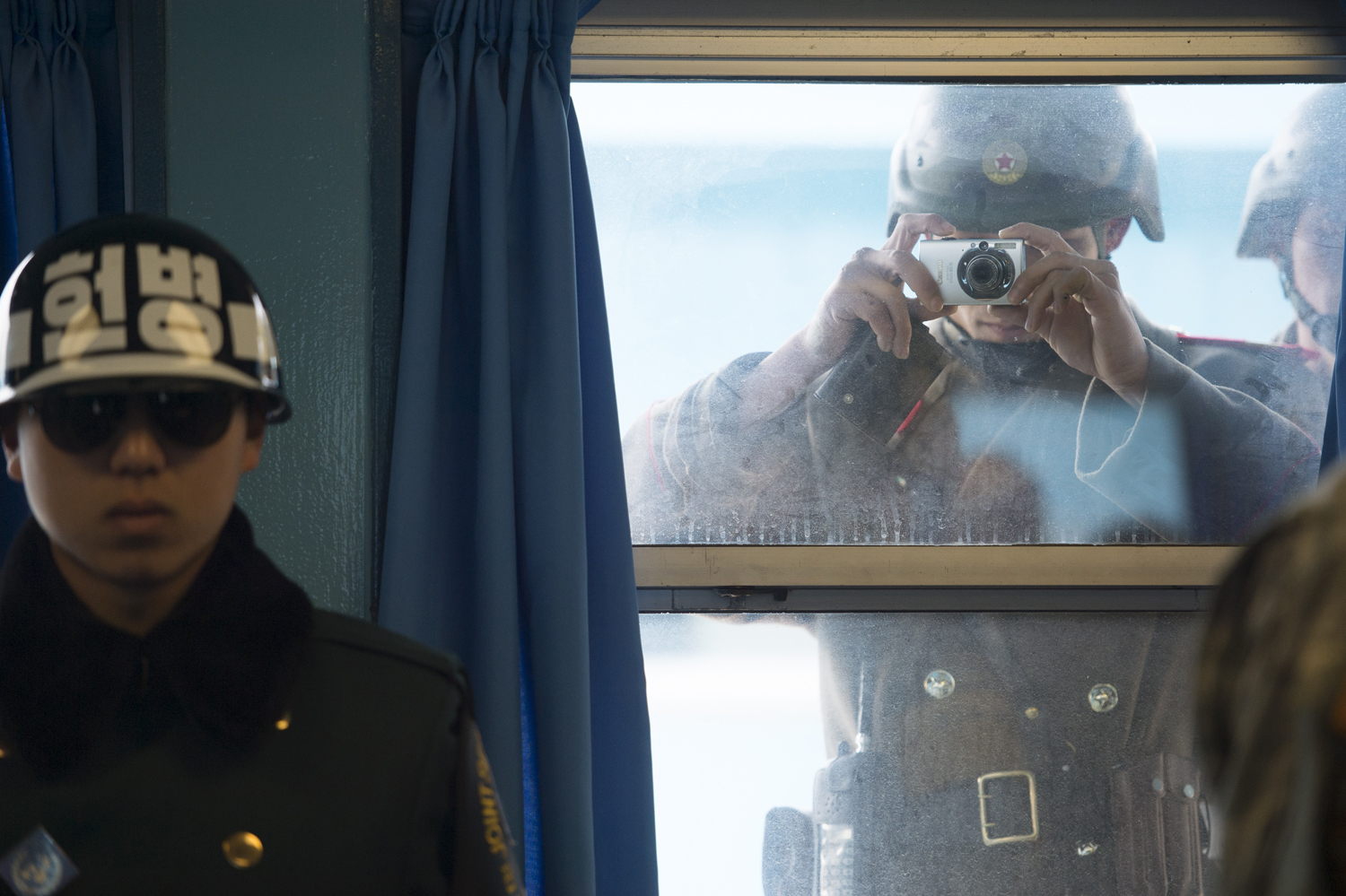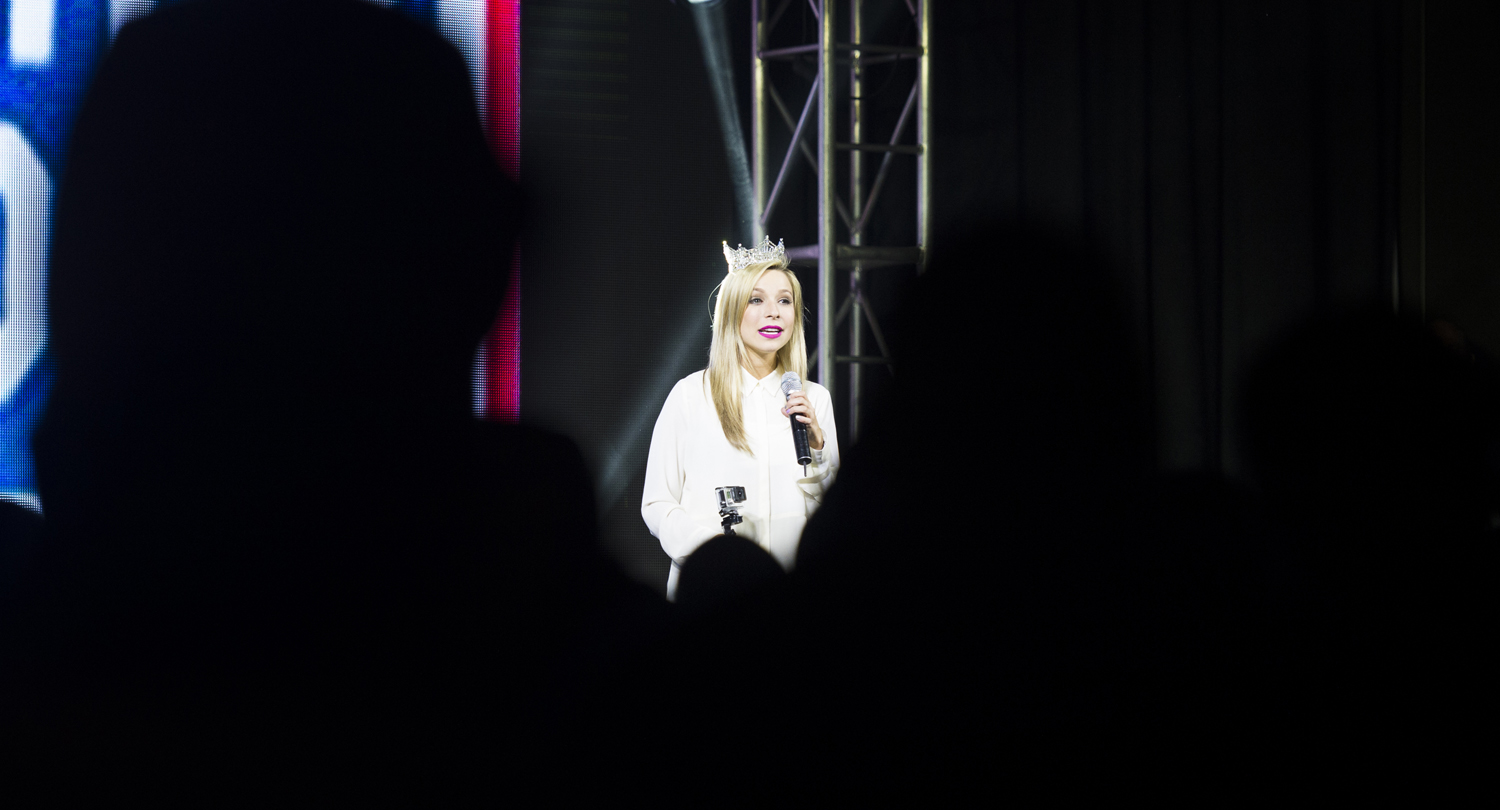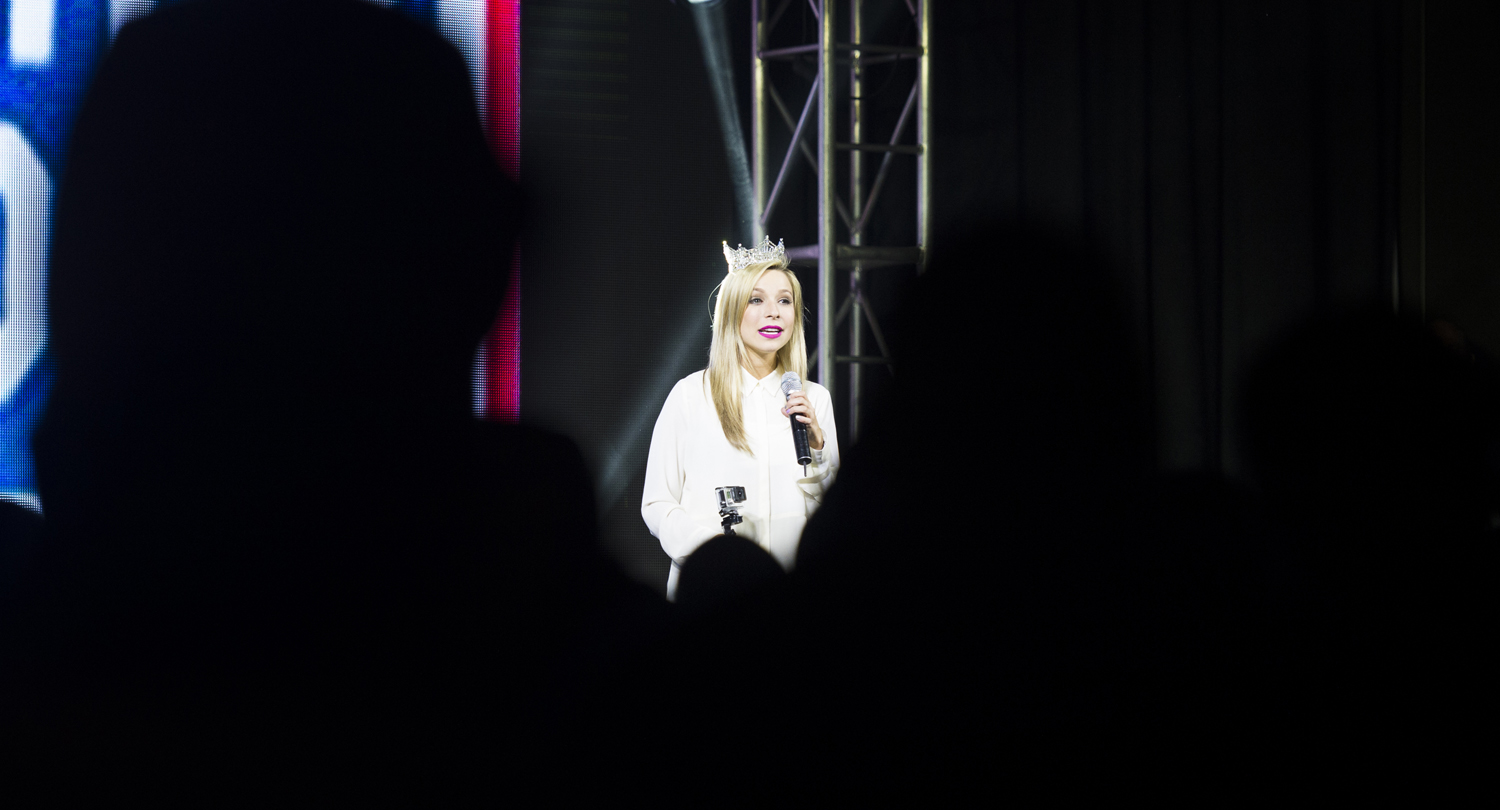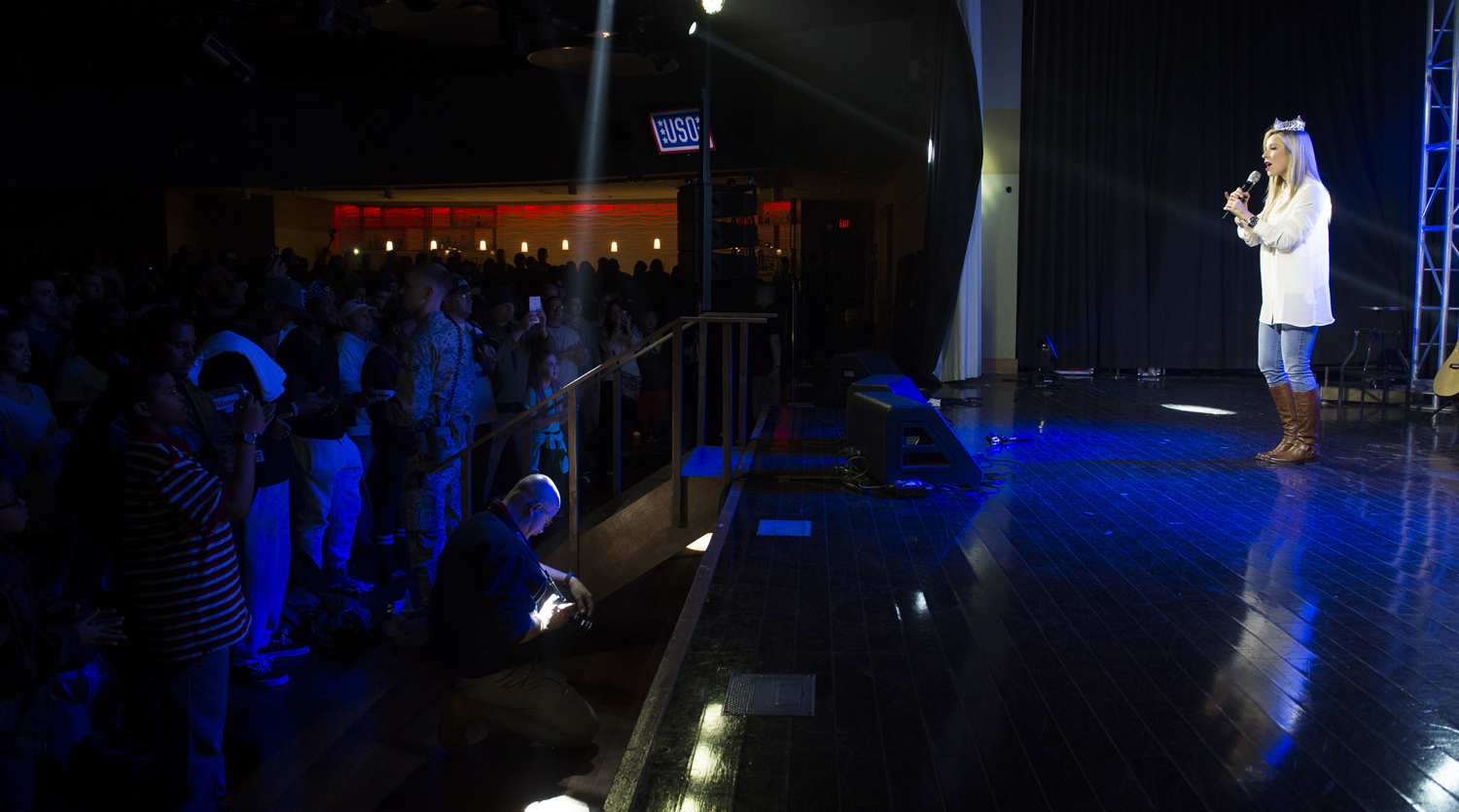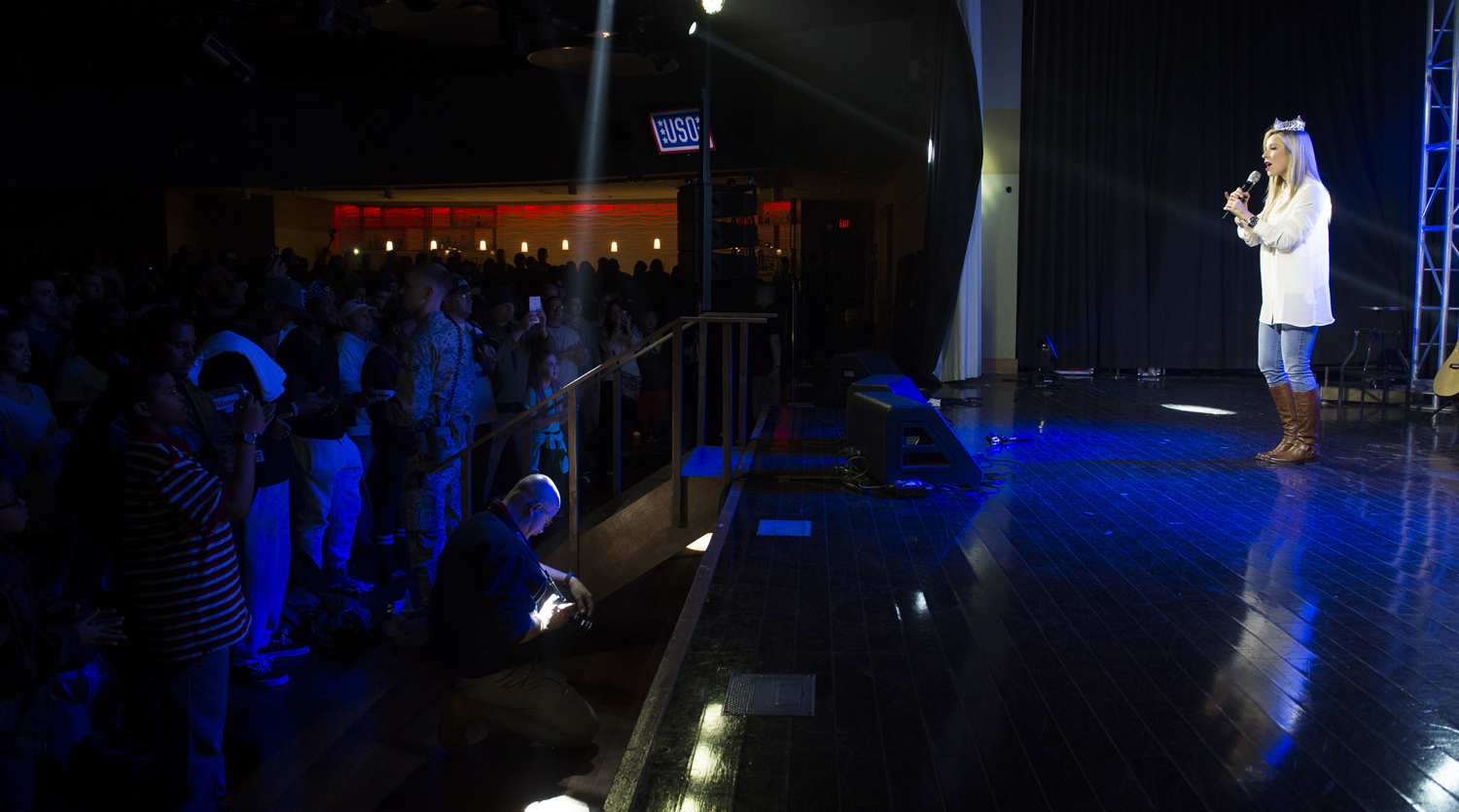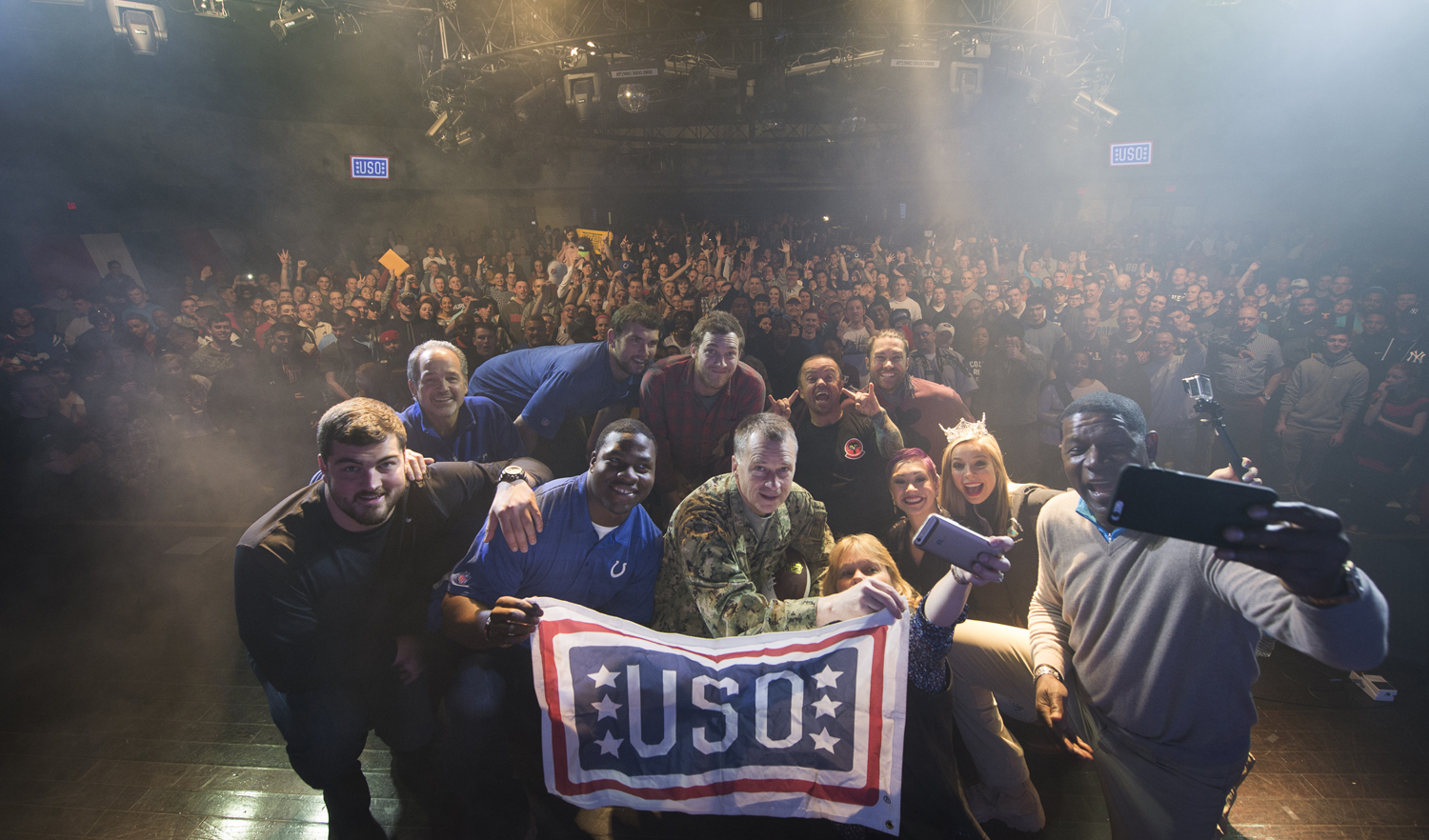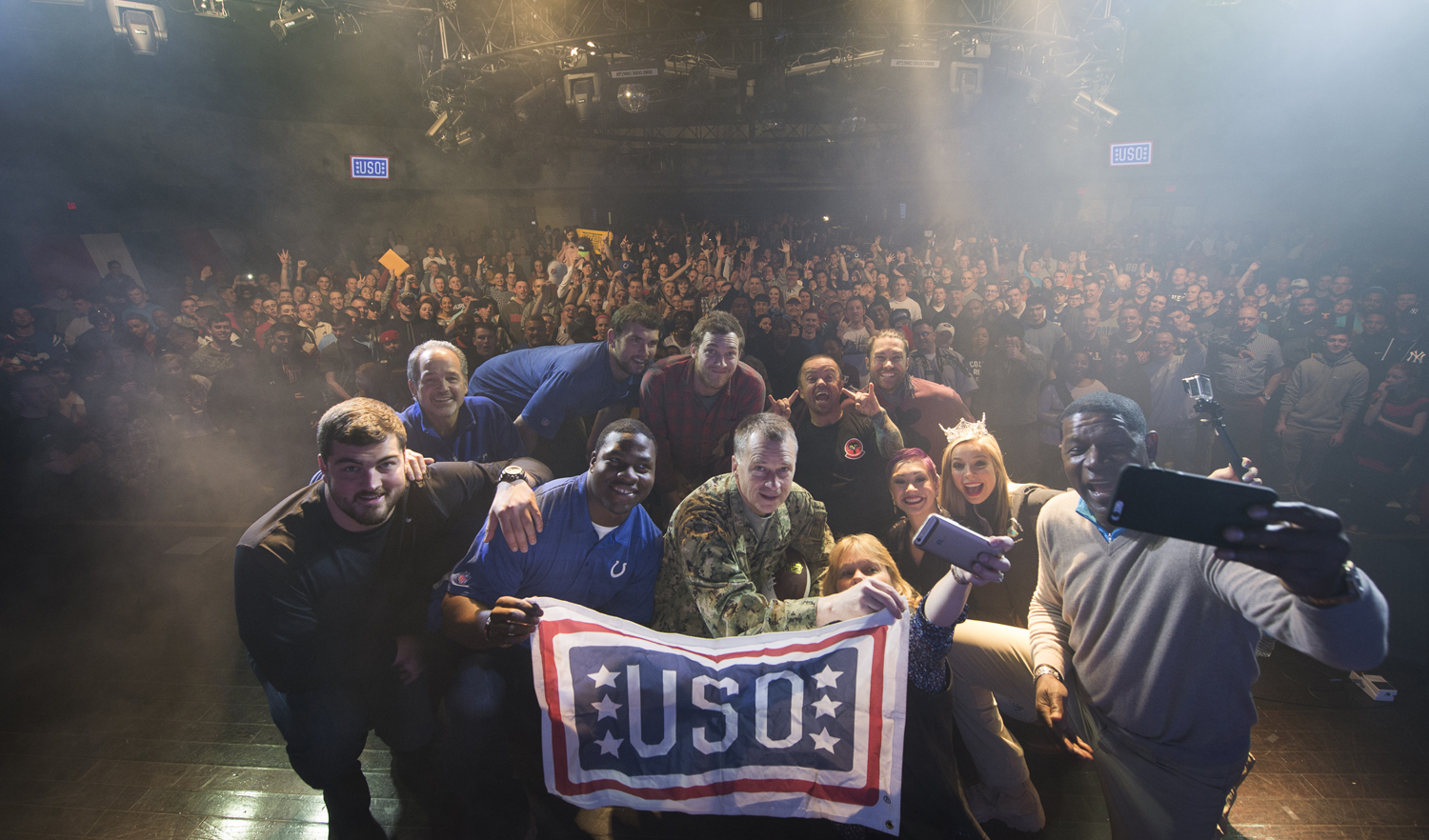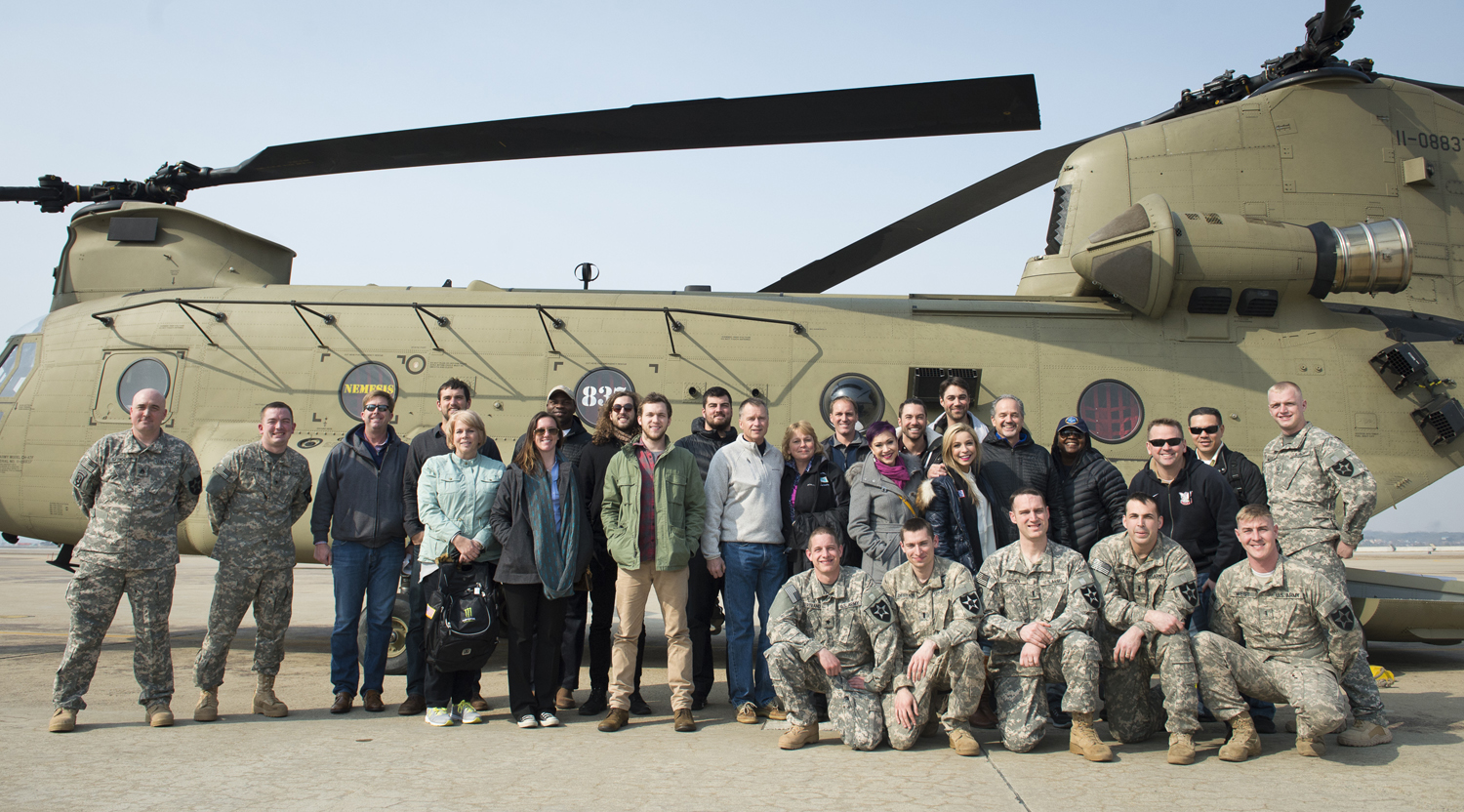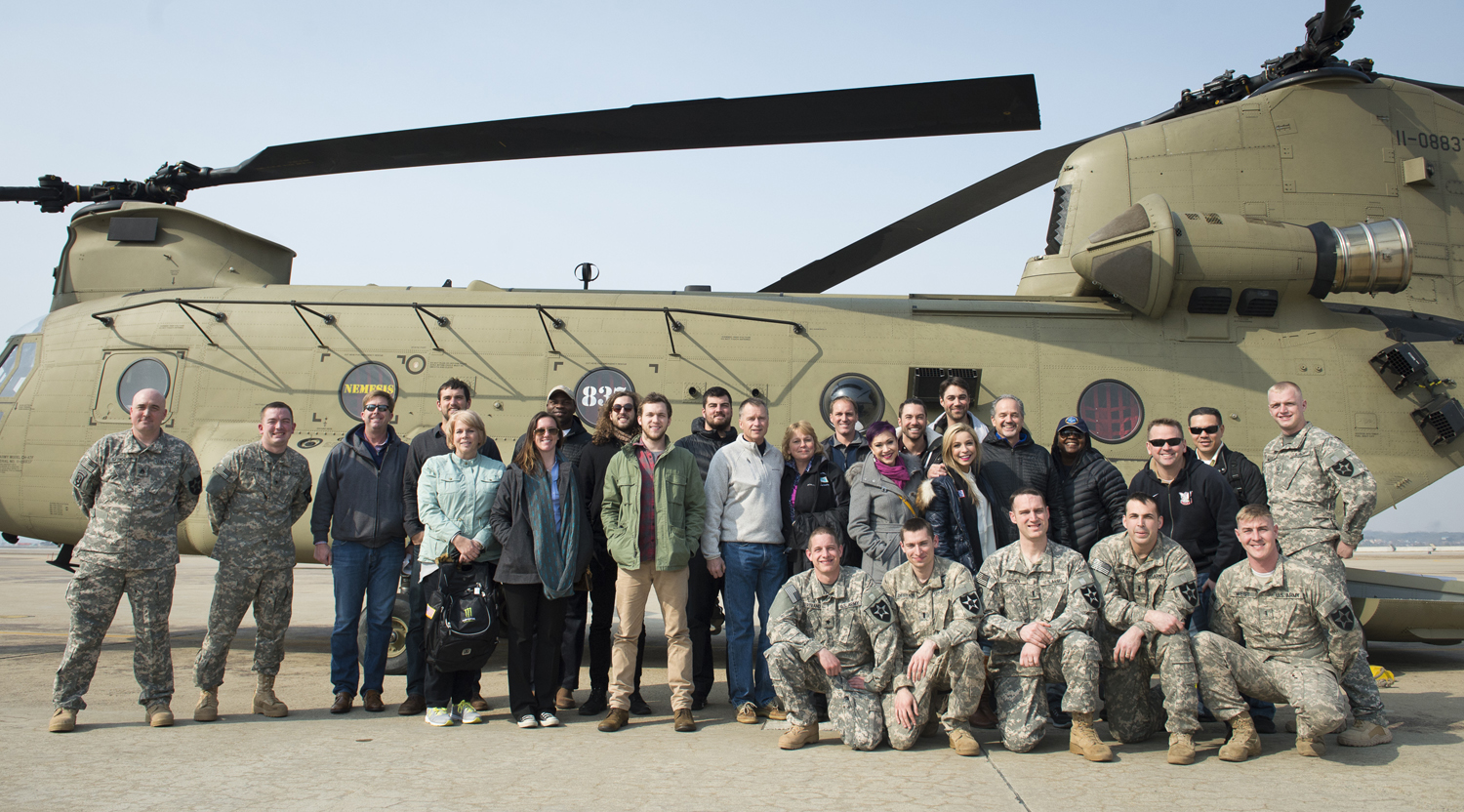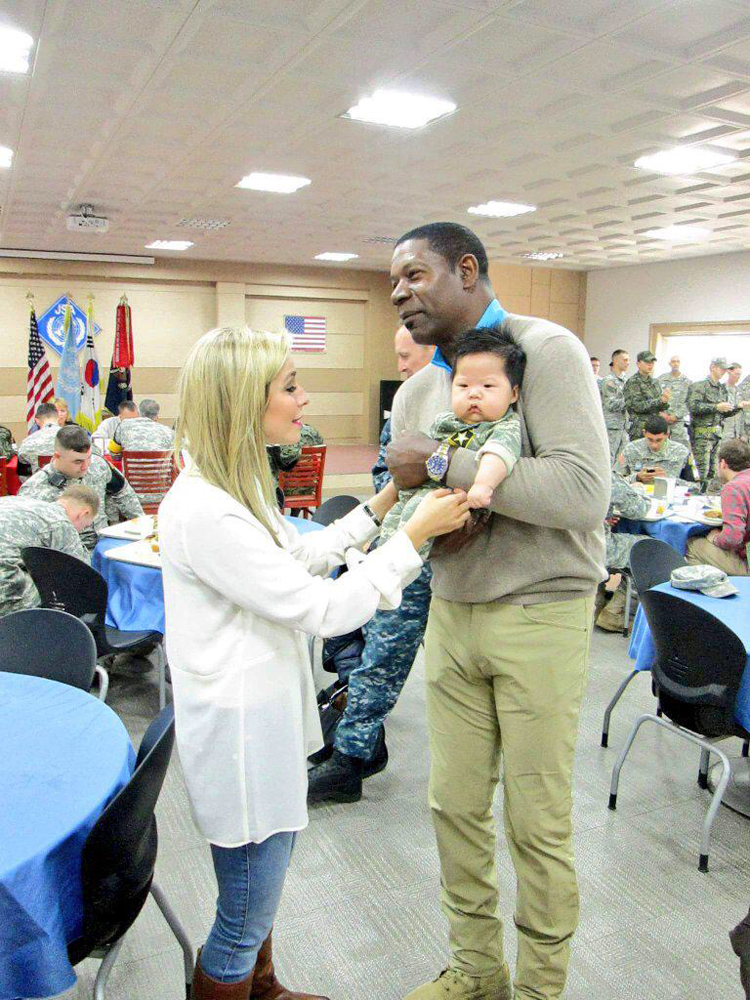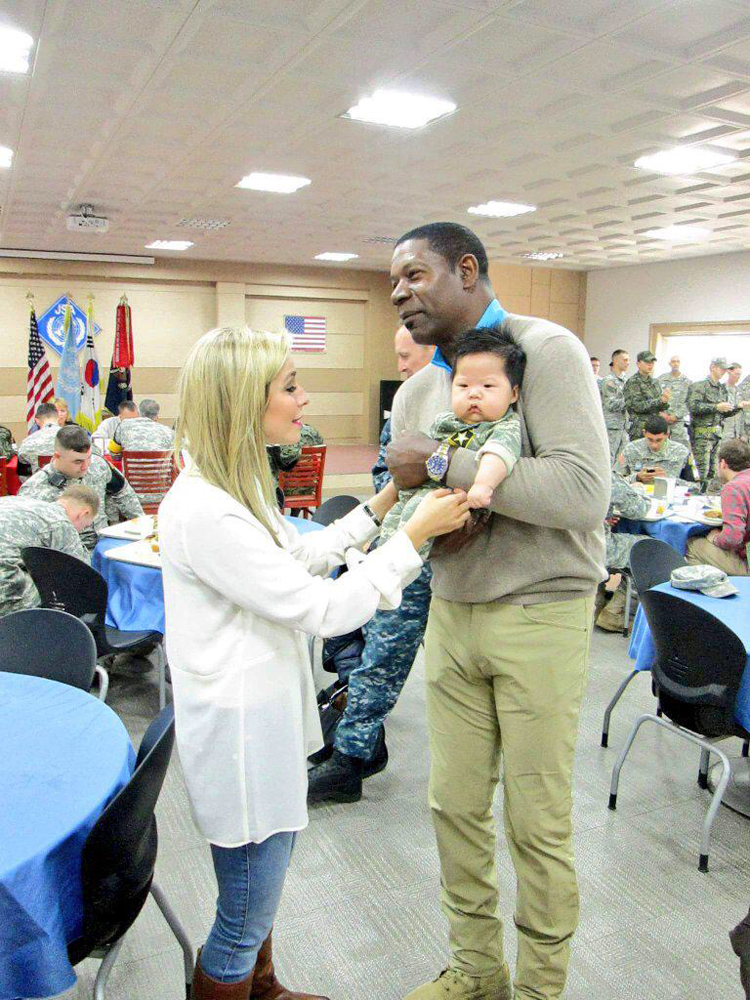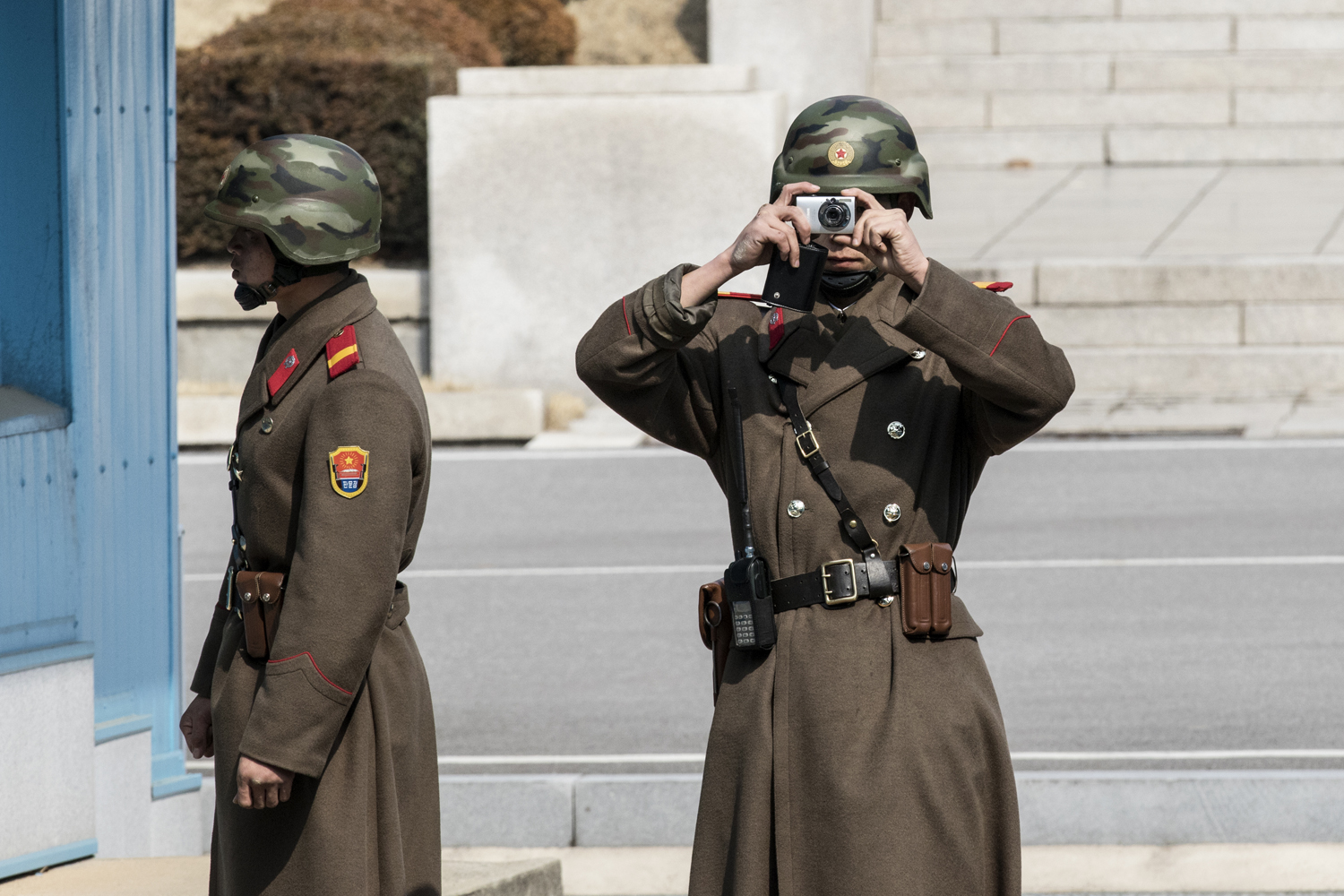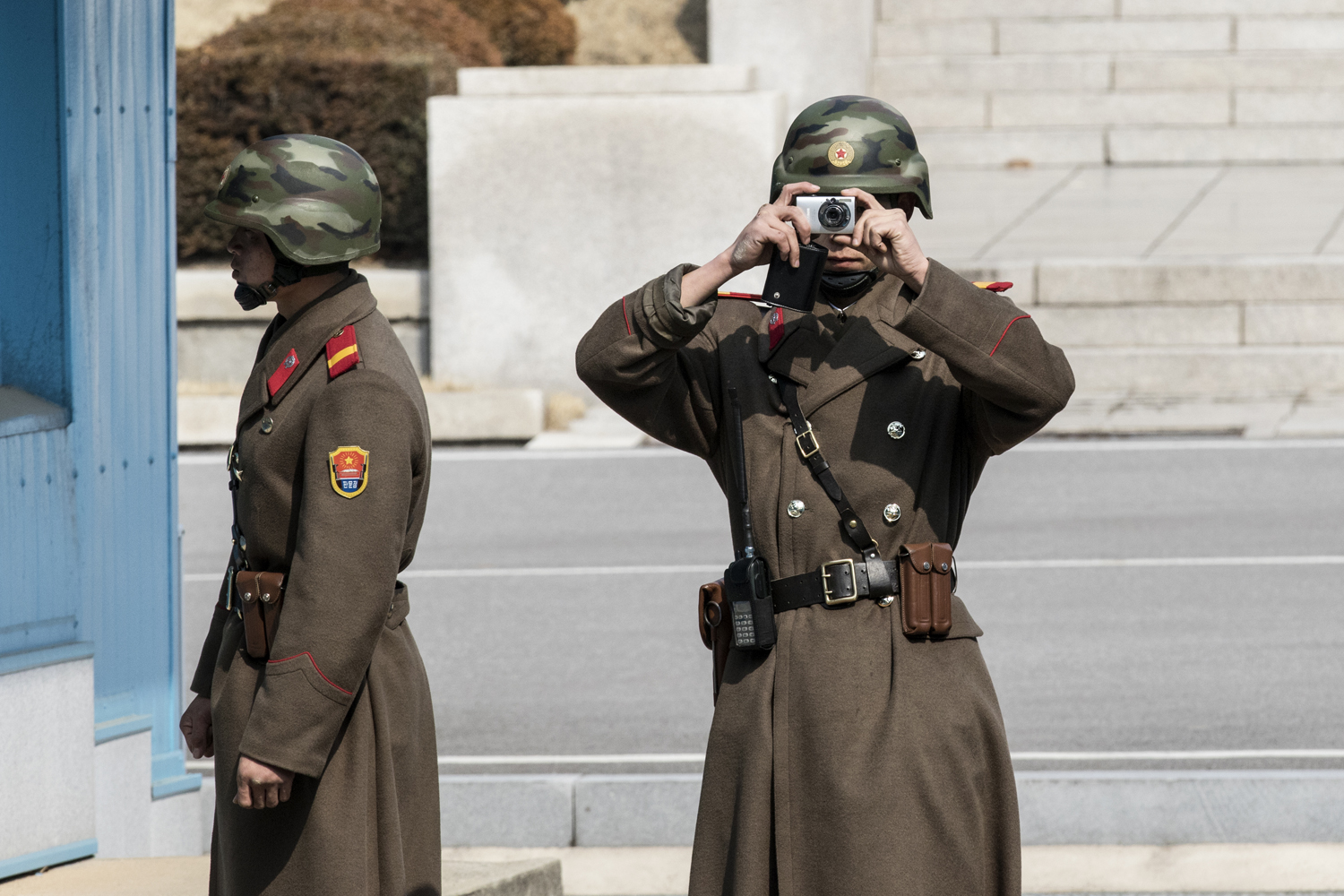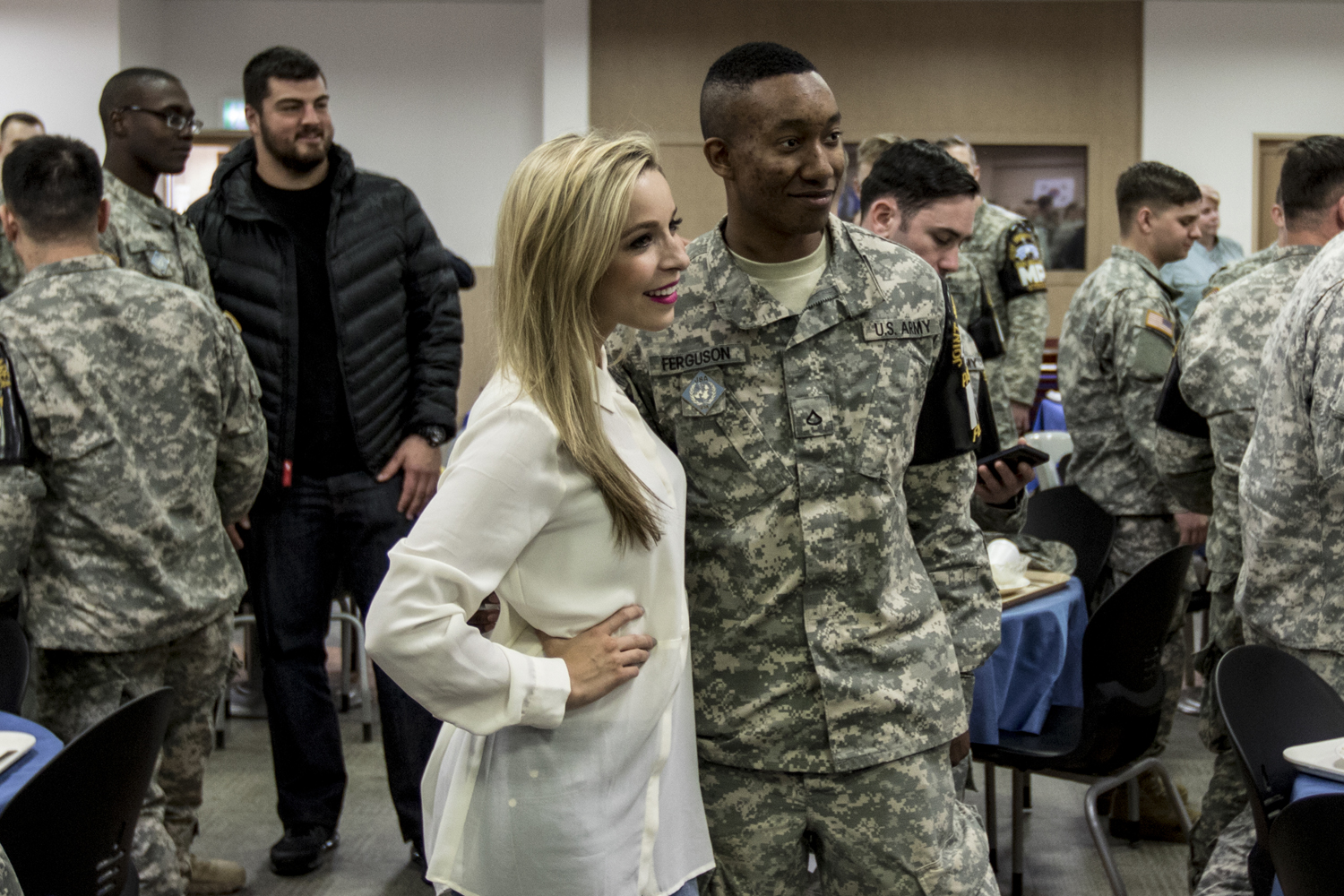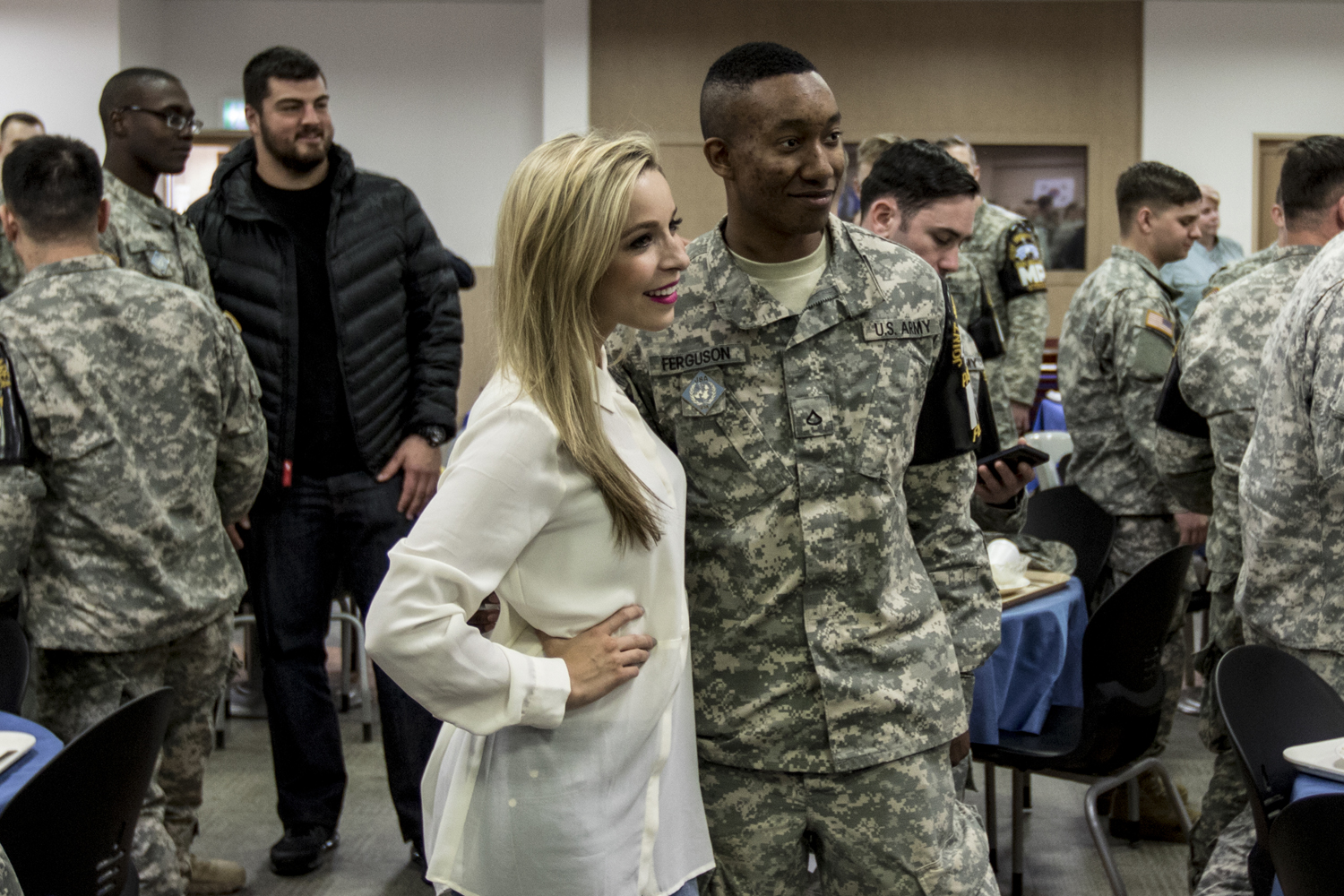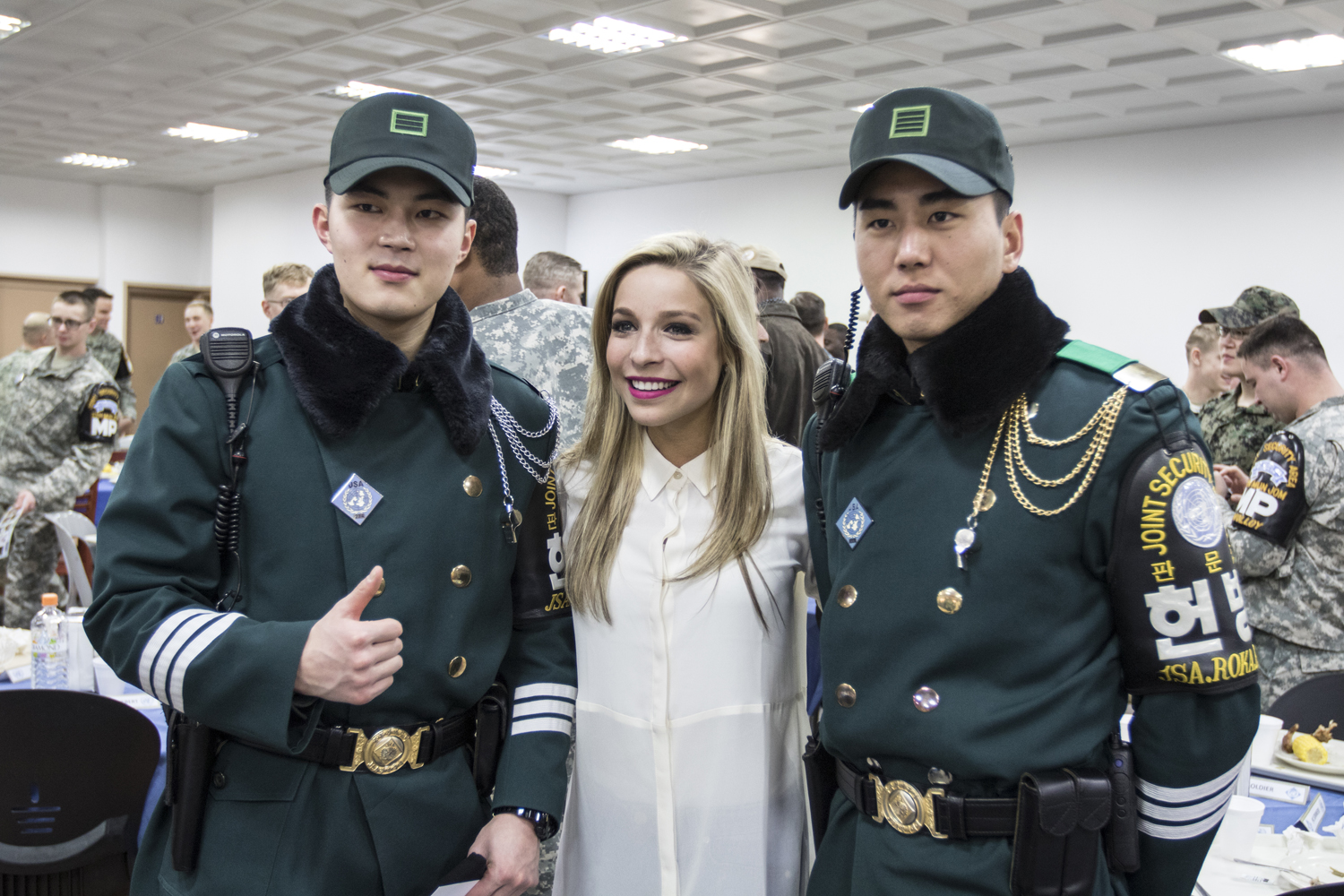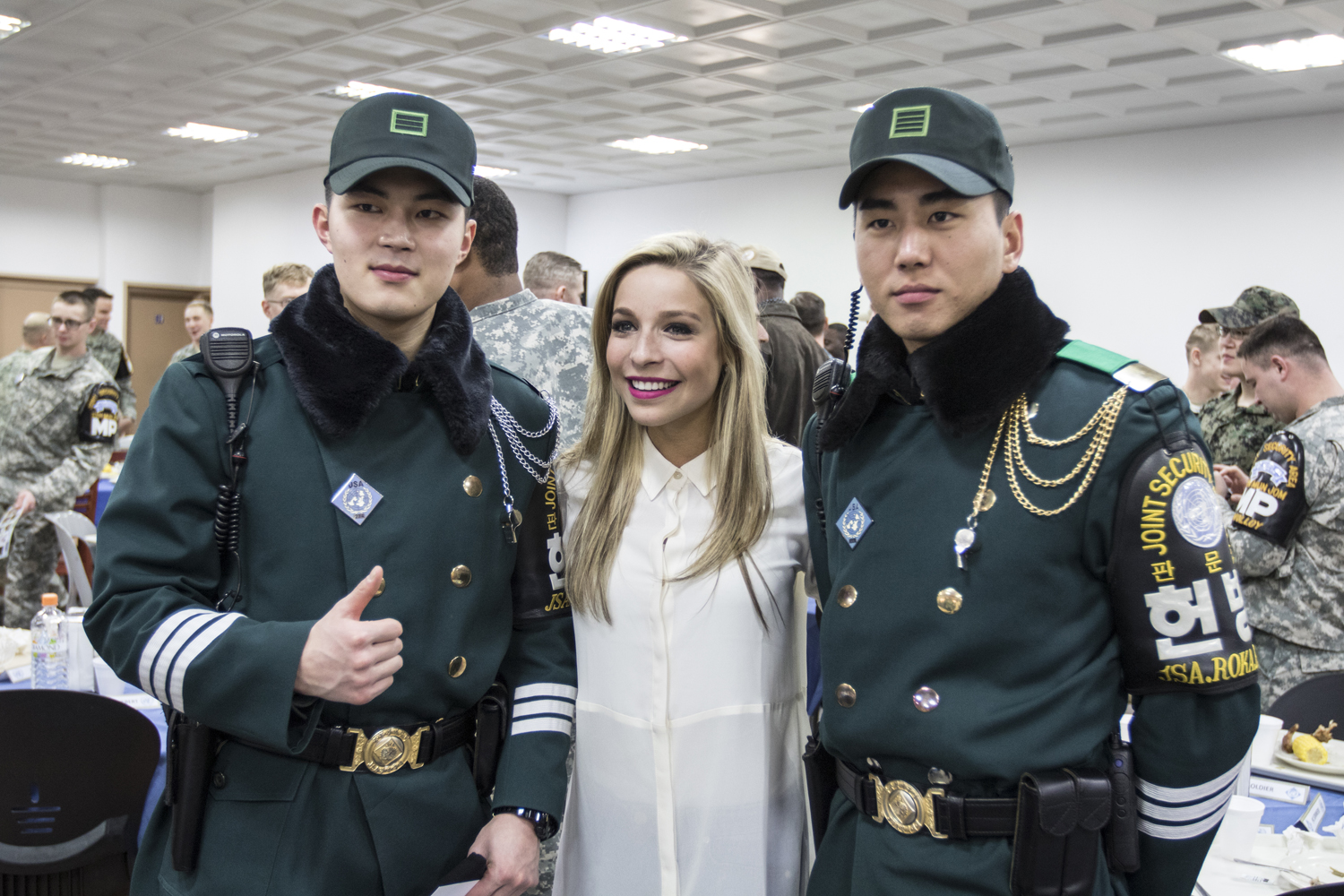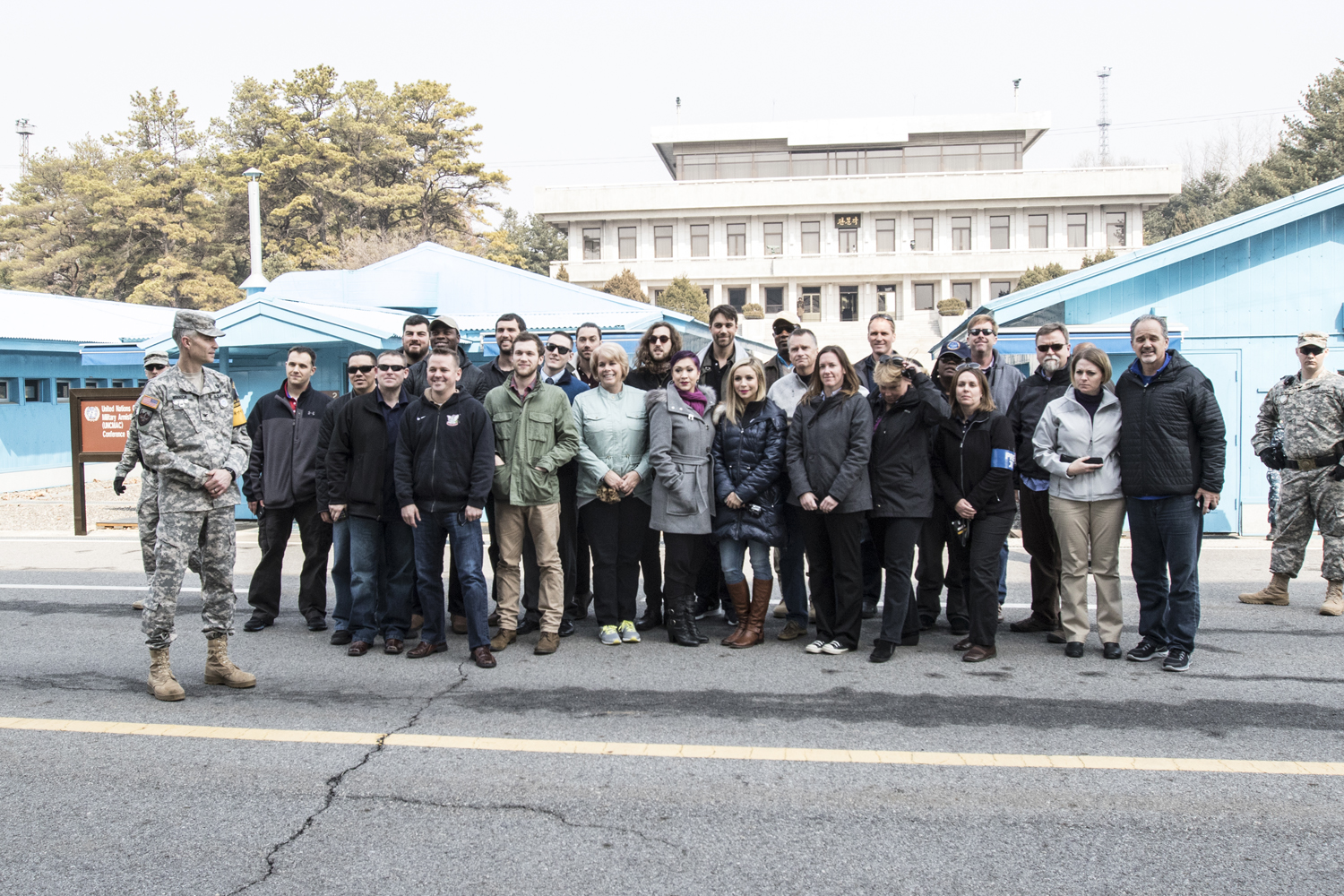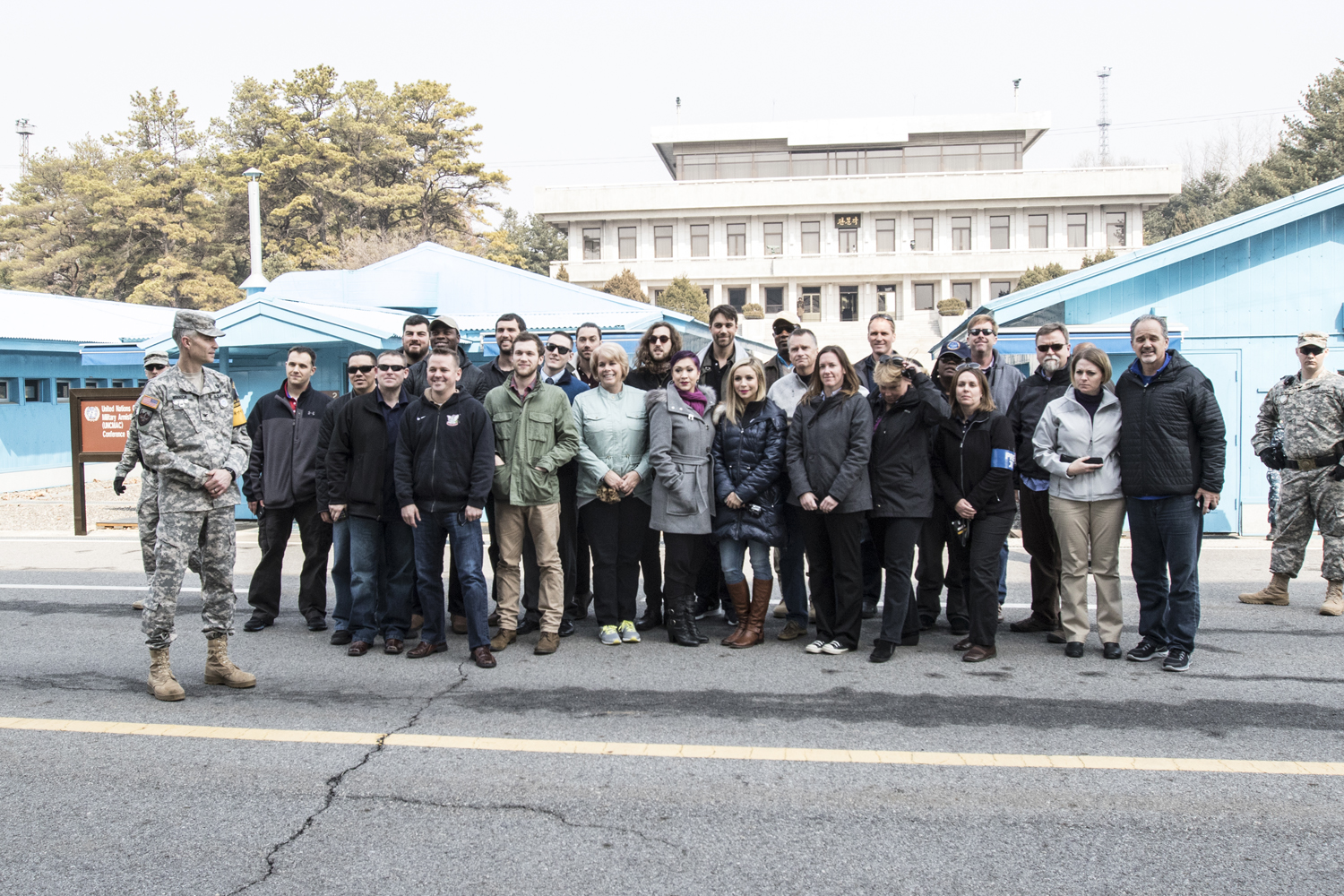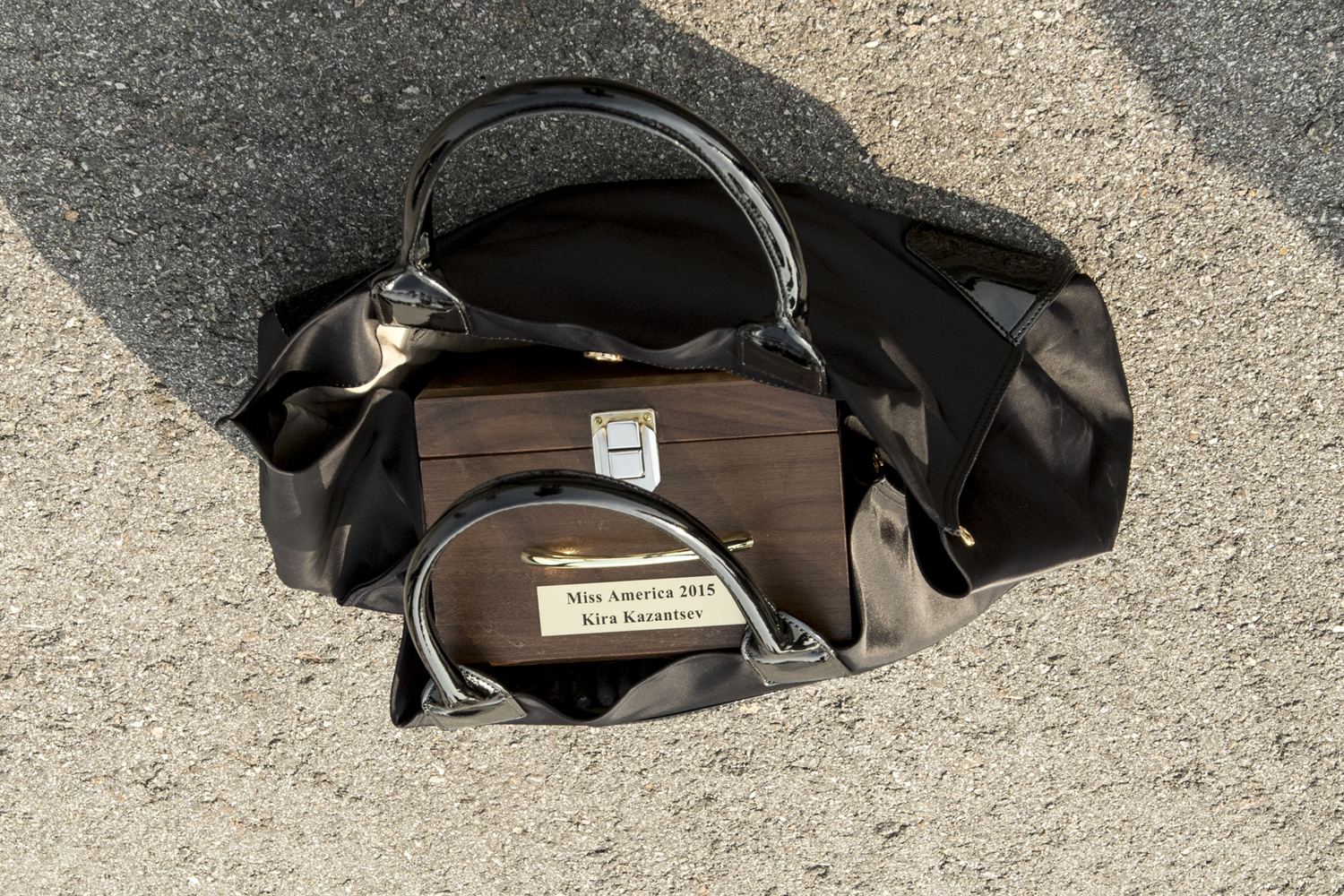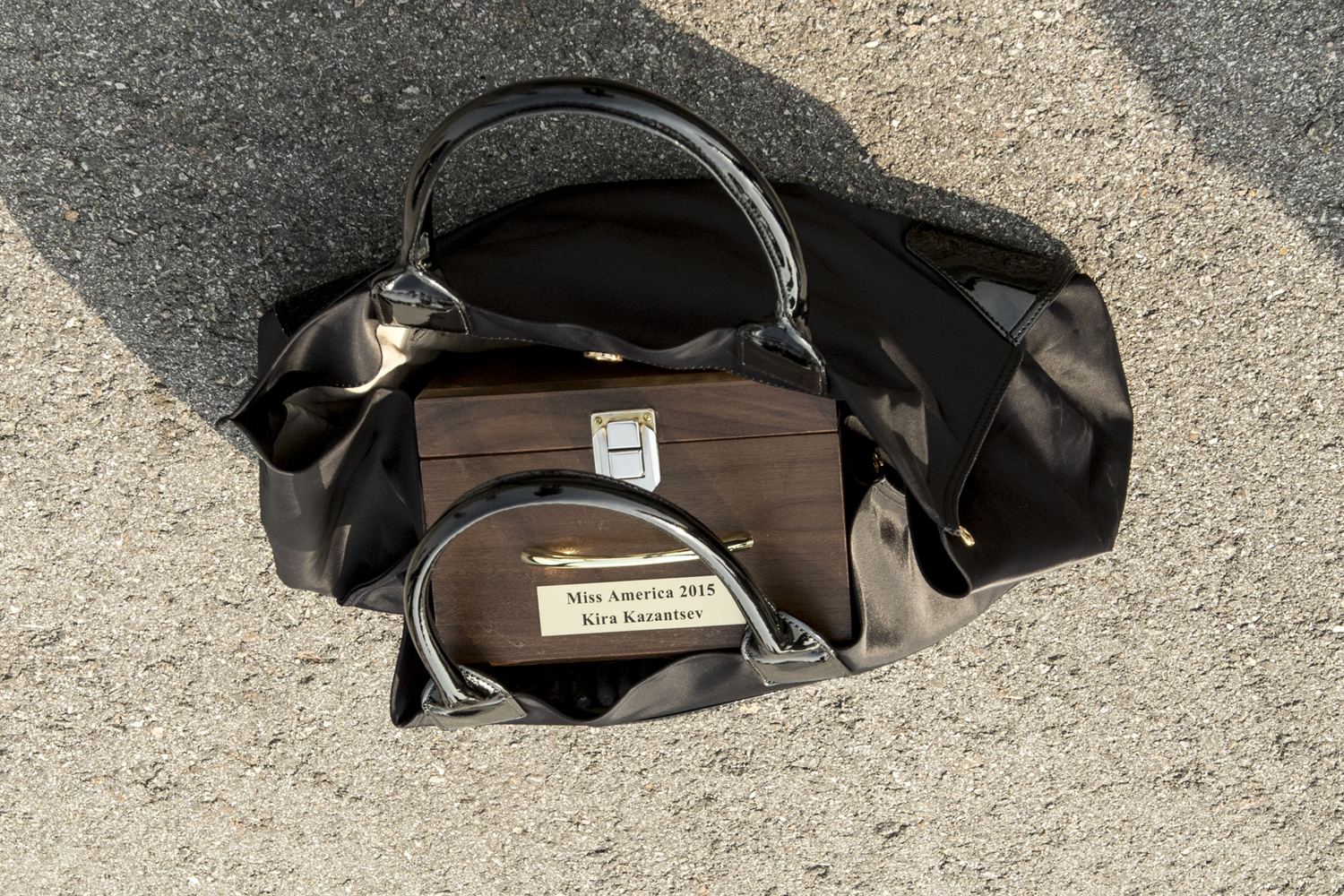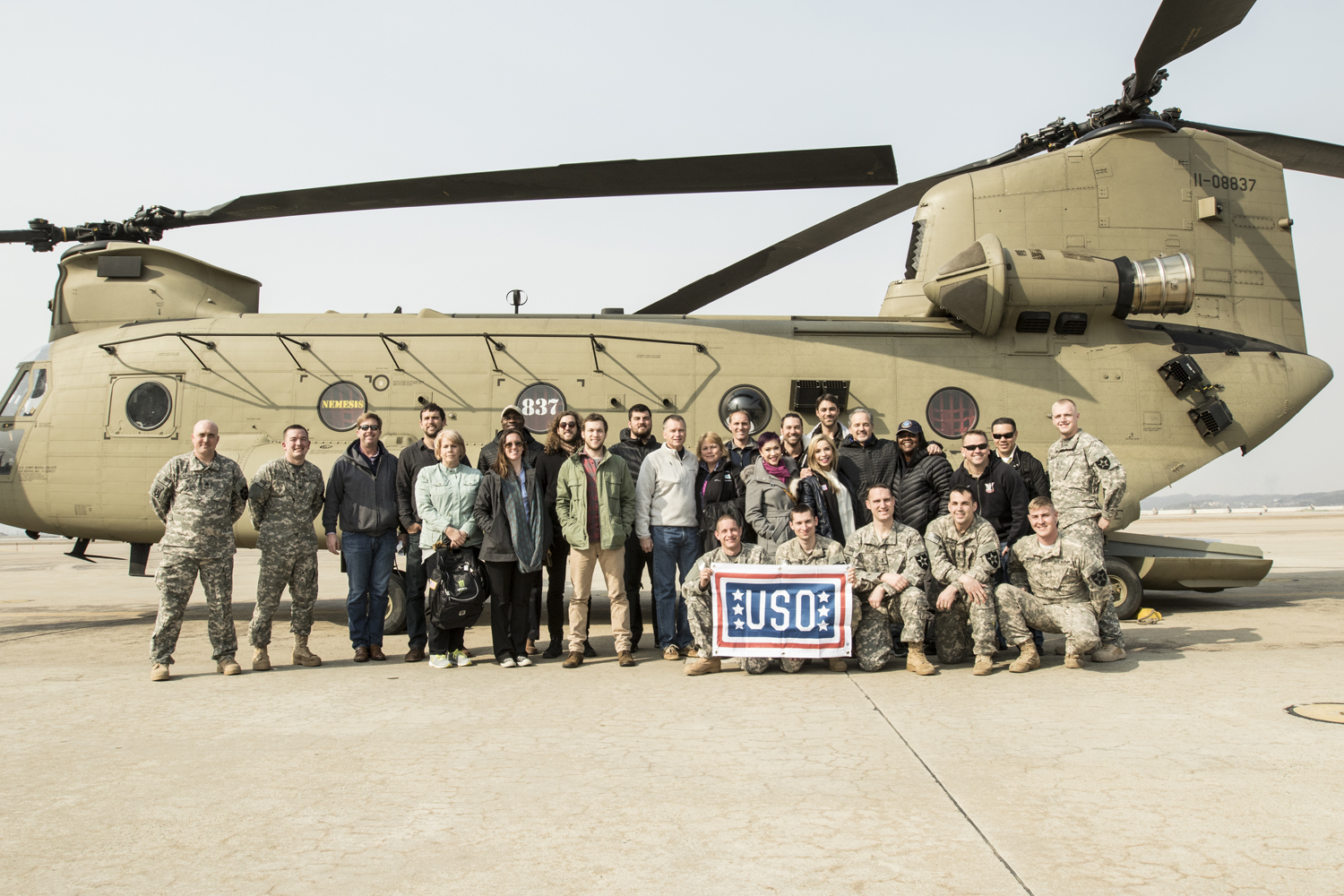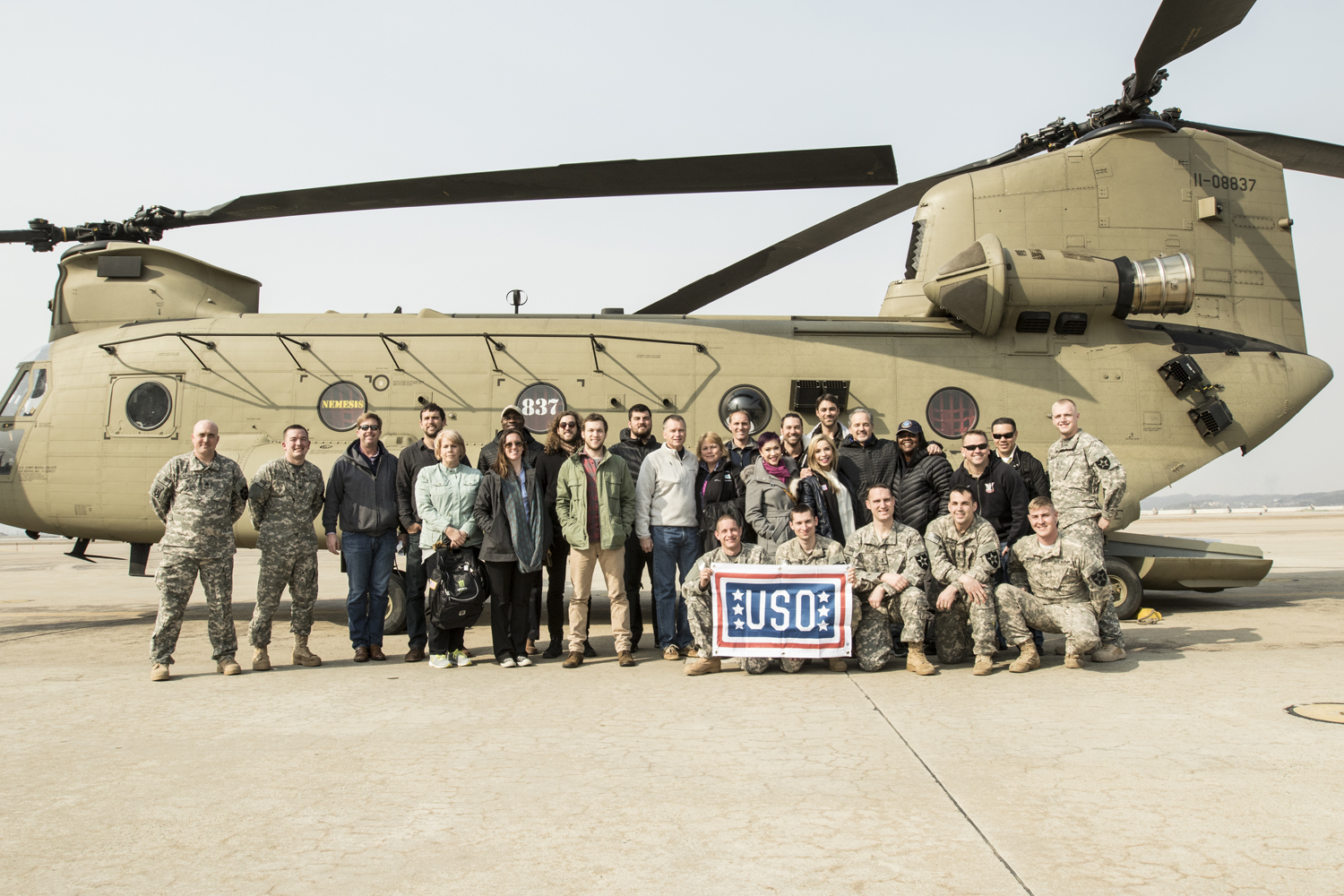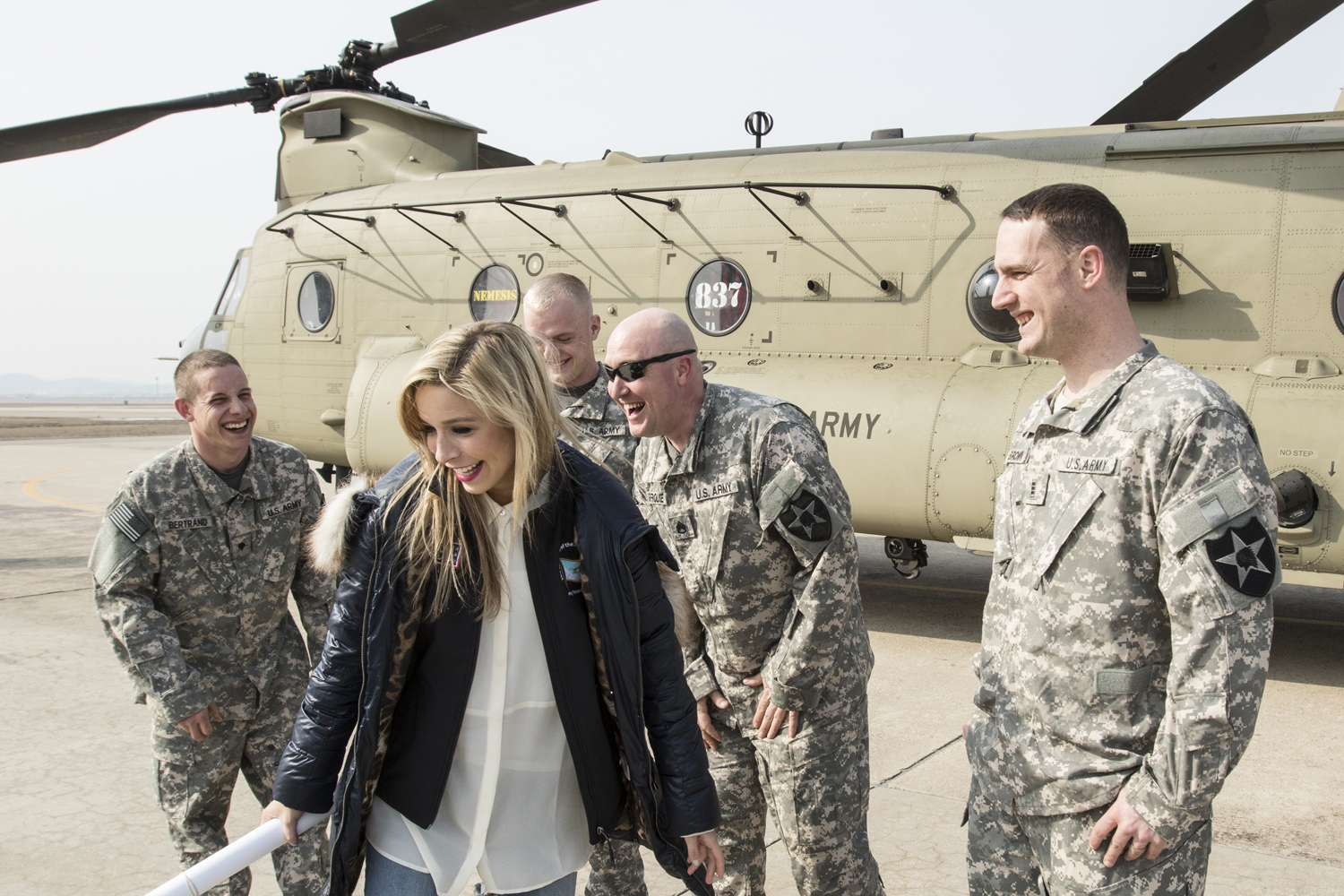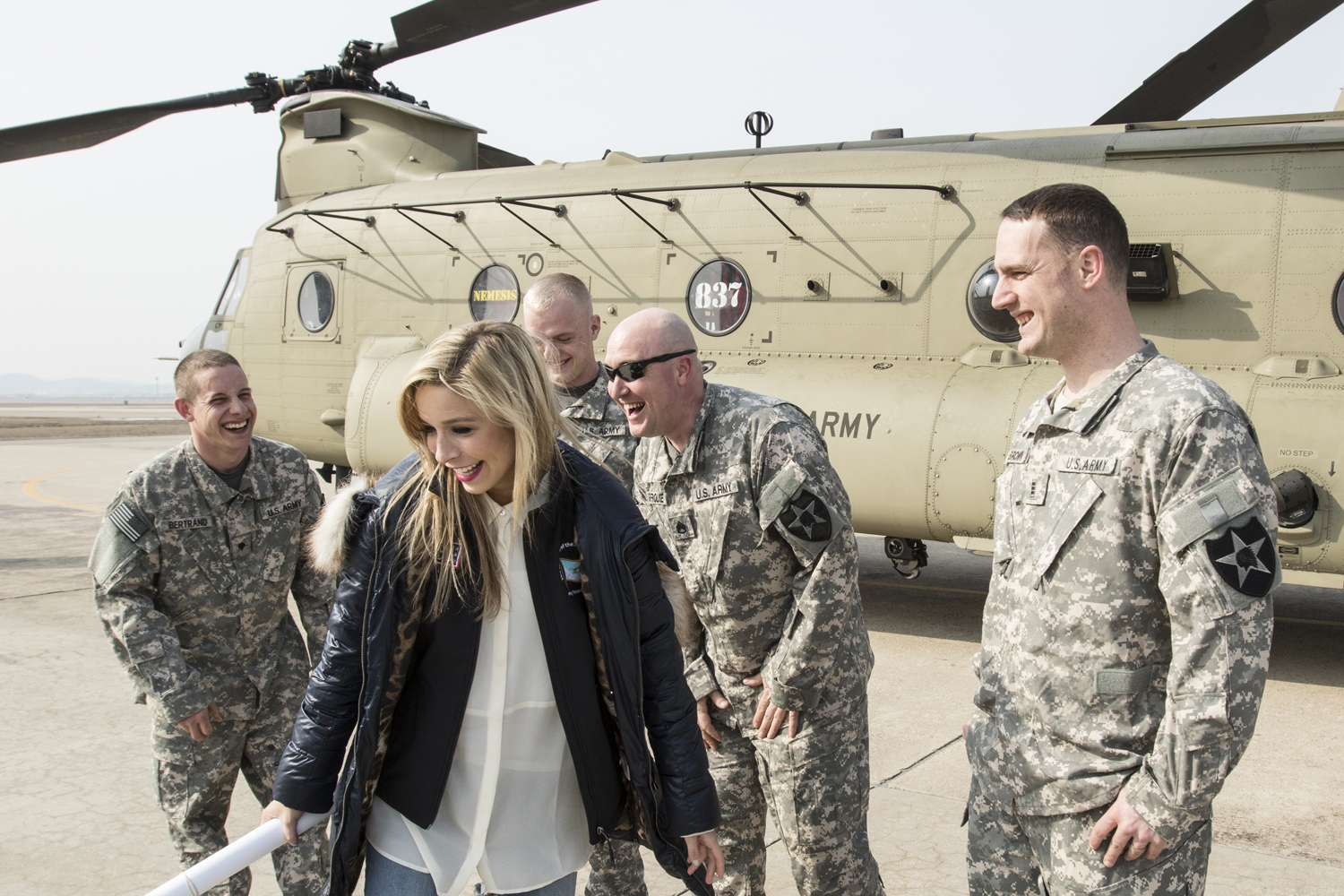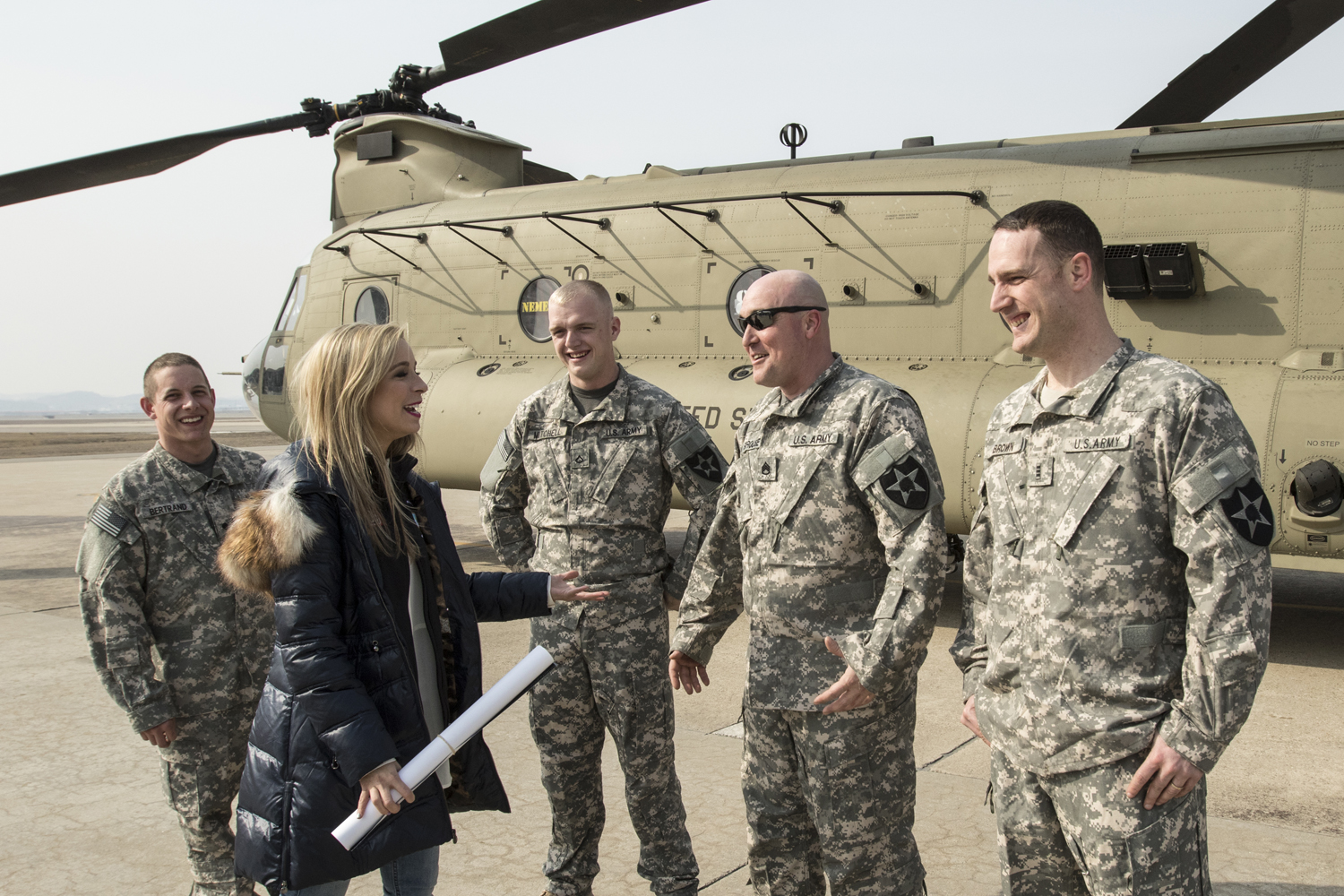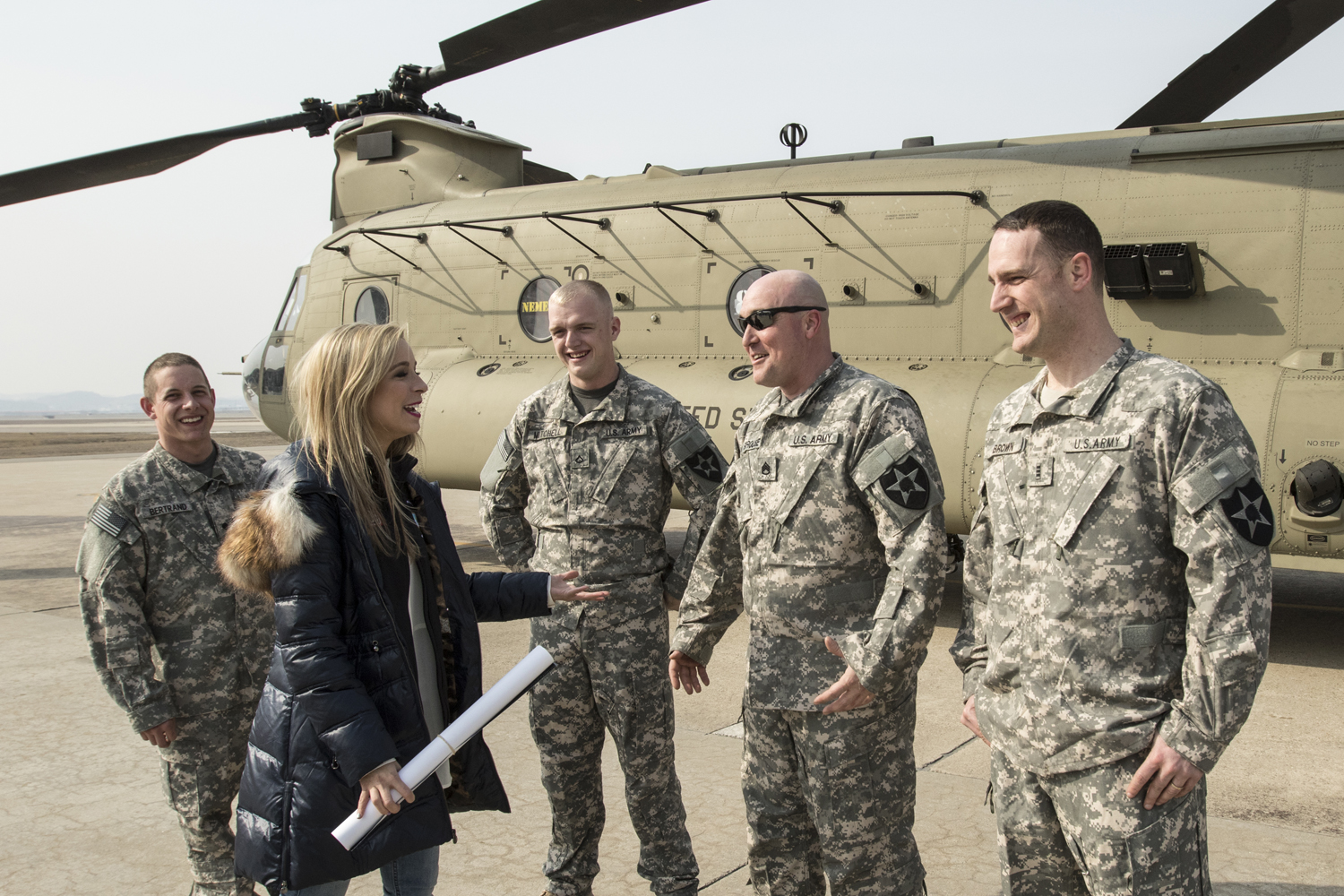 For our final stop on the journey, we headed to Pearl Harbor, HI! This was my first time in the state of Hawaii, so I was especially excited for the visit. We flew in early in the morning, had enough time to shower and rest for a little bit, and my Miss America sister, Miss Hawaii, happened to be on the same island and came to visit me! I can't tell you how wonderful it was to see a friendly face that truly understands my life. In no time, it was time to start the day's official activities. Our first stop was a meet and greet at Kaneohe Marine Base. It was pretty special to see all the little kids throwing footballs with Dwayne, Andrew, and David, and I had some fun with several aspiring princesses. After pictures and goodbyes, we went back to Pearl Harbor and enjoyed a tour that included visiting the USS Arizona. Conducting the tour was a sailor who would reenlist that day, with the Admiral leading the ceremony. It was quite a beautiful scene, on the pristine water, with our entire tour cast and staff on the beautiful USS Arizona, to witness a man's re-commitment to serving the country he loves so much, surrounded by his family.
Speaking of people who love their country, after our USO meet & greet at Marine Corps Base Hawaii (formerly Marine Corps Air Station Kaneohe Bay) and tour of the USS Arizona, we headed to essays for cheap Joint Base Pearl Harbor Hickam to perform our very last USO show. Although we were tired and many of us had lost our voices, this was truly our best show. Wee-Man's introduction that night was particularly impressive, as he even remembered to incorporate the four "stages" of the crown. That night's rendition of "God Bless America" was especially tearful. I couldn't believe that something the Miss America team had worked so hard to achieve was over in the blink of an eye.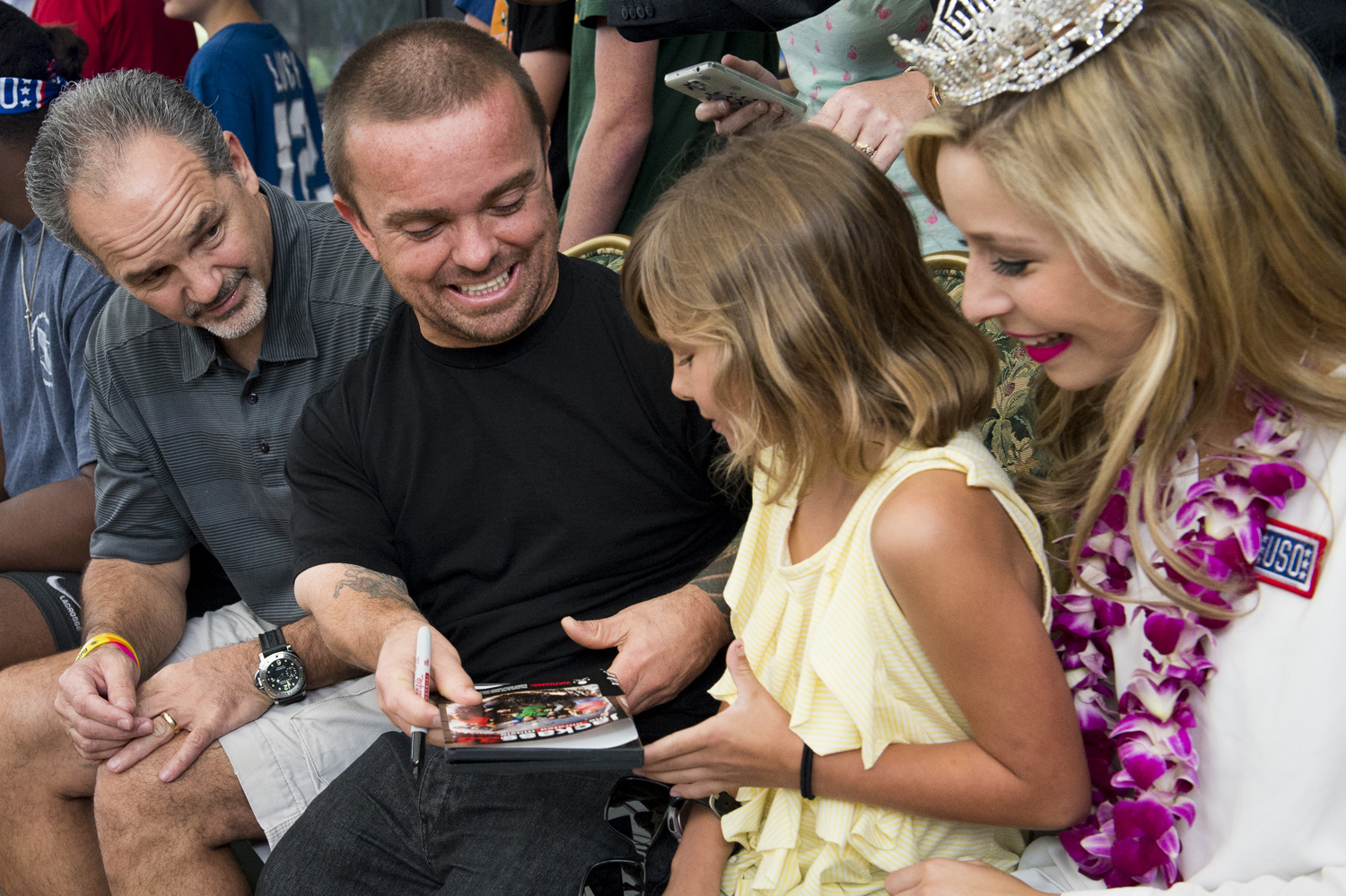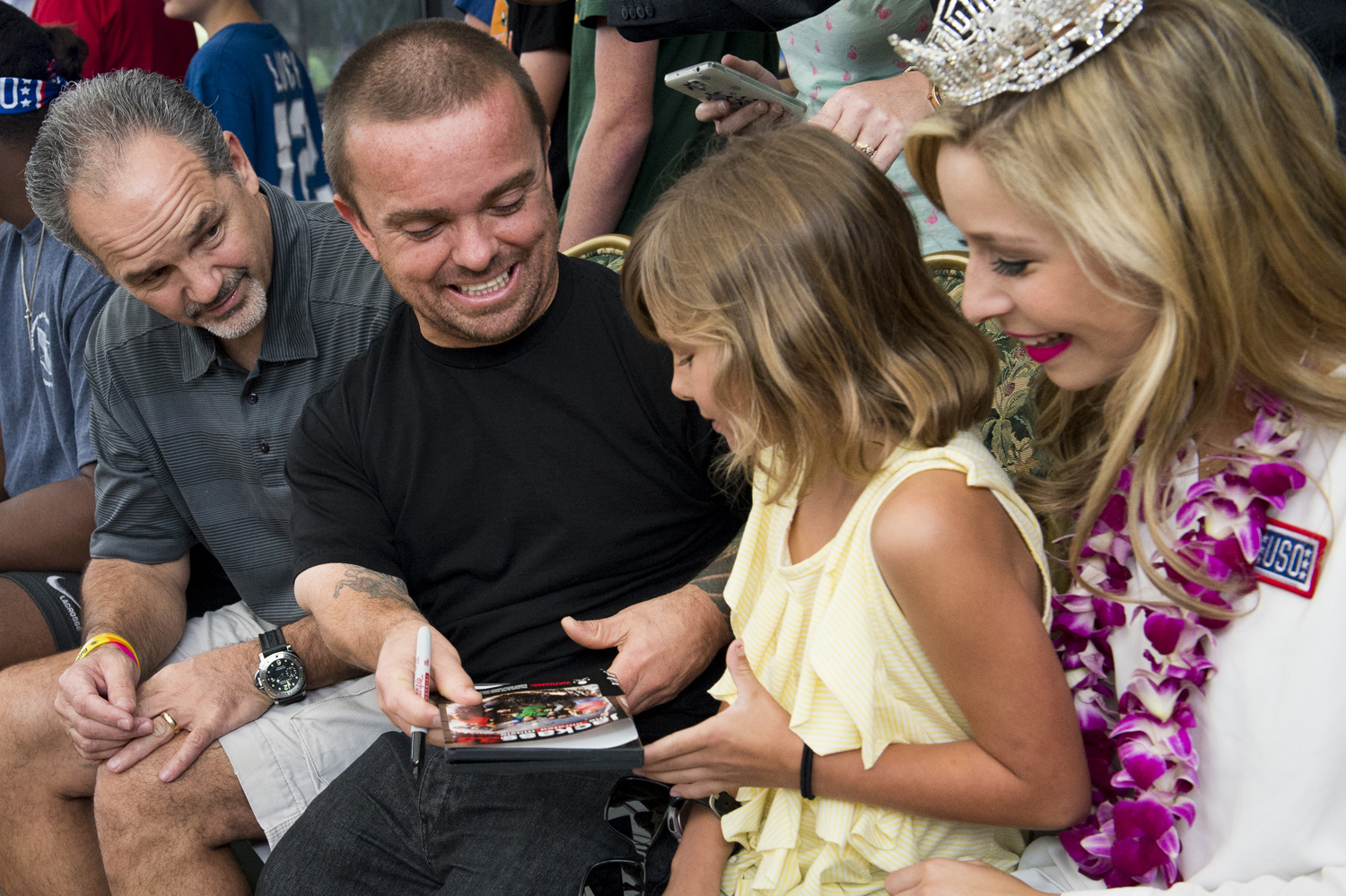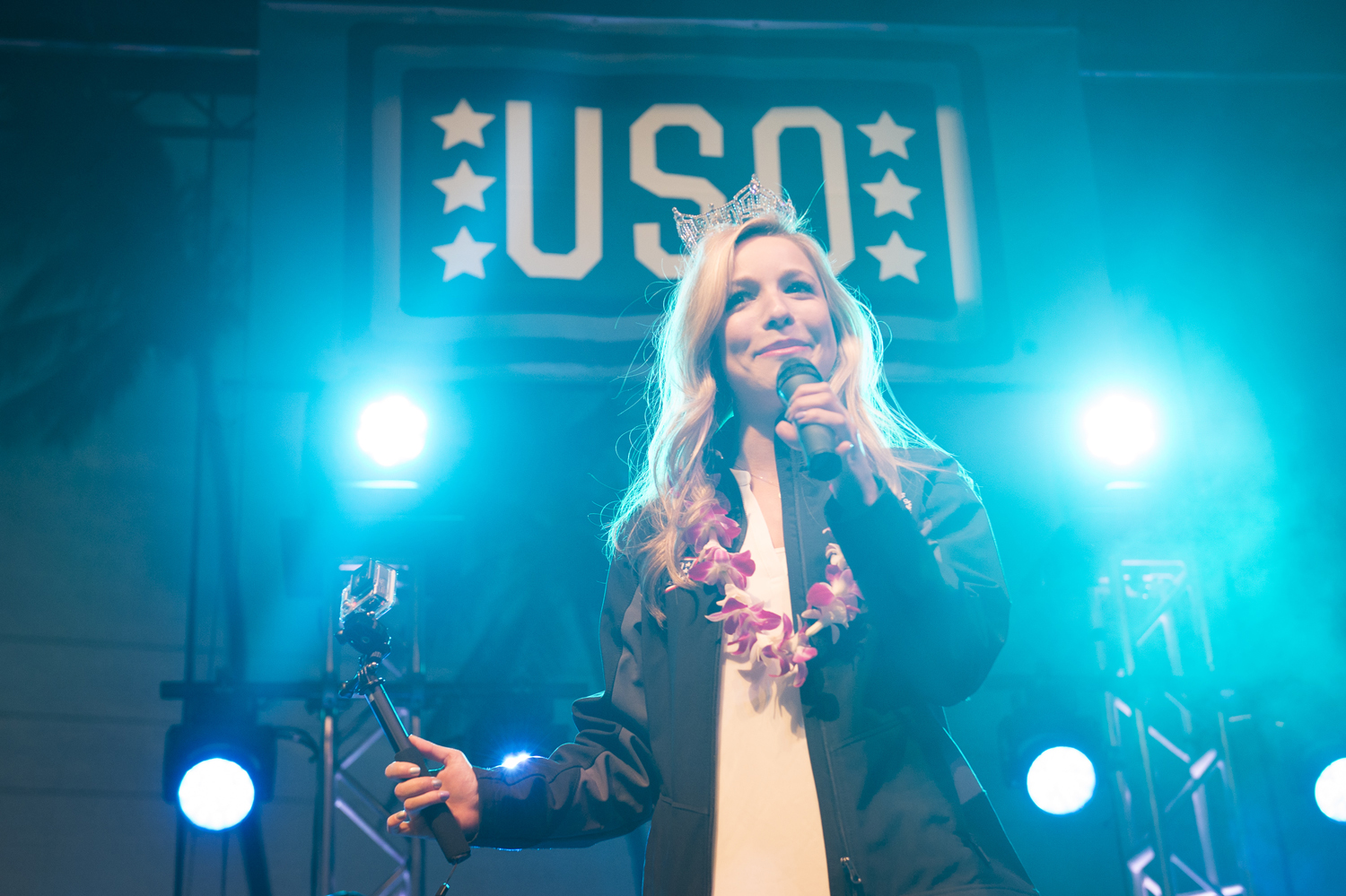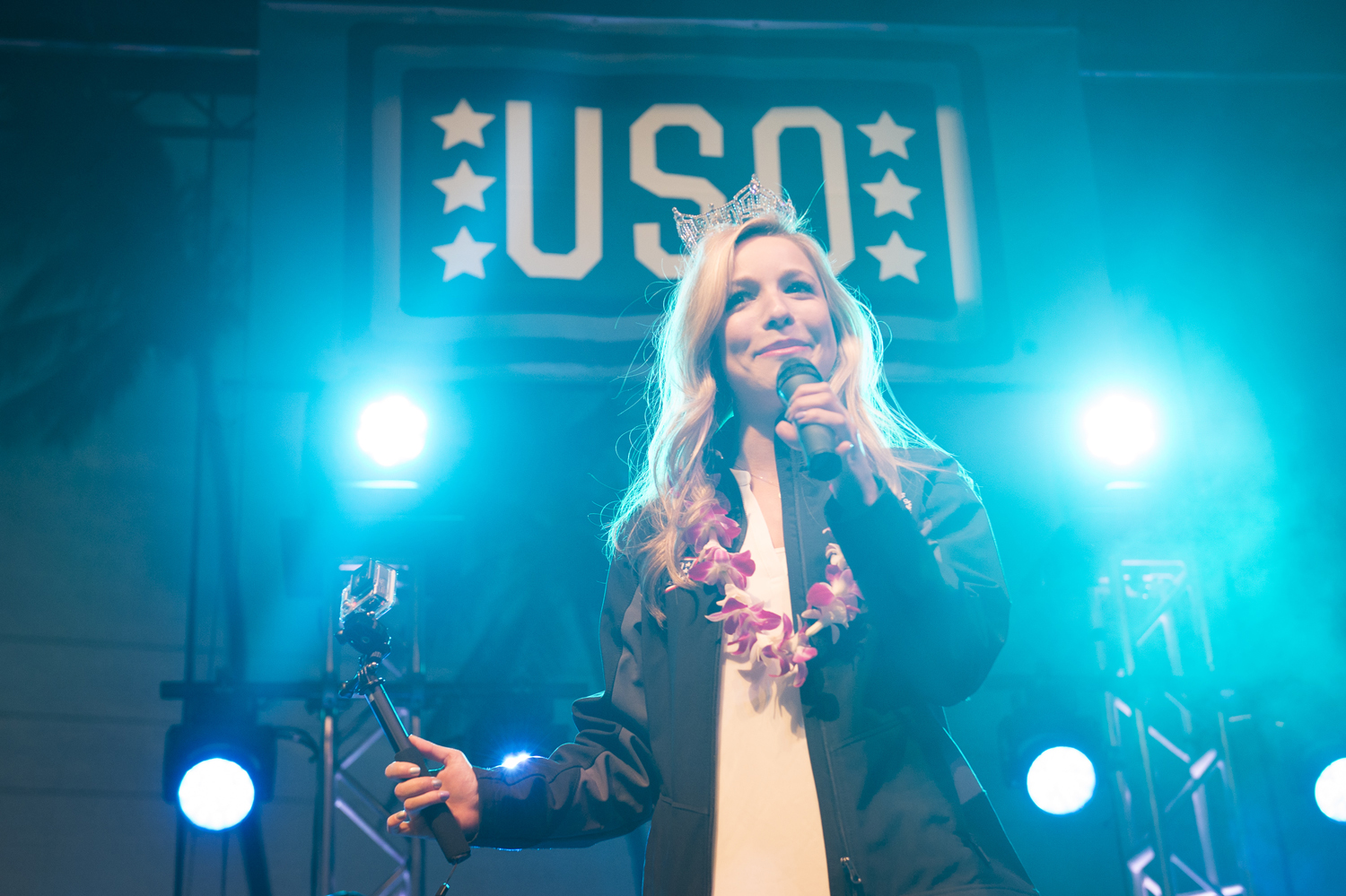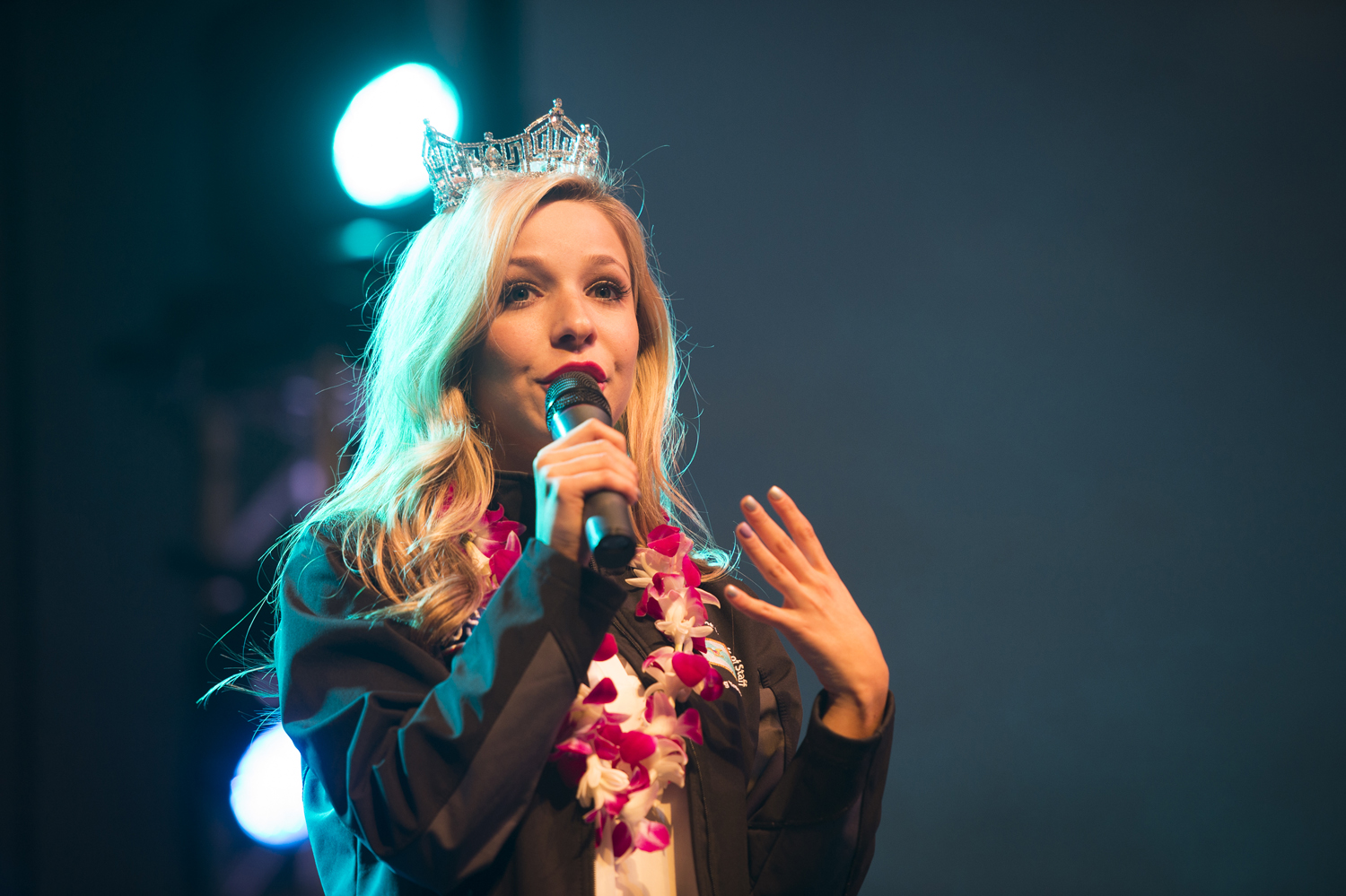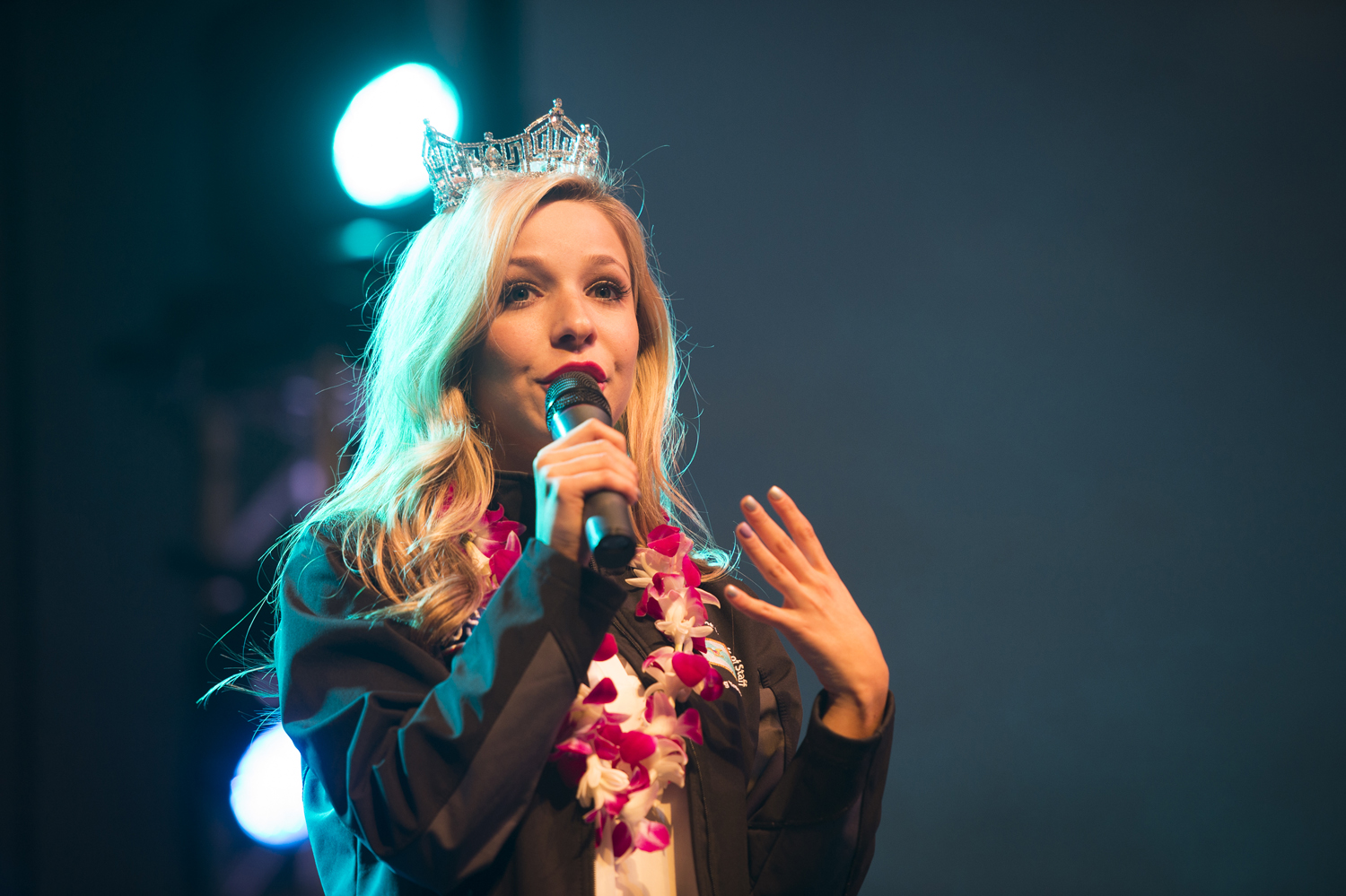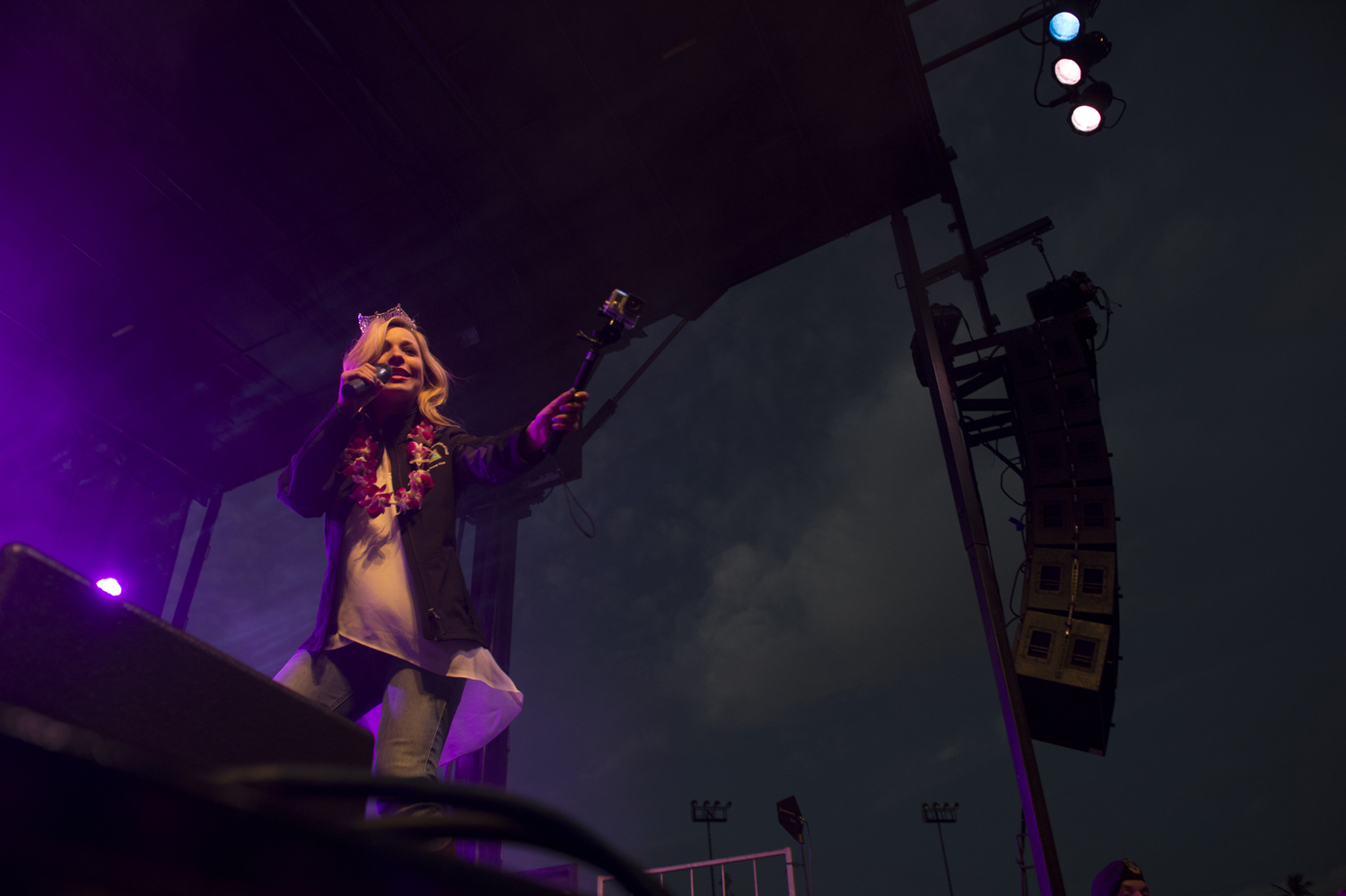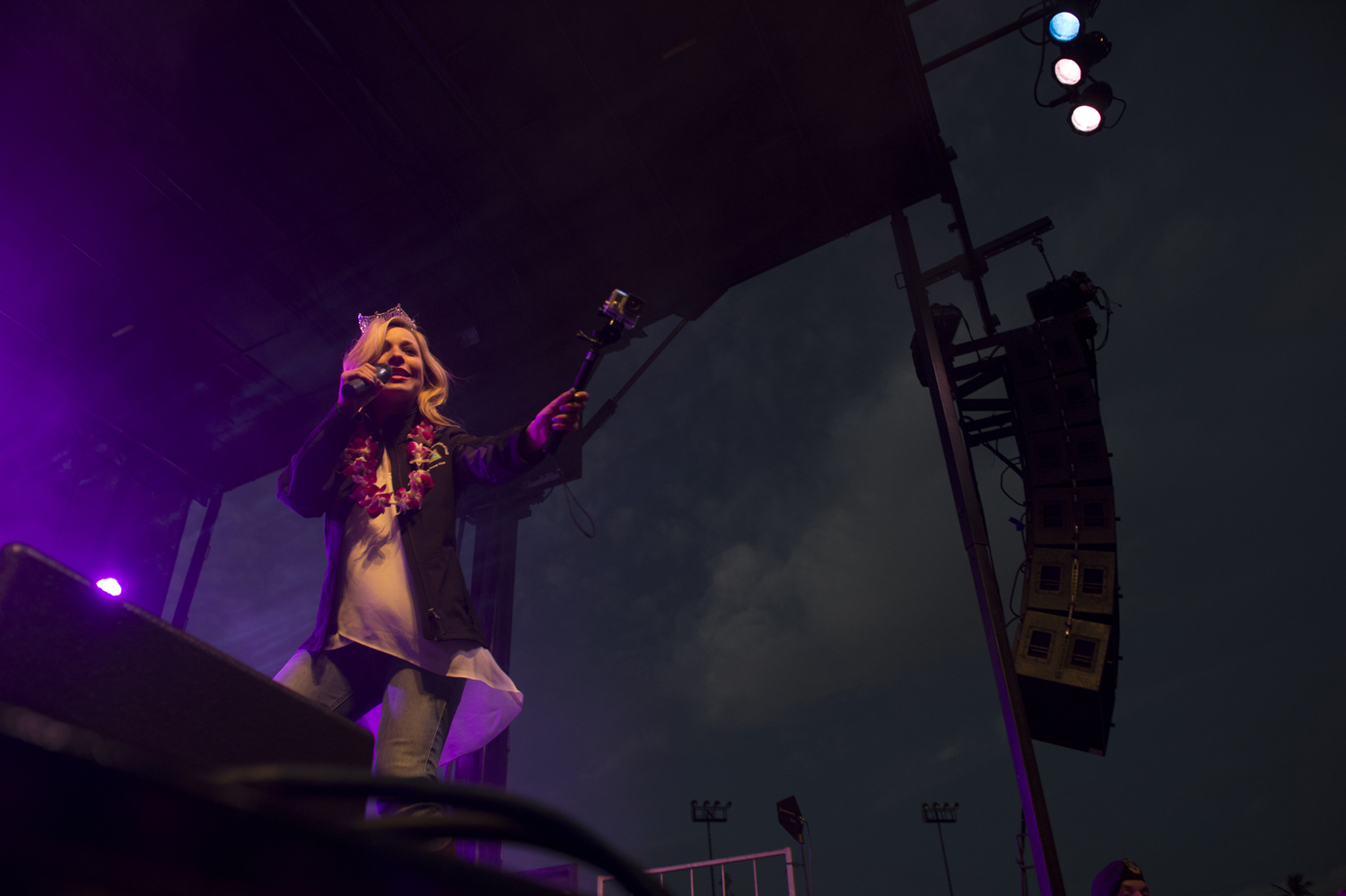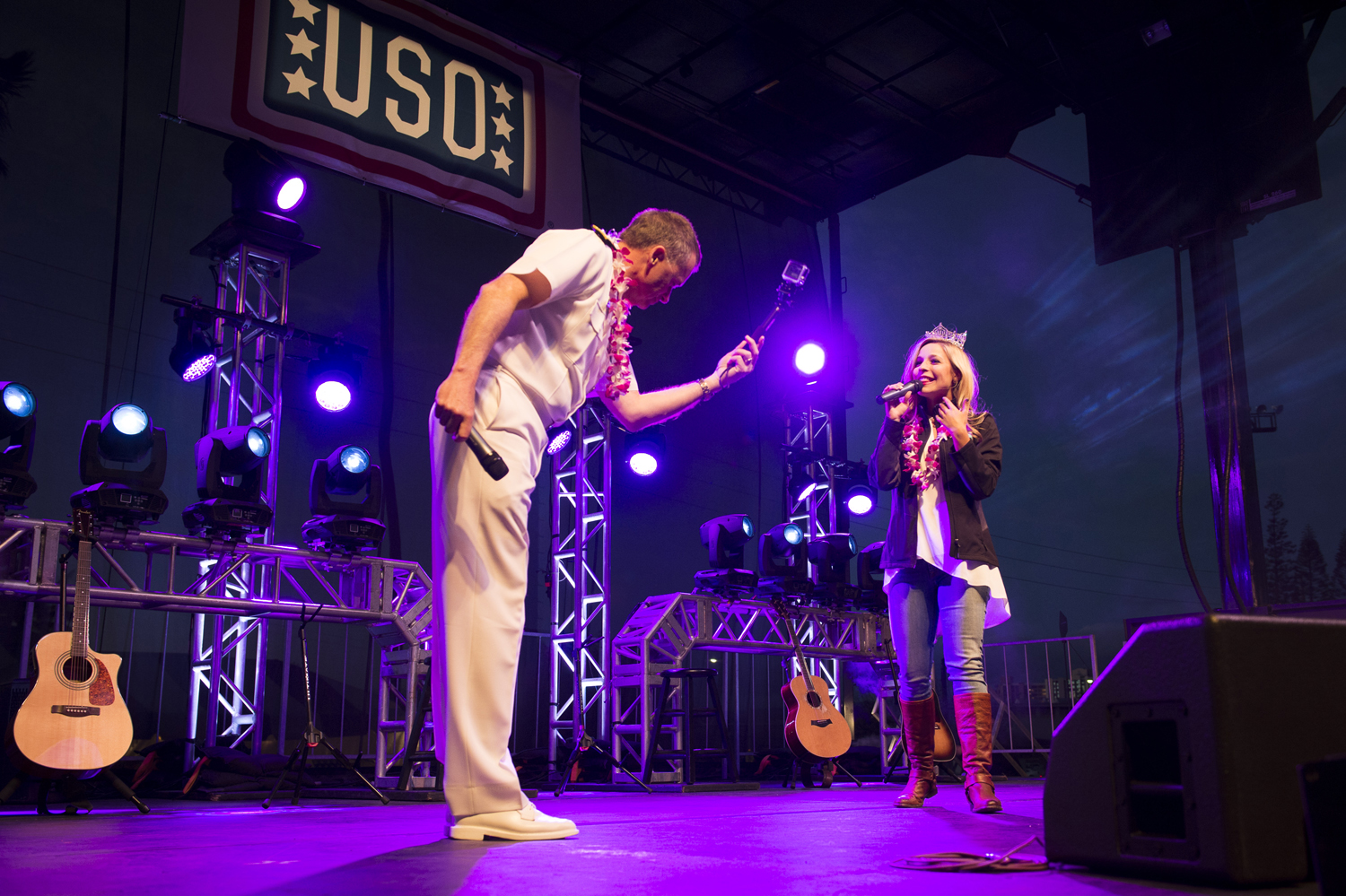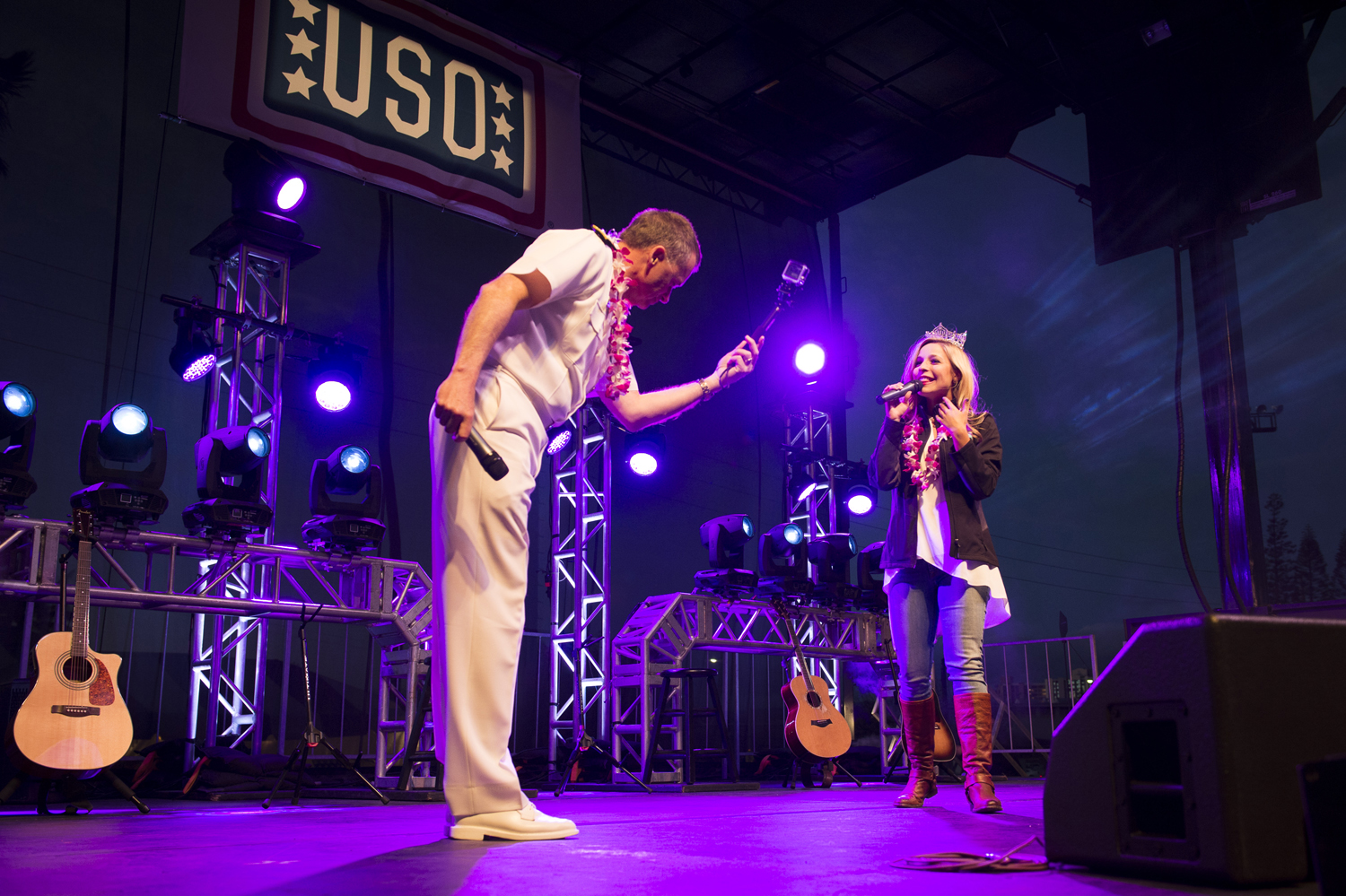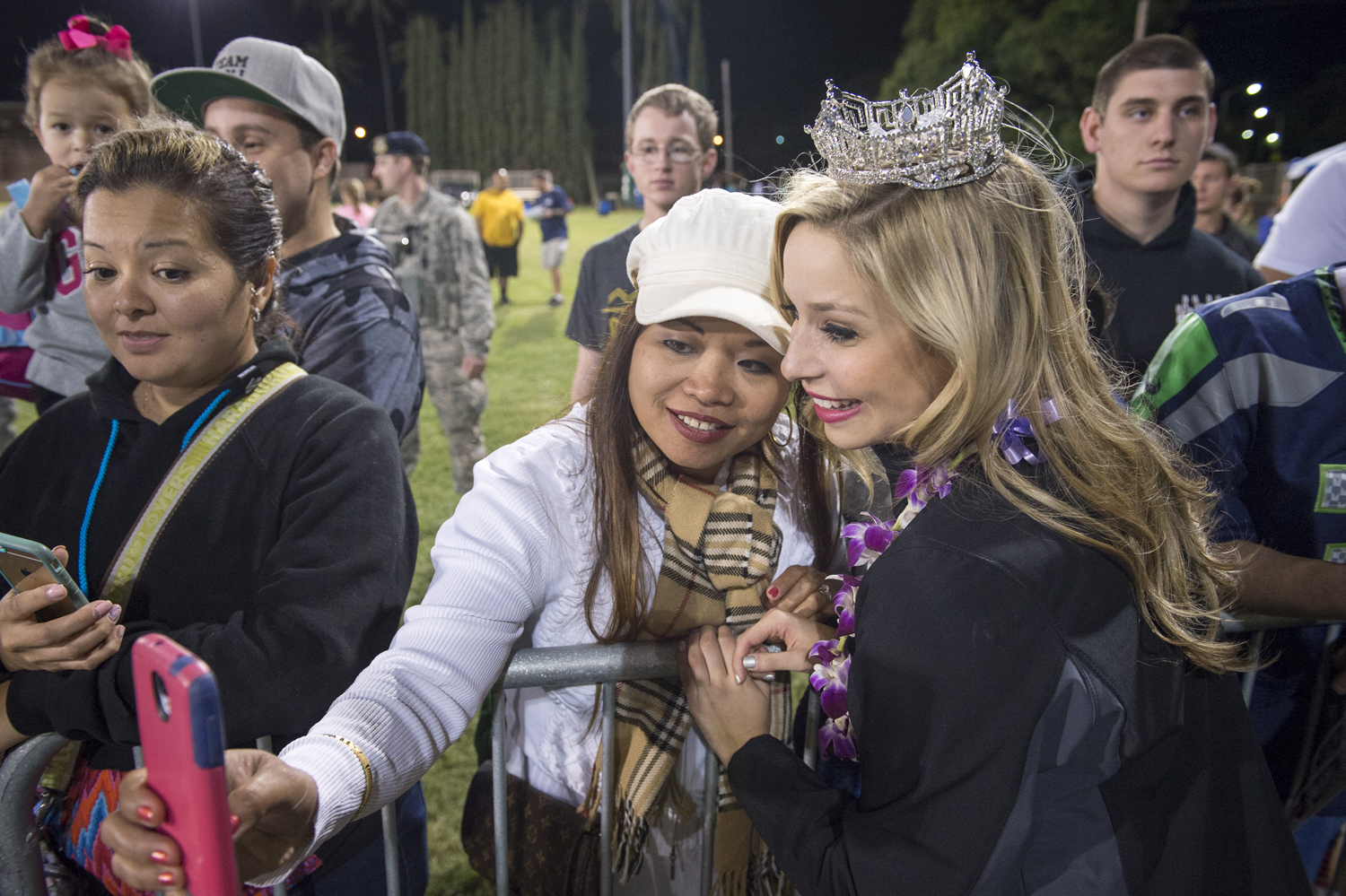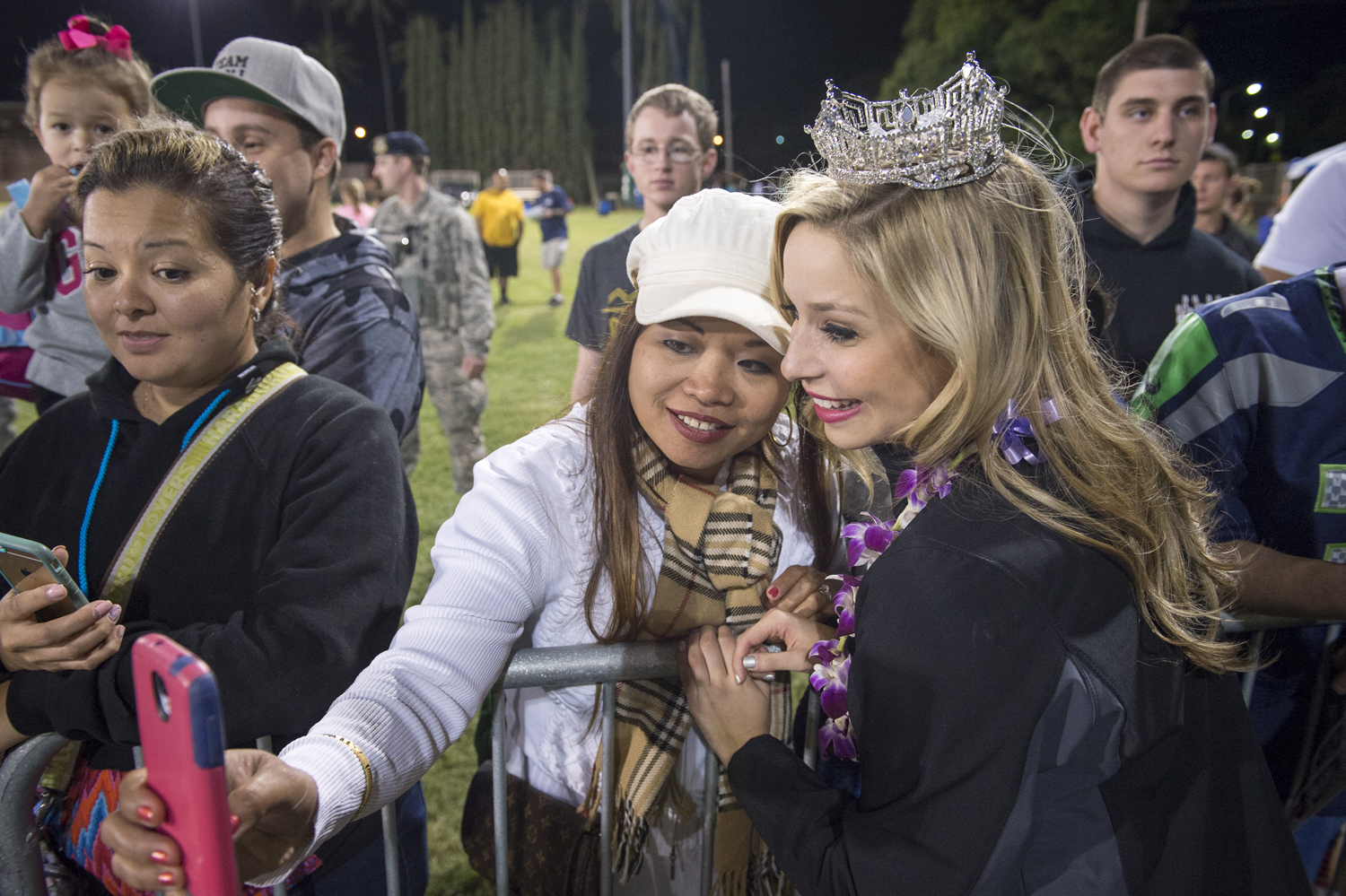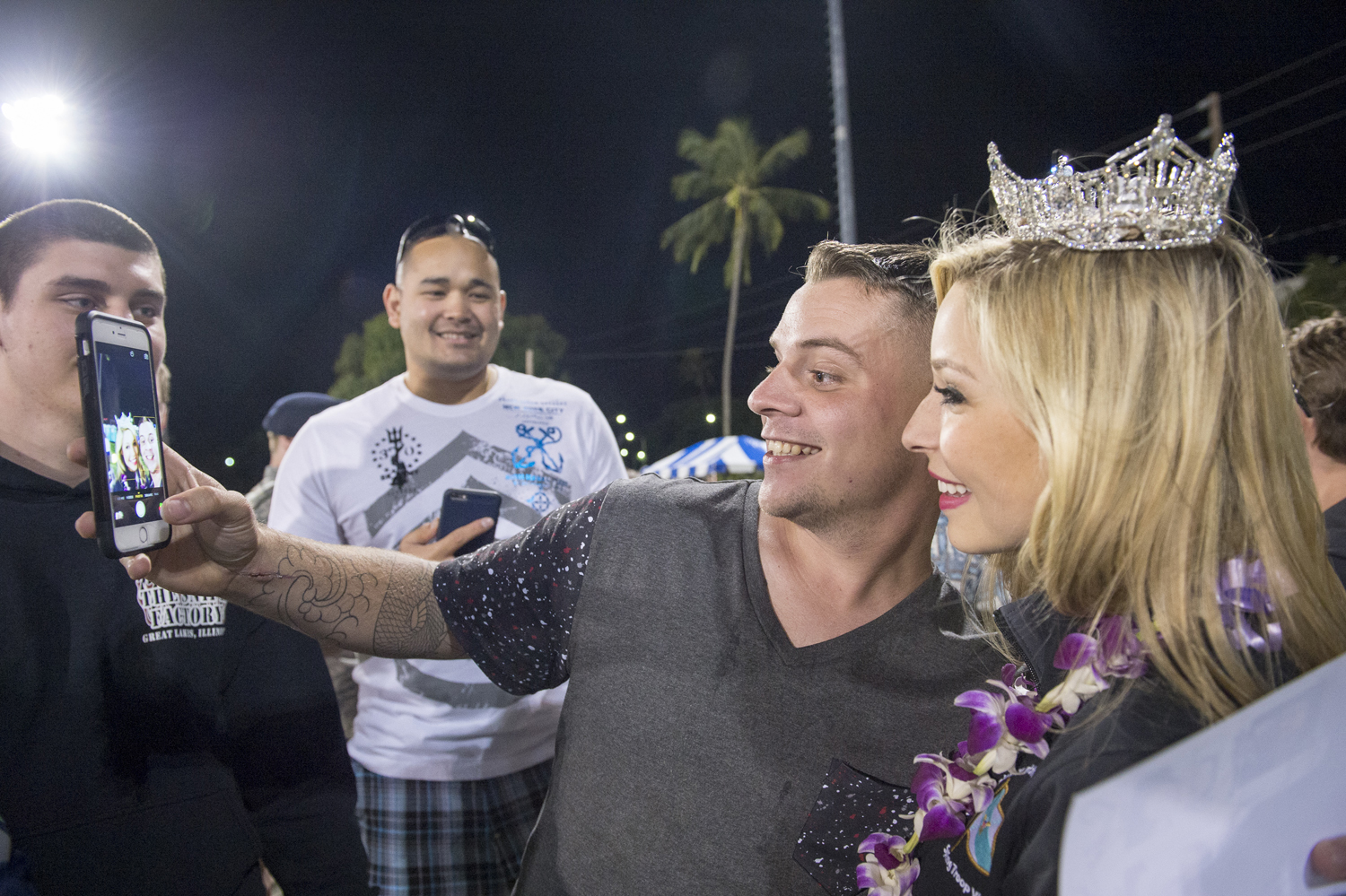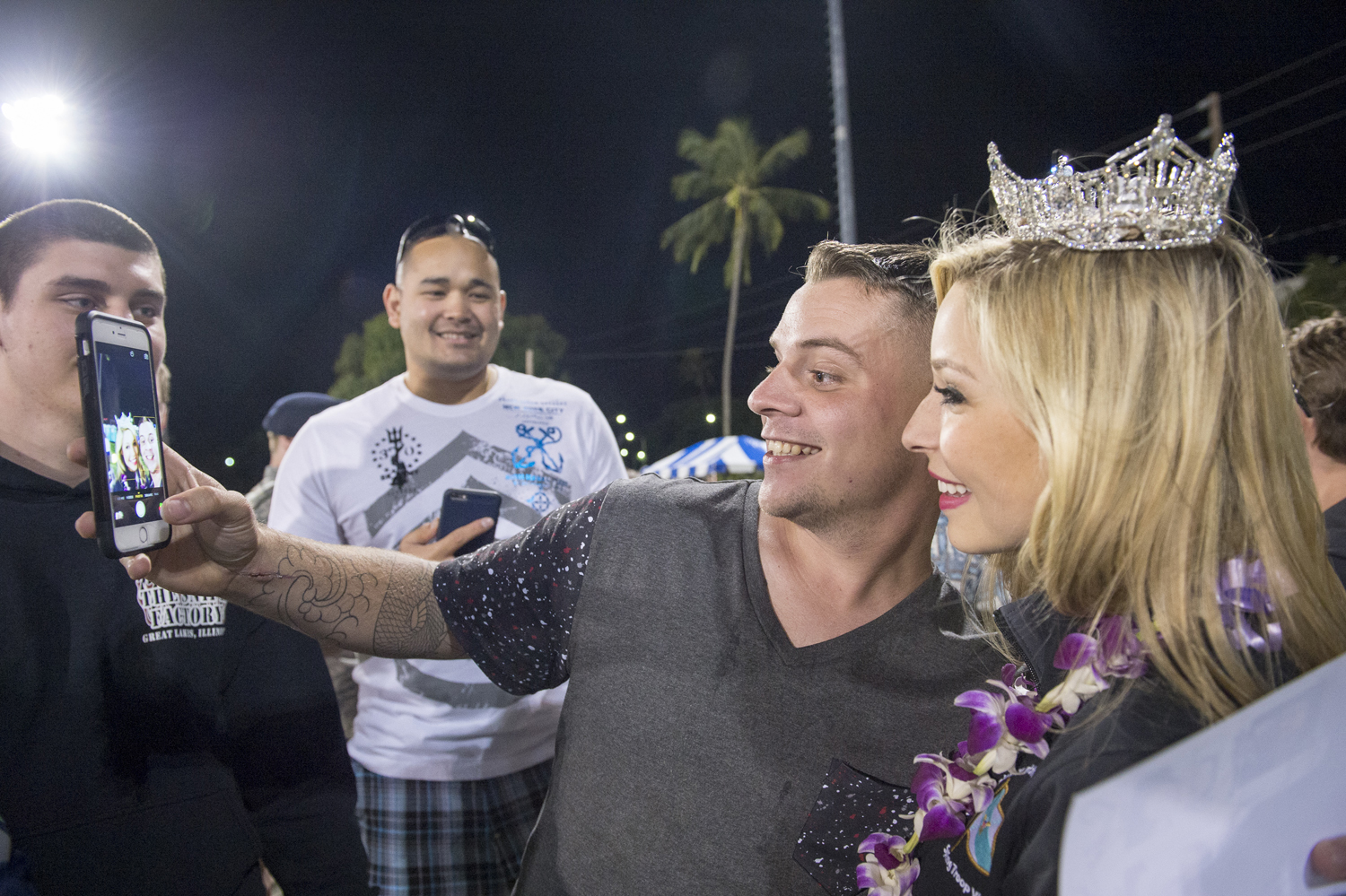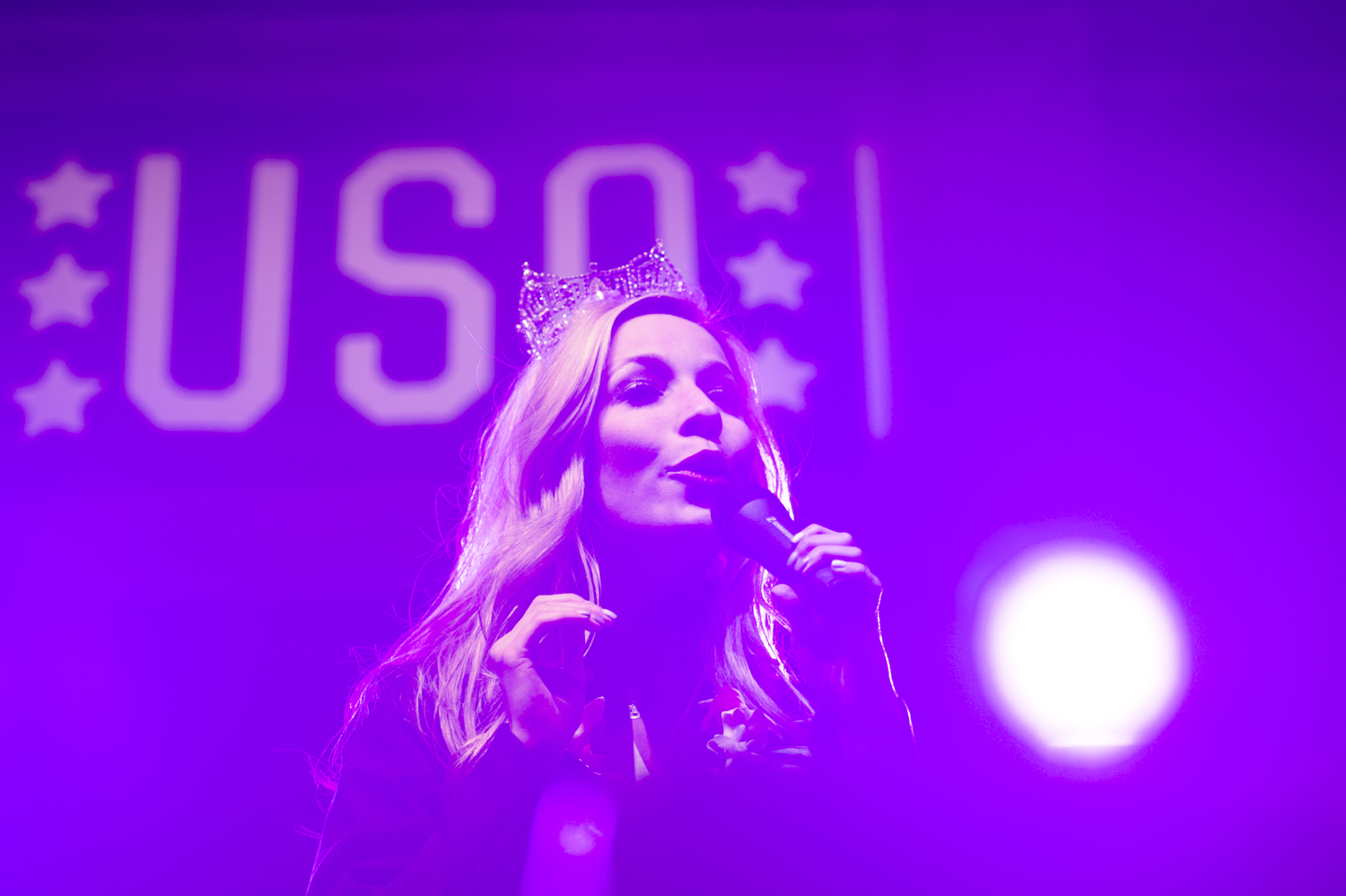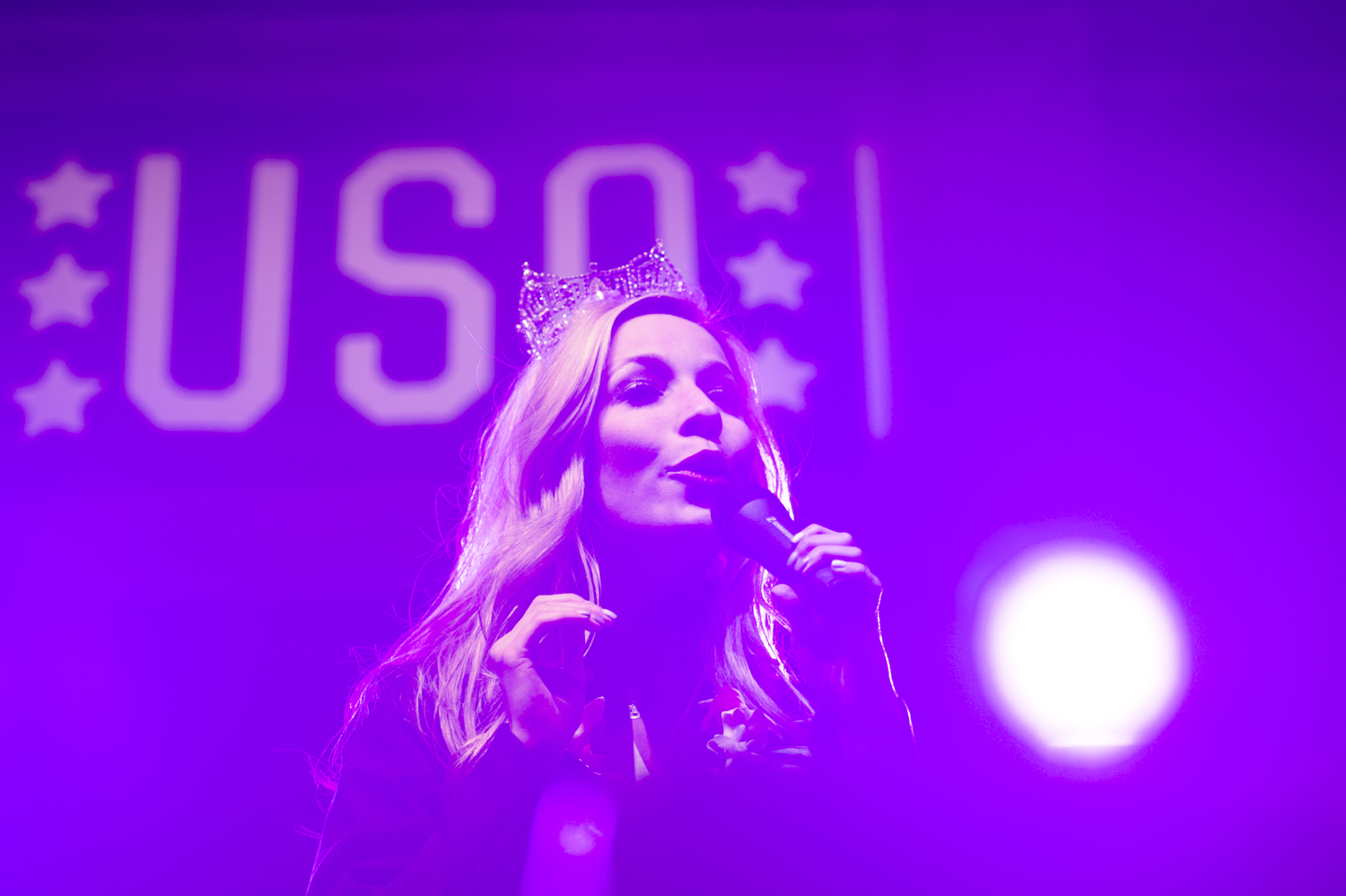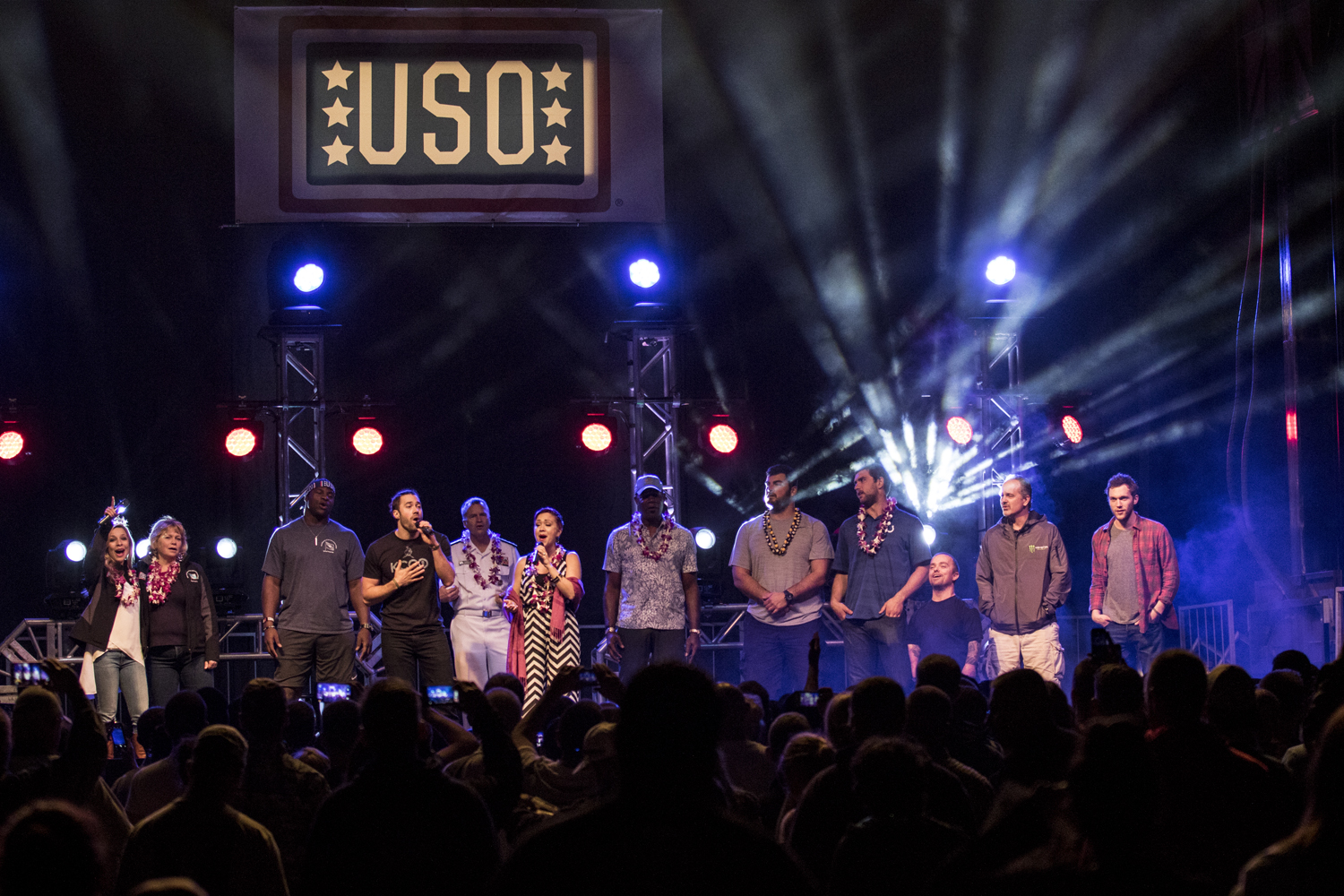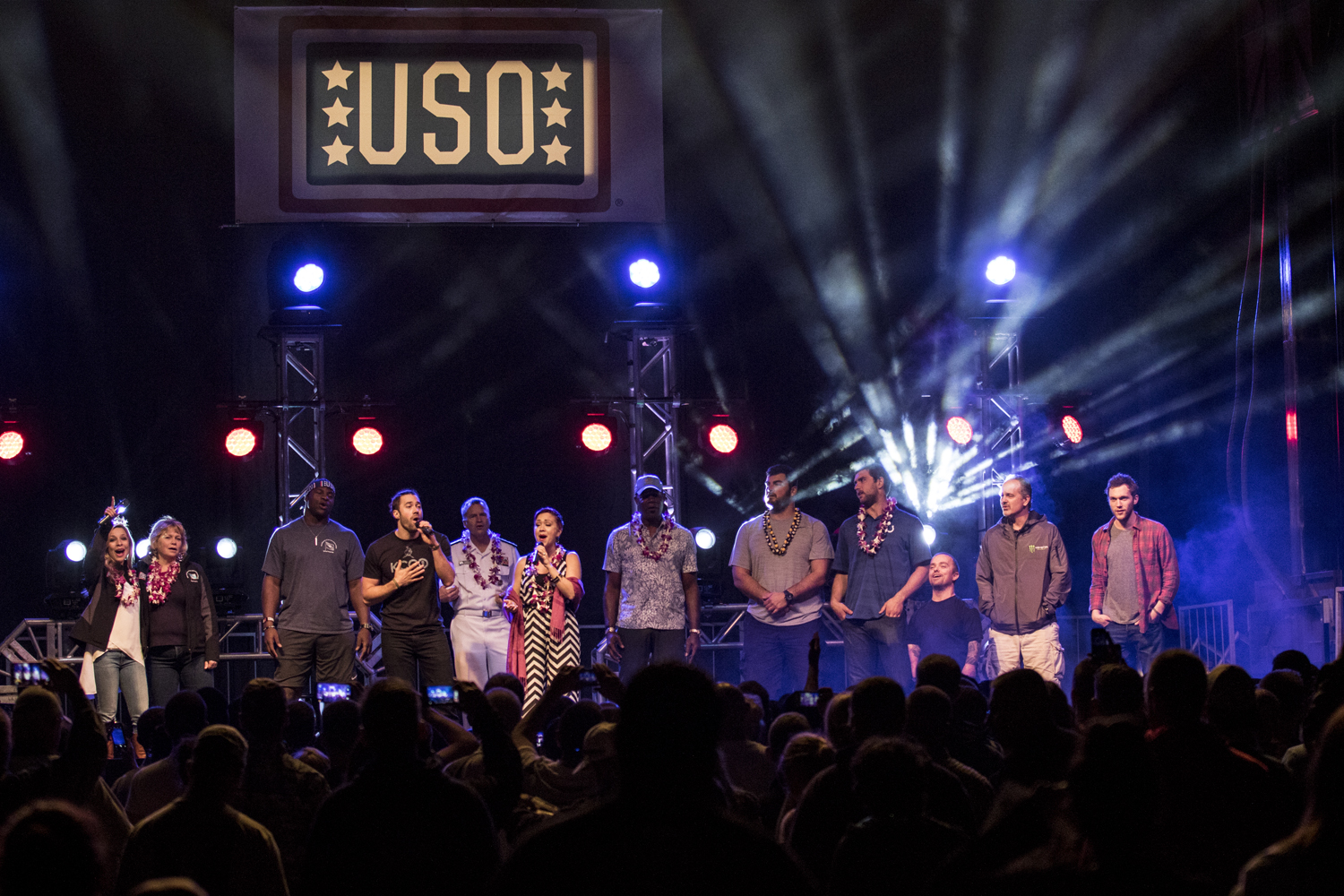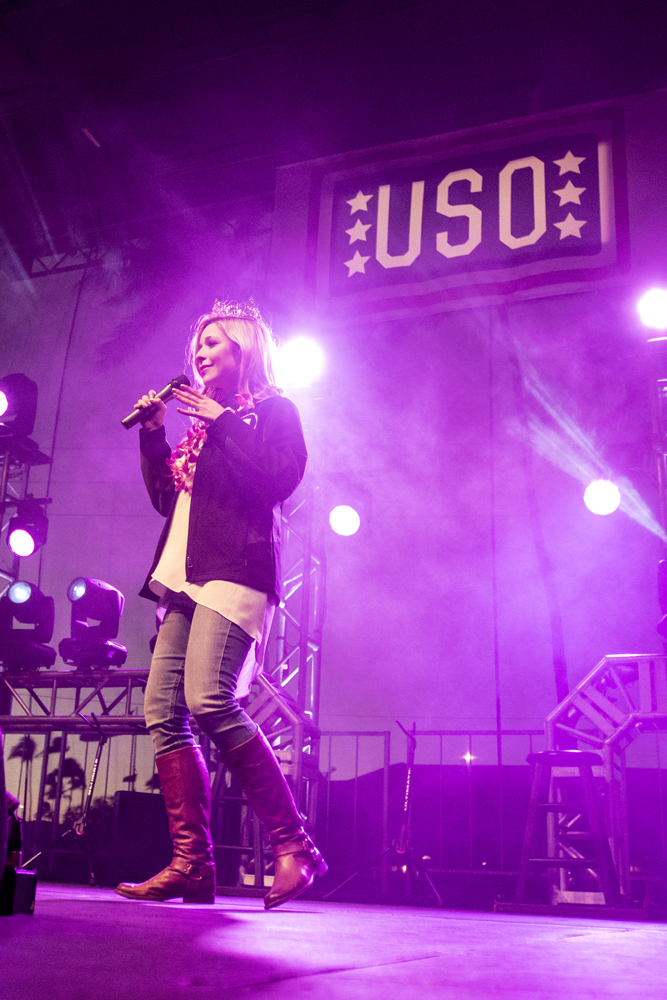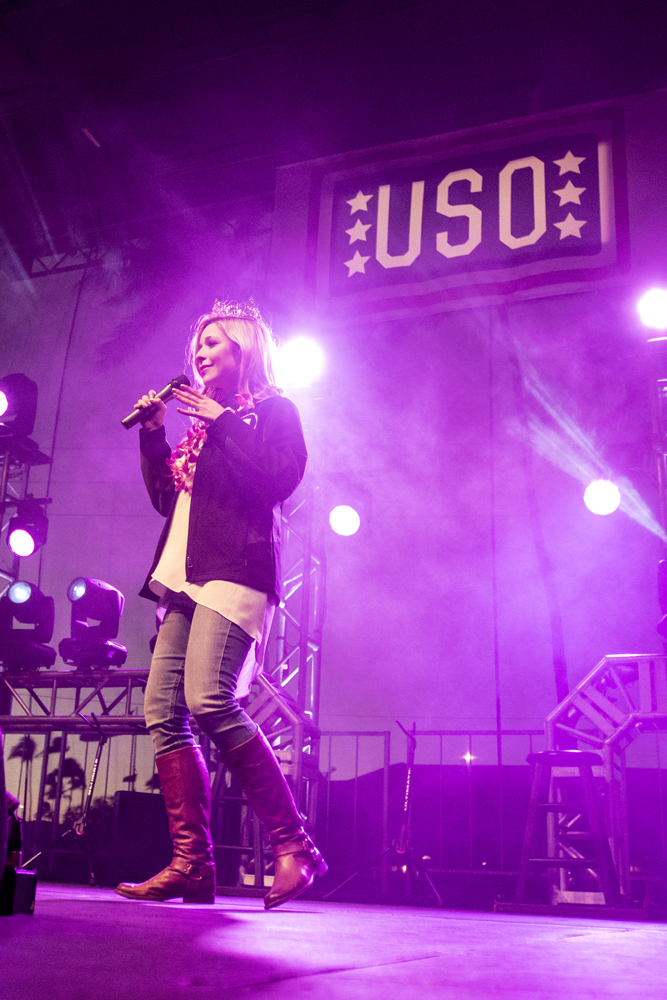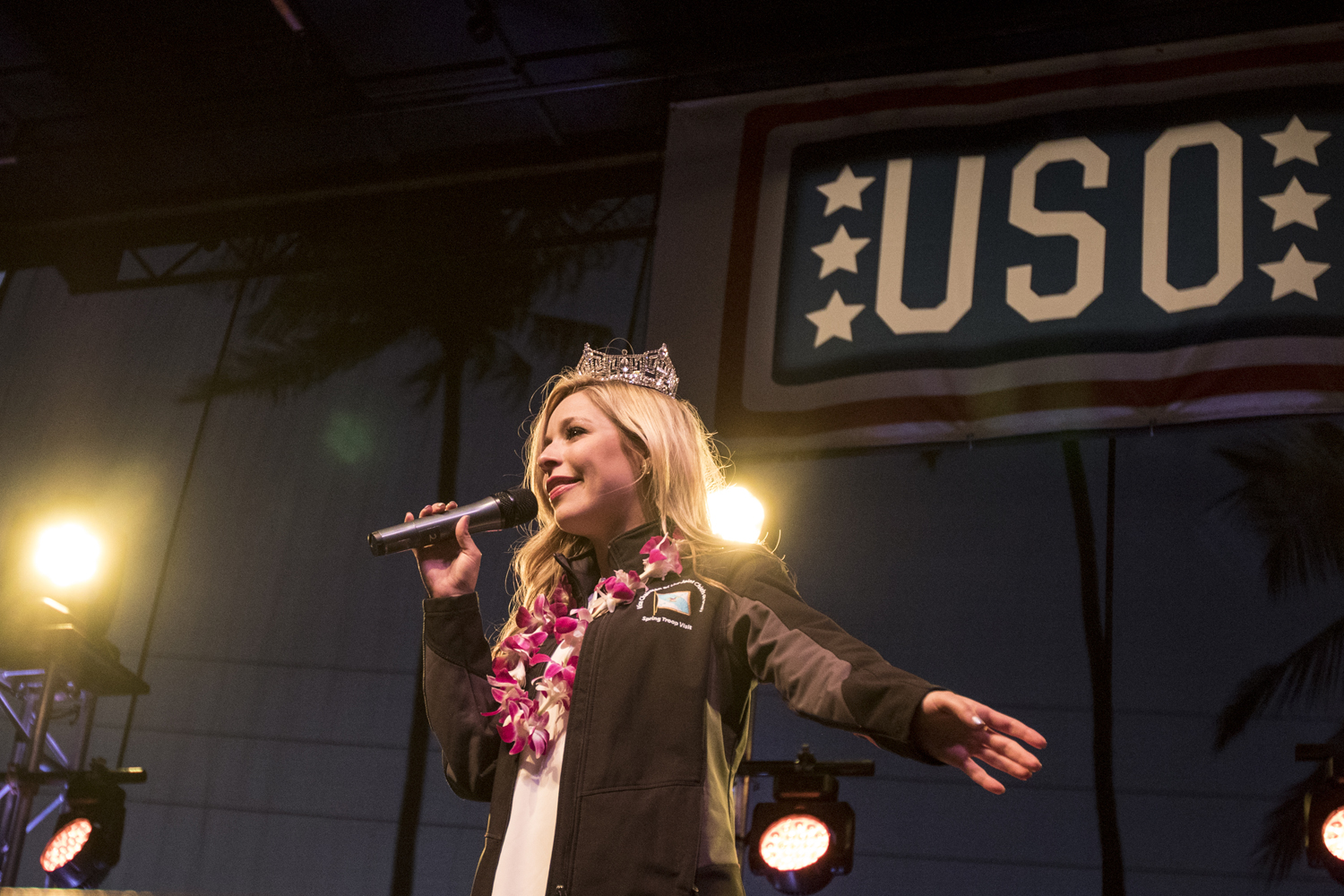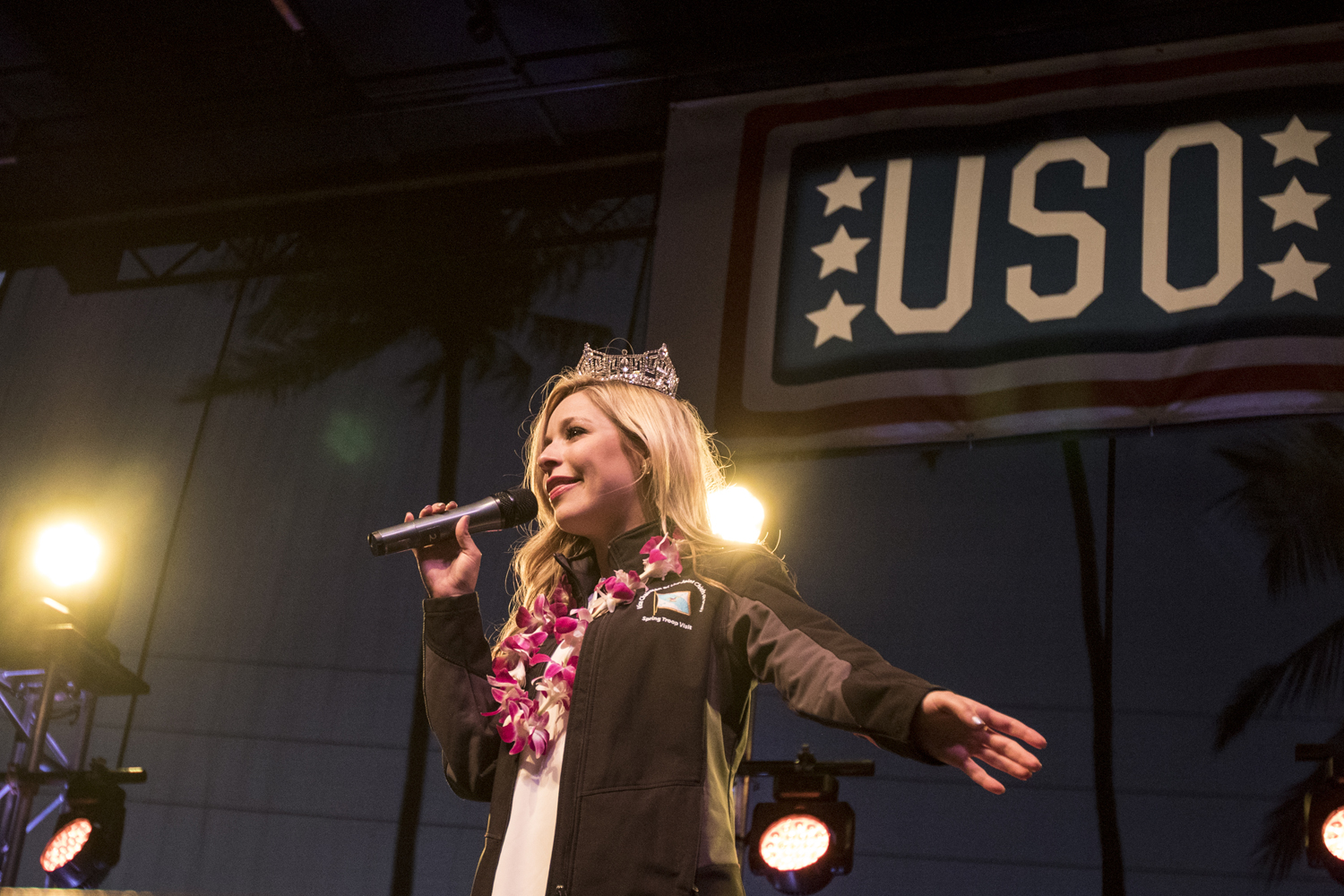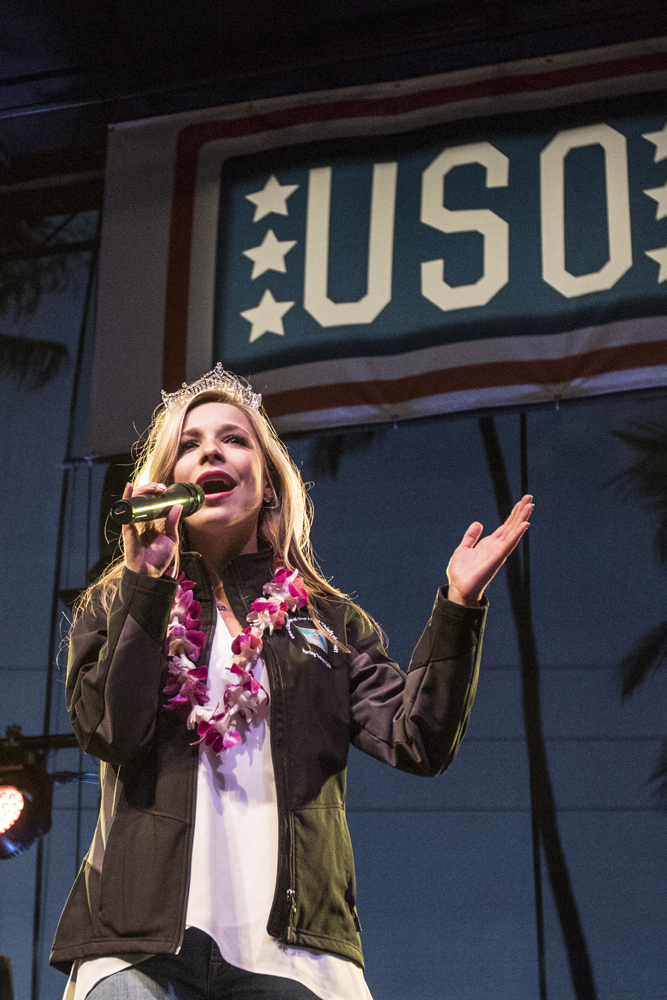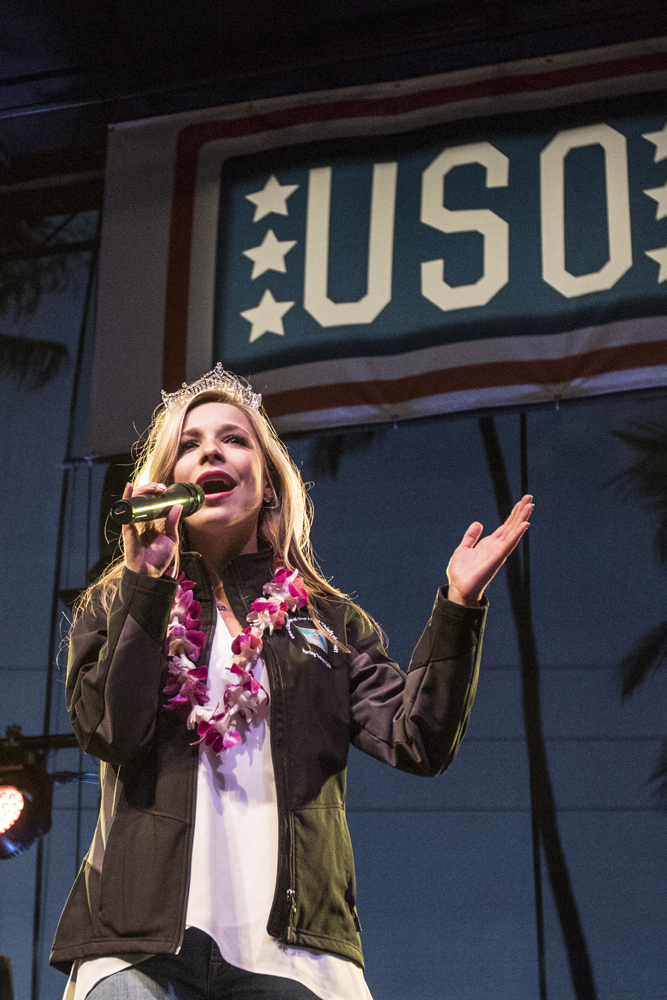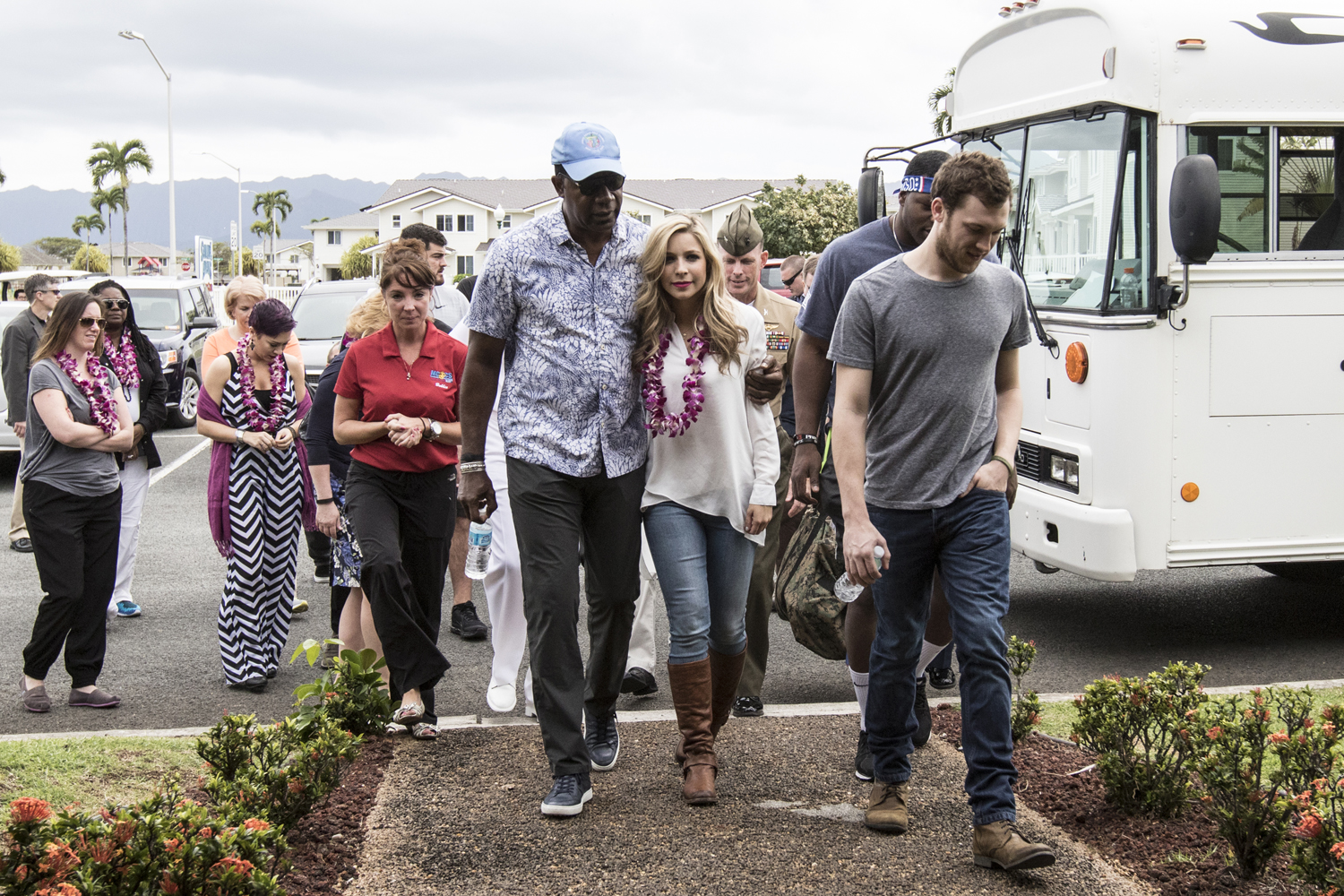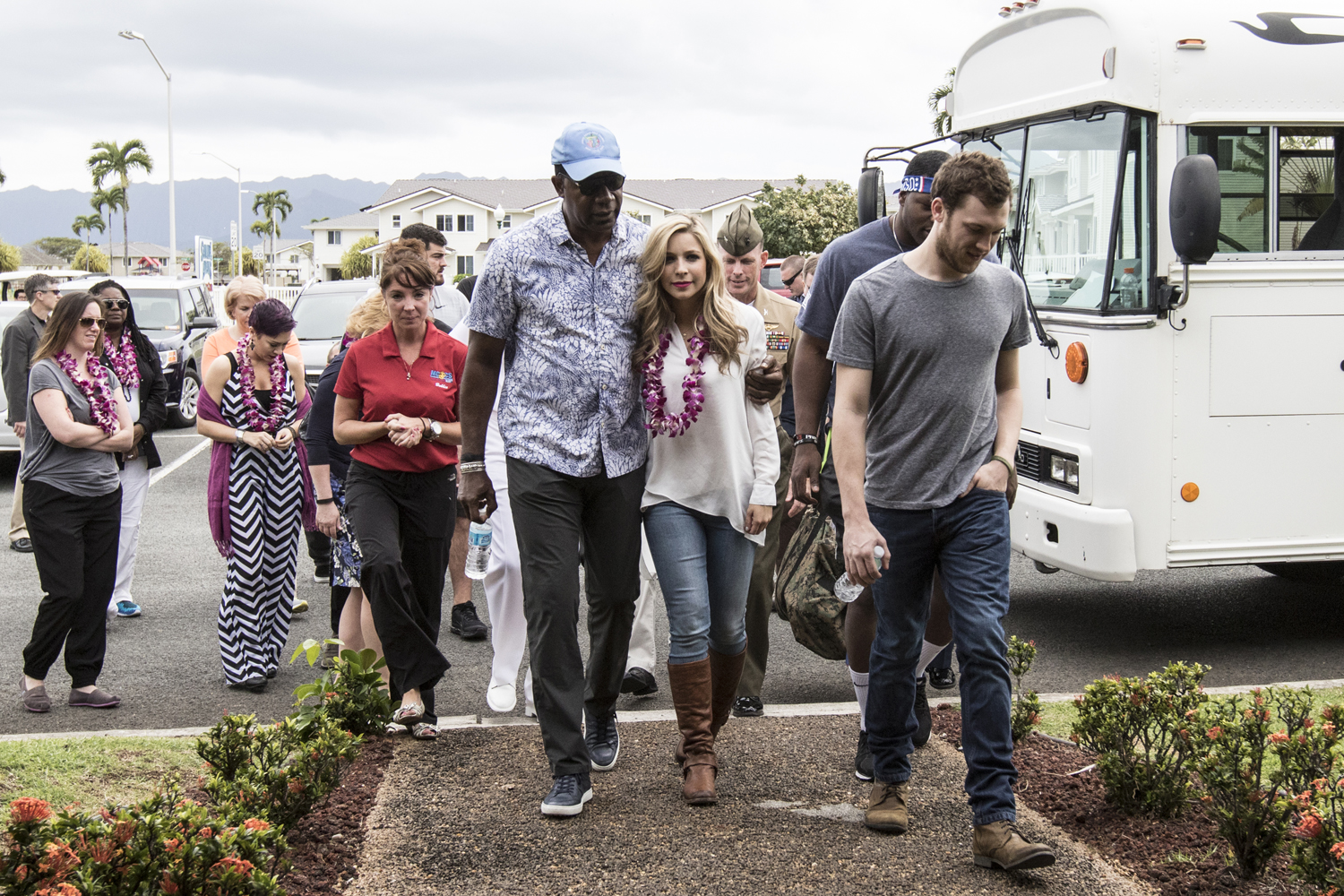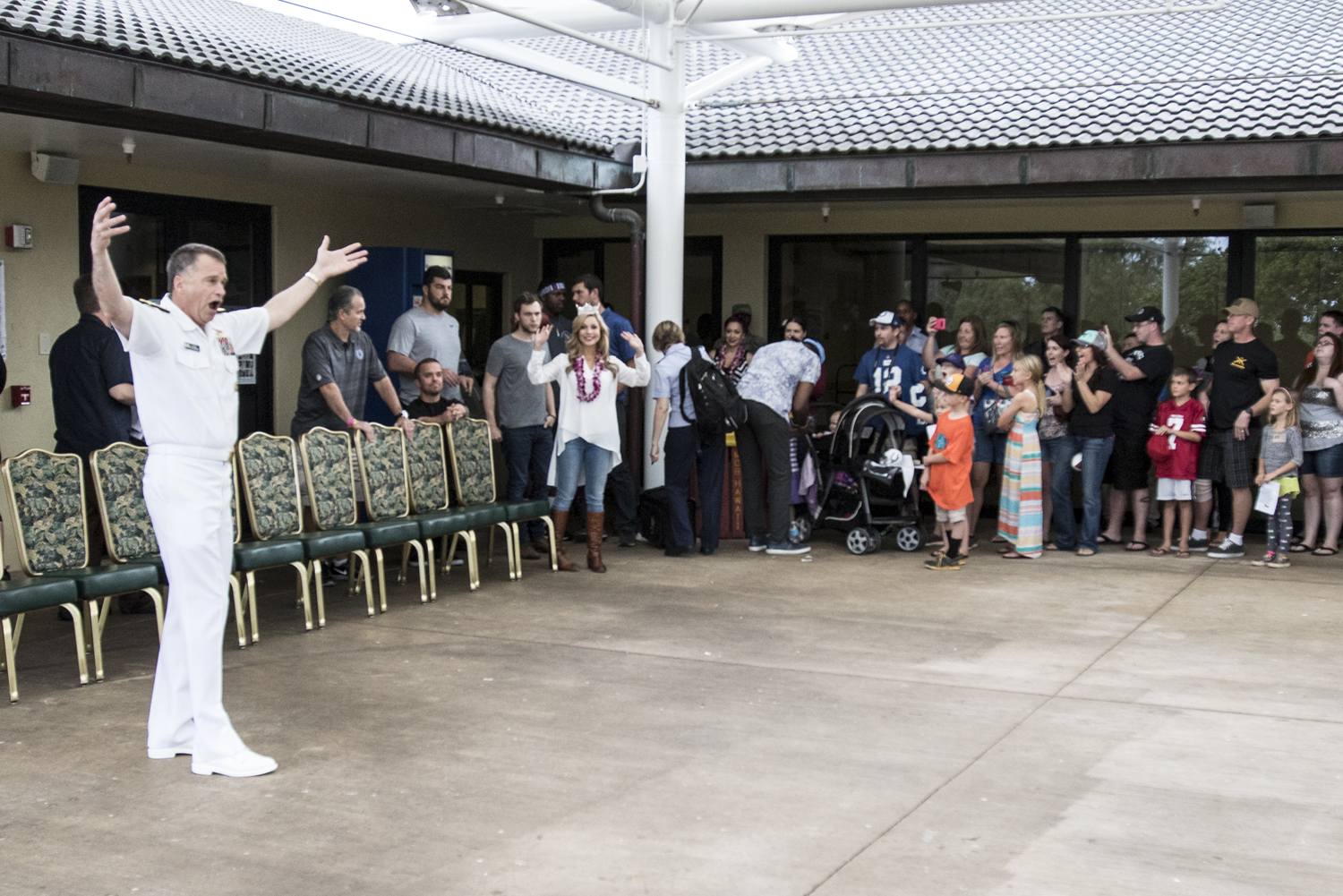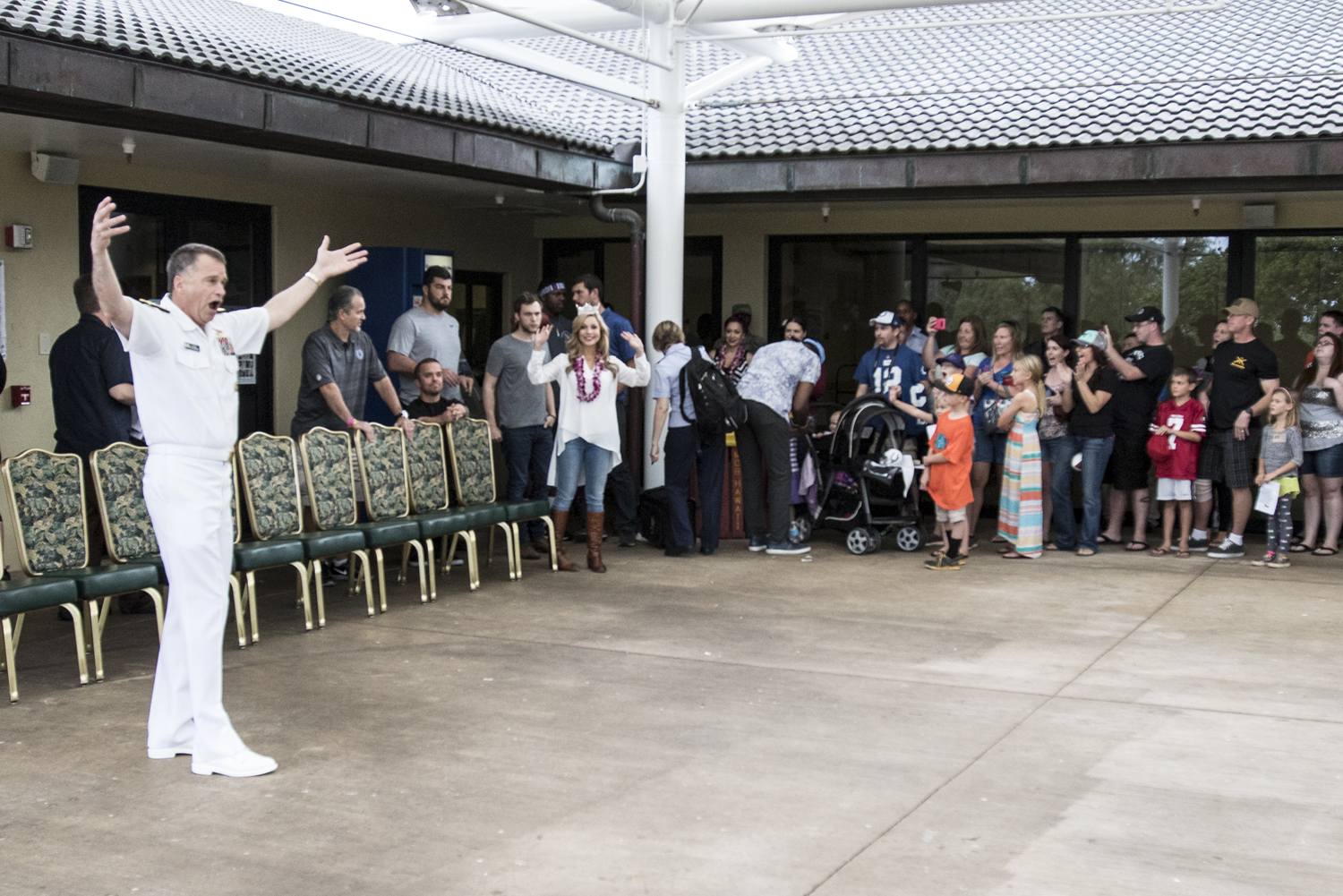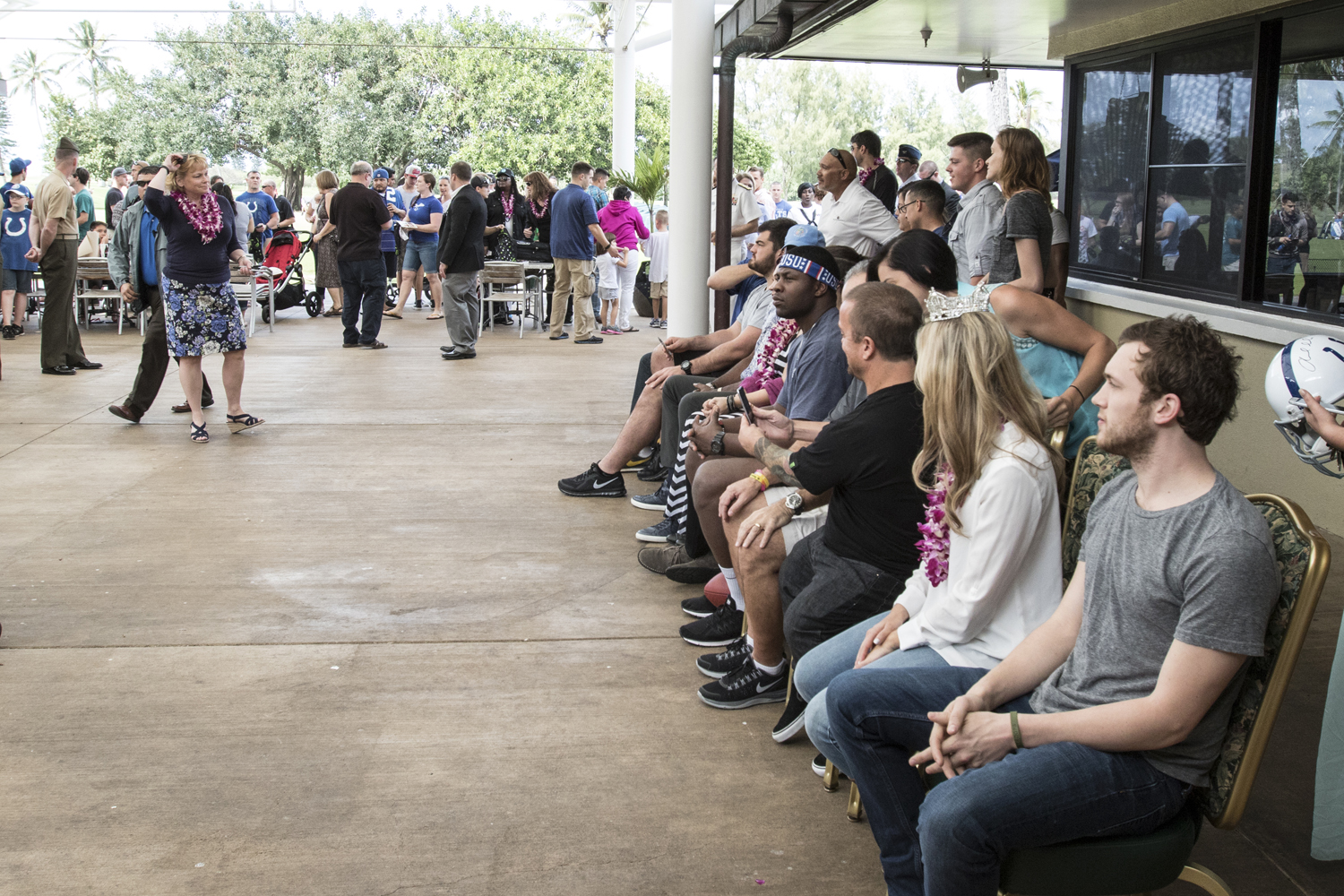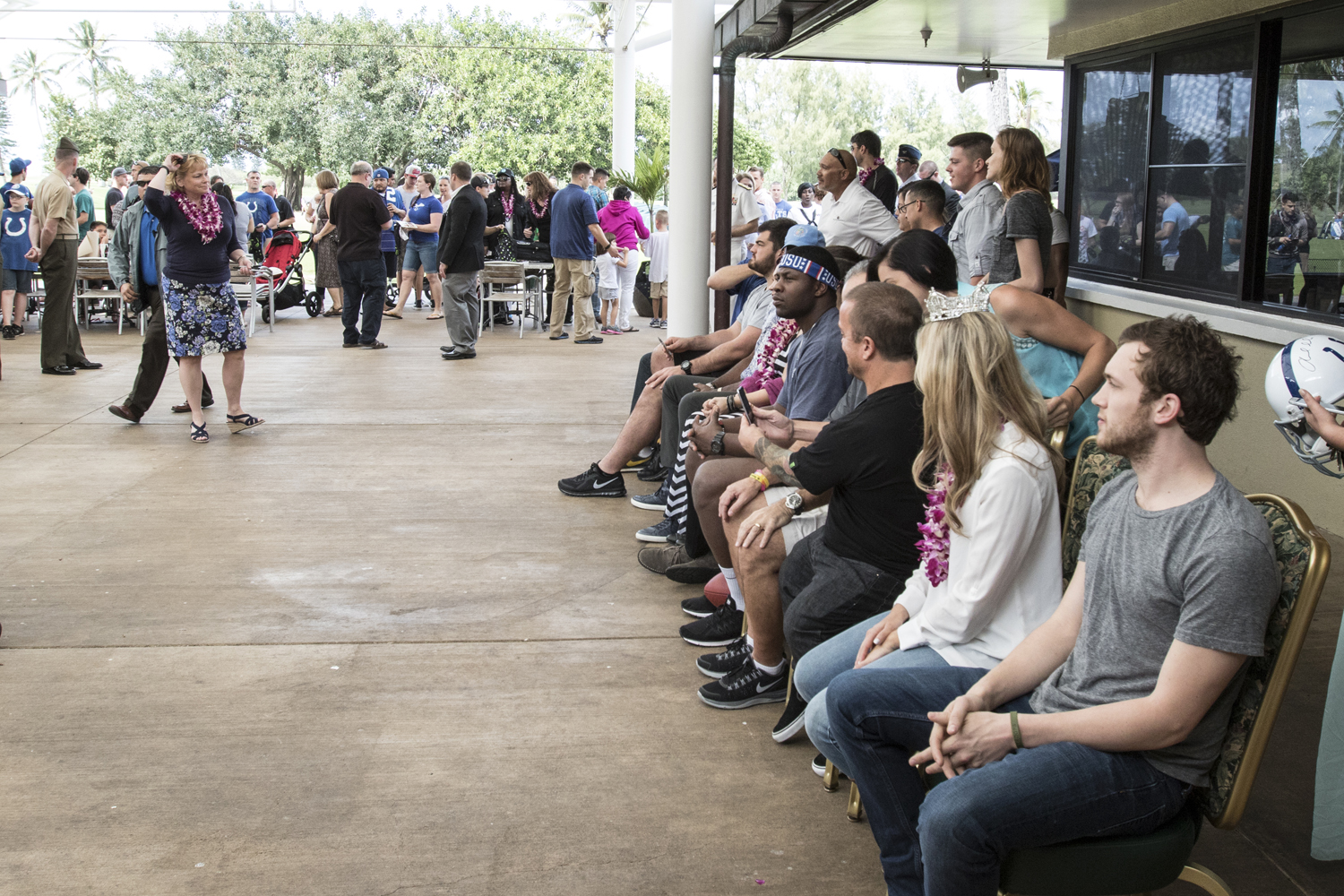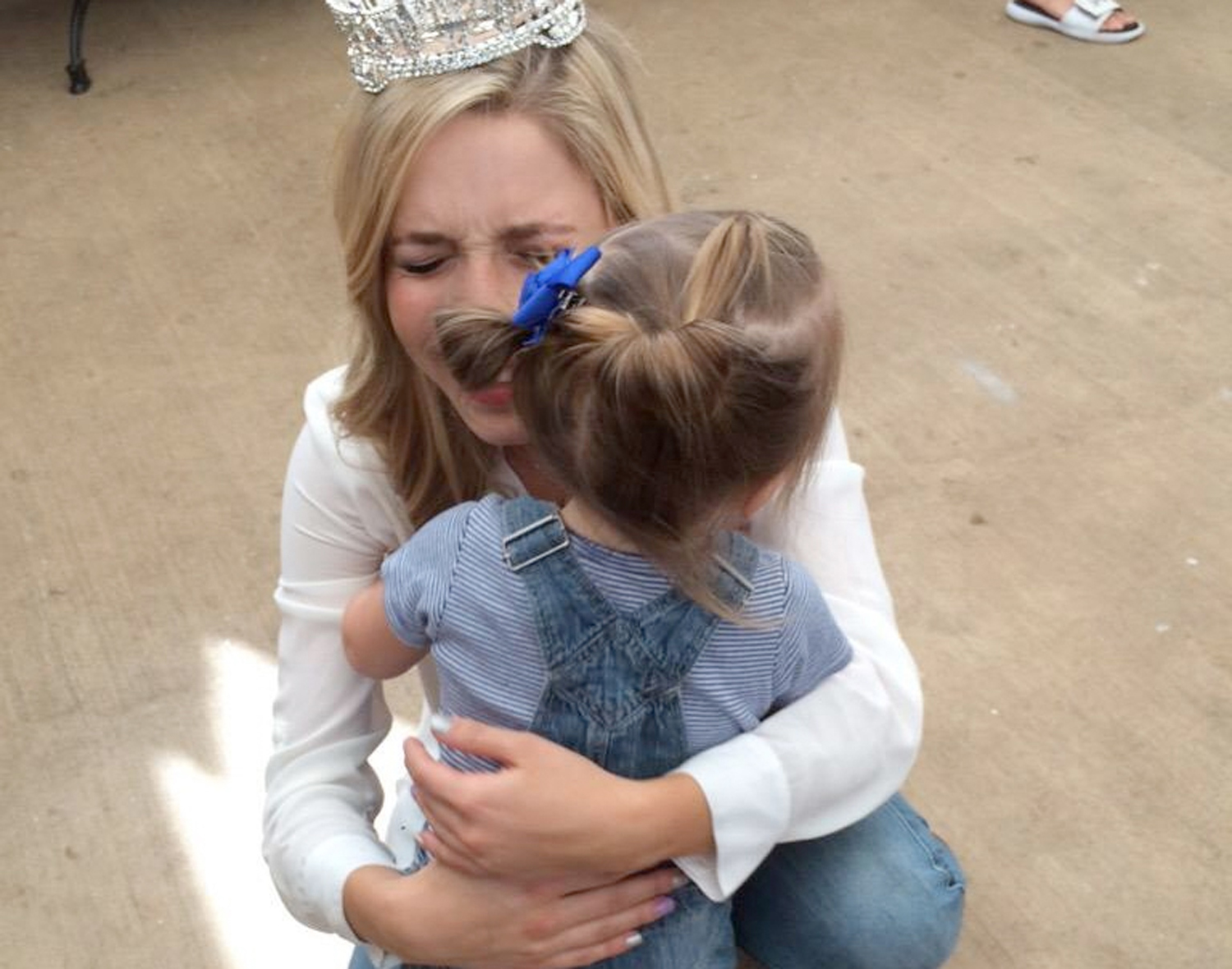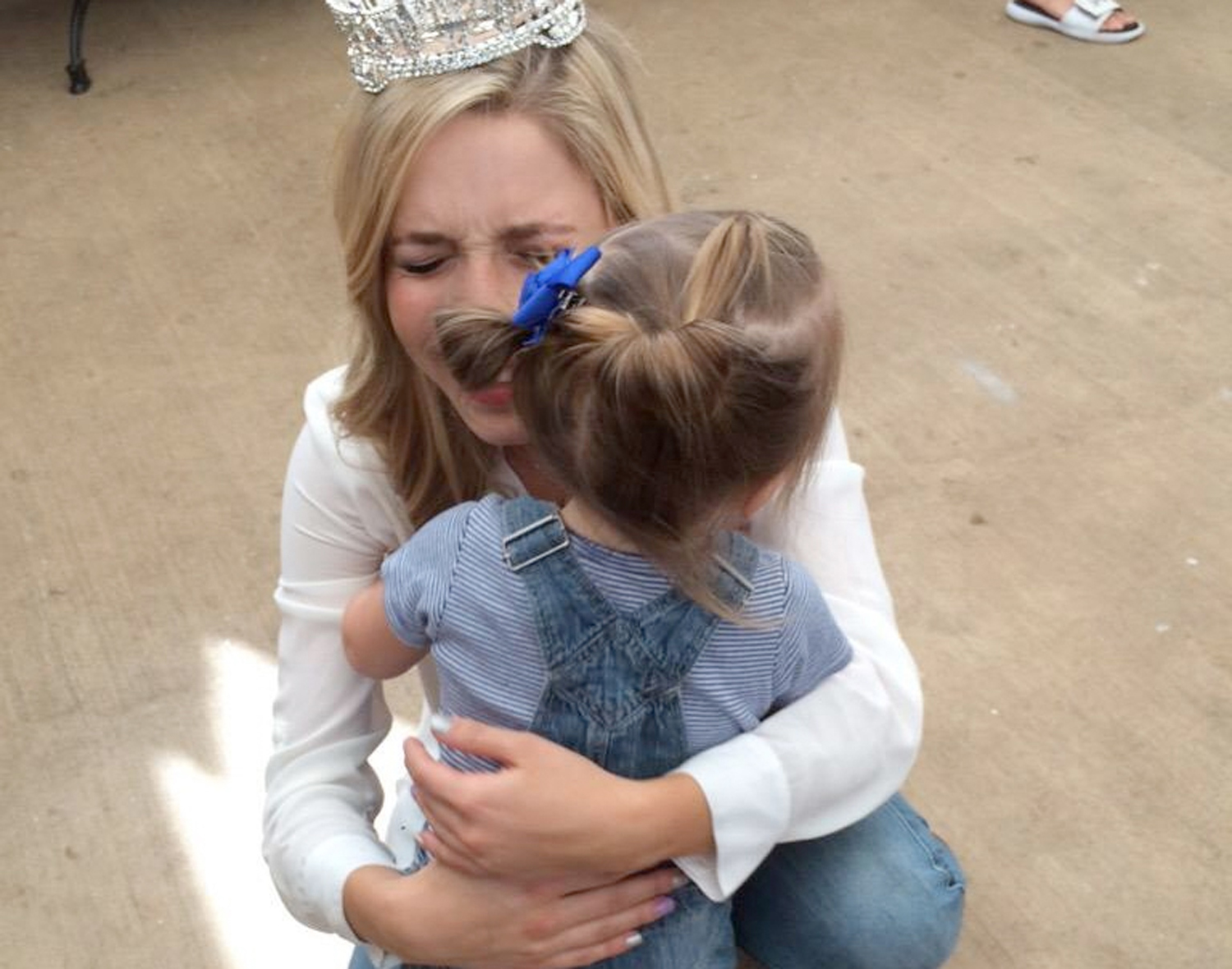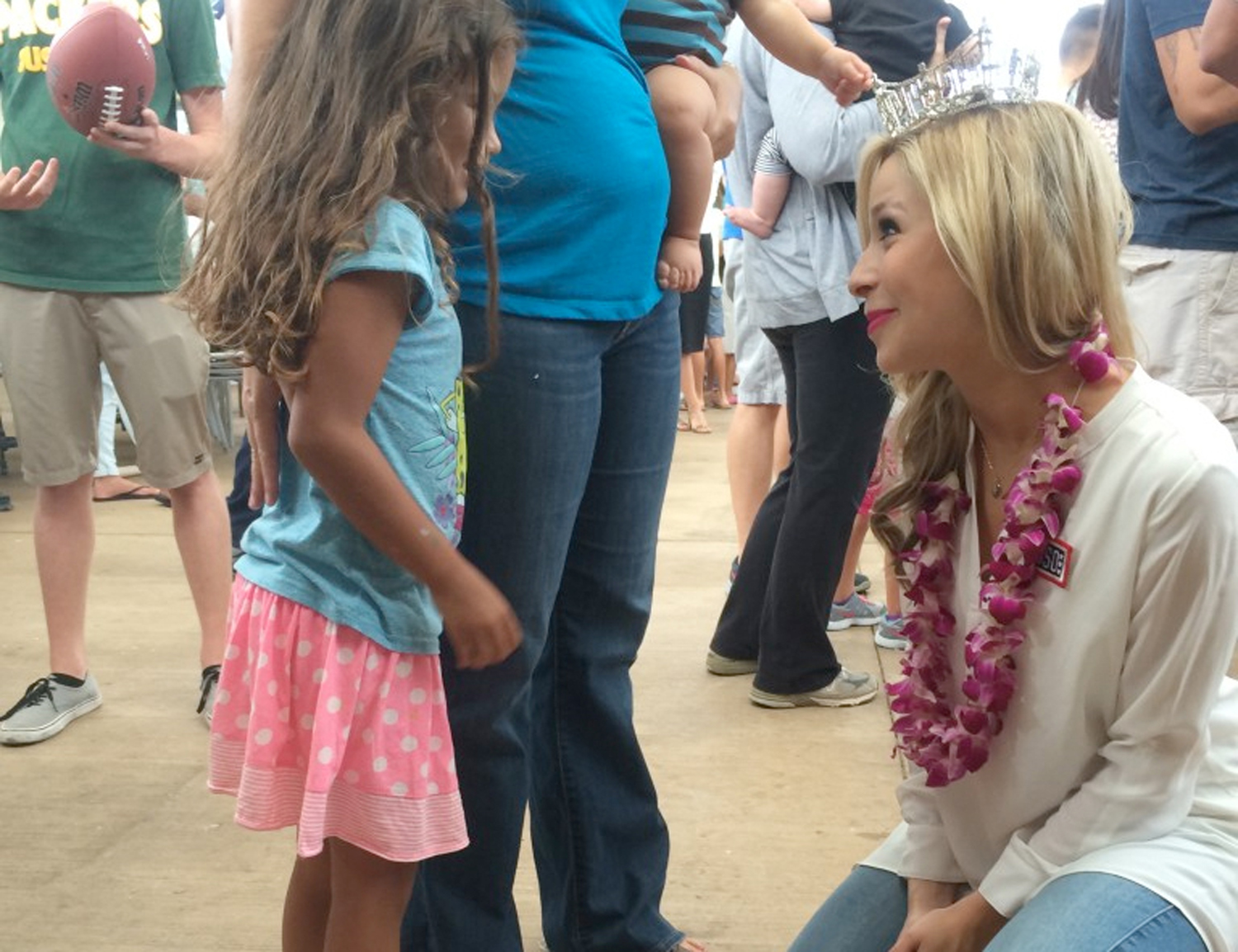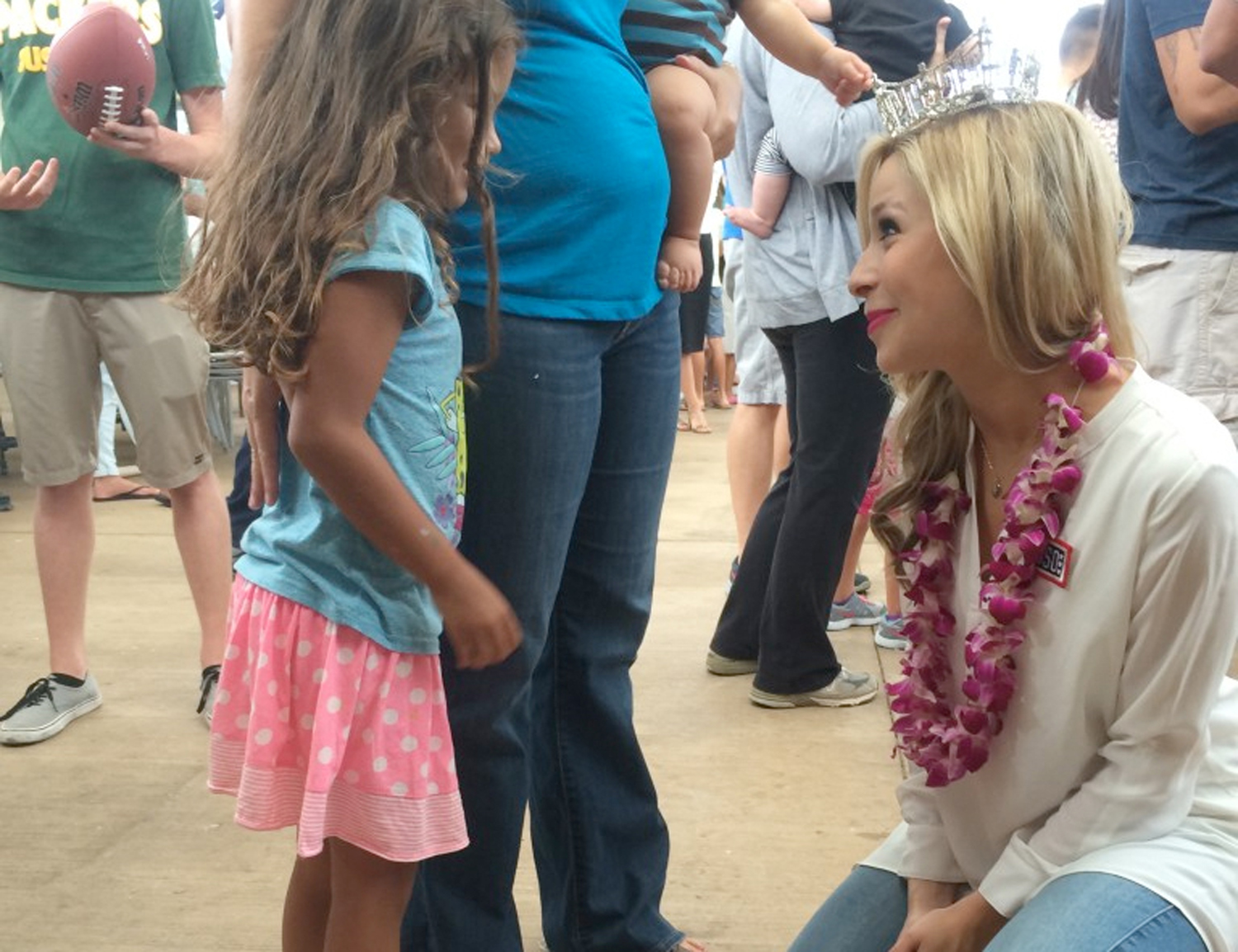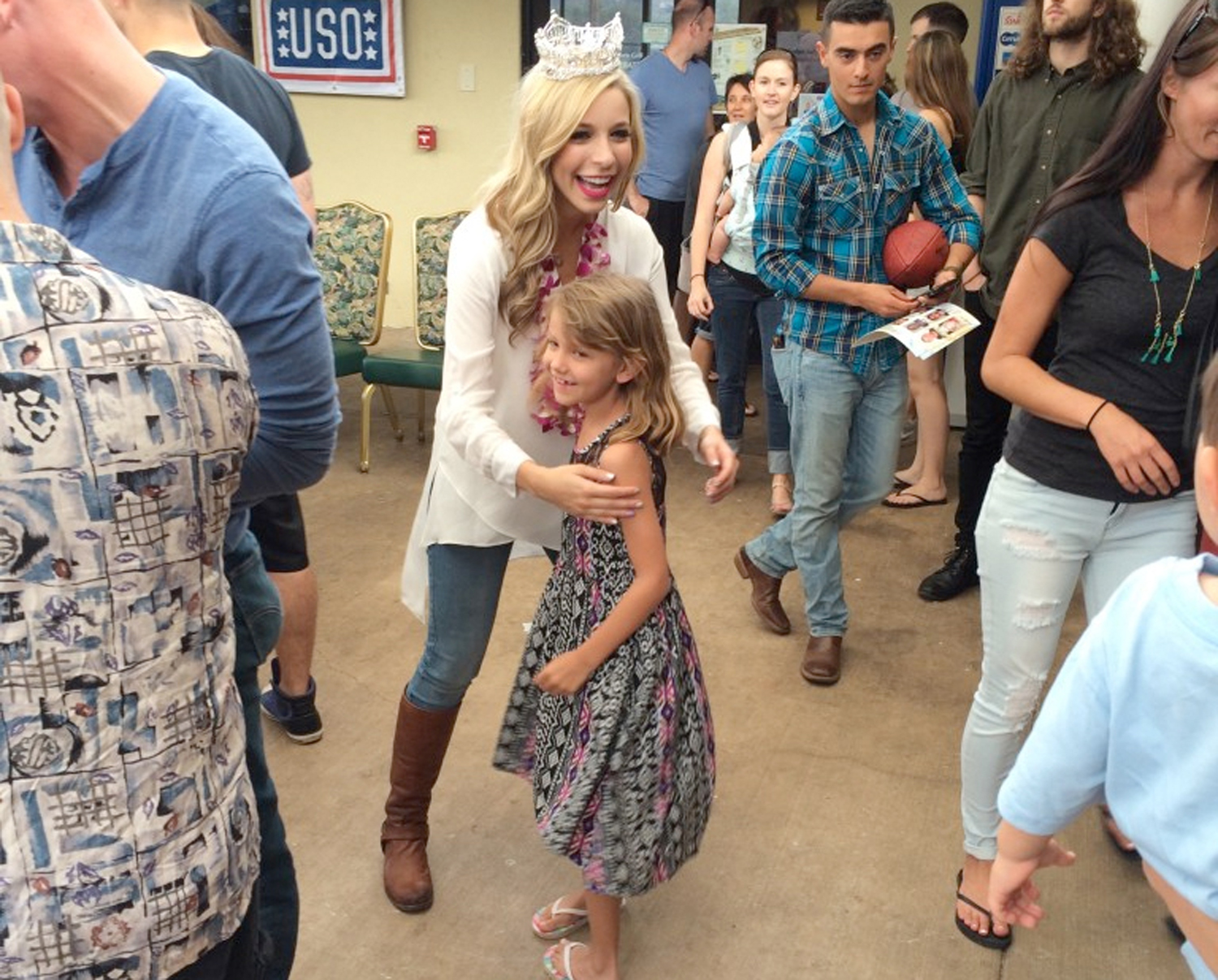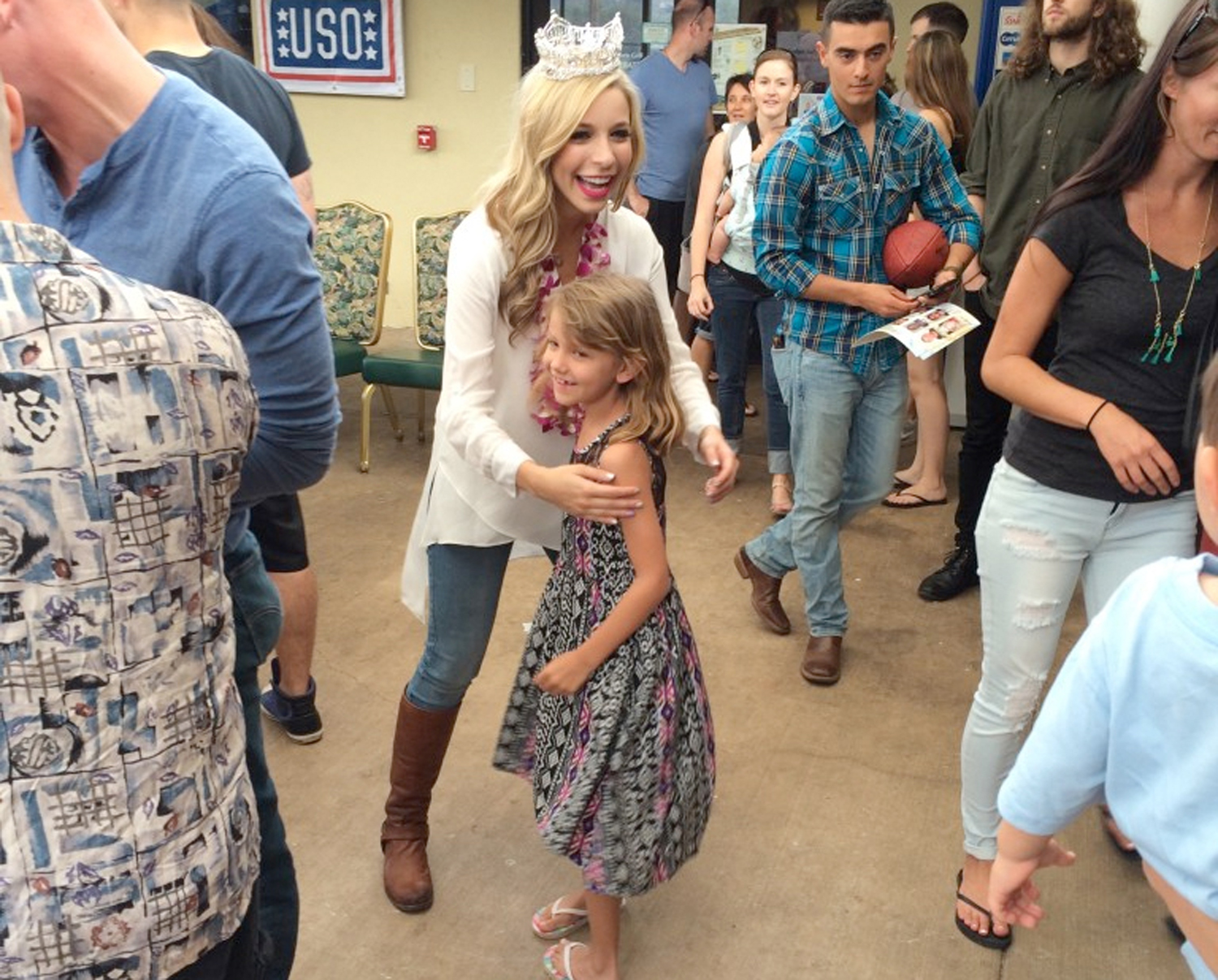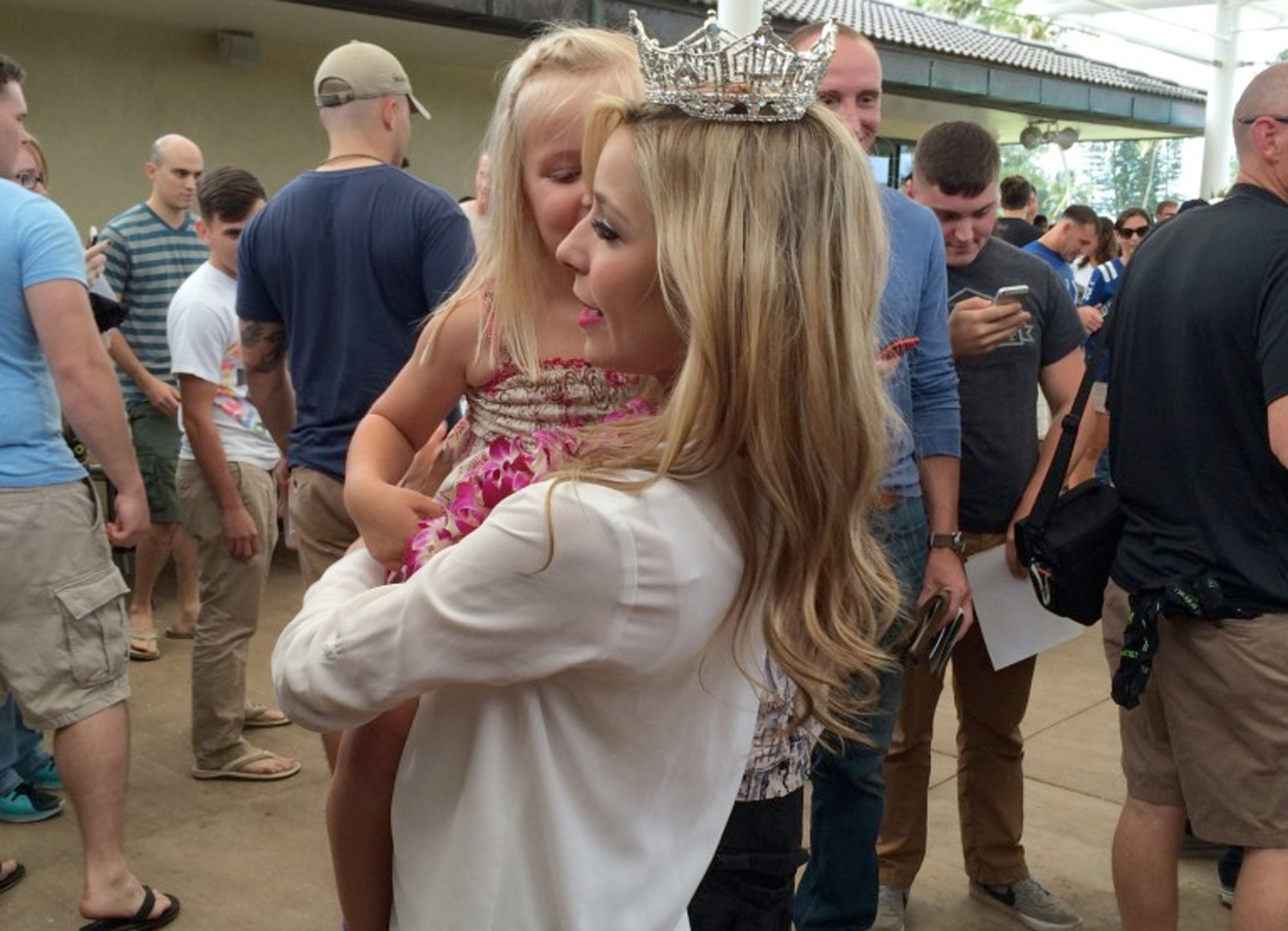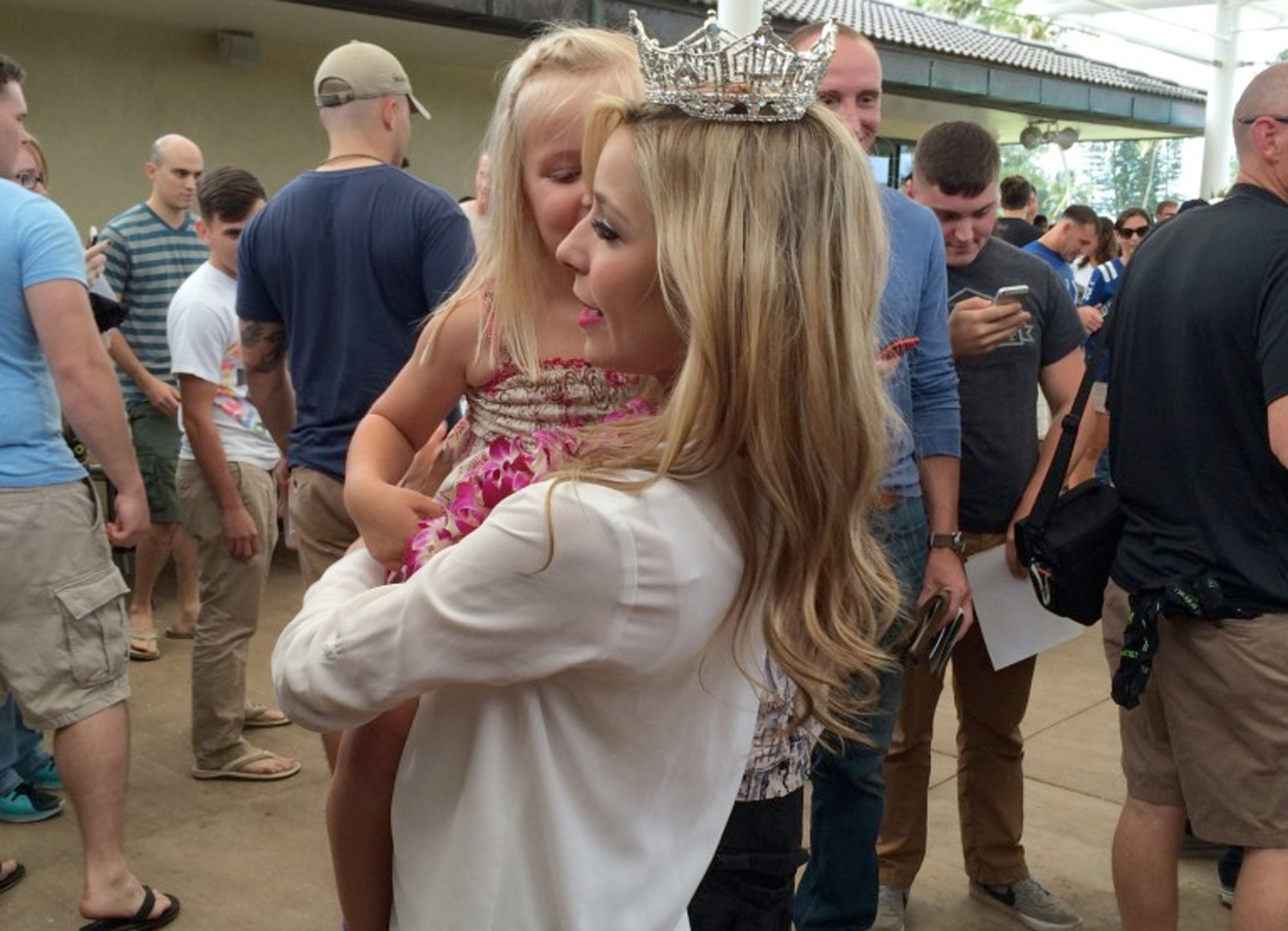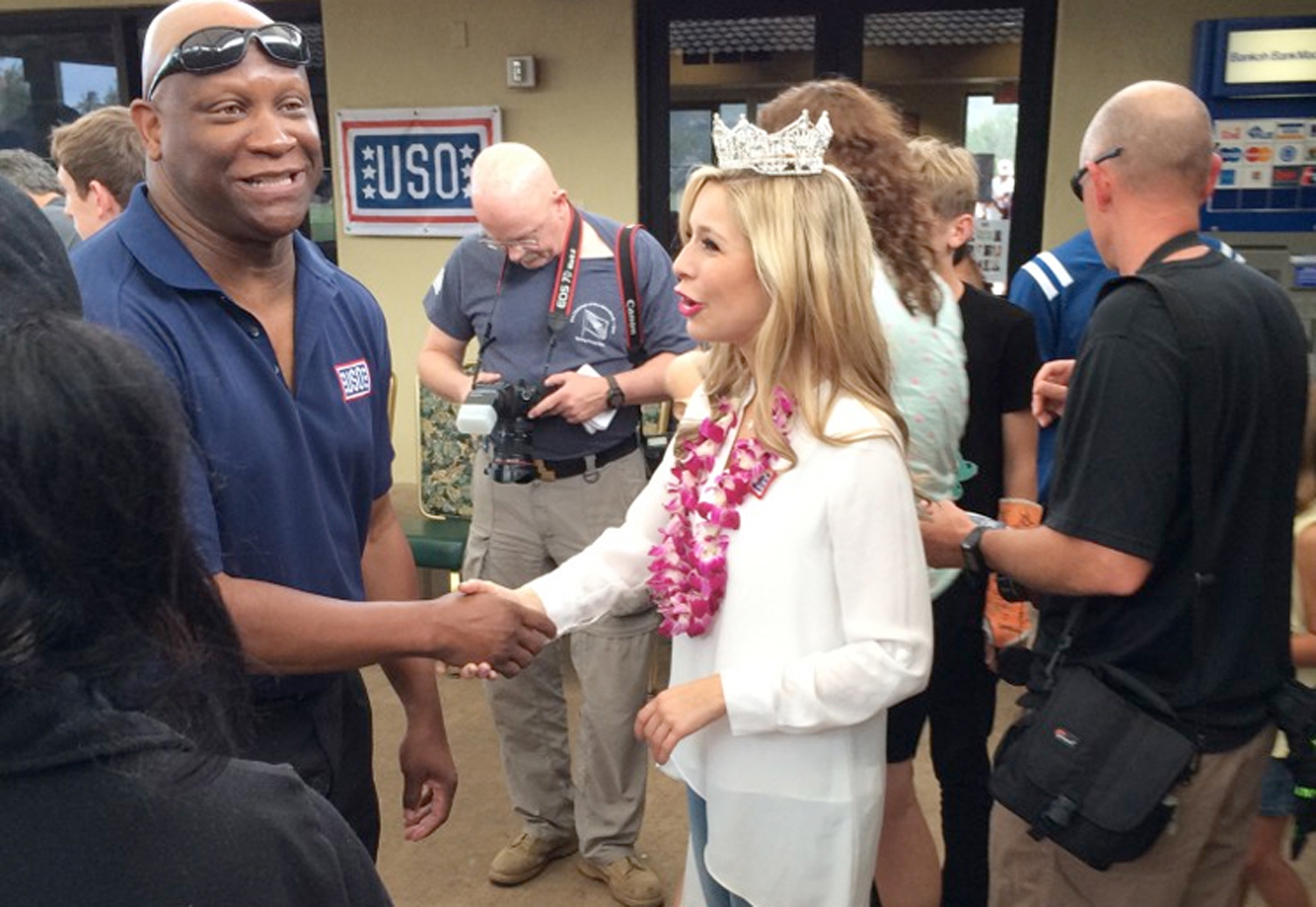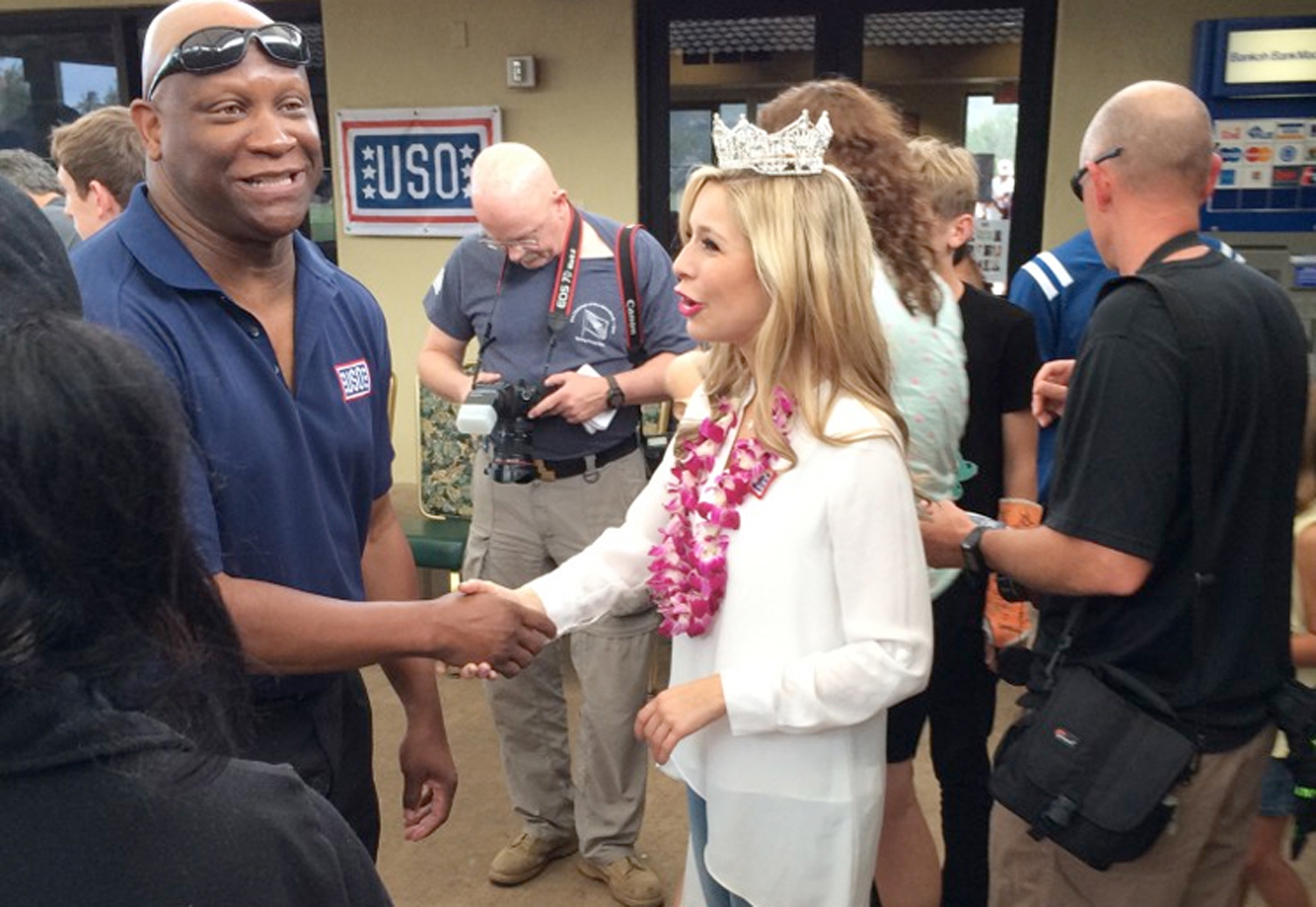 buy viagra online overnight shipping Looking back…
I will never forget this truly life-changing experience. I would like to thank the incredible crew, support staff, airmen, security team, and the Vice Squad for making this flawless mission a success. The entire trip was seamless and executed in perfect military precision. Thank you to Admiral and Mrs. Winnefeld for believing in me and taking a chance. Thank you to the Miss America Organization for the countless calls, follow-ups, and faith in me to go on this trip. Thank you to Karen Nocella, my fearless business manager, who accompanied me on the trip and threw all caution to the wind to be there for me. You have done so much for me and this trip would not have been possible without your diligence and persistence. Thank you to everyone who advocated on my behalf to join this tour, this would not have been possible without your faith in me.
Most importantly, thank you to the USO for not only including me, but for making these tours happen. Because of you, hundreds of thousands of troops stationed around the world are aided each day in not only getting through very difficult deployments but also virtually all aspects of military life. Everything the USO does to raise morale, spirits, and the well-being of our service members is invaluable. I cannot imagine what serving would be like without the presence of the USO. Special thanks to USO president and CEO J.D. Crouch, General John Pray, Elaine Rogers, Caroline Ketzler, Jeremy Wilcox and the entire USO staff for being so wonderful to work with and for believing in me!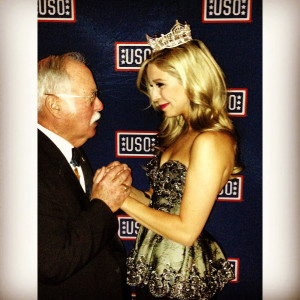 gold viagra que es Part of a rich, USO legacy…
A few weeks after our week-long USO tour, I was able to attend the USO-Metro's 33rd Annual Awards Dinner in Washington, DC.
In attendance were nearly 30 Medal of Honor recipients. One of whom I had a very special conversation with…he told me that when he was in Vietnam, he remembers one of the only decent days he had was when Bob Hope came to visit with Miss America. He said that Bob Hope would bring Miss America up on stage and say "Soldiers, this is what you're fighting for!"
I still can't believe that I am now a part of this legacy and that in my own way, I have had the honor of serving our country.