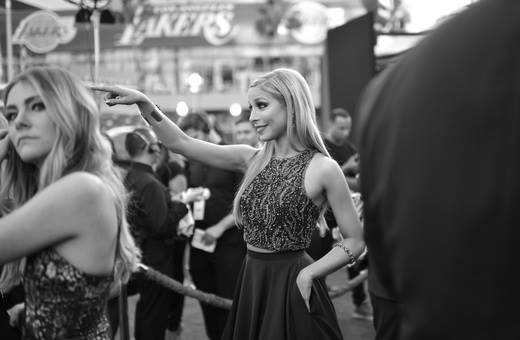 Season of Thanks
Posted on
November 27, 2014
I have been Miss America for 72 days. The shock has not yet worn off and I doubt it will any time soon. Since my last blog post, I have had the busiest month of my life, traveling to 15 cities in 30 days, sometimes for only one night at a time.
The things I've gotten to do this month ranged from my Miss America homecoming celebration in New York; to a media tour through Canada for my amazing wardrobe provider, Joseph Ribkoff; to spending a week with the Children's Miracle Network Hospitals Champions in Washington, D.C. and Orlando; to hosting strategy sessions and meetings in our nation's capital, discussing domestic violence, campus sexual assault, and military sexual assault; to giving countless talks and speeches; and to even being a presenter at the American Music Awards!
That list is just skimming the surface! Many people don't realize there is a lot more to my job than showing up and looking presentable. There is a huge preparation process that takes place behind the scenes, aided by the wonderful MAO staff and Board of Directors. Much of my time is spent prepping, researching, networking, practicing, writing, and keeping up with social media outlets. So if I ever look tired, my apologies in advance. But hey, being a little tired is worth it to do this job. I'll sleep next year when the crown is on another very lucky young lady's head. Until then, I am going to be the best Miss America I can and live every day to the fullest because I only have this for one year.
In recent years, Miss America has entered into a new era that is exemplified perfectly by the experiences I've been able to have over the past few weeks. Being a presenter at the American Music Awards and even making Glamour and Cosmo's best dressed lists have exposed MAO to an entirely different audience. And hey, Miss A can be edgy and cool and on trend, while simultaneously tackling our society's cultural problems and having an opinion.
In Washington, D.C. last week, I did just that. My stay in Washington began with a strategy session and networking opportunity in Georgetown with some of the movers and shakers of D.C. I was able to speak candidly in front of individuals who might not be considered Miss A's typical audience but are very quickly becoming exactly that. Together, we discussed ways to connect, to elevate the impact of the crown, and to combat major social issues that plague our great nation.
The following day, my former boss Meghan Gaffney Buck, who I followed around for an entire summer as an intern, hosted a day of meetings for me.
**Side note: My relationship with Meghan, a very valuable source (she is a major campaign fundraiser and consultant in D.C.), was developed through years of keeping in touch, making sure she was apprised of what I was doing, and being genuinely invested in each other's success. Relationships are the most valuable things that a person can possess. After all, it's all about whom you know. My advice to any young person reading this article is to always make sure to cultivate those relationships as you develop. The people that help you on the way to the top are your most valued allies and, if/when you make it, you must always remember where you've come from and that, by no means, did you make it on your own. A little bit of gratitude goes a long way.
OK, back to what I was saying. I met with representatives of the Human Rights Watch Military Sexual Assault Research Team. They are conducting nonpartisan victim's research that will be released in the Spring of 2015. Through our conversation, while not conventional, I hope to be able to lend my voice to their efforts in combating military sexual assault and I look forward to sharing their research.
Next, we headed to the Center for American Progress where I was able to meet with the team leading the efforts behind the White House Campaign, It's On Us, combating campus sexual assault. The mission of their campaign centers around creating an environment where sexual assault is unacceptable and survivors are supported.
I then met with reps from Protect our Defenders and Picture Motion who are strong advocates against military sexual assault. We also spoke about the 2012 documentary, The Invisible War. I strongly recommend this film. When I saw it about 6 months ago, it was incredibly eye opening. However, one moment stood out to me in particular. A case was brought against the DoD in 2011 regarding sexual assault in the military. The case was dismissed on the grounds that rape is an "occupational hazard" of serving in our armed forces. To me, this is no way "justice". No man or woman should fear rape as a part of their job. Our service members deserve the utmost respect and protection. I very much hope that, together, we can affect policy regarding sexual assault in the military workspace that effect actual consequences for offenders.
Finally I had a wonderful meeting with Karen Finney, political analyst for MSNBC for over 20 years and columnist for The Hill. Having strong female role models is crucial to female success. After this meeting, I was left inspired to work harder and to be better. Karen and I were able to discuss ways in which to propel my personal platform, the overall role of Miss America and reaching maximum impact with our messaging, and the possibilities that the future holds both for myself and MAO.
My wrap up from these discussions gave me some very important conclusions, ideas, and action items. These are my personal opinions and in no way reflect any other organization or entity, including the Miss America Organization.
Military sexual assault is 6 times more likely to happen within a unit if the commanding officer encourages the behavior or simply chooses to look the other way. Therefore, very often this comes down to a personnel issue. A good commanding officer is vigilant, open with his/her personnel, and willing to step in and to listen.They take the extra steps to prevent abusive behavior. However, this type of officer does not always exist in a place of power. Beyond the commanding officer and the various sexual assault prevention training courses being implemented there is also SAPR: Sexual Assault Prevention and Response, an agency within the DoD responsible for the oversight of the sexual assault policy. In my opinion, SAPR, while valuable, is not operating at prime efficiency in order to combat these issues and in the past has even published materials that victim blame and teach service members "how to not be a victim." Instead, the training should be focused on how to not assault someone. I hope that through the recent conversations surrounding Military Sexual Assault, this language will change. There is also the argument surrounding the Chain of Command issue. Chain of Command is very much in play within sexual assault, despite recent objections – and I do understand why it remains. Taking Chain of Command out of the prosecution of the issue sets a legal precedent for other issues to be prosecuted through civilian means, which is not necessarily a positive outcome all around for the military. Therefore, I would propose a compromise. A nonbiased, confidential committee within the military that anyone can report to without having to follow the Chain of Command. In some cases, the abuser is the commanding officer or is condoning the abuse. How can one possibly report such a crime when their commanding officer and abuser are one in the same? Beyond the challenges that often occur within Chain of Command, reporting the crime itself can very often mean sacrificing your military career due to repercussions from your colleagues and commanding officer, both socially and in the workspace. Therefore, having a safe place to report to within the military itself that will prosecute the crime and will support the victim is vital for the issue to be solved. I would also advocate that creating a sense of equality among men and women in the military is also vital to stopping abuse. The opening up of more MOS's (Military Occupational Specialties) to women, so long as all personnel meet the exact same performance standards, could lend to creating a culture that is less accepting of abuse and more equal.

Domestic violence among military spouses (both male and female) is also a very troubling issue. When DV happens within a military home, often on base and provided by the armed forces, the spouse that is being abused is very unlikely to report. In many cases, if the Military Police is called to the home, they either look the other way or give a warning (not often effective). If the abuser is in fact charged for their offenses, he/she will most likely lose rank, which means also losing pay grade, majorly affecting the family and further putting the victim(s) at risk. The other outcome is that the abuser is discharged/sent to prison, but with little to no support of the family that is left behind. Therefore, by reporting, a victim risks losing a home, financial stability, or simply fear of being disregarded by military police and left alone to fight the rage of an abuser who feels betrayed by his/her "loved one." Among military "guy talk", culturally this sort of abusive behavior is often condoned. Statements like "you showed her who's in charge" or "you're not a man for letting her walk all over you" are casually thrown around, further leading to having to prove dominance, masculinity, etc. I would propose that a committee is established to support military spouses that fear reporting for the reasons above. This committee would support the spouse temporarily with monetary aid, aid with a job search, daycare services, and temporary housing. Creating this type of support will encourage victims to be less afraid to bring their abuser to justice and will help stop abuse in general. There must be consequences to people's actions; those consequences will prevent said actions.

I would like to present a call to action to the entering college class of 2019. As freshman, you have the ability to change the way that campus sexual assault is regarded and the way that hazing is regarded. When I entered college my freshman year, I had no idea what being in a sorority meant or what having a serious relationship meant. The incoming freshman class in the fall of 2015 can facilitate this cultural change. Through open conversation, being an upstander instead of a bystander and intervening in possible assault situations, and knowing the difference between healthy and unhealthy relationships within Greek life and intimate relationships, this class can be revolutionary. I hope that through my own college speaking tour, I will be able to help encourage this movement and speak from my own personal experiences. College is not easy and no one can speak better to that point than someone who has lived it and has made unfortunate choices in the past, for which I remain regretful. But such is life, you must move on and continue to improve and grow as a person, for that is the only way to seek progress.
I'd like to end this post with a simple note of thanks. Thank you to the Miss America Organization for providing me with support and opportunities that are unmatched. I am so grateful for you all and especially to Mr. Sam Haskell, who despite all sorts of challenges is able to continue to improve and fight for Miss America.
Thank you to all of the partners that make what I do every day possible. Joseph Ribkoff, Tony Bowls/Mon Cheri, dick clark productions, and Children's Miracle Network Hospitals, it is my absolute honor to work with you and I am so thankful for your investment in women's education and young female leaders.
Thank you to the Miss America Class of 2015 for being so supportive of everything I do and for giving me all of the love in the world. 18 girls were able to make it to my homecoming, which is unprecedented, and it just goes to show what an amazing group of people these ladies are.
Thank you to our armed forces for making brutal sacrifices every day to keep our country safe. Many of you will be overseas and away from your families during this holiday season. Please know that you are all loved and missed extraordinarily and we pray for your safe and speedy return home.
And of course, thank you to all of the people who have been such important parts of my journey, you know who you are. And to my best friend, my family and all of my extended family, I would not be here today were it not for your support. And Mom, thanks for being so understanding when at the end of a very long day, I can barely get two words out but you still love me and always support me no matter how annoying I am.
Wishing everyone the best this holiday season, I am thankful for you all, even the nay-sayers who need the thanks and clarity most, for it is you all who give me much motivation to succeed! Have a safe and Happy Thanksgiving!
All my love,
Kira