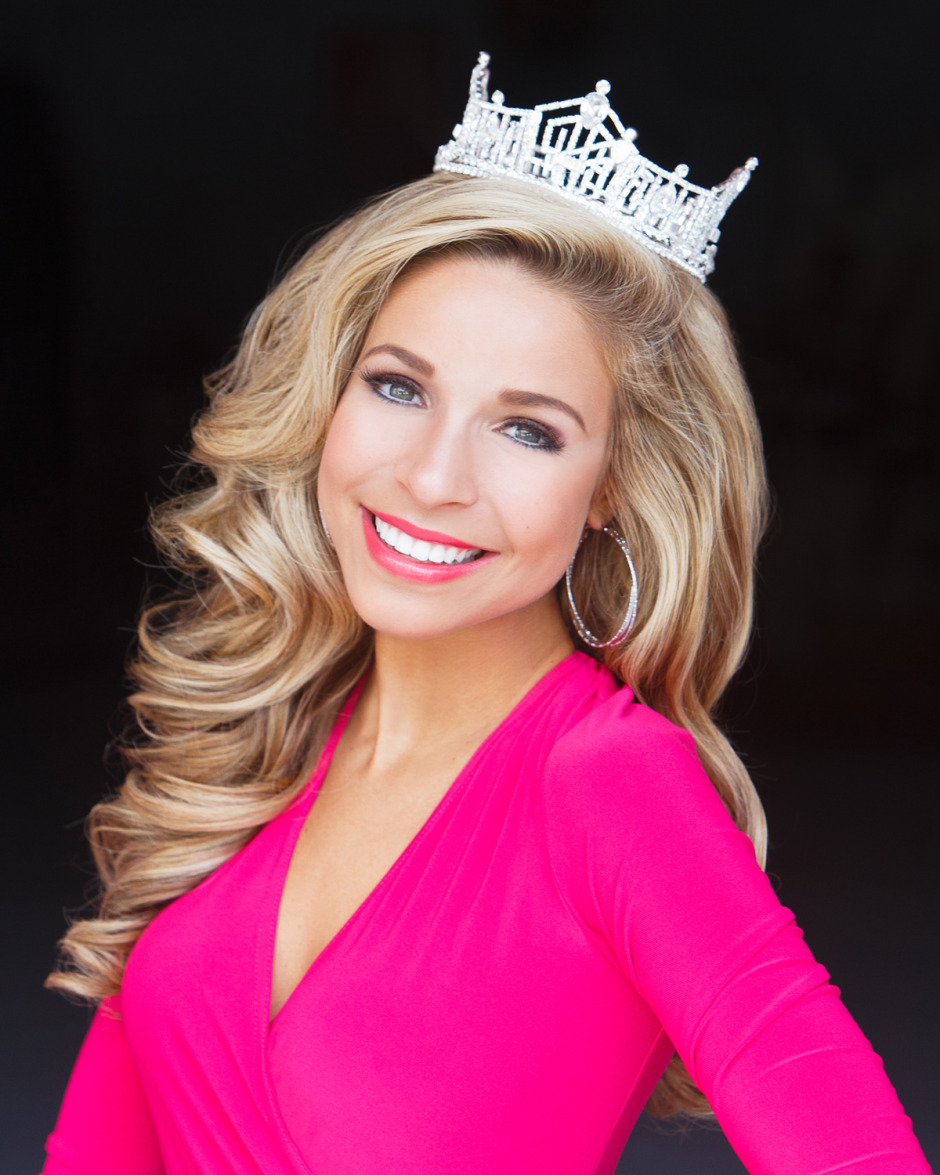 So, How is Miss America Chosen Anyway?
Posted on
October 24, 2014
It has been over a month since the Miss America competition ended and I can't even believe it. Where has the time gone? So much has happened over the past few weeks so I'm going to sum it up briefly with some highlights.
I had a couple of firsts: my 1st Matt Boyd photo shoot in Atlanta and my 1st media tour with my wardrobe sponsor, Joseph Ribkoff, which was also in Atlanta . Ribkoff treated me to a One Direction Concert while I was there…and I casually met the band. Then Ribkoff took me to Louisville, KY for an amazing photo shoot at Churchill Downs for Nfocus magazine and their Kentucky Derby issue; look out for the magazine spread in April! I then had a few days off and was able to go home to California for a family wedding, but just as quickly as I got there, I was on a plane back to New York City to attend the Friars Club Gala which honored Robert De Niro and Carlos Slim.
I attended the American Legion's veteran's job and opportunity fair in Atlantic City, and I visited the Richmond Avenue School for an assembly to talk about Miss America and my platform. While I was in Atlantic City, I even got to stop by the Miss Columbus Day local pageant to say hello to the girls competing, which was coincidentally being held in my hotel!
From Atlantic City, I was off to Washington, D.C. to attend the Association of United States Army convention with the USO. I was honored to meet several service members and learn about the USO and all the wonderful work they do for the men and women of our armed forces.
To wrap it all up, I spent the last few days on the Queen Mary in Long Beach, CA for the Pink Ribbons Crusade's breast cancer awareness events, which included a beautiful fashion show and getting to spend time with my Miss America sisters! With plenty of media and interviews along the way, and other fun things that I'm sure I'm leaving out, it has definitely been a wild ride and I am so thankful for every single day that I get to do this job.
A question that I've gotten a lot while I've been on the road is, "How is Miss America chosen?" Some people think it's a talent show, others think it's a bikini competition, while others think it's based solely on scholastic achievement and grades. What I hope people understand is that while most of these things factor into the score, Miss America is none of those things exclusively.
Miss America does not necessarily have the best body, the best talent, the best evening gown, the best interview, and most certainly does not have to be the most beautiful. However, Miss America MUST be well-rounded and that means being among the top scorers in ALL the categories. She is "best all around" or "the whole package." If any one category carries more weight than another it would definitely be interview. If you have a great interview and connect with the judges, it's very likely that the overall result will be a positive one. While this is not always the case, a solid interview can only help you. But you still have to 'bring it' in all the other categories.
One category that is deceiving in terms of its weight on the overall result is talent. While helpful, having the best talent will not necessarily ensure an overall win. Talent does count for 35%, more than any other category, however an entertaining talent that is memorable will often outscore someone who is extremely technical. The goal is, of course, to be both. Ask yourself, "Would the judges want to see this again?" If the answer is "yes" then go with what your heart tells you and have fun doing it. Just make sure to find the balance between technical execution, entertainment value, and showing your personality, as it's all important to the judges.
I would say in determining Miss America, the swimsuit and evening gown are there to show how she carries and presents herself. It shows her confidence, she has a commitment to lifestyle and fitness, and she would be marketable as Miss America, further rounding her out as a good contestant. Also, walking on that stage in swimsuit and evening gown is one of the most empowering experiences I have ever had. It's the culmination of all of your hard work in one moment. So enjoy it! Take it as an opportunity to show the judges your personality, but make sure to remember that what truly matters is how you look on the inside, not on the outside.
So, to those of you who might find yourselves scratching your head when the winner is announced, remember, you didn't see her 10 minute private interview and although she might not be the most "beautiful, talented…blah blah blah" …she has the whole package, and that's why the crown is on her head.
I'd also like to point out that Miss America is evolving. The formula that might've led to a crown 30 years ago just isn't going to work in today's competition world. Judges are looking for young women with character, opinions, life experience, and grit. They want someone who is real and unapologetic.
My advice to every young woman out there who hopes to pursue Miss America is to just BE YOU. No matter what any coach tells you to say or what a wardrobe person says you must wear or even what your parents or your local or state directors say you must do to win, you have to maintain a sense of YOU in everything you do and in all your preparation. So that when you are on that stage, you are the best version of YOURSELF. Not anyone else.
Too often, I see a young woman win based on the person that she is and the wonderful spirit inside her, and then by the time the next competition comes around she is a completely different person, ripped apart by the powers that be. There are many good people out there who are willing to help you, but you have to be able to weed through all the noise, edit, take what works for you, and politely leave behind anything that doesn't. If you don't feel it's right, don't do it. If it doesn't sound good coming out of your mouth, don't say it. And by all means, if you don't like how it looks on you, don't wear it.
This journey is about you. Don't let others take it away from you.